Sale!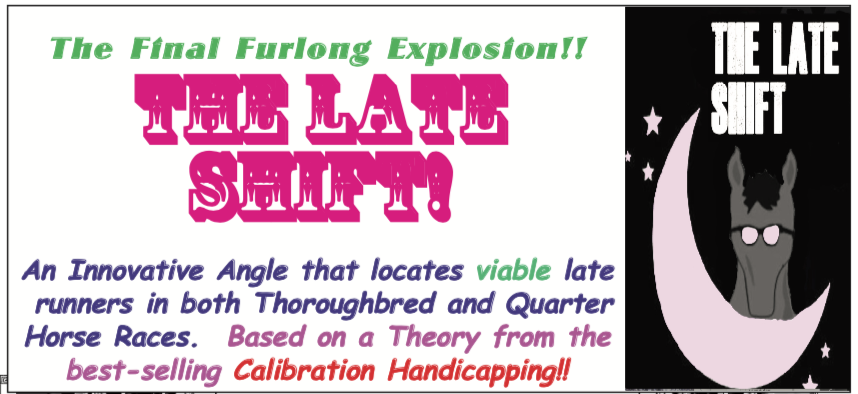 Description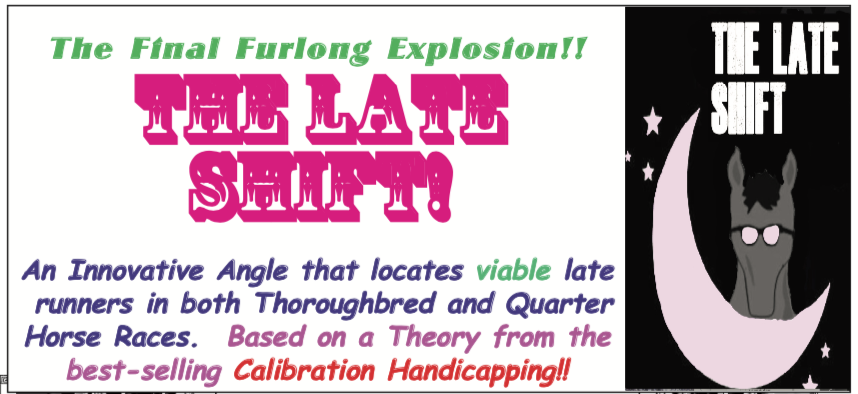 ☛

Fact:  The vast majority of races run in North America are won from off the pace.  About 27% are won in wire-to-wire fashion, but the other 73% are won by horses who are a length or more behind at the top of the stretch.
☛

Fact:

Horses that close more than 2-1/2 lengths between the middle of the far turn and the wire and finish in the money are often at odds of 9/2 or higher, thus insuring solid win, place and show prices as well as boosting Exacta, Trifecta and Superfecta prices.
➽➽

So, Logic would argue

that if you could find a way to identify these 'from off the pace' horse

s, qualifying them not only on closing ability but also on class and speed,

while also calibrating the value each length gained should earn at various distances

, you would have a formula that would result in selections that win or hit the board more often than they do not.
And, using his superior programming knowledge, plus some hints from the major Best-Seller Calibration Handicapping, Len Cz has accomplished exactly that!
"What amazes me is how often the 'Best Closer' listed in the program is, indeed, the best closer and almost always coming into the picture late, often winning but running 2nd or 3rd it seems like all the time!  From a pure excitement standpoint, as well a a making money standpoint, The Late Shift is great!  It's also taught me how to play the Quarter Horses profitably and, yes, most of the winners do come from off the pace in Quarters as well!  Great job guys!" 

Sterling Richards, Brooklyn, NY
Here's a look at the beginning of the coding for The Late Shift!:

What Len has done is taken several measurements

involving stretch gains & final finishes

and then calculated class points and added in the Bris Speed (not Power) number and made allowances for shippers.  

➤➤

He has calculated the value of a one-length gain or loss at several different distances –

this is the real 'genius' part of the program.

  The rest of the programming involves eliminations and hierarchy formulas to determine the final play(s). and you end up with horses like these: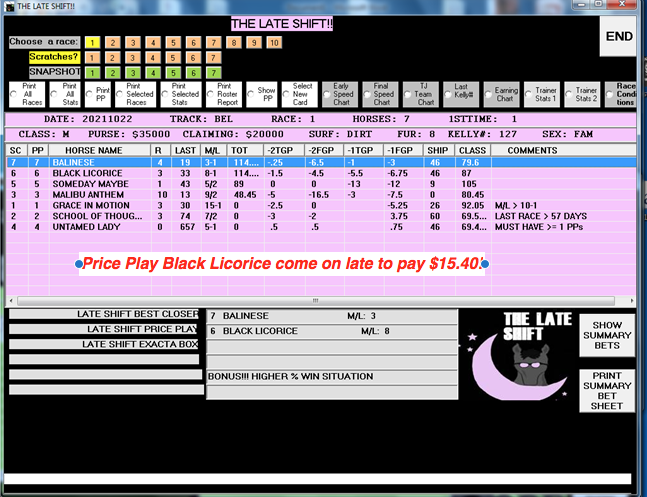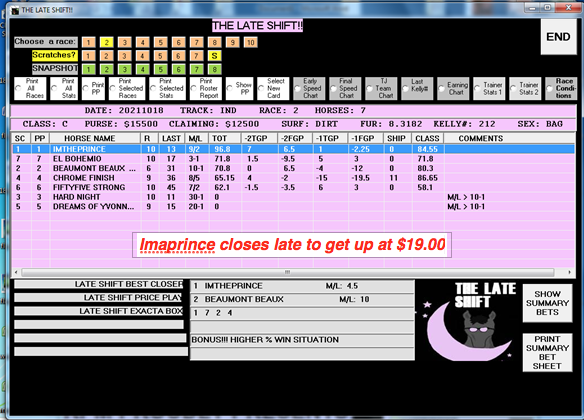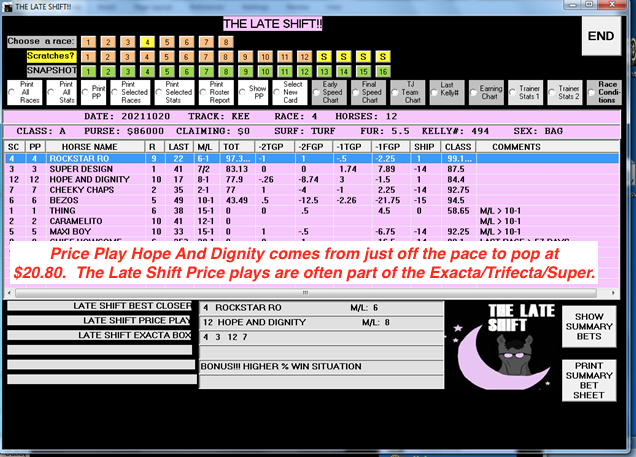 Most of The Late Shift selections will come from slightly to well off the pace.  Many finish 2nd or 3rd at great prices.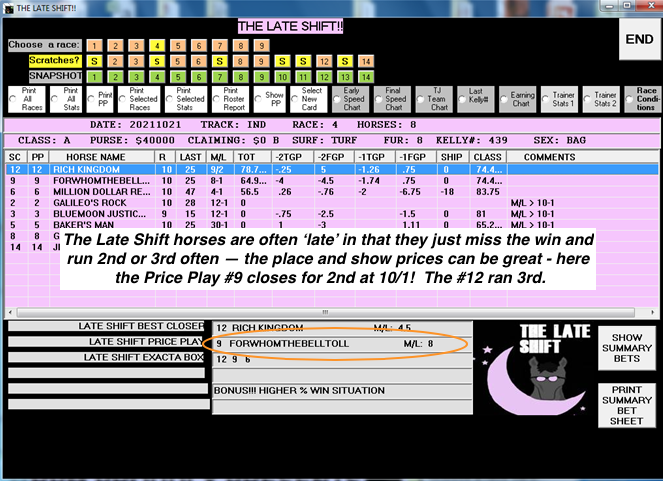 While The Late Shift does select favorites when the numbers are there, most winners pay in the 3/1 to 12/1 range.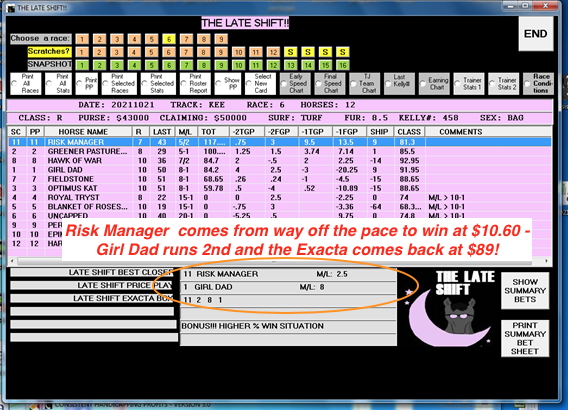 The Late Shift is also excellent with Quarter Horse races.  True, quarter horse races are run at very short distances, but the fact is that most winners do not go wire to wire, but come from slightly off the pace.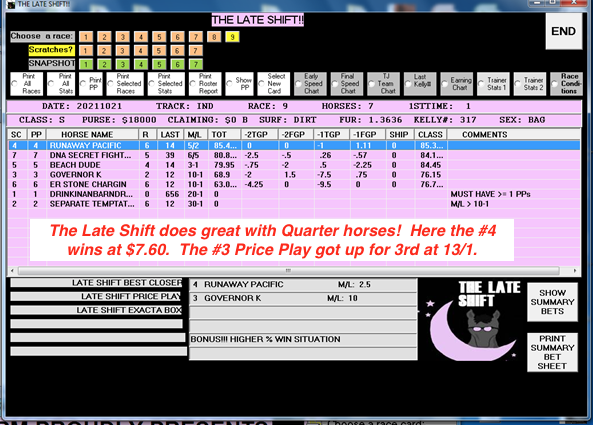 Data Base Profit Areas
Take a look at our database study where

Quarter Horse

odds ranges are concerned.  Below are the areas where The Late Shift showed solid profits at certain morning line odds.  Here we look at odds of 2/1, 5/2, 3/1, 6/1 and 8/1.  The number next to the word RACES is the average number of plays found at these odds per week.  You can see that the hit rate is 50%+ at the lower odds levels and all the ROIs are super high.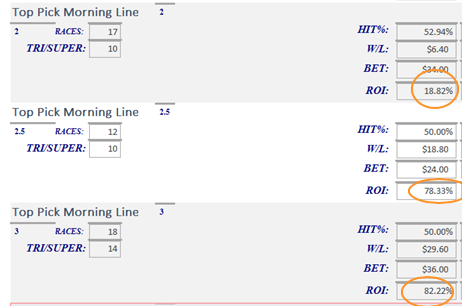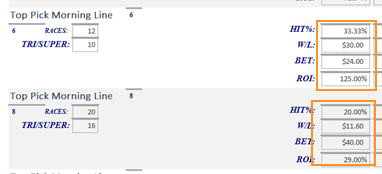 Below are the odds ranges where Thoroughbred races experienced the highest ROIs. 

Note that the low odds produced the best overall profits because the hit rate is so high that all resulted in solid ROIs.

 

The 5/1 thru 10/1 range also all showed profits

.  Over 10/1 showed a slight loss and the odds ranges from 2/1 to 9/2 were a mixed bag with most experiencing slight losses.  So the key is to stick with the profitable odds ranges as they figure to continue to produce results like above and below.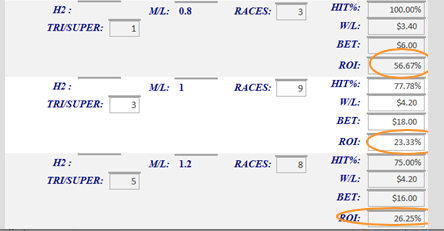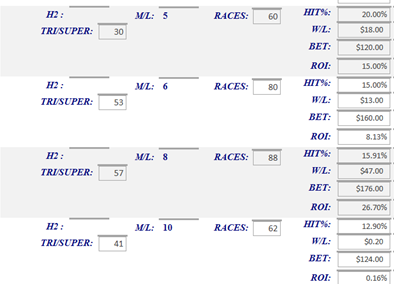 The Late Shift! is fully capable of producing double digit prices on a regular basis.  Below is a listing from a recent 3-1/2 week period at six different tracks.   Since in the database the profit less a theoretical $2 bet is listed, you would add $2 to each of these amounts to get the actual payoffs, so the $39.80, for example, would actually be a payoff of $41.80.   The numbers to left of the payoffs are the program numbers of the first four finishers.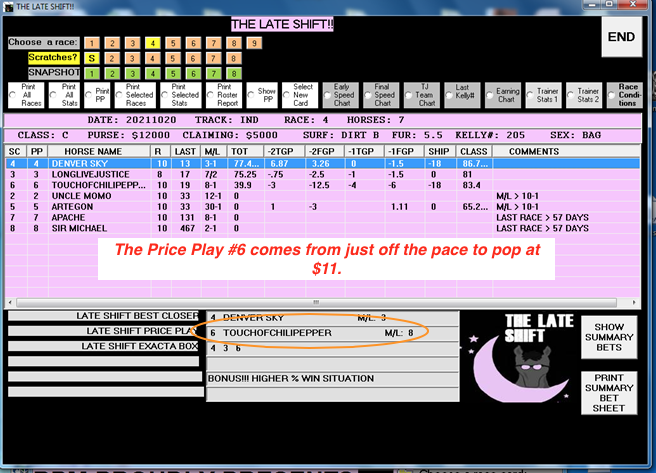 When a selection is listed as both the Best Closer and the Price Play, that is a very strong combination and an 82% prospect to hit the board.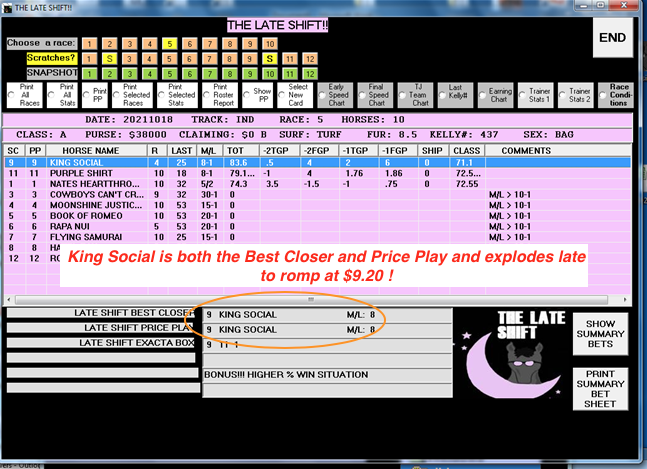 ☛☛

And again, it is very important to know that

many, many selections run 2nd or 3rd at nice prices.

 
On the above Indy card there were three winners, a 12/1 that ran 3rd, a 4/1 and 6/1 that ran 2nd

. 

On the 20th here, there were three winners and 13/1, 9/1, 5/1, 4/1 that ran 2nd. 

On the 21st there were four winners, and a 10/1 and 7/1  and 3/2 running 2nd and a 13/1 3rd.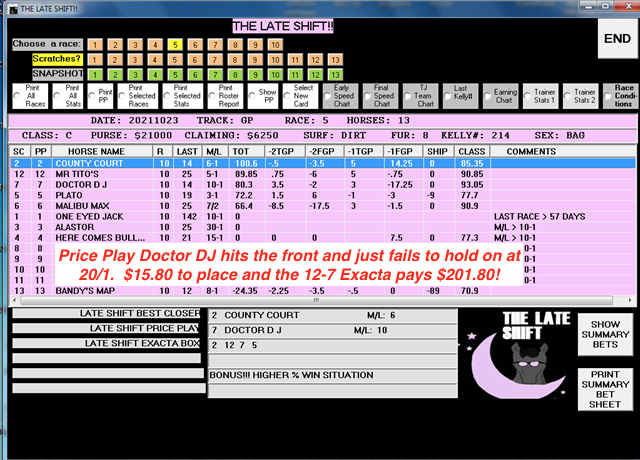 >>

On most cards at most tracks, large or small, you will see these kinds of results on a regular basis

.

<<
"One would think that someone would have exploited this concept previously.  While it's true that 'speed wins races', the fact is that most players envision speed being 'wire to wire' and since only about a quarter of races are actually won that way, that leaves three quarters of the races going to horses closing either a little or a lot in the late going.  The Late Shift will put you on these horses, often, and the prices are almost always above average.  The concept here works, and works more often than it does not.  This is really good stuff!"  Darryl Holden, North Miami, FL
Horses that fit the pattern of Azurita below are high % win (41%) and place (63%) prospects.  Look at the huge advantage she had on points in the TOT (Total) column.  A horses that is better by 30 or more points in this column almost never misses hitting the board!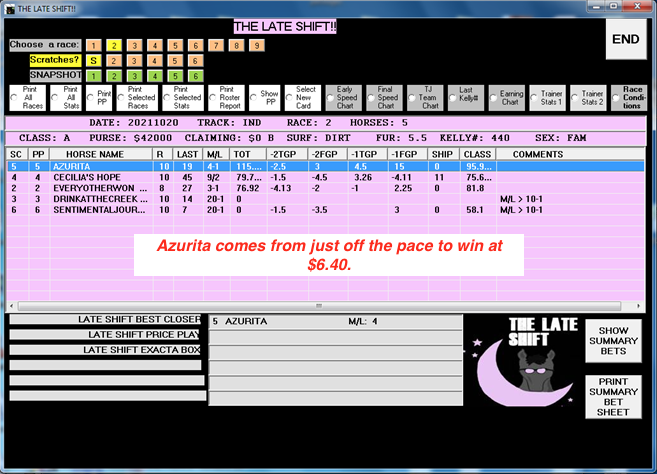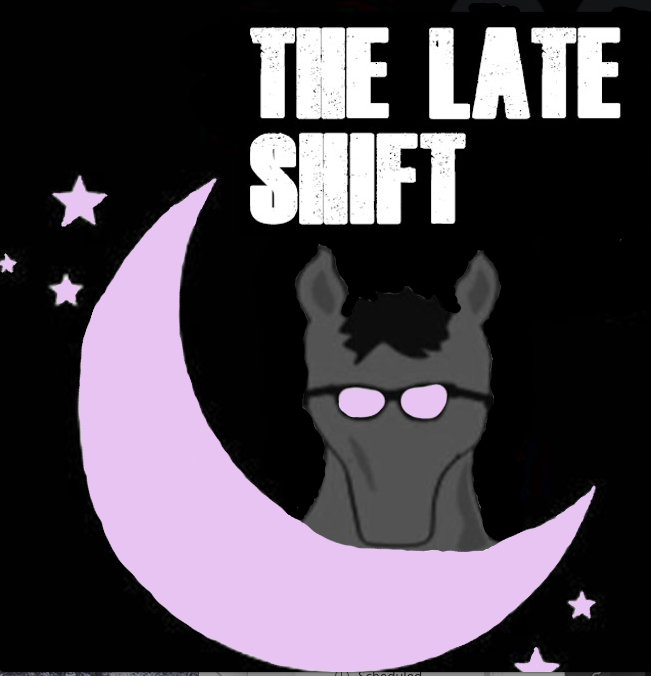 So what you are looking at here is a software program that focuses on where the majority of the winners come from, i.e., a bit or a lot off the pace.
You will get great win prices, great place and show prices and those late runners often, very often, fill out your Exacta, Trifecta & Superfecta payoffs at a price!
And we have priced this ingenious software at a very reasonable $128, but if you order soon your price will be just

$88

.  Get yours TODAY!
Call us at
1-800-696-0067

or order from our website.  Thanks!  And feel free to call us with any questions you might have.
The Late Shift Software Program  $88