$49.95 – $197.00
Several profitable ways to play,

and the software will tell you exactly when a profit-play situation arises!
Description
NEW!!!
The Angle Emporium, The Software!!
Check out the results of our data study —
several profitable ways to play,

and the software will tell you exactly when a profit-play situation arises!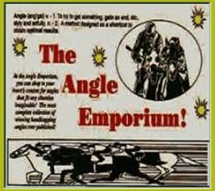 The Study:
Below you will find all of the areas in our study that showed a profit using The Angle Emporium Software. 
You can see that in many categories, the software produced significant profits.
Making all of the wagers suggested, as you can see, resulted in a profit of +30.82%. 
When we removed the 'dutching' suggestions ('dutching' by itself produced only break-even results or worse),
that the profit jumped to +41.14%, or in dollar terms a +$924.20 profit making minimum wagers. 
Playing to win only on the suggested plays returns a super nice

+55.15% ROI

. 
And, when a horse had a single score of 6 or higher,

what we call TOP PLAYS

, the ROI skyrocketed to

+79.89%. 
And NOTE that this category got a $960 Exacta, but we excluded it from the study to show you that profits were significant even without the big score.
You can also see that the Exacta study produced great results just by boxing two horses, including a +166.57% ROI when boxing horses that received a score of 6 or higher.
***And remember,

you don't have to search these plays out

  — 

when one of these situations presents itself, you will see the recommended play right on the screen in front of you! 
Take a look at the study below, and then we will go on to a fuller explanation with examples: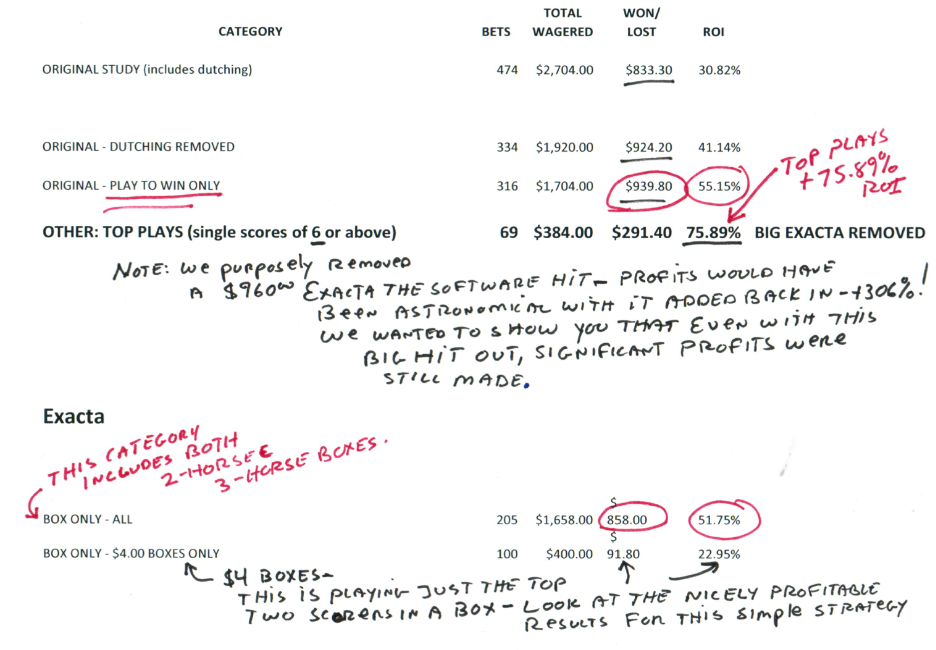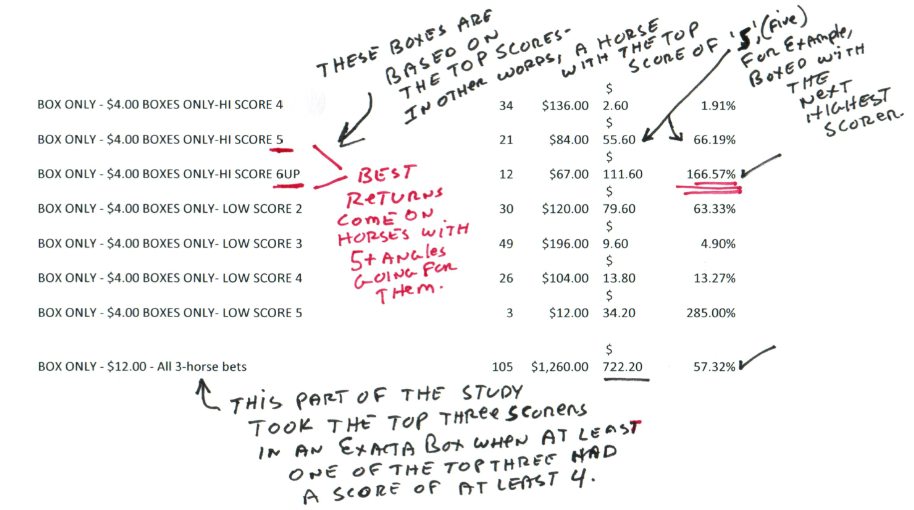 Below is an example of a simple 3-horse box recommended by the software where the payoff was huge ($962.00). 
The box was made up of the horse Mental Iceberg,
who had 3 angles going for it

, and the #4 and #7, who each had 2 angles going.
This was the biggest Exacta we cashed on in the study. 
There were a few in the $400 to $550 range, and many in the $150 to $390 range, and many, many, many more under $150. 
Note that in the study we actually removed this large payoff for reporting purposes to demonstrate that a very healthy ROI was still made even with the biggie out of the picture. 
But the fact is you will occasionally get big prices, so your actual ROI will likely be higher than what we reported with the big payoff excluded.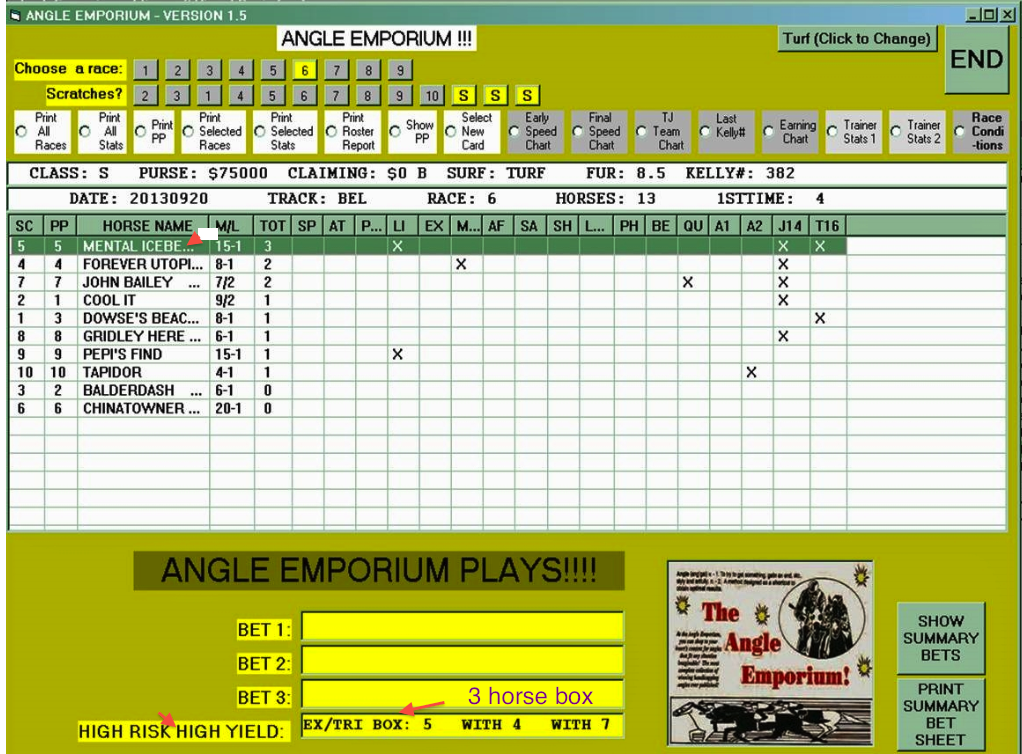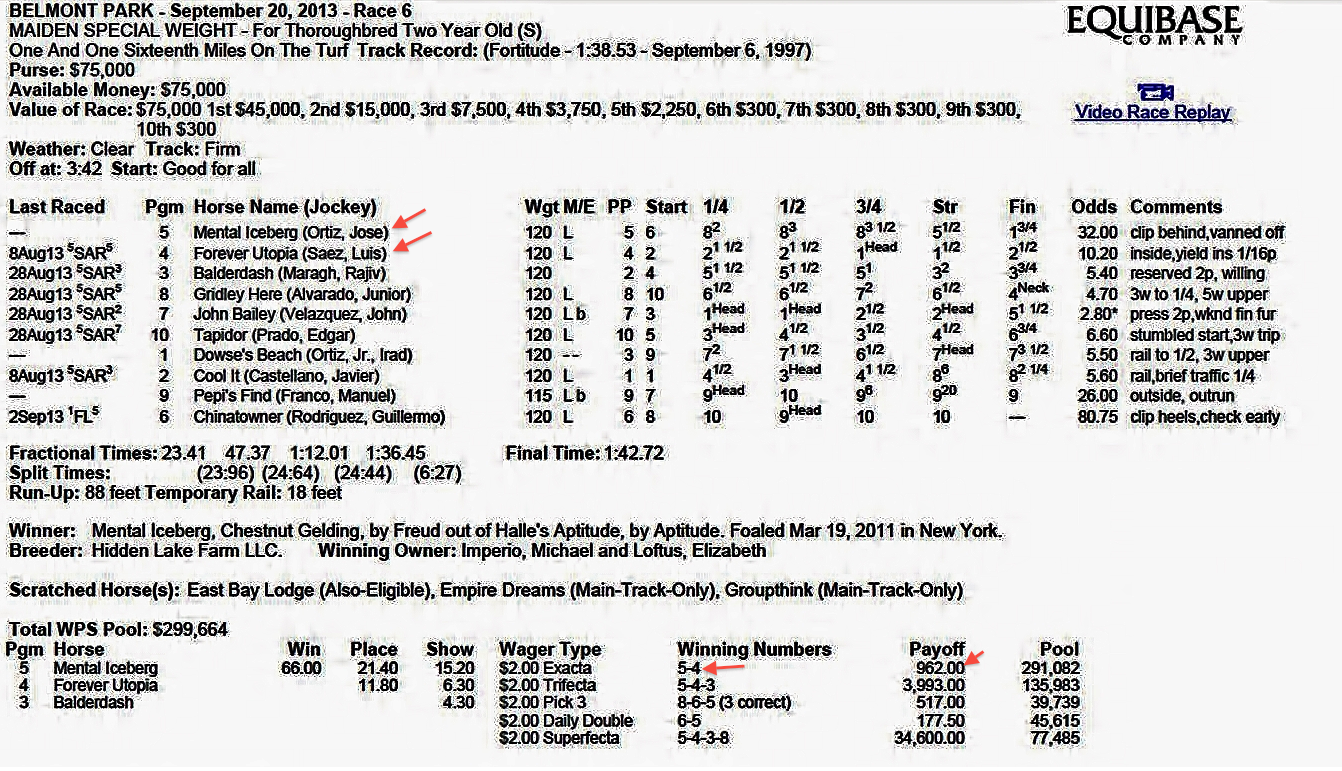 An example of a very solid win prospect. 
Awake At T Wire had 6 angles going for him.
Our study shows that horses with 6+ angles in their corner are the best producers in the software, showing the highest ROIs in straight bets and in Exactas. 
Awake At T Wire paid $19 for the win.

  We missed the Exacta, but you can see that the #1 and #2 had 4 angles going for them, and they both hit the board, 3rd and 4th.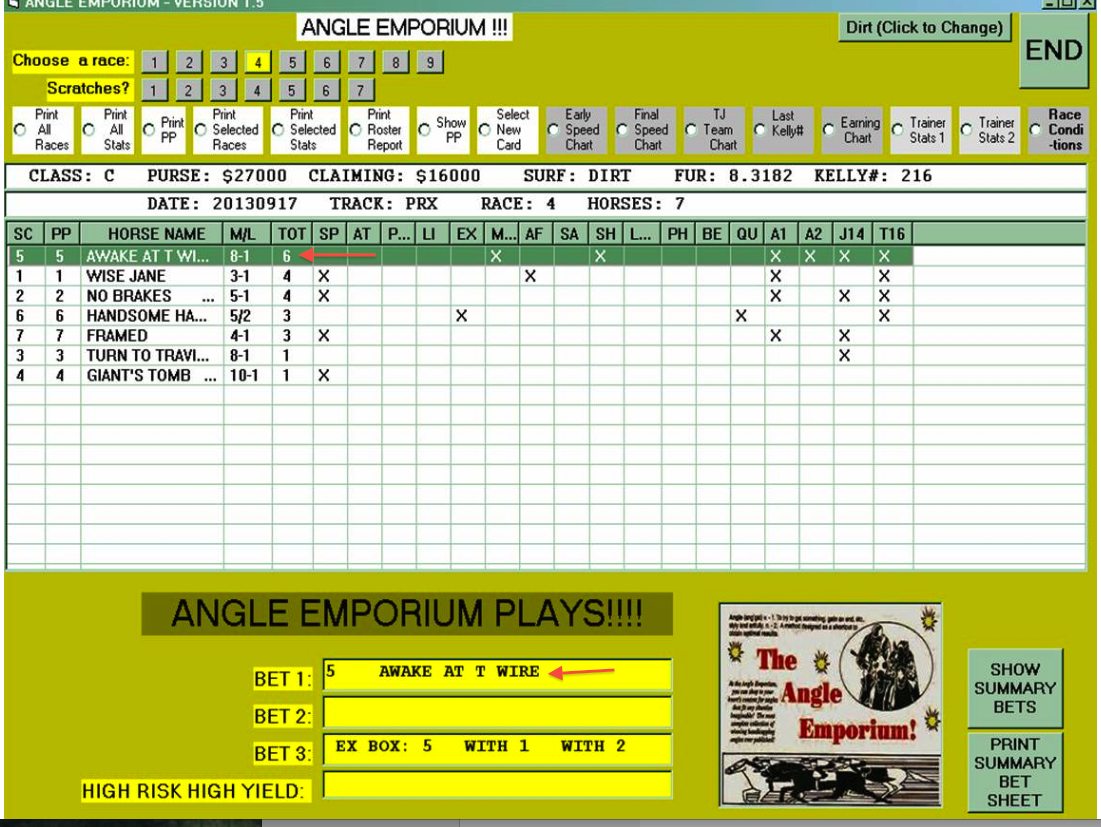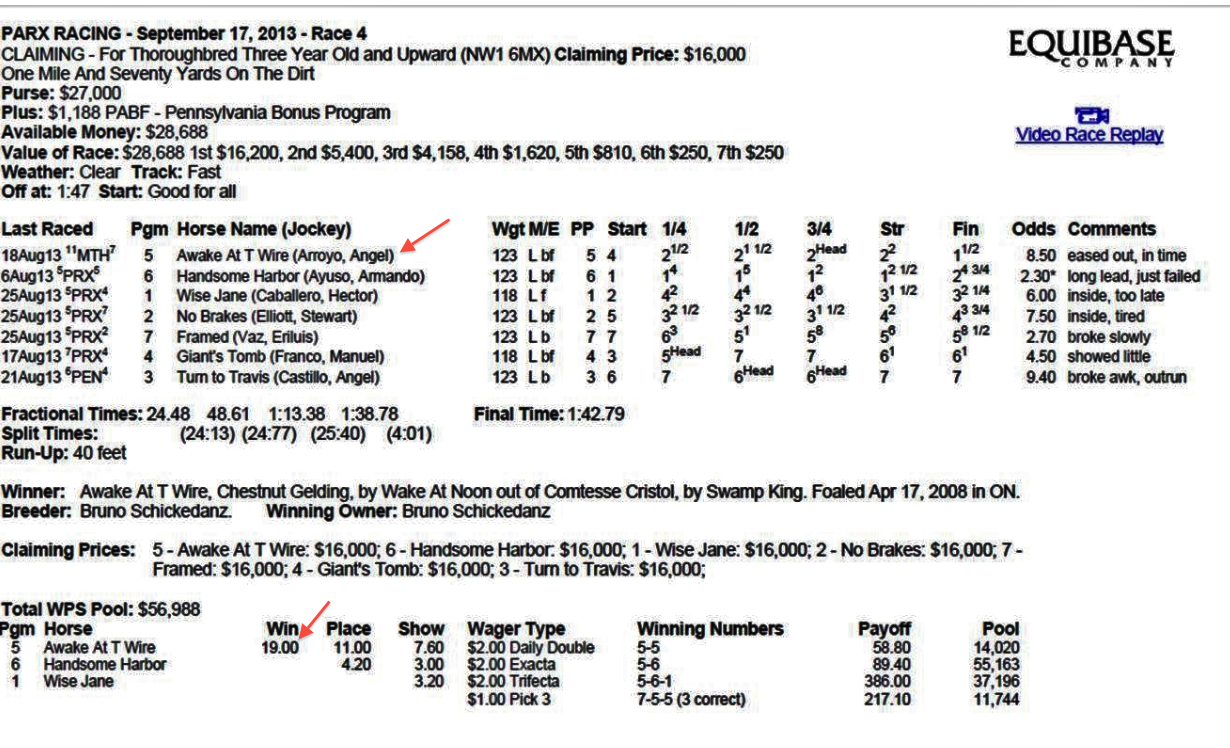 Another great win or win/place situation below.

 

Arrhythmic has 5 angles going for her

,

which is a huge gap of +3

over the second highest scorer.
Plays like this rack up a 36%+ win rate and 61% win/place rate. 

The

$19.60 win price

was a gift given the fact that this runner had so many angles on her resume.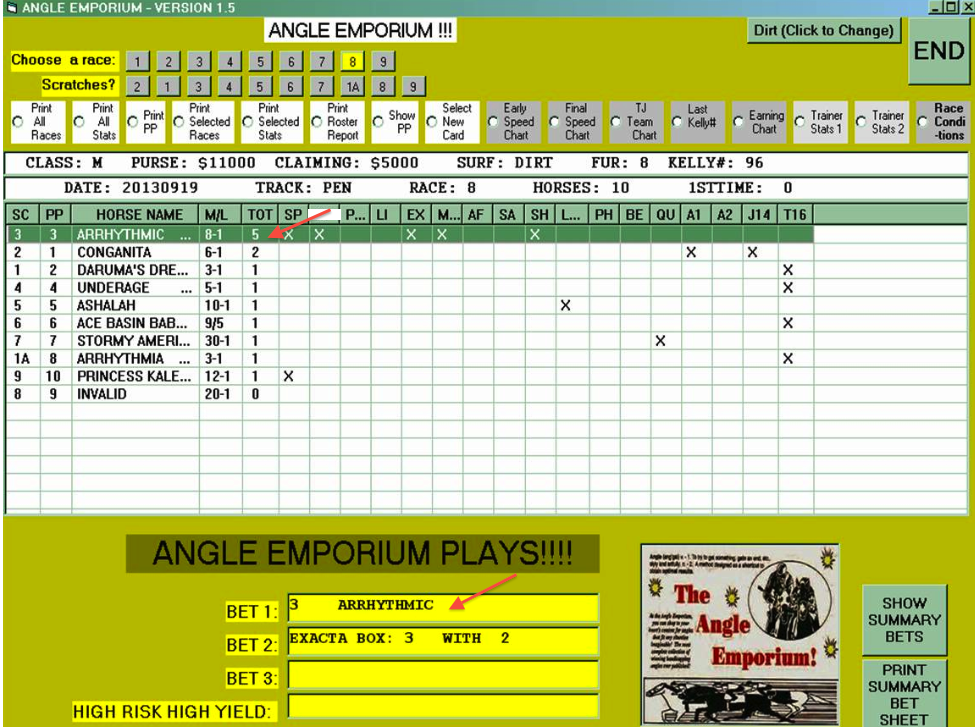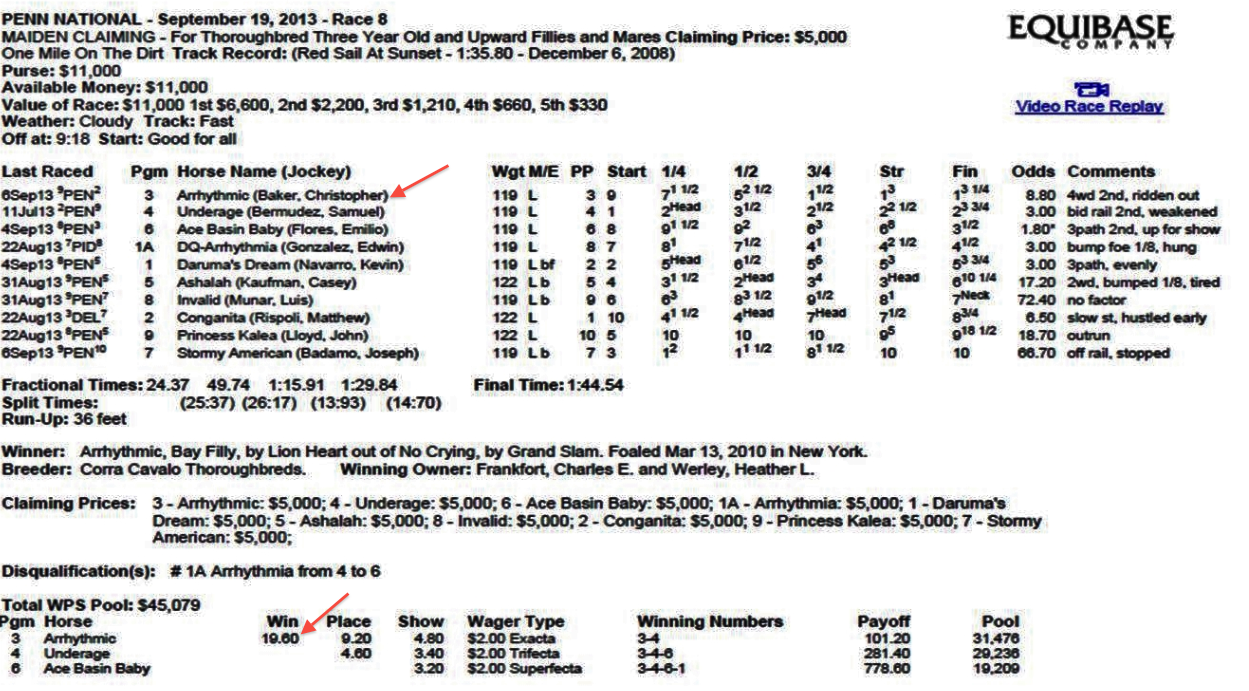 Below is a situation that comes up fairly often.  Only three horses in this race had angles.
The software suggested a 3-horse box since at least one of the horses was 5/1 or higher.
Luckily for AE users, the longest shot, Seahag, won at $22.20 and the Trifecta paid $271.40 and the Exacta $73.60. 
In situations like the one below, if you are a straight bettor, it often pays to take a show with the longest price of the three angle-getters.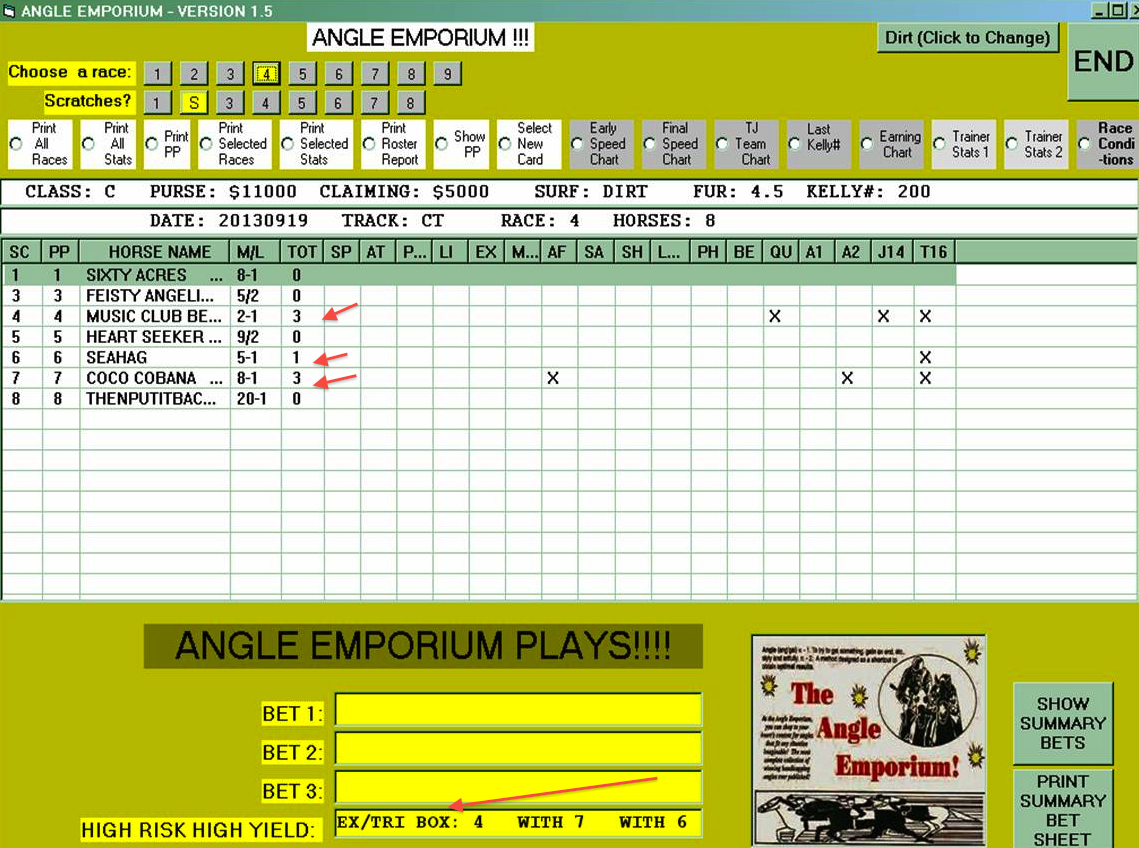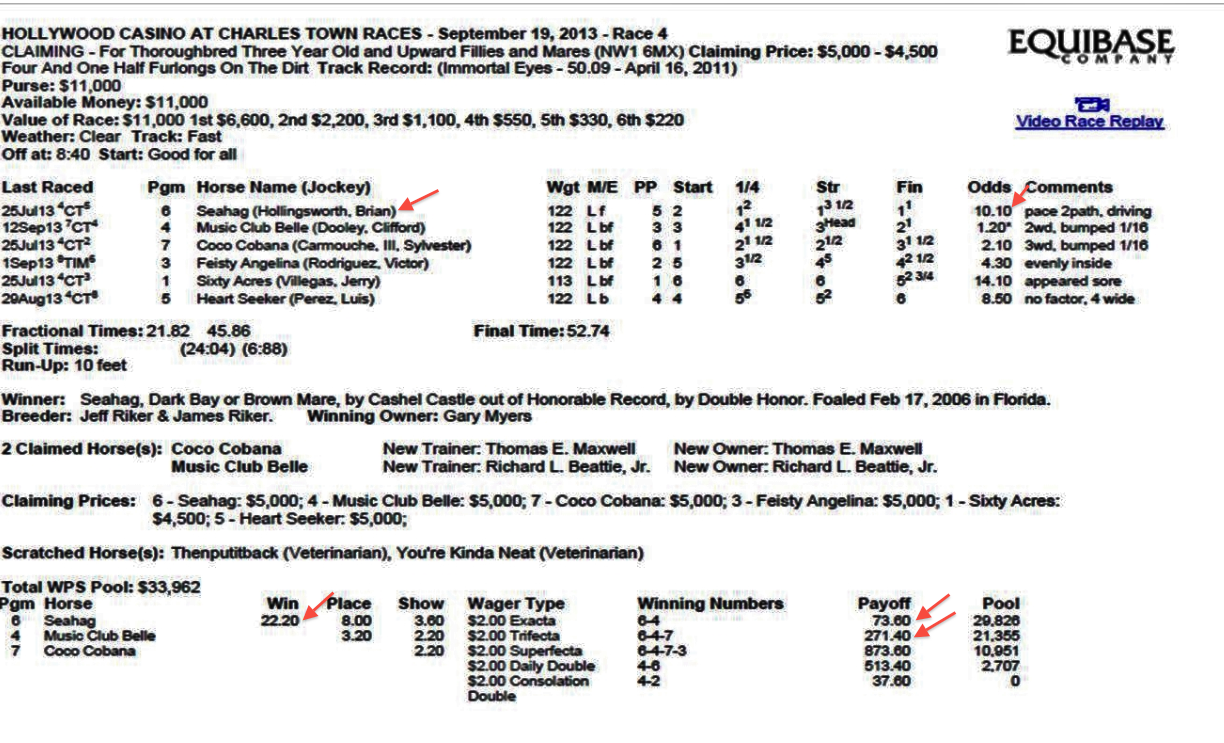 What The Angle Emporium is All About!
The Angle Emporium, in its original book form, is the most thorough compilation of winning horse racing angles ever published.
While you needed to do each angle longhand from the book,

with the software the best angles are all programmed in. 
And, since a horse with a winning angle in his/her corner has an edge,

imagine if a horse has two, or three, or several angles going for it …
Wouldn't it just make logical sense that that horse would have an even bigger edge? 
Of course it would, and our tests have proven that, indeed,

multi-angle horses win more often, hit the Exacta and Trifecta more often

,
and wagering as the software suggests, produces profits in several different areas.
Let's look at another example: 
A 3-horse box is recommended using the 10-4-5.  The favorite, Shrinking Violet, wins and Limerick Lady, who is 33-to-1 runs 2nd!  
A nice $2 Exacta payoff of $210.80 even though the favorite won the race.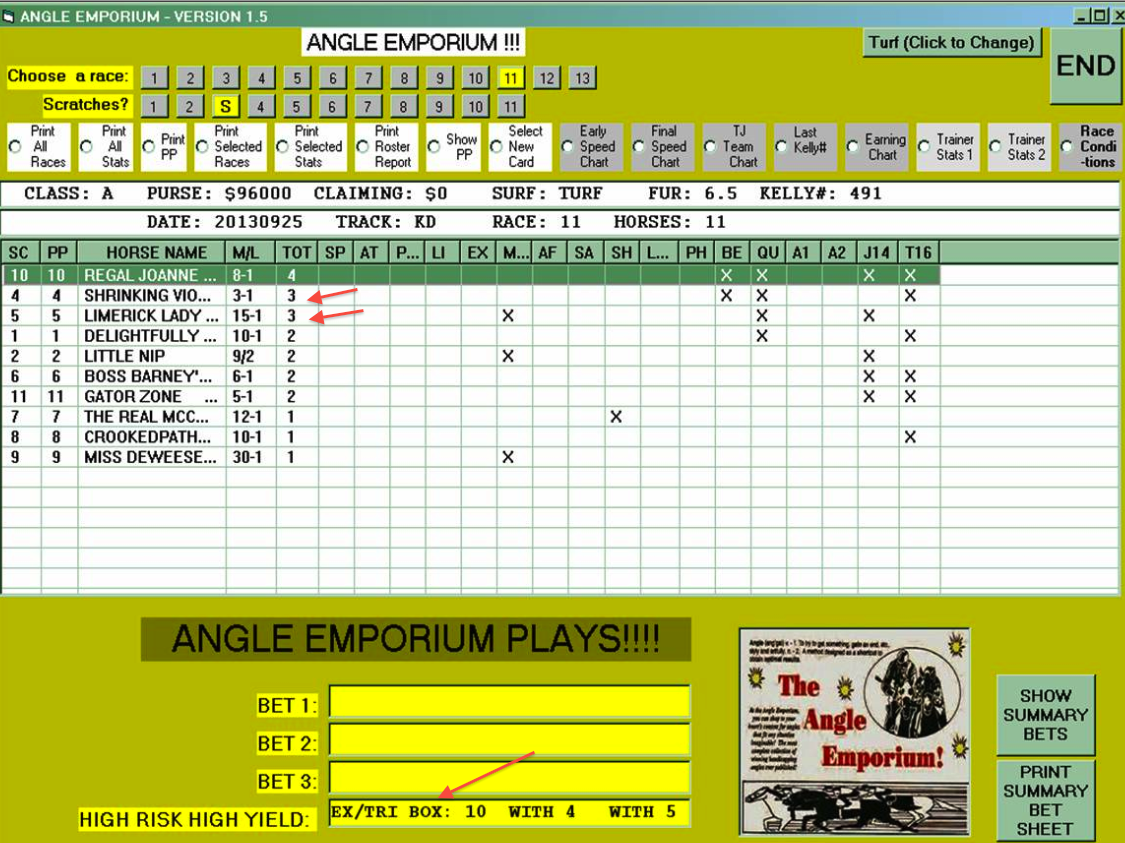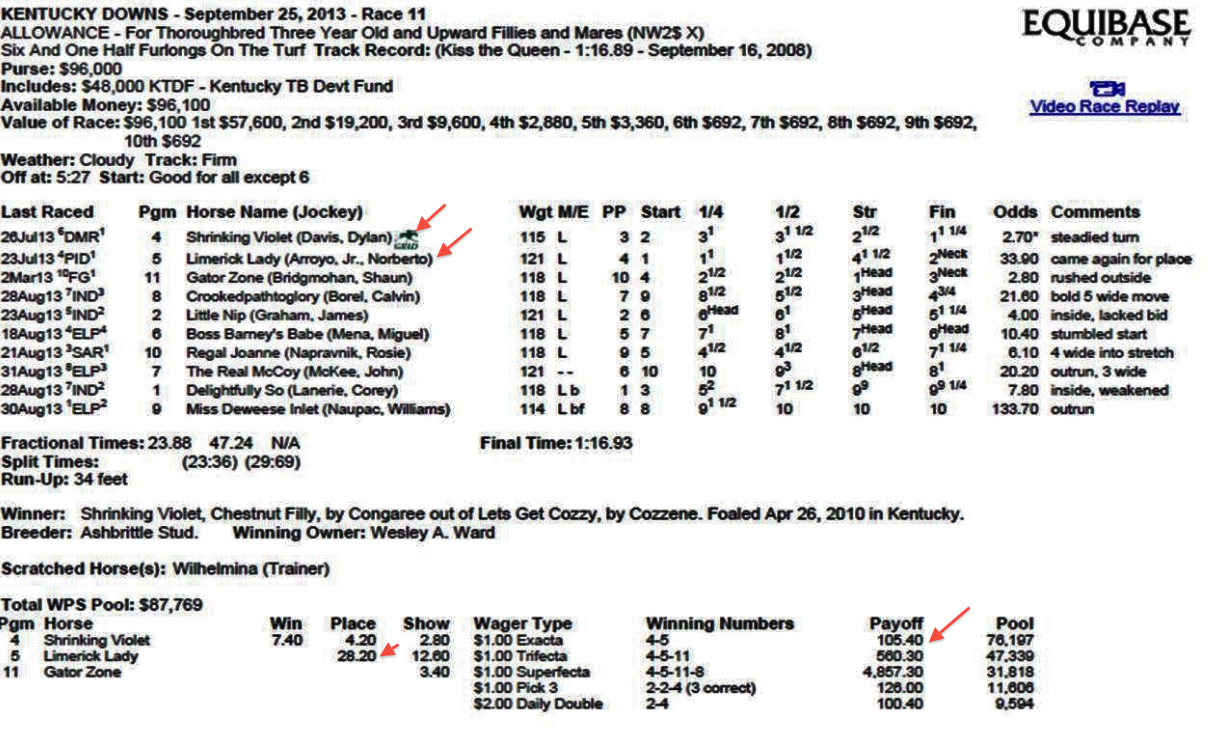 A Brief Explanation of Angle Emporium Columns
The Angle Emporium Software consists of several angles that are profitable on their own, so the theory is that if a horse has two, or three, or several of these angles going for him, he would naturally be a more potent play. 
And our testing has proven that theory out, with profits being shown in several categories (see enclosed results).  Below is a brief description of each angle:
SP  (speed/pace) 

  — measures early speed and closing speed, with the emphasis on the latter
AT (ability time) 

— a compendium of turn time and pace ratings — horse must meet a certain 'total' rating criteria to qualify
PW (power workout)

  — a fast recent workout at a longer distance (5f and up) — this is a conditioning move by the trainer
LI

(lasix improve)

  — horse has shown improvement with lasix added
ES (early speed)

  — horse is a possible lone early leader
MU (moving up trainer method) 

— horse moving up in company after better-than-looked effort
AF (added factor method) 

— an extremely accurate method of play involving several crucial handicapping factors
SA (stable action)

  — horse appears to have had stable action (betting action) in the recent past
SH (short/sore horse pp) 

— horse may not have been in best form in last race — improvement likely today, or horse is older and appears to have physical problems but can still compete at today's level
LSF (longshot x factor) 

— a well-thought-out longshot method that involves past odds
PH  (Positive Horse)

  — a horse who has recency, consistency and quality
BE (better late than never)

  — horse is a non-win type who may be coming up to a big effort
QU  (quirin speed points) 

— very accurate speed numbers using Quirin's famous formula
A1 (2-point speed)

  — a speed method that involves two potent factors
A2 (3-point speed)

  — a speed method that involves three potent factors
J14 (jock 14%+ ytd)

  — a high % jockey on board today
T16 (trainer 16%+ ytd)

  — trainer has high win %
Additional information
| | |
| --- | --- |
| Paper & Pencil Method | Book, Software |