$68.00
The BankRobber Longshot Method Software!!
Description
Many of you know Daniel Speller, whose Longshot Indicator and First-Shot Longshot! Methods took the price-playing world by storm.
Those two methods picked tons of juicy longshots, including a total of 12 $100+ winners at the eastern tracks between October and December 2010 as well as dozens and dozens in the $25–$90 range!
But you ain't seen nothing yet!! Dan has just come up with an amazing NEW Longshot method of play that focuses on the EXOTICS: EXACTA, TRIFECTA, SUPERFECTA, etc.
It's called The BankRobber Method and it's the kind of method that can make you a half-year's salary or more in one fell swoop!
Ask us if we caught a $62,986.90 Superfecta at Churchill using The BankRobber Method.
Go ahead, ask. Yes, we did! And we also caught the $12,238.40 Trifecta on the same race!
But, of course, payoffs like that are the exception rather than the rule.
But just in the past month, playing five different tracks (Belmont, Hollywood, Mountaineer, Louisiana Downs and Philly Park) we hit Superfectas for $3,070, $2853, $2,541, $2,207 and $1,923 (plus several others between $233 and $1,821).
We hit Trifectas for $2,762, $2,171, $1,708, $1,358 and many others. Our top-paying Exacta was $1,012; we hit five others between $510 and $933, and dozens of others ranging from a low of $46 to a high of $507.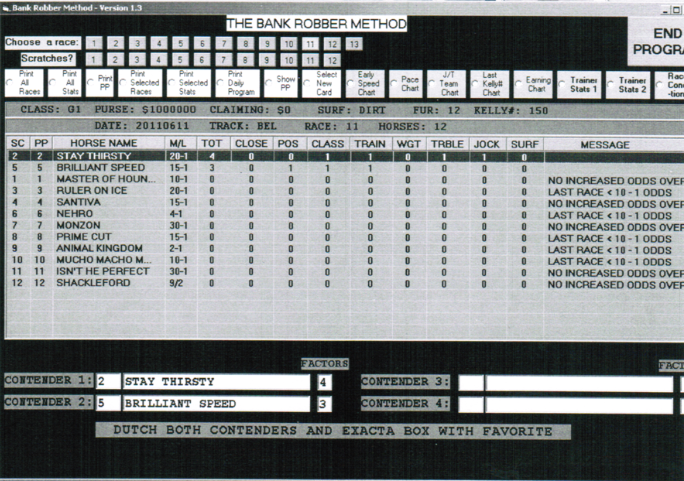 The Belmont Stakes this year was one tough cookie to crack.  And while BankRobber did not have the winner, it clearly had the huge-priced place horse, Stay Thirsty, who just missed.
And, the 3rd-place finisher, Brilliant Speed was the 2nd-choice!
BankRobber's unique longshot formula's consistently come up with long-priced horses — horses the general public never take a second look at.

"I hit a $102 horse that keyed a $2,871 Trifecta: a $46 winner that got me a $447 Exacta by following Dan's rules, and a $118 winner (that I didn't bet!! — dumb cluck that I am!).
Needless to say,

The Bankrobber Method

has more than proven its worth to me." Drake Sardi, Philadelphia
Now this is a serious, serious work, my friends.   Dan's Bankrobber Software provides you instantaneous plays, at any and all tracks you choose to download for the day!
Dan also provides you with the strategies that will lead you to these major league payoffs.
And we're not talking about betting real big bucks here.
Dan has laid out incredibly intelligent and professional guidelines on exotic play with the ticket cost ranging from $4 to $36. In fact, in our opinion, these strategies are worth the price of the method alone!
In fact, looking over our testing data, if you had a starting bankroll of just $400 and played exactly as Dan suggests, you would easily have enough money to make a dozen or more plays.
And we can almost guarantee that at least one of those plays will win you back your original bankroll and then some.
We had 10 different players test this theory, and not one busted his/her bankroll.
On the low end one player ended up with a total of $514 after 12 plays. On the high end: $3,714 (the second-high was real close –$3,654).
Remember, when going for the big prices as Dan instructs, IT OFTEN TAKES JUST ONE HIT TO PUT YOU PERMANENTLY IN THE PINK.
And Now that BankRobber is on Software, you don't need to do a lick of work — all of the Longshot Plays are sitting right there
in front of you on your computer screen!
You can bet the primary contenders to win only, if that is your style.   Or you can go for the BIG-PAYING Exotic Wagers.
During the same one-month period mentioned above we hit win prices of $165, $98, $89, $126, $119 and $93. All in all, The BankRobber Longshot Software is a real price-playing doozie.
Remember, generally the professionals who really make it big in this game make it on longshot payoffs.
AND BELIEVE ME, THERE IS NOTHING NICER THAN WATCHING THE CASHIER PUSH STACKS OF $100 BILLS YOUR WAY!
And The BankRobber Software can put you on the receiving end of all that nice, green, crinkly paper!
[wp_eStore_fancy2 id=48]