$111.00
Stalking the Speedy Starters!
What kind of running style wins the majority of North American races?  Nope, not Lone Speed.  To find out, read on: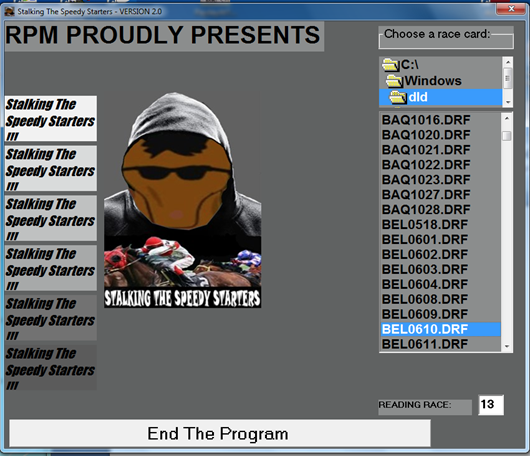 Description
Stalking the Speedy Starters!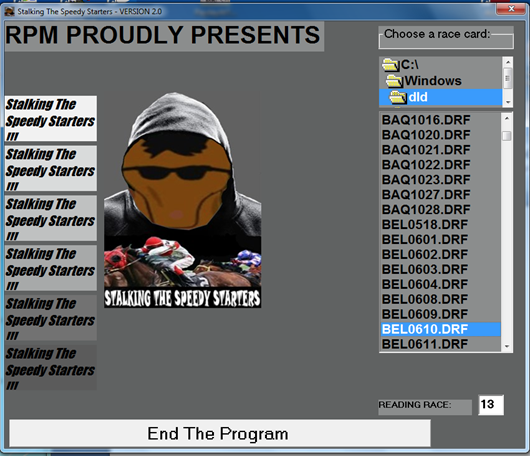 I remember having five straight winners in the Pick 6 at Del Mar once, with the payout to either of the horses I had in the last leg in the $24,000 range, and just as in the situation above, one of my horses was two lengths clear in deep stretch when this other runner ….. I'll never forget his name: it was

Tough Break

, believe it or not, flew in the final strides to get up by a nose.
Isn't it funny how we horseplayers seem to remember the agonizing losses in big money situations better than our actual large scores.
But identifying Stalkers is not easy, as there are often two or more in any given race.
Ahh,

but what if we had some assistance,

especially of the 'computer' variety,

to help identify the stalker(s) likeliest to be bearing down late, and winning or finishing in the money

.
👉Well, we're in luck because our programmer, Len Cz, is introducing his newest, which he calls
'Stalking the Speedy Starters!'

,
a program that focuses on the horses with superior 'stalking' capabilities.
👉👉And, s

ince close to 68% of all races at distances of 6 Furlongs and longer are won by Stalkers

, well, you will be cashing in much, much more frequently!  Let's examine some more details:
1.

While it has long been known that most races are won by horses coming from just off the pace, there has never been a super accurate way to identify these animals.

2.

The reason for this is that at times there are several likely 'stalkers' in a race. 

The closest we have seen to solving this puzzle came from

Tom Brohamer

, of Pace Makes the Race fame.

His suggested method was very complex, however, requiring comparing Par Times for each distance, and each call, among several other factors.   While effective, doing the calculations longhand would easily take 30 minutes or so per race.
So now you have access to a software program that focuses on horses who win the vast majority of races in North America, year in and year out:
The Stalkers. 
Now, instead of watching your front runner choke nearing the wire, you have a good chance to have the horse that passed him late.  
This is an extremely solid winner and on the board-getter, and you will see several cards where most of the selections hit the board.
And, considering the amount of program and detail that went into this program,
we feel that the $111.00 retail price is very reasonable.
So Call us at
1-800-696-0067

or order from our website,

and be sure to watch the Video (access above).

 

Thanks, and Happy Summer Racing Season!