$99.00 – $155.00
Give yourself a solid chance to profit at the

Turf Racing

/Triple Crown Prep Capital of the World  –

without doing an ounce of work!
Think that's worth less than $1.40 Per Raceday to you!!
The Gulfstream Championship Meet, 2021/2022!  for a Great Introductory of Just $155!

Description

Editor's Note:

The

2021/2022 Gulfstream Championship Meeting

begins December 3!

 
The Gulfstream Championship Meeting features the

BEST

Wintertime racing in the country,

and also hosts some of the most important Triple Crown prep Stakes races.

  Not to mention that these tracks also feature the absolute best quality turf races in the nation,

as well as one of the most diverse wagering menus in the country!

  
So why not, for once, just relax and let someone else, namely expert handicapper

Rob Henie

of the famous East Coast Racing Report and his team,

DO THE WORK FOR YOU!

 
**

(In November,

Rob Celebrated his 19th year publishing the East Coast & West Coast Racing Reports!

 

And many, many of the subscribers who started out with Rob back in 2002 are still with him today!

)

**
Below you will find all the reasons you should make Rob's selections an integral part of your wagering the

Big Gulfstream Meeting

, which runs all the way thru April 3, 2022! — You WILL, trust us, cash many, many more Winning tickets than you ever have before.     Read on…..
 See the Video!

(Note: this video discusses the summer meetings, but lays out all of the features that you will find in all of Rob's reports) Click here____

☛

Gulfstream

The Championship Meet & the Greatest, Top Quality Turf Racing in the Country!
 Give yourself a

solid chance to profit at the Turf Racing/Triple Crown Prep Capital of the World

  – without doing an ounce of work!
Think that's worth less than $1.40 Per Raceday to you!!
☞☞The ECHR/WCHR Subscriber list reads like a 'Who's Who' of horseracing.  But YOU, too, can belong to this exclusive club! 
Give it a try – you get the Championship Gulfstream,

all FOUR MONTHS

, for just

$155

(or just $99 for the Weekends-Only Package)!

( regular price for full meet is $295)



"If you play the big tracks on the east and west coast, check out the East Coast & West Coast Handicapping Report from Rob Henie, it's full of great information everyday and believe me, I use it myself."

 Bob Baffert
—————-

Steve Davidowitz

, author and Andy Beyer colleague, has been using Rob's Service for years:  "You simply cannot beat Rob's expert analysis — I have finished most meets with a positive ROI, and these are the toughest-to-handicap meets in the nation."
————-

"Successful handicappers combine intelligence, patience, discipline and roll-up-your-sleeves hard work to thrive in the difficult world of thoroughbred racing. There is no quick fix or magic elixir that turns a hopeless loser into a successful player. But what can be of great service is to read the work of Rob Henie and staff, in the East Coast Handicapping Report (ECHR) and West Coast Handicapping Report (WCHR).  Through tireless study of replays, grasping successful workout patterns, and understanding the intention of trainers, Henie's reports are written in a clear, concise, and logical way AND you will learn about the nuances of the game. Personally, I highly recommend his work and would encourage all others to give it a read. I have and I'm glad I did."–

Bob Neumeier, NBC Racing Television Analyst 
25 plus years as TV analyst for NBC Sports

​"I am confident in my own handicapping, but I always, every racing day, check in with Rob's Reports.  Did you know that by just betting Rob's 1st-time-starter selections over the past couple of years yielded a +37% ROI!!!  For every dollar you put in, you got $1.37 back

—

I can almost make a living on that!  I find it a bit amusing and discouraging when clients tell me they want to win at the races.  I always recommend Rob's service but few seem willing to pay half the price of a cup of coffee a day to actually hire a winning handicapper."

 

Tom Console, Handicapping author
A sampling of ECHR TOP PICK Gulfstream Double Digit Winners at the last Meet!
My Song Venezuelan  1ST      $55.40
Thywndrwhydrnk         1ST      $18.60
Holy Scat                     1ST      $14.00
Point Made                  1ST      $103.40
Jr's Holiday                  1ST      $15.40
Neto                             1ST      $16.60
Still Krz                        1ST       $18.40
Best Behavior              1ST       $12.20
RamblinNGmbln          1ST       $10.80
CharmingKttn              1ST       $11.20
Garabato                     1ST       $16.80
White Cape                 1ST       $34.60
Super Spender            1ST       $18.00
Deterrent                     1ST       $16.00
Scuba Sue                   1ST      $17.40
El Gran Joyful              1ST      $11.80
CrystalCantana            1ST      $13.40
Cave Johnson              1ST      $30.00
DrmngofClarise            1ST      $11.40
Voodoo Wave              1ST       $13.00
Regal Kitten                 1ST       $10.40
Whistlin Straits             1ST       $15.40
Pricedtoperfection        1ST       $11.40
Rock All Day                1ST       $35.20
Stevarino                     1ST       $13.80
TrustUrIntuition            1ST       $30.00
Mexican Groove          1ST       $20.20
Shiawassee                 1ST       $26.80
Viva Bertha                  1ST       $12.80
Takeitotheedge            1ST       $10.40
Kings Knight                1ST        $28.60
Mississippi Delta         1ST        $19.20
Untrue                         1ST        $12.60
TruBlueNation             1ST        $10.40
Seuss                          1ST       $10.00
Starship Lisa               1ST       $16.80
Keep Me Grounded     1ST       $12.60
Discipline                     1ST       $18.00
JS Bach                        1ST      $13.20
***

Along with a slew of double-digit second choice runners including $99.20, $54.60, etc.  And numerous Exactas ($1,014 the biggest at Gulf last year), Trifectas (using 4 horses – $3,765 the biggest last year) & Pick 3s/4s***
And Check Out the results from some of the multi-win cards, and this occurs OFTEN!: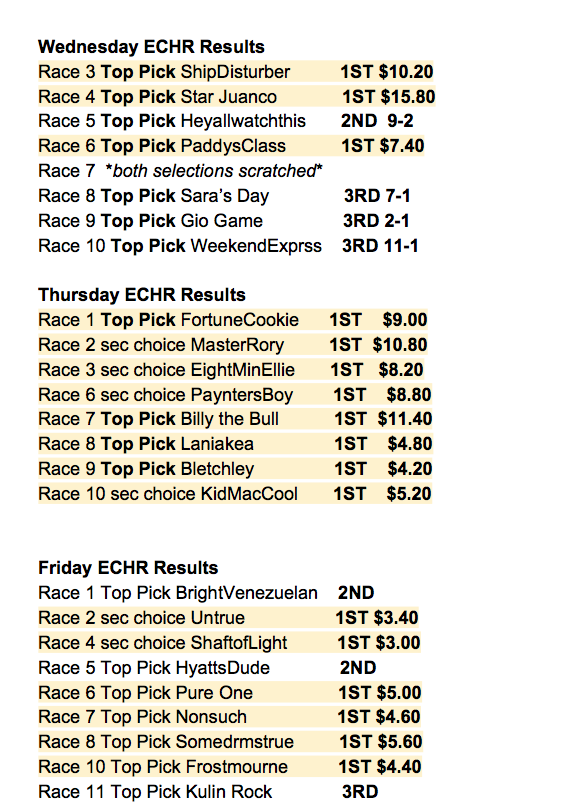 >>>

ANDDDD

….  Exclusive New Features, including Rob's 'Priority First-Time Starter Selections'!!
☞At the Gulfstream meeting Rob released 33 First Time Starters — 18 of them WON (57.6%!!). 

A $20 flat win bet got you back $1,410 in Profit!!
>>>>

And Rob has done this consistently, for meet after meet — so if you did nothing but play Rob's 1st time starter picks, you would be swimming in $$$$$.
Commentary on Every Race, Every Day — Nobody in the Business follows East Coast & West Coast Racing Like Rob Does — His Commentary and Selections are based on not only years of experience, but also on information that the average horseplayer simply does not have access to.

♦Rob Henie and staff have shown positive ROIs at close to 90% of the meetings they have covered since 2010.  They do nothing but immerse themselves in the art of handicapping — they study trainer patterns, post position patterns, track bias, watch – over and over again – the replay tapes for each racing day looking for troubled trips, etc. — they wager on the same horses that they release to their clients –

In short.

.
When you subscribe to the Rob's 

Selection Service

, 

You are hiring a team of professionals to do the work for you!

  Your selections are emailed to you, you make your wagers and, on most days, and at most meetings, you are going to pocket some serious coin.
>>>>This is the real thing folks.  You've got expert, winning handicappers providing you with detailed selections and consistently high prices.  They will do all the work for you — you are hiring specialists with decades of winning experience behind them.<<<<
>>>
And the Pricing is Great!!
Again, you are looking at less than 1/2 the price of a Starbucks coffee per raceday — 

and you don't have to buy a Racing Form, or Program, 

as Rob includes all of the info you need!!

 Try it –

You'll Like it!

  And You will certainly appreciate the Great Introductory Price!!:

Full 4-Month Gulfstream 2021/2022 Championship Meet 

– just

$155!

 
Weekend Only Package

(Saturday & Sunday) just

$99
Call us at 1-800-696-0067  or order from our website  
www.rpmhandicappinggiant.com
Additional information
| | |
| --- | --- |
| ECHR | Gulfstream Full Meet, Gulfstream Weekends |