Sale!
$44.88 – $59.90
SPEED SCHOOL!!!
NEW SOFTWARE: 

A Professional Player's Education: Locating Speed-Horse Specialists!
Description
♦

Believe it or not, horses, just like humans, go to school. No, they don't learn 'readin, writin and rythmetic', but just like we two-legged creatures, they are taught skills that will aid them in their future careers.
→

Thoroughbreds are 'schooled' from a very early  age.
 
They are first taught to accept the bit between their gums.  Then the weight of a saddle — followed by the weight of a saddle combined with a rider, then saddle/rider/bit/reins.
They are then taught to break from an open gate, and finally from a closed gate that springs open just like at the real racetrack.
>>>
And it's these last two lessons that are the most important for the aspiring runner – because here he/she is taught the most important lesson of all:
<<<

The ABILITY TO CULTIVATE the most vital of all race horse traits: SPEED!!

>>>
SPEED SCHOOL!!
Speed School is designed specifically to identify horses who have been well schooled in the art of SPEED.

 

Our testing (162,783 races) showed the SS TOP Play hit close to 35% (34.6) of the time with an average win mutuel in the $7.79 range.

  The FWR (Furlongs Worked/Raced) in the last 35 days is a unique feature that puts the spotlight on FIT or 'Tightly Wound-Up' horses as some players refer to it.  This is a factor ignored by many players so BIG prices are often generated by this feature.   The SPD/CLASS SUPER SPOT adds a 'stamina' dimension, i.e., finds horses able to carry their speed around two turns and on turf, and the BEST EXOTIC PLAY box hits a high % (@39%) of Exactas.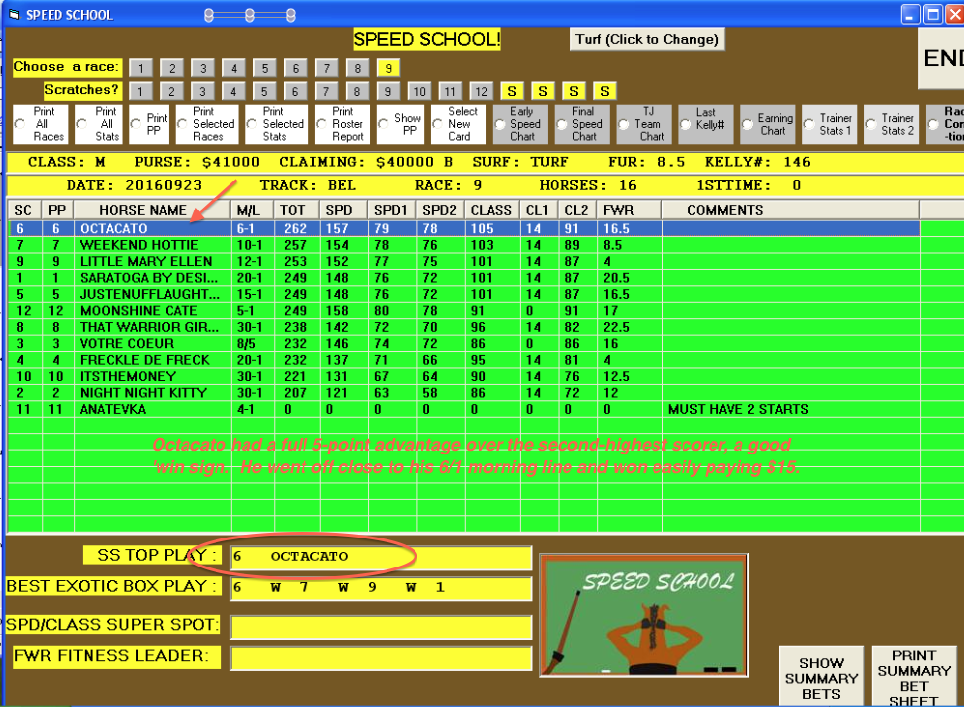 Below:  A great example of a 'Super' Play where the $18.80 winner was prominent in all selection boxes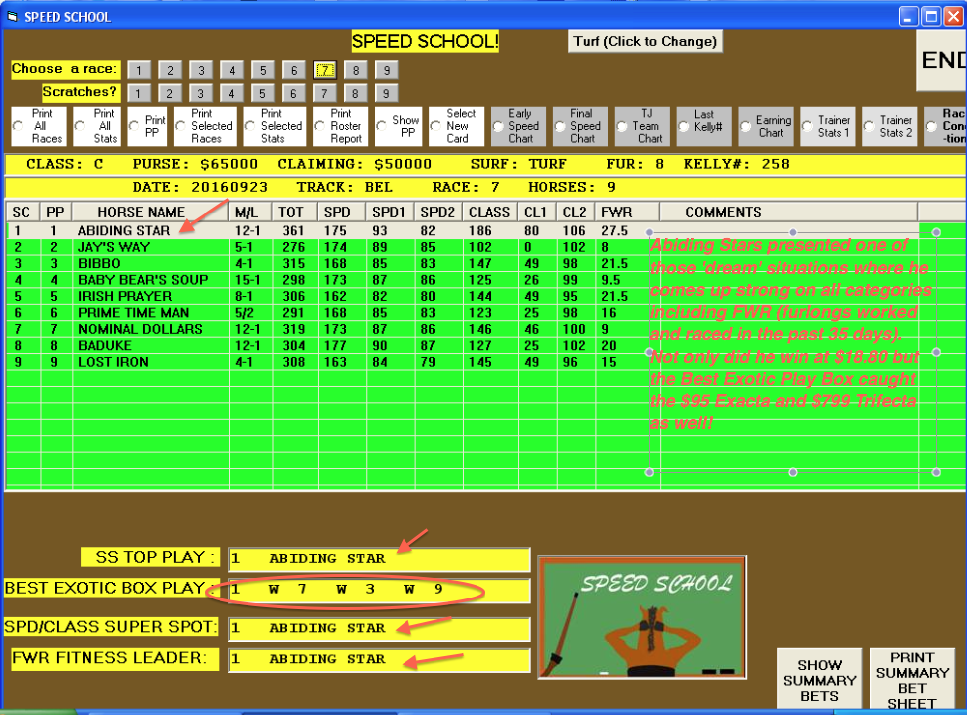 A $38.60 FWR horse!

Another Nice FWR hit —

the Furlongs worked/race concept is an old one, but few seem to use it any longer, thus the handsome mutuels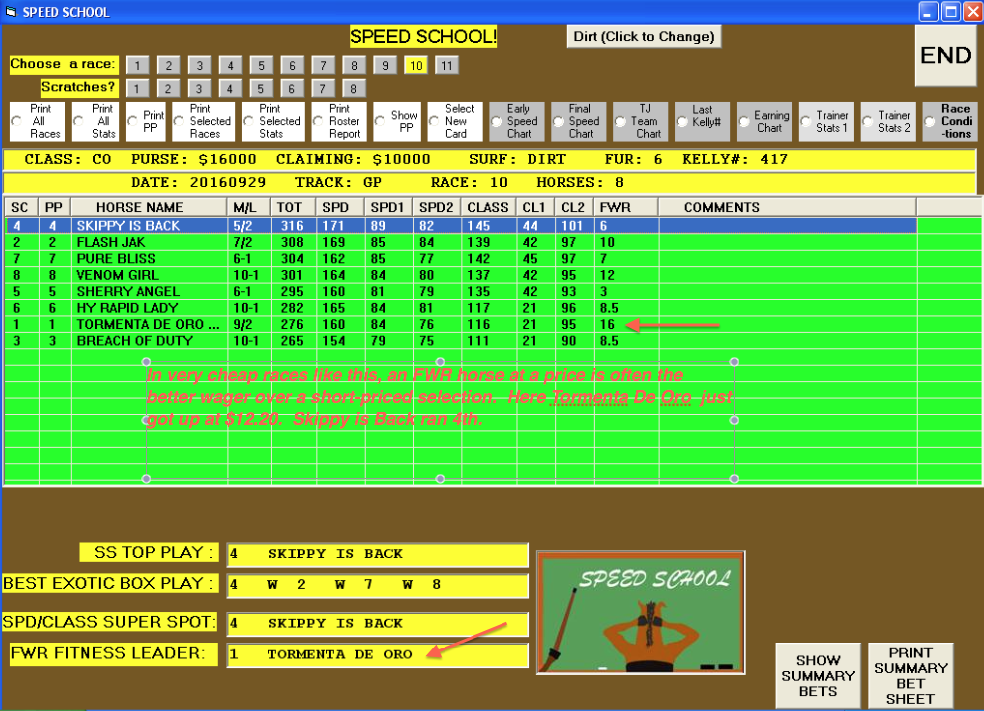 COMB SS TOP + FWR – 

almost always hits the board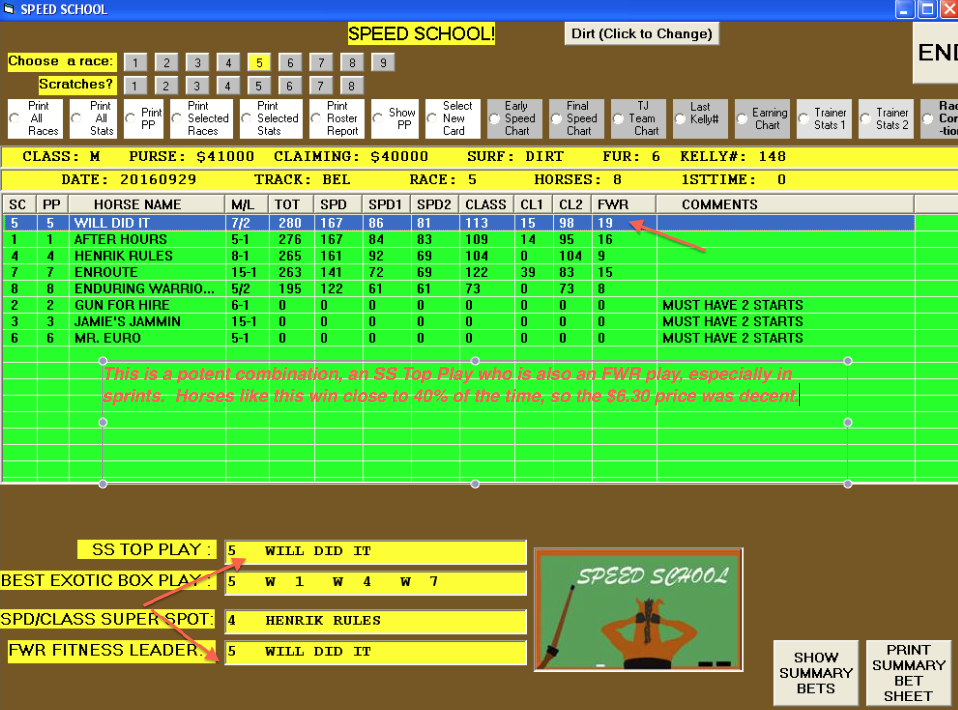 SS TOP + SPD/CLS SUPER SPOT another great combo, especially on Turf –

the 'Class' configurations add a 'stamina' aspect to the equation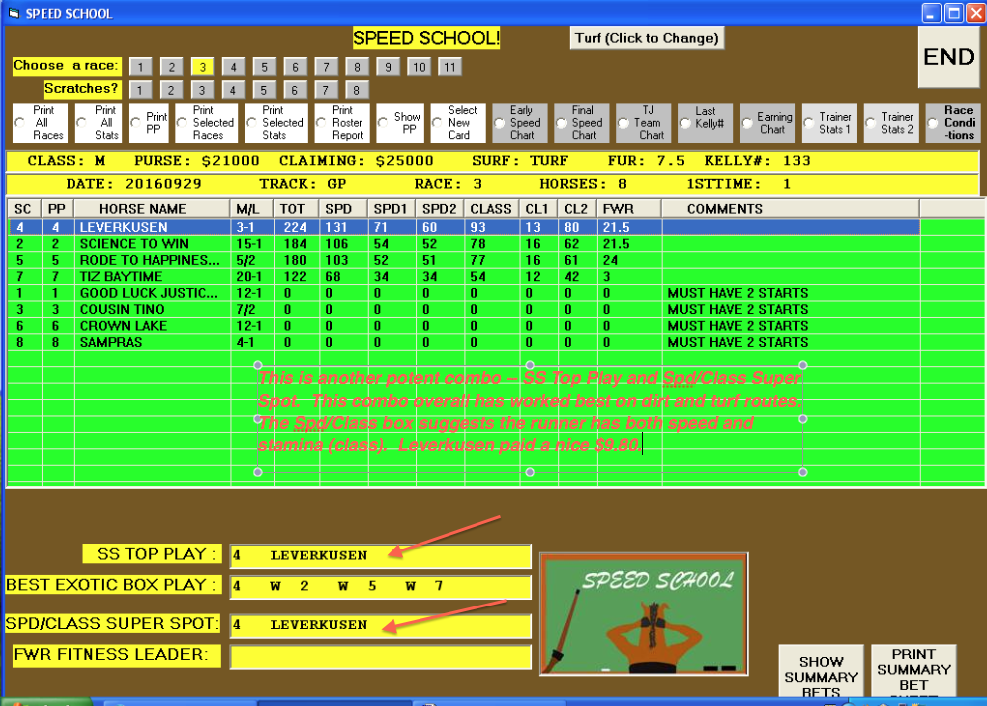 SPEED SCHOOL SOFTWARE  $127
SPEED SCHOOL SYSTEM HARD COPY  $49.50
SPEED SCHOOL SYSTEM EBOOK  $44.88
Additional information
| | |
| --- | --- |
| SPEED SCHOOL SYSTEM | ebook, Hardcopy, Software |