$39.88 – $77.00
A Super Consistent Program!
Description

The Testing Process
Most of you know that we test extensively on all of the systems, software, etc., that we publish, but we wanted to familiarize you with our methods.  We have found, over the years, that if a system or program performs well on tough racecards, like big Stakes cards, Breeders' Cup cards, Triple Crown, etc., then it will perform just as well, often even better, on everyday cards.
You are really going to like this program – 'super consistent' isn't just a catch phrase —

this program is Super Consistent!
And the price is just $77!!
Call us at
1-800-696-0067

or order from our website – and do watch the Video!!
The Intangibles Software $77
[wp_eStore_add_to_cart id=621]
Available in Hard Copy and Ebook too!   Read below for even more details!!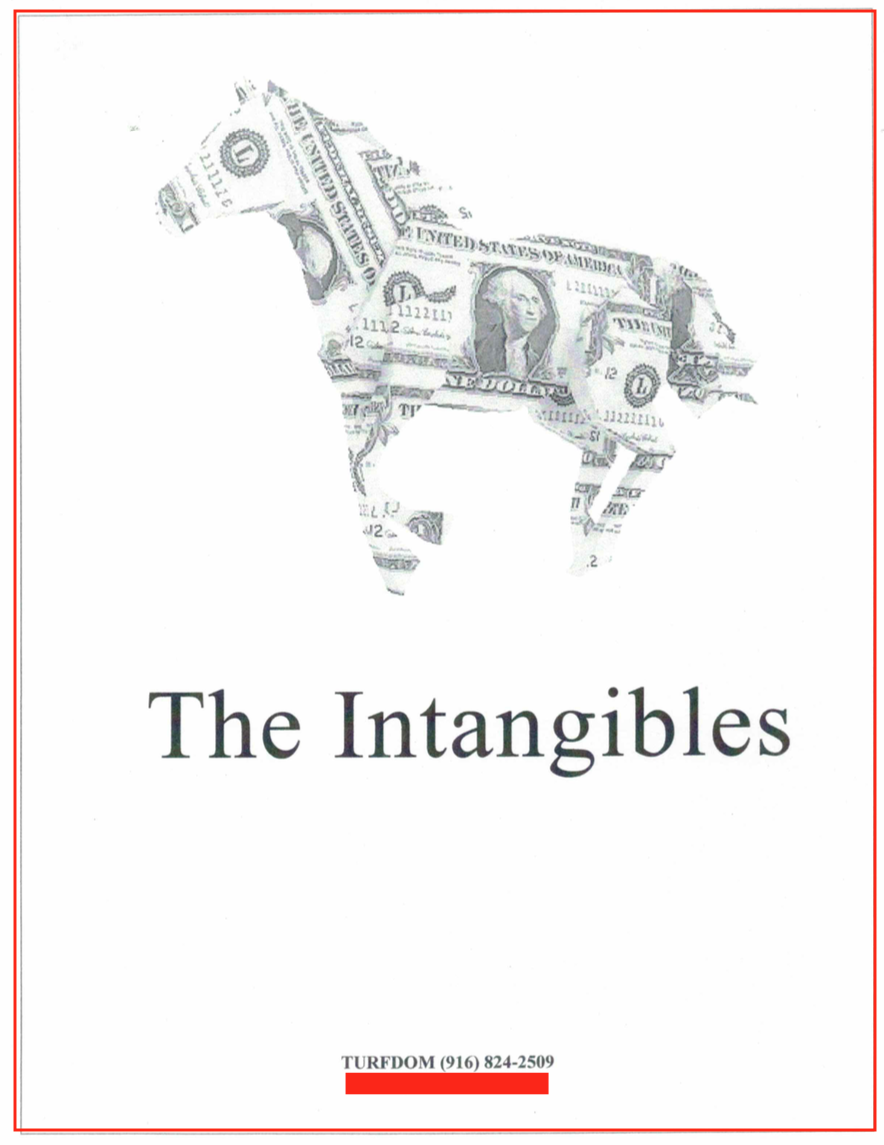 The definition of 'Intangible' is 'something perceived': 'it exists but is difficult for the mind to grasp'; 'a knowing, or strong feeling despite a lack of solid facts.'
To put it in more understandable terms, let's call it Intuition.  In otherwords, while tangible evidence is not apparent, a 'sense' that something real is going on.
The fact is, that whether you realize it or not, we all use Intuition in our everyday life and everyday work.  After doing something for a long, long time, whether it is playing golf, investing in the markets, mothering or playing the horses, Intuition often takes over when decision making.
And, while people who are true professionals in any endeavor, especially those at the top of their games, cannot 'teach' intuition,
they can, and often do, put pen to paper and translate their perceptive experiences into facts that will provide readers with valuable information that, when applied, will advance their skills as well.
And that's EXACTLY what Tim Osterman and Rod Young have done in their remarkable new work:
THE INTANGIBLES!
OK – The Bad News First —
We are permitted to distribute only 150 of The Intangibles due to our agreement with Rod.
But the GOOD NEWS! — you can get a copy for just
$39.88

in ebook form, or just

$46.50

in hard copy!  And the software will be just $77!!
YOU NEED to add
The Intangibles!

to your Handicapping Library – you cannot get this kind of quality horseplaying education on your own.
Call us at
1-800-696-0067

or order on our website!  You will ENJOY this one!
The Intangibles Hard Copy   $46.50
The Intangibles Ebook  $39.88
The Intangibles Software  $77.00
Additional information
| | |
| --- | --- |
| The Intangibles | Ebook, Hard Copy, Software |