$39.77 – $59.77
The Ultimate Racetrack Guides For The Aspiring Pro!!
Description
The Ultimate Racetrack Guides For The Aspiring Pro!!
The New Age
Handicapping Methodology From David Powers!  A Mega-Best Seller!  Thousands sold!
***Get A Great Discounted Combo Price when you buy both Parts 1 & 2!***
>>>>>Power Handicapping!<<<<
A Guide for the Aspiring Pro!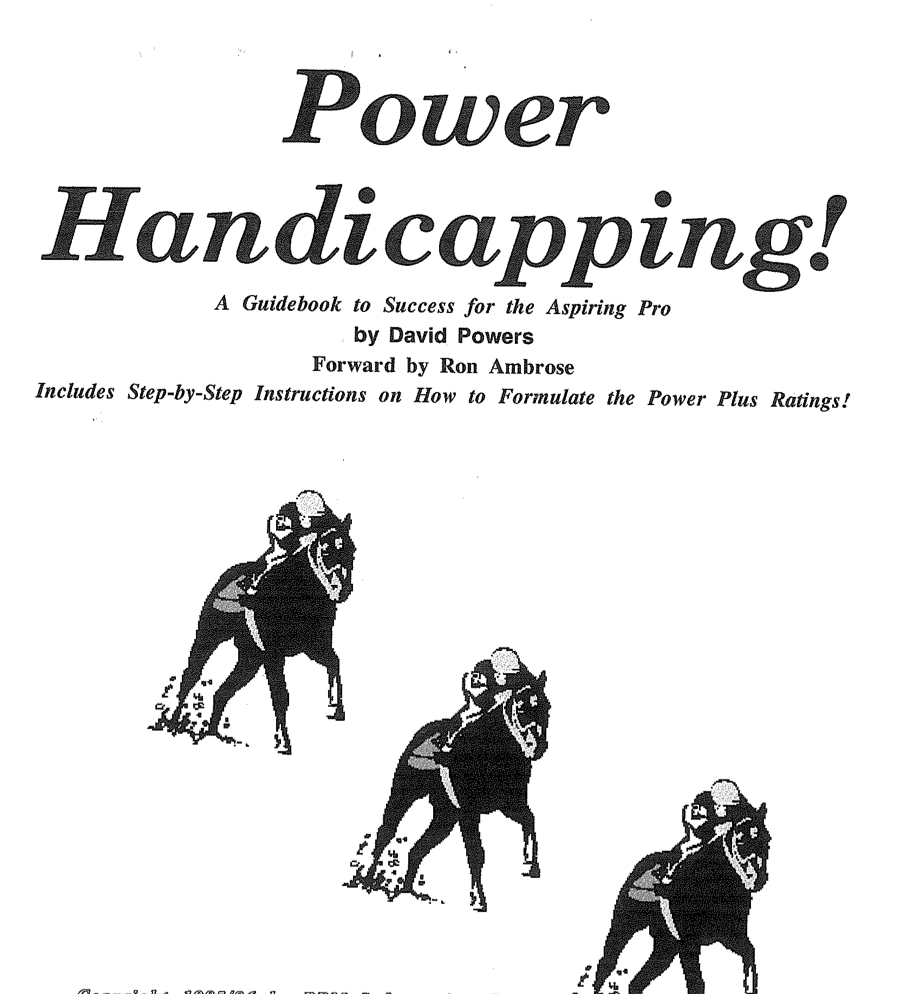 Why have so many horseplayers, all over the world, adopted the
Power Handicapping Series
as their racetrack bible?
***Why did

Mark Cramer

call

Power Handicapping

'the most refreshing racetrack writing I've seen in years?'***
***And Why did Phillips Racing Newsletter rate Power Handicapping 'a Strong 8' and say:
'if you want to know what it's really like to be in the trenches, and what it really takes to become a total success at this game, Power Handicapping will show you the way.  So 'real' it's almost scary, and you are simply not going to see or read this anywhere else!'
And what did Dick Mitchell mean when he said "Power Handicapping is a fast-track to success at the mutual windows!"
And was it just a coincidence that David Powers came away with over $27,000 in winnings from the Las Vegas Hilton Pick The Ponies Contest?
    

Well, there's one way to find out! Pick up a copy of the most honest, realistic handicapping books ever published. Truly a guide for the aspiring pro!
"The Power Handicapping Series is Responsible for more players turning the corner than any handicapping book in print!" Jim Bayle, Sport Stat.
And There's More!!
Power Handicapping, Part II
Earning A Supplemental Income From the Racetrack!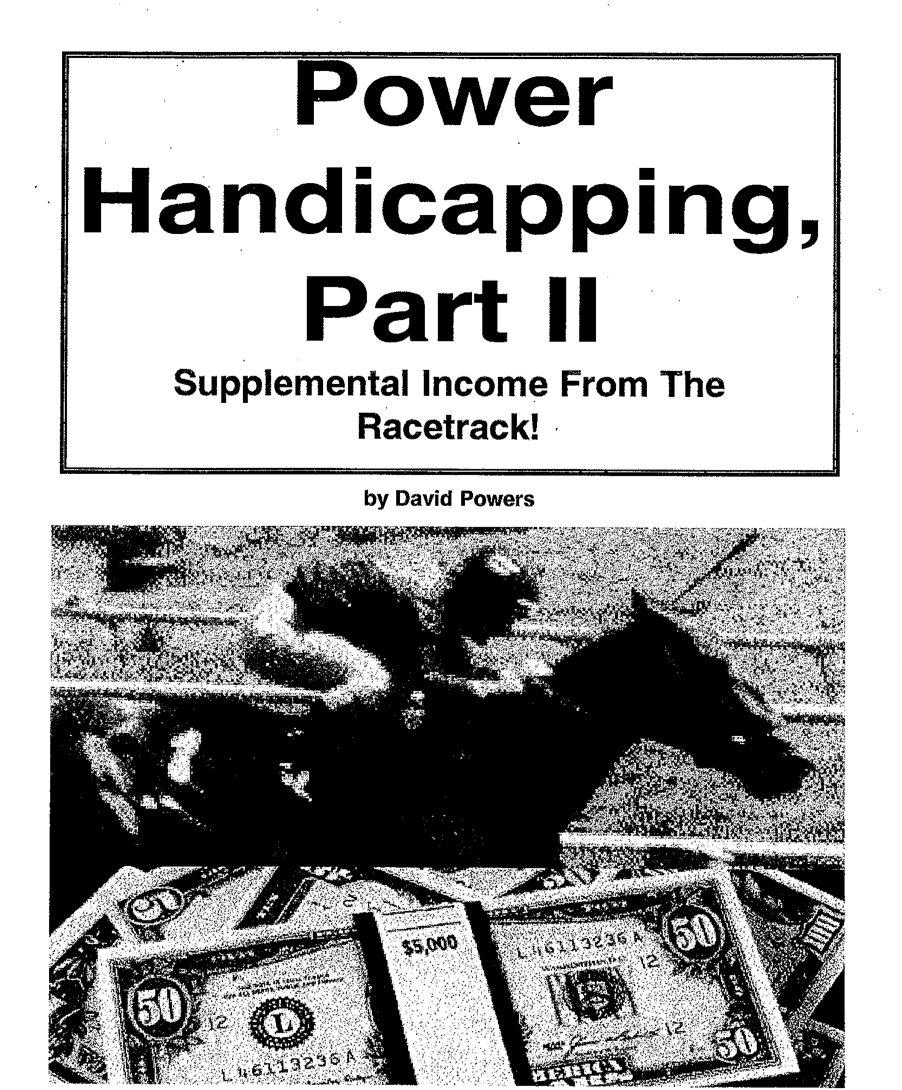 When Power Handicapping, Part 1 was published,
thousands of racefans took Mr. Power's teachings to heart and virtually turned their game around overnight.

  Now, with Power Handicapping, Part II, you will be taught how to squeeze every last dollar of profit from the HIGH PERCENTAGE situations presented in the texts.
Another
'Strong 8' from PRN

–

'Brilliantly written.  You will find gem after gem of heretofore unrevealed info that you can take straight to the bank!'
****Dave Powers' real strength lies in his ability to make a very difficult subject, i.e., winning at the races, clear and concise to his readers.  Every chapter is chock full of information you need to turn your racetrack fortunes north, like:
***A New Look At Speed: 
Why the fastest horse doesn't always win.
***Secret Trainer Moves – The Key to BIG Profits:

 

horse looks hopeless in the PPs?  Take a second look using this revolutionary criteria that spots hidden longshots

.
***Power Tote-Watching: 
The tote has a tale to tell, and for the 'Power' totewatcher, the Profits can be ENORMOUS!
***Bet A Little – Win A Lot:
Low cost, high % Daily Double Trifecta, Pick 3 and Pick 6 Strategies.
So seriously,
if you love reading about Horseracing

…..

and you Love CASHING TICKETS

…….

and you want every EDGE Possible to Line your pockets with some serious cash

….. y

ou are going to want to dive into both of these classic publications — YOU will start cashing additional winning tickets almost immediately

…. 

that we can PROMISE you!!
And the pricing is great!  Download the ebooks (or we will email them to you) or purchase the hard copies
Just $45.77 for Power Handicapping, Part I Ebook ($55 for hard copy)
$39.77 for Power Handicapping, Part II ($49.50 for hard copy)
***BEST BET!! — Get both Parts 1 and 2 for just $59.77!!***
PH, part 1 Ebook  $45.77
PH, part 2 Ebook  $39.77
COMBO Parts 1 & 2 Ebook  $59.77
PH, part 1 Hard Copy   $55.00
PH, part 2 Hard Copy  $49.50
1-800-696-0067
Get your copies today. You won't be sorry!
Additional information
| | |
| --- | --- |
| Power Handicapping | part1, part2, Parts 1 & 2 Ebook , part 1 Hard Copy, part 2 Hard Copy |