$53.88 – $97.50
From a True Handicapping Genius!  Bruce Markham's

Description
From a True Handicapping Genius!  Bruce Markham's

You are no doubt familiar with the Mark III line of

Handicapping Products

.  Many of you already own The Mark III Maiden Module and/or

The Mark III Super ROI Longshot Method

.
>>>🤔

But did you know that both of these best-selling products were derivatives of the

Original Mark III Mainframe Methodology

by top handicapping author Bruce Markham?
(By the way – to the Baby Boomers amongst us the above picture will likely remind you of one of those original large tape recorders from the 1950s/60s.  Actually, it is a picture of an IBM Mainframe Hardware Drive circa 1984 that processed software.  And the 'mainframe' on your modern Windows computer or laptop, will do the same thing — in this case process your Mark III Software, just as it does with your other programs, only your machine is about 1200 times more powerful than the above guy, and thousands of times faster, and can easily store about 800 times what the old giant mainframes did —

amazing world we now live in!)
While the Maiden & Longshot methods were limited to just those areas, 👉the Mark III Mainframe Methodology

works on all types of race

s

, and shows extreme consistency and positive ROIs in several different categories.
And we are very fortunate that Bruce's work has been preserved so the like of us sub-genius folks also have an opportunity to share in the windfalls.  👉👉

If Consistency is your bag –  you are really going to love this one.
Also on the above card:  another $12.80 winner, a $10.80 winner, a $4.80 winner, 6 2nds and one 3rd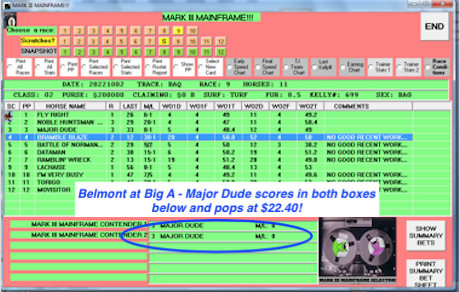 Also on the above card, another $9.40 winner, a $5.30 winner, a $2.60 winner, 4 2nds and 1 6/1 3rd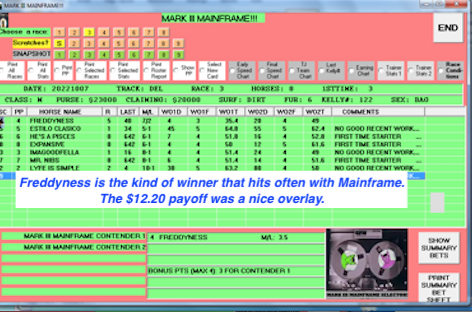 Also on the above card, just 5 plays total, and 2 2nds, and 2 3rds, one at 106-to-1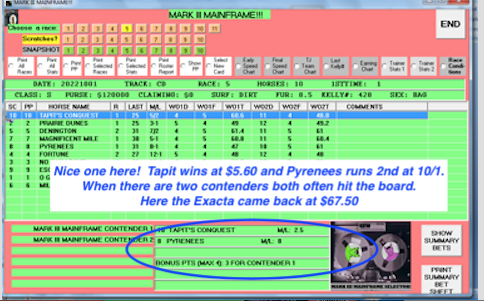 Also on the above Churchill card — from 7 plays, 5 2nds, one at 14/1 and one at 5/1 + 2 3rds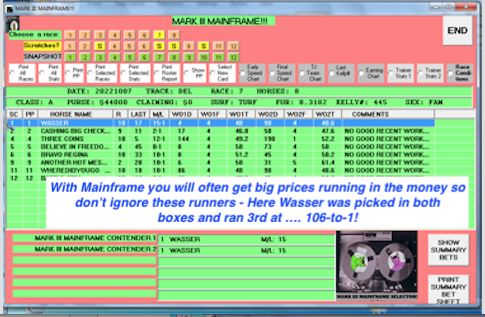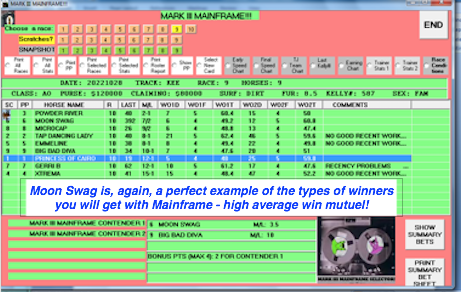 Also on the above card just 4 plays total and one other winner at $7.80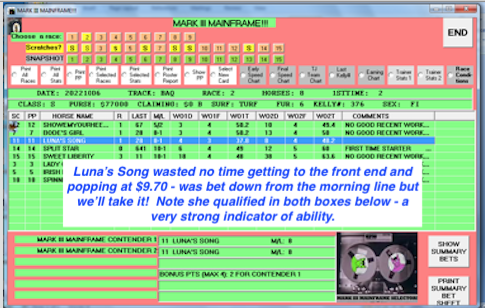 Also on this card, from 7 plays, one other winner at $4.20, 4 2nds and 2 3rds, one at 45-to-1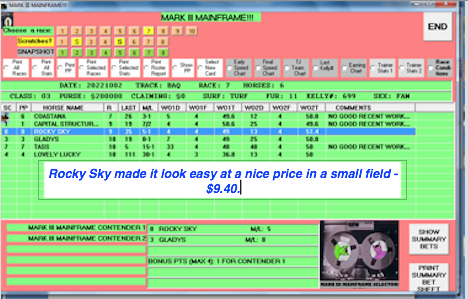 Same card Major Dude (above) won on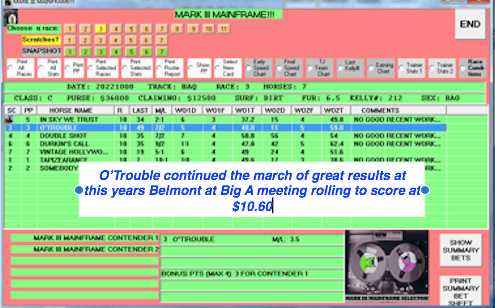 Also on this card from 7 plays, one other winner at $3.00, 3 2nds at 11/1 and 3/1, and one 3rd at 68/1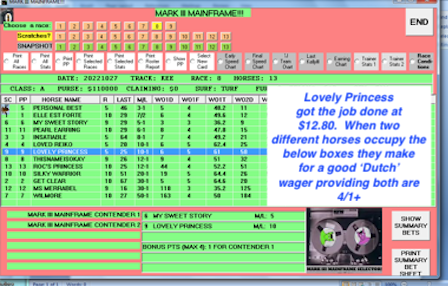 Same card Get On The Bus won on (above)
Take a look at the below card from Saratoga —
we are using this card since it is the first one we looked at when testing and also because in latter testing, we found many, many, many similar cards.
So let's say you go to the races with your Mark III picks in hand and look at the results at the end of the day and say 'What, just one lousy winner!'  Well, yes, but going back to the main theme of the Mainframe,

the in-the-money %s and odds you get on these runners will put you in good stead nonetheless.

 
You will overall get plenty of days with multiple winners, but we would be very content with a day like below,
and if we are playing Exactas, Trifectas and Supers (a good number of nice priced contenders will run 4th, as well, and can really light up your Superfectas)

.  And remember, this card is very typical of what you will see on most days at most tracks. 

The average odds on the place and show horses was over 6/1.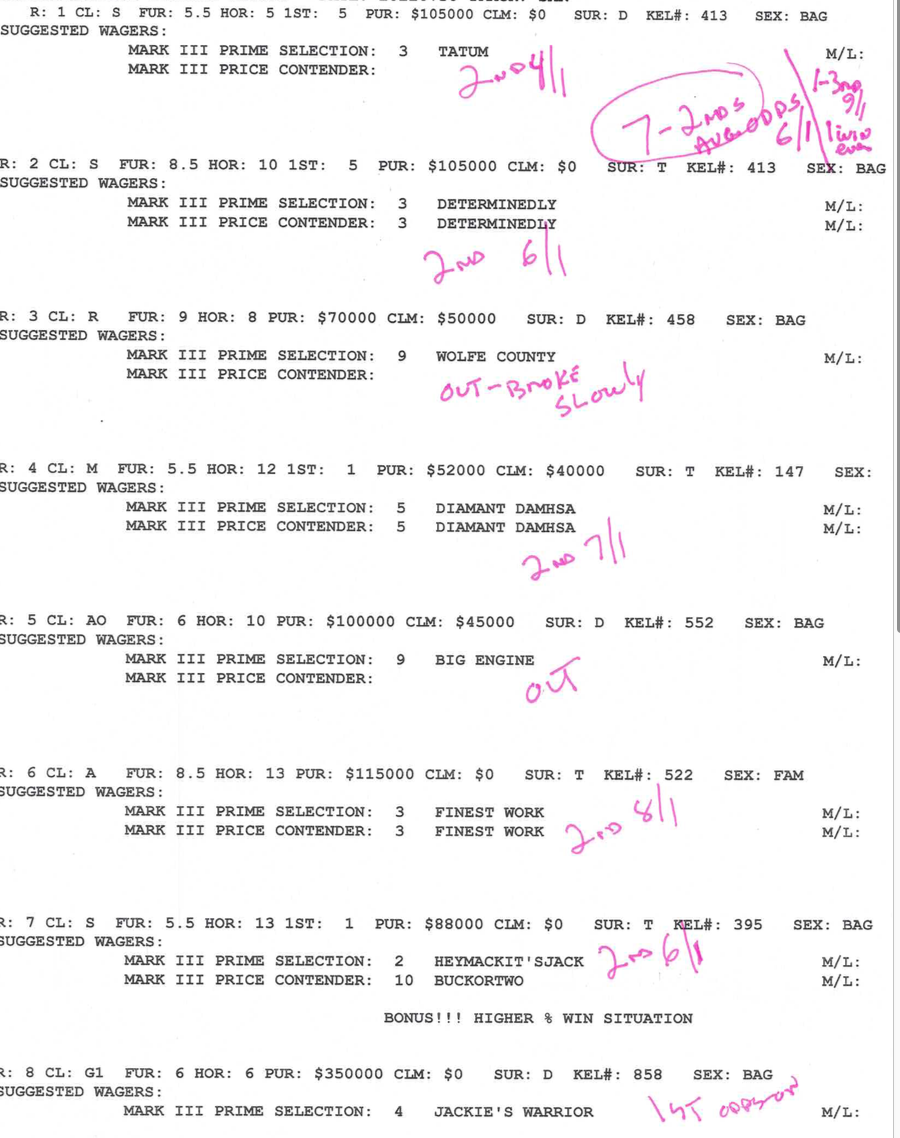 We have priced the Software at a very reasonable
$97.50

.  Again, if you are into Consistency and solid mutuels

The Mark III Mainframe

is your cup of tea.
Call us at
1-800-696-0067

or order from our website. 

Thanks!
Software  $97.50
Ebook   $53.88