Sale!
A Funny Thing happened when Len was doing his database study on Norman's Monster Daily Double System. 
While he was compiling the Daily Double hit rates, which normally require crisscrossing three horses in consecutive races, he noticed that the horses who had the highest point count (of the three DD contenders) were not only winning at a high rate but often paying super nice prices.
Description
Let's look first at the Daily Double results,
and then we'll focus on Len's Precision Point Profit Plays
The Monster Daily Double System, which was created by Bert Norman,

is designed to locate runners who have the least negative traits and display them onscreen as the Daily Double contenders in each race.
Look at the following sequence: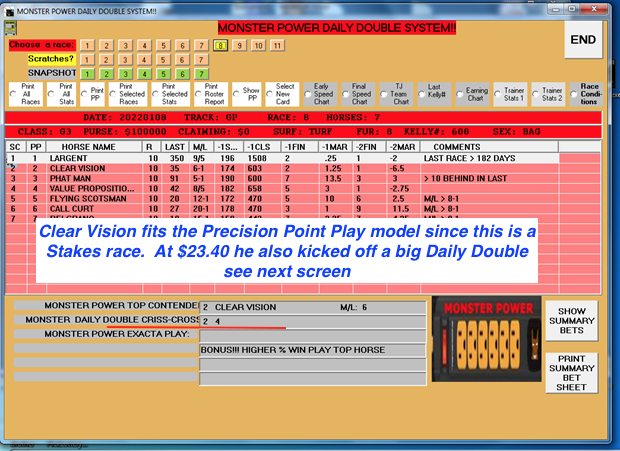 Clear Vision is the top pick, #s 2 and 4 are the Daily Double Contenders
 
The next race was taken by the top pick who paid $57.40 and the DD paid $399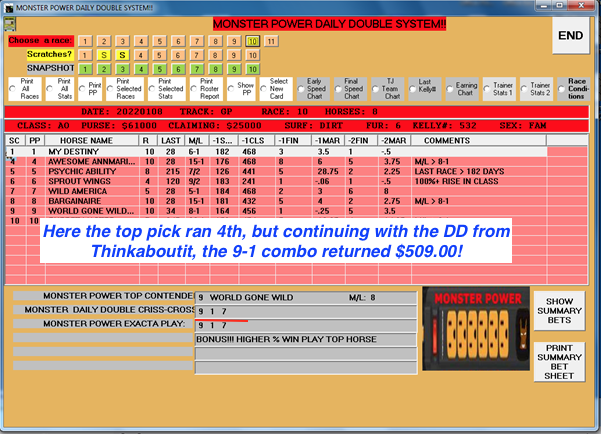 In the next race the #1, who was one of the DD contenders, won and the Double paid $509
So the basic strategy is pretty simple – you take the Monster Daily Double Criss-Cross horses and criss-cross with the contenders in the next race.  

The main thing you want to make sure of is that there is some value in the potential Double payoffs, so if one or both races have contenders that are mostly short prices it may be best to pass.  It is definitely not uncommon to hit three or more Daily Doubles on an average racecard. 

While most DD payoffs will be more modest than the example above, the fact is that you will hit Triple Digit payoffs fairly often.  And, all the work is already done for you!



So now you have a single software program that calculates lucrative Daily Double payoffs, and also shows you where the Top Scorer wins often enough and at a good enough price (Categories) to show a long-term Profit! 
And we have maintained the $68 Retail price for the software, which we advertised in the Pre-Sale, even after Len added his PPP plays, so The Monster DD Software becomes an extraordinary bargai

n!
*****

And remember, we offered this software for

FREE!!

for purchasers of our new IOTC, 2022, and you can still get that deal  –  Link below.
So give us a call  1-800-696-0067 or order from our website and, as always, thanks for your time. 

Dave & Len
The Monster Daily Double Software, Now with Len's PPP Profit Plays  
$68