Description
Money Talks!  Listen And  Win!
An Insider's Revelations on How to Follow and Profit From BIG-MONEY Moves at the Racetrack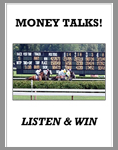 ***Rated a '9' by Phillips Racing Newsletter and named as their Best Handicapping Product of the past year!***

"The Seven insider, smart money angles are all presented in a thoroughly explained, easy-to-use format, with plenty of winning examples.  And the booklet's last page is a nifty 'Quick Reference Sheet', listing each angle in a condensed format that can be taken to the track if you wish.
So what's not to like here!  There has been an abscence of solid 'insider action' and tote methods lately, and this one definitely fills the void and then some.  The price is certainly fair and it comes with a money-back guarantee from a very reputable source.  All things considered, Money Talks! – Listen & Win easily deserves a rarely given strong 9 Rating."
Phillips Racing Newsletter
Take a ride on the BIG Money operators' coattails at the racetrack.

 

It's  a lot easier than you may think!
BIG MONEY, i.e., 'smart money', plays a much bigger role at the racetrack than 99% of the bettors are aware of. 
****Whenever there are pools of money up for grabs, whether in the financial markets or at the racetrack, you can bet that the big-money operators will figure out a way to grab more than their fair share. 
But you don't have to be a BIG money guy or gal to participate in these windfalls. 
You only have to know how to recognize when the BIG money is in play.
The foundation of this system relies on an 'obvious' concept that few horseplayers ever think about, which we call:
'Pari-Mutuel Money Flows'
The 'rich get richer' is a timeworn phrase, but one of the truest axioms ever spoken.
As you have no doubt witnessed in the stock market, in real estate, etc., BIG money, from big money operators, flows into these investment arenas and, over time, multiplies and then multiplies some more.
Wherever and whenever there are pots of money waiting to be taken, BIG money comes in to capture the majority of it.
You can't fight it.  It's just the way the world of finance works.
BUT….. you can join in, if even in a small way, simply by learning how to spot these BIG money 'flows'.
Let's talk about the racetrack:
On a daily basis at the larger tracks, six to 10 million dollars pass through the mutuel windows.
An average race can see the straight-bet mutuel pools top $400,000, with a like amount in the exotic pools.
Now, just using common sense, don't you think that somewhere along the way, the guys with the big, big money said to themselves:
'Look at all that money just sitting there ripe for the taking.  Let's figure out a way to grab ourselves a big piece of that pie.'
Well of course they did, and they discovered ways, mostly legal ways, to take advantage of a mostly-ignorant racetrack public and enrich themselves even further.
Which brings us to a remarkable new publication that, for our money, is the ultimate guide to following the big/smart money at the racetrack. 
The author, who operates with the BIG-money boys himself, shows you how to spot where the money is flowing,
whether in the win/place/show spots or in the Exactas.

 
So while the BIG money may be reaping most of the rewards, you can take a ride on their coattails
and collect at least a pittance or more for yourself.
And, you have to do very little work to achieve this.
Average win mutuel on Money Flow plays, by the way, was over $21!
The book is called
Money Talks! Listen and Win!
***And, interestingly, and this got our attention, it was rated the #1 Best Handicapping Book of the past year by Phillips Racing Newsletter!***
The methods described to spot the money flows are extremely easy to use and plenty of examples are included. 
**And remember, it's not just 'straight (win/place/show) betting the Big Money Boys are interested in. 
They love to hit on Exactas; Exactas which are usually big overlays, and the author provides you with the ammunition to take down many of these very same big payoffs.
_________________________________________________________________
Seven Chapters (7), each one involving a different approach to spotting the smart money:
1)  Surprise Betting Action (SBA) –

oooh!  This one gave us chills! 

It's so darned obvious when you know what's going down, and the general public doesn't have a clue!
2) Exacta Insider Money – oh yeah, the Big Boys love Exactas, especially in larger fields. 

Now you will know the telltale signs of an Exacta coup in the works.
3)

Two Factor Smart Money

– You get two 'signs' when the Smart Money is at work with this angle, and the horse is almost always one of the three morning line favorites!
4)

The 'Overachiever'

– Past odds are the key to this sneaky kind of winner.  You'll spot potential plays in seconds!
5)

Not Quite As Planned

– Ahh, here's one where we, i.e., the little guys, can often outsmart even the Smart Money!
6)

Tote 4 Handicapper

– A tote-watching method that requires only seconds to locate the 'live', or Smart Money horse.  Gets great overlays, consistently.
7)

In-Form Value Plays

– the horse is in good form, according to the Smart Money rules, but the public seems totally oblivious to it.  Sneaky, sneaky, sneaky!
And, again, the author leaves no stone unturned.  The book is filled with great examples, concisely explained, so you will have no doubt when a 'move' is afoot, like the one below: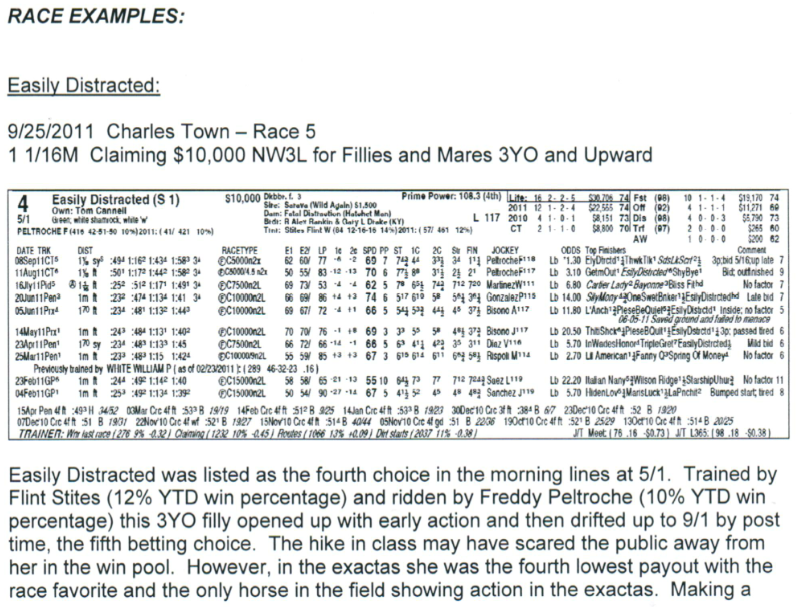 similar move to last race, she closed from the back of the pack to win by a head.  She returned a surprisingly high $20.80 to win.
So don't let the big boys take all of the dough. 
Grab at least a small slice for yourself! 
***Now Available by E-Book download at the time of purchase, or by snail mail
Order Today!  1-800-696-0067
Money Talks Ebook – (book is emailed to you)  $43.33