$65.00 – $86.00
One of the HIGHEST AVERAGE WIN MUTUEL Methods We've ever Tested!   Software too!
Description
One of the HIGHEST AVERAGE WIN MUTUEL Methods We've ever Tested!   Software too!

STARTLING

(and that word is not an exaggeration)

WIN Return On Investment 0f 145%! 
And one of the darned tootenest easiest-to-use methods in our inventory.  What's it called?
Jeff Sillifant's & Jim Robin's

THE WIN PLACE!

We'll start with the results of our 5-month, 16-page 'fully detailed' WORKOUT (You will receive the complete workout with the method). 
Take a gander at the FINAL TALLY!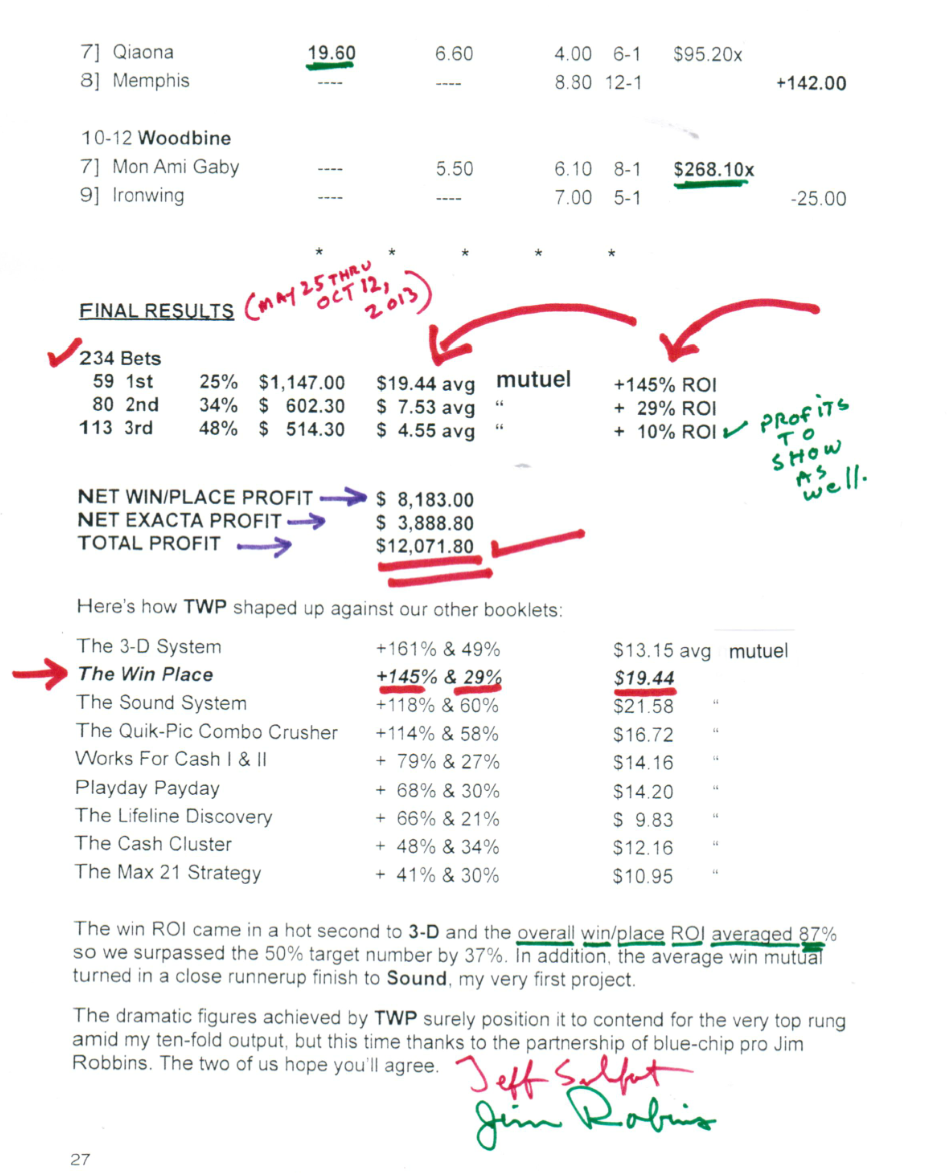 a $19.44 Average WIN MUTUEL at a 25% win rate

translates into a

+$1.45 ROI (return on investment)

.
This means that for every $1 wagered, $2.45 was returned to your pocket!  And, with the Exactas added in (a +$3,880), the total profit during this period was a $12,071!

Let's look at a sampling of Jeff & Jim's workout sheets so you have a better understanding of how the study was conducted:
1) This is a 5-month workout from 5/25/13 thru 10/12/13.
2) On each qualifier, $20 to win and $20 to place was wagered.
3) Exactas are 'wheels', meaning that each qualifier is wheeled on top of the field in the Exacta.  So if we are looking at an 11-horse field, a wheel, with our horse on top of all others, would cost $20 for a $2 unit.
4) Average # of plays per day per track = 3.2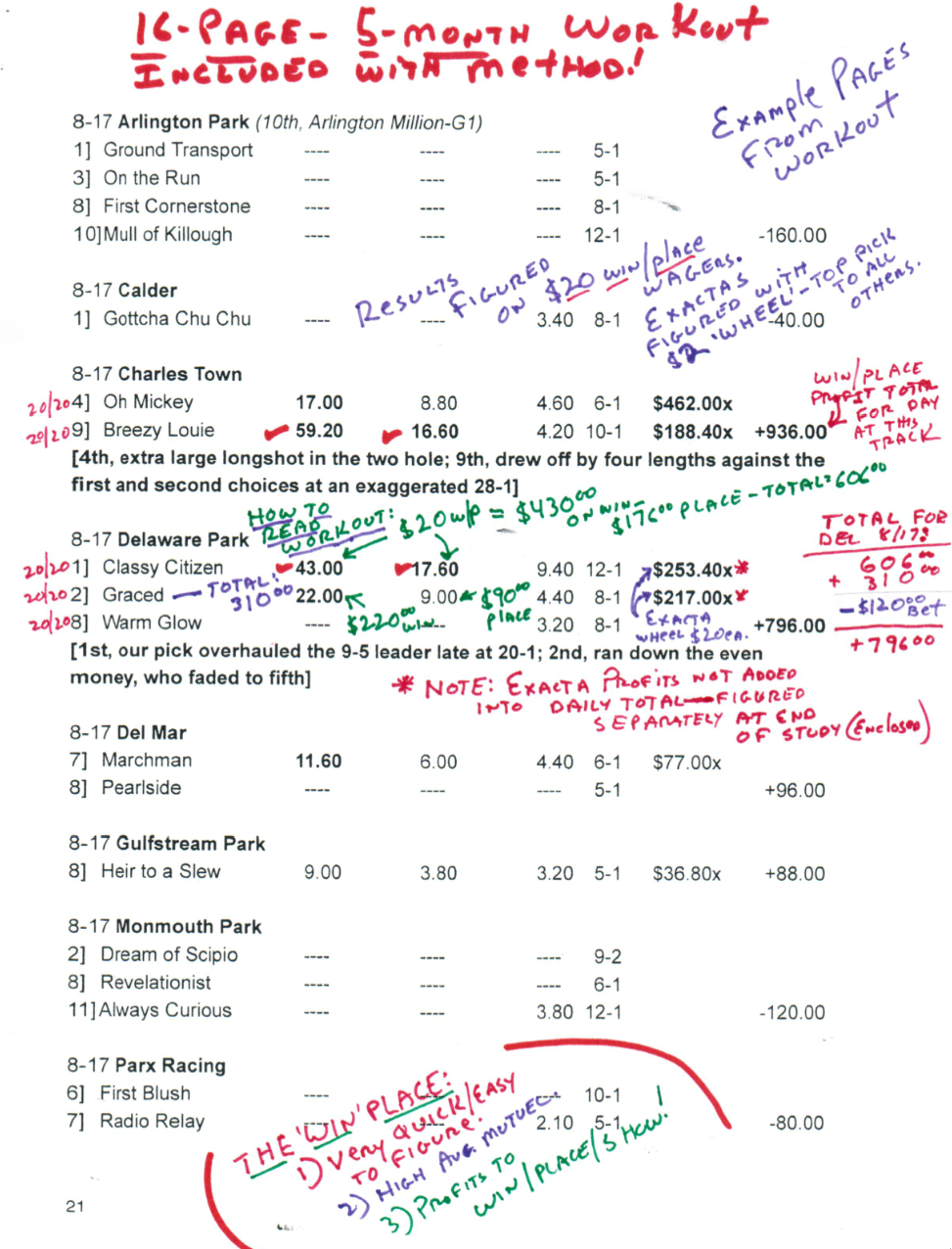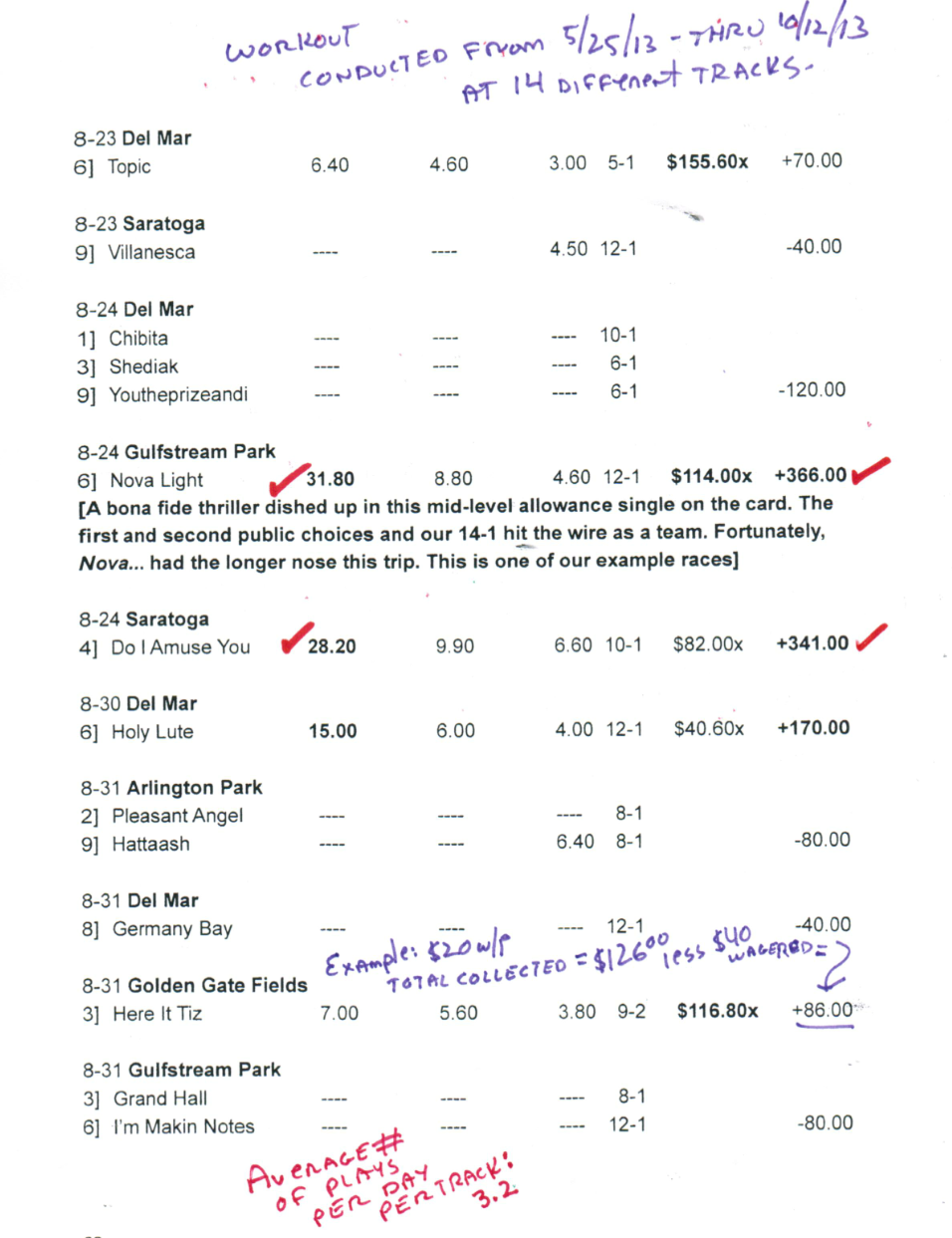 A good example of the type of horse The 'WIN' Place selects can be seen in Nova Light below.  On paper, this horse looks terrible, BUT:

Nova Light won and paid $31.80!  Sorry, but we had to scratch out the 'figuring' in the middle of the pp's. 
Otherwise you'd likely figure out the 'key' to The 'WIN' Place's success without purchasing the method!
The 'WIN' Place
is a joint effort by

Jeff Sillifant

and well-known handicapper

Jim Robins

. 
Below Jeff & Jim explain how The 'WIN' Place came into being. 

This discussion sums up the ease of use of the method, the consistency and the profitability.
Most of you are aware of Jeff Sillifant's reputation in the world of system creation, but what about Jim Robins.  OK:
About Jim Robins:
James D.Robins

, MS, MA, better known simply as "Jim," has over 20 years of experience in handicapping and sports journalism, from working next to CBS at the Masters Golf Tournament to covering NCAA football and basketball.

Through it all, however, has been his commitment to thoroughbred horse racing.
His family tree shades Oaklawn, where an uncle was a premier handicapper. And, Jim presently lives less than a mile from where Triple Crown Winner "Assault" was born, raised and trained.
Although his body of work ranges from "The MENSA Journal" to "Guitar Player Magazine,"
his heart has remained in thoroughbred racing

, where he has covered the board, from reviewing new handicapping products to offering selections to a limited clientele and designing handicapping tools, methods and services for both novice and advanced players.  His handicapping book,

EASY MONEY

, is a major best seller that received rave reviews industry-wide.
Jim also assisted Paul Lambrakis, author and Senior Staff Handicapper at Santa Anita Race Course, and his work can be found on the cover of Paul's latest book, "The 10-Cent Superfecta: A Complete Guide to Wagering and Winning."
Jim's personal handicapping methods focus on a blend of well-known thoroughbred philosophies, statistical analysis, and extensive research.
A native of Georgia, Jim holds BA, BS, MA and MS degrees from Texas A&M University.
And the beauty of it all, is that

The 'WIN' Place

is just $65 for the paper method —

$86 for the software (which includes the paper method + 3D Bonus!)! 
And, if you don't like it (which is highly doubtful if you simply stick to the simple rules), you can send it back for a full refund.

  Now what could be fairer than that??

The Software, of course, does all the work for you.  Below you'll see a screen shot of WIN Place in action —
the software not only picks the horses for you, but boasts tons of other features as well!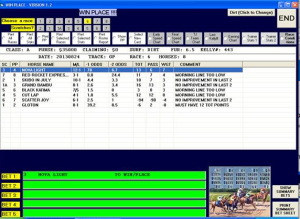 ***

OH, how about this.  You may have noted on the Final Tally Workout page above that Jeff listed his other systems and the ROI. 
You'll note that one of them, the

3D System

, produced an even higher ROI than

The 'WIN' Place

. 
****Well, when you purchase

The 'WIN' Place

,

we are going to include, at absolutely no extra charge, Jeff's

3D System!

 
3D is a spot-play method with a very high win %, and was never widely promoted or advertised.  But it is yours

FREE!

, a $75 value, when you purchase The 'WIN' Place!
→→
And, And, And….

The 'WIN' Place, Software

retails for $97,

but simply add another $21 with your order

for The 'WIN' Place method, and the Software will be shipped to you as well!!!
So once again, we'll say, what could be fairer than that!  In our books, not a whole lot!  Hope to hear from you real soon!
Additional information
| | |
| --- | --- |
| The 'WIN' PLACE | Software, Combo PP + Software |