Sale!
My Best Five!!
👉

A Multi-Dimensional Software Program that provides the Player with Several Ways to Analyze and Play, plus an Amazing 'Consensus' feature!
Description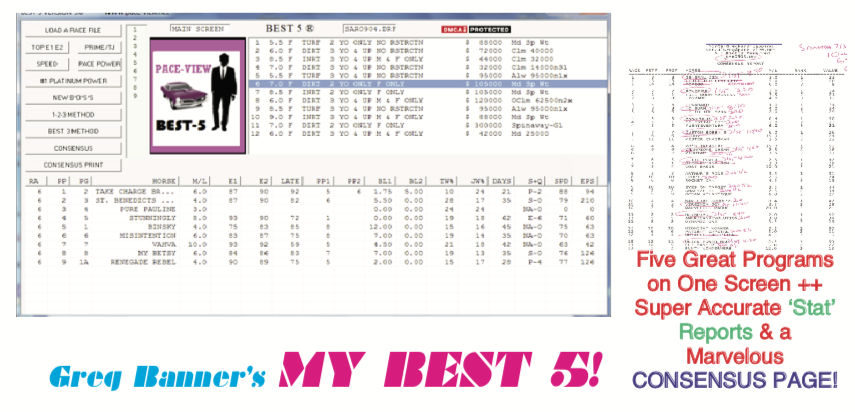 _______________
🖥Stat Screens

– Another Great Feature!
In the upper left of the screen you will see a few other buttons that are extremely useful to the handicapper:
TOP E1/E2

displays the horse(s) on the day's card who, based on up to 10 races,

are the quickest out of the gate.

  E1 stands for First Call  — E2 stands for 2nd Call.  So if you want to find the likeliest early leaders, this screen will give you a very good clue.
SPEED

displays the horses that have shown the best final speed based

on an average of their last four races.

  This screen, all on its own, produces many winners,

especially in races up to 6-1/2 Furlongs.
PRIME TJ

displays the horses on today's card who have the

strongest Trainer/Jockey connections.

  I really like this one.  There are normally only a handful listed for a full card but most of them finish in the money.  Example below: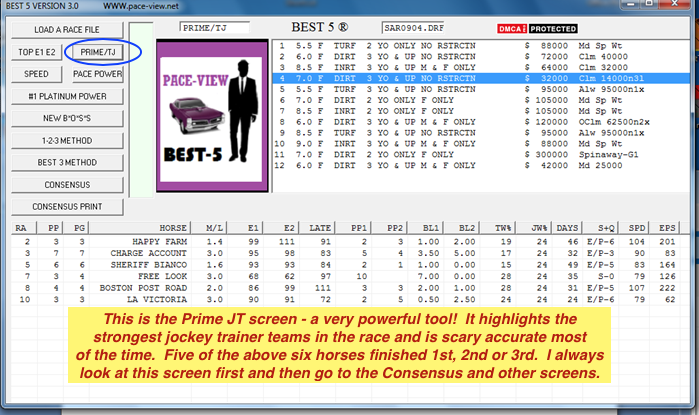 Also, you will receive some great, proven wagering strategies in the manual
as well as how to exploit the individual screen columns for Profit as well. 
And, again you will have a ball with the Consensus Page!,
which is not only more accurate than, say, the DRF Consensus, but it produces much, much, much bigger prices!
And at just
$88

,

you really can't say 'no' to this one — and of course we provide a full money-back guarantee!
Give us a call at
1-800-696-0067

to order or order from our website and, of course, call with any questions.
Thanks!