Sale!
$48.00 – $68.88
'A Most Unusual Camera', where a  couple of thieves come across a camera, part of their haul from burglarizing a curio shop,

which took snapshots of the future
Description

'How about a 'peek' into the future — the future results of a horserace, that is! 

Future-Pic!

generates a 'snapshot' of the most likely Win/Place/Exacta results,
and it is right on the money more often than not!'   

Tom Console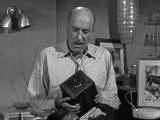 Those of you old enough to remember one of the greatest television series of all time,  The Twilight Zone, will no doubt recall an episode entitled
'A Most Unusual Camera', where a  couple of thieves come across a camera, part of their haul from burglarizing a curio shop,

which took snapshots of the future
–5 minutes into the future, to be exact.
While they are marveling at their recent 'find', the television in their hotel room is blaring out the call of the day's feature race. 
So, naturally, these ne'er-do-wells come up with the idea of taking the camera to the racetrack, and taking snapshots of the toteboard 5 minutes before the actual results are posted.

 Knowing exactly who would win the race, and the payoffs, the 'gang', which now also included an incompetent jailbird brother-in-law, made thousands on every race they played.

Of course, as greed got the better of each and every one of them, things, as you can imagine, did not end well, but it's all just fantasy and great screenwriting anyway, right?
    Well, while we wish we had the actual (fictional) camera in our possession,

it could just be that we've got the next best thing:

 
A new methodology from a software engineer/horseplayer that provides the user with a very accurate glimpse
of future results,
and you can make your selections, of course, well before 10 minutes to race time, even the evening previous to the races if you wish. 
You don't need to be at the track or see the odds to play.
 $The FUTURE-PIC!$

methodology is

heavily based on previous odds patterns.

  Think about it this way:
Racehorses, especially in claiming and low-level Allowance races, are often used as betting 'tools' by their connections. 
The savvy player can gain worlds of knowledge by knowing how stables and owners set their horses up for a score, and previous race betting-patterns often tell the tale.
    Author

David Kempler

has researched every conceivable 'pattern' in racing via his computer database. 
An engineer for a major software firm, David believes that odds patterns are one of the most accurate 'predictive' elements in handicapping. 
'I've looked at this game sideways, upside down, inside-out, etc., and I keep coming back to 'odds'.' David tells us.  'I, of course, use other factors in my Future-Pic methodology,

but the odds pattern formula that I have devised is really the 'guts' of the whole operation. 
I've had so much success with this formula that I'd really like to see what you guys think, and what your customers think as well. 
The method could easily be translated into software as well.'

The 'Nuts' & The 'Bolts' of FUTURE-PIC!
Handicapping is, very simply, an attempt to forecast the future. 
While a good handicapper's accuracy is usually much higher than your average 'crystal ball' watcher or Tarot Card reader,
it is still a very difficult task to come out on the long end of the game.
 That's why it is very helpful to have at your asking a methodology that not only takes a snapshot of a 'potential future',
but when that negative is developed,

provides you with a crisp and bright 'print' of an unfolding event, i.e., a successful wagering opportunity.

 What

FUTURE-PIC!

does is

provide you

with a 'blueprint' of successful handicapping analysis

based on patterns that have proven 'winner-predictive' in the past.

 
While it is still far from a 'science', there is enough corroborative evidence, based on past results, to suggest that these 'patterns' will continue to produce now and in the future as they have in the past. 
You can look to our 10,000+ race study as an example — the results were steady, profitable and often enough very exciting when one of the bigger prices pops up.
So, what we are talking about here is a method that:
1) Provides consistent results, a steady diet of double-digit winners, and a very nice Win/Place/Exacta ROI.
2) Is very simple to figure.  Once you have the basics down you will have your selections in less than 3 minutes per race.
3) Long runouts are rare, and you will win close to 37% of your Exacta wagers as well.
4) If you opt for the software version as well, the

FUTURE-PIC!

program will do all the work for you.

The Exacta 'X' Combo Play
 FUTURE-PIC!

is also an excellent predictor of Exactas.

  David calls his formula

'Exacta X'

,

which he tells us is just a fancy way of saying that you 'x' certain horses out of the Exacta equation.
He has a unique way of setting up Exacta boxes when a

FUTURE-PIC!

play is present, all of which will be explained to you in the method. 
We will tell you that we have not seen an Exacta strategy like this before.  
David bases his Exacta formula on time-tested, race-proven data and often the payoffs are $120+. 
Seriously, if you did nothing but play Exactas with FP, you would still be getting far more than your money's worth –this strategy will add a new dimension to your game.
FUTURE-PIC!
The SOFTWARE!
The Software version, of course, saves you the effort of figuring the paper & pencil method.  The Software displays the selection, and if the selection also is a qualifying 'odds play' horse, it will designate it as a PLUS PLAY, like in both of the examples below, Furry Kapcori, who won by 3 lengths at $5.20, and in the very next race, Noble Kent, winning at $15.20


This is a deal you do not want to pass up! 
Pricing  
This was a tough one. 
After we reviewed all the work that David had gone through, all the time-consuming research, plus the fact that FUTURE-PIC was unique and worked just as the author
advertised, we couldn't just let it go for a song,

so we settled on a price of $68 for the paper method

, and if you want the software as well, you would have to pony-up another $30.75, to make the total
$98.75

,

so we managed to keep it below that psychological 'century' mark barrier. 
And, of course, if you decide the method is not for you, for any reason and for any length of time, just shoot it back to us for a full refund.  Fair?  We think so.
Rod thinks so, too.

So give us a call at 1-800-696-0067, 

or go to our website, www.rpmhandicappinggiant.com  Thanks!
Hard Copy or Ebook    $44.88
Software  $69.88!
Additional information
| | |
| --- | --- |
| FUTURE-PIC! | Paper & Pencil, Software + PP |