$59.50 – $62.00
$14.22 Average Win Mutuel – +121% ROI!    NOW IN SOFTWARE!!!  Includes the NEW

A.L.T.

Consistency

Play!!
Description
You'll Find 'Em Every Day on Every Racecard, Often Lots of Them.
They're Largely Ignored by Most Fans, But Keyed on by Professionals.
Many Serious Handicappers Make a Decent Supplemental Income Playing Nothing Else.
What Are We Talking About?
Why, Races For Cheap to Moderate Claiming Stock, of Course
– from $2,500 to $40,000.
And, Quite Frankly, We've  Discovered a Way to Beat Them Out of the Frame!  Purely Mechanical & an
Average Win Mutuel of $14.22!!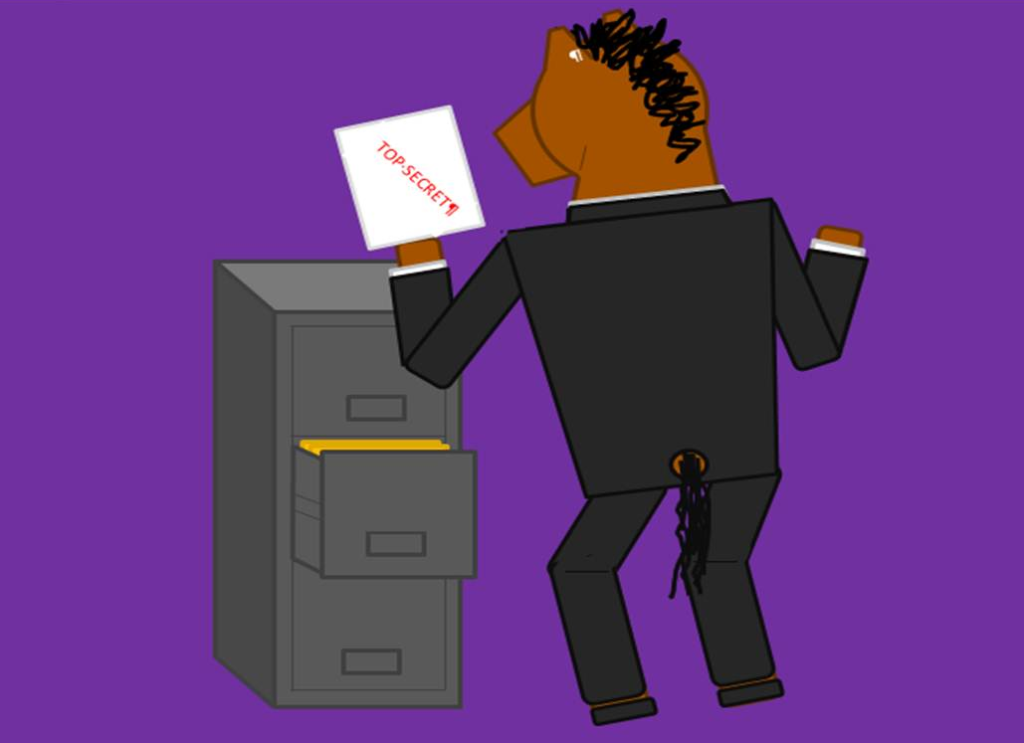 Hi  Guys –
Well, when it rains, it pours. 
As I've told you before, a lot of systems, software, etc., come across my desk for review. 
I seldom find much worthwhile. 
But lately, several viable and profitable methods have caught my attention. 
As you know, recently I sent you information on two excellent methodologies that belong in every serious handicapper's library: Operation Turf Success,
which contained several winning bankroll strategies, and Dick Johnson's System Package – the Money Machine, etc.  
 And just recently, another eye-opening, and amazingly simple methodology came my way. 
It involves the most common of all types of races at any track   —   low-level claiming races.    
It's authored by David Whitestone of Fullerton, CA. 
He had previously published a system called The Claiming Race Money Secret, which did well but he was never quite satisfied with the results. 
He then 'found the missing pieces', as he told me, and produced the current version. 
The method is very simple, a true 'trainer move', but gets a solid rate of winners and some darned nice prices.
*And get this – the win rate for qualifiers comes in at a modest 31.4%,
but the average win mutuel is $14.22 — that's an amazing +120% ROI!  
Or, in simple math, over the long run —

for every $200 worth of wagers you put through the
windows on this angle,
the Friendly cashier hands you back $440!
    What follows is what got me hooked into testing CRMS-2, or, in longhand
The Claiming Race Money Secret, II!:
BIG WEDNESDAY!
If you were out at Los Alamitos on a warm 2011 November Wednesday evening, you would have been greeted by a horrendous looking field in the first thoroughbred event of the evening, carded as the 5th race.
Here you were faced with a field of $2,500 claimers, some of the cheapest runners in the galaxy, none of whom had won a race in over a year.
Saying that the racing secretary was scraping the bottom of the barrel to put this field together was being kind, to say the least.
Many racing fans, when confronted with a race like this, will hold their noses and perhaps put a deuce or two on the animal they feel is the least hopeless.
Many others will simply turn their backs on the action and head for the bar or hotdog stand.
Afterall, they reason, most of these animals have proven they simply cannot run, so anything is liable to happen.
Pay close attention to those last few words in the above paragraph,

anything is liable to happen.
That phrase, my friends, is music to the professional horseplayer's ears.
The fact that the majority of the crowd gives short shrift to a race like this makes for fertile ground for the player intent on locating a winner.
He/she knows that while poor quality races are often very difficult to handicap, the occasional 'diamond in the rough' can result in a huge payday.
And these players also know that 'Mr. T.', i.e., the TRAINER, is 98% of the 'game' at these claiming levels — the horse's shown ability is almost irrelevant –
it is the TRAINER's 'moves' that most often determine the winner.
*The serious player doesn't care that this is the lowest claiming level east of Wyoming, or that none of the horses had yet tasted victory in 2011. 
He or she knows that once this race is over, one of the runners will be standing in the winner's circle, and because so little attention is being paid by the rest of the crowd, a nice overlay could be the result.
On this evening I was at the satellite facility watching the Los Alamitos 'beam'.
My friend and betting partner, John Bonner, was out on a visit from his native Alabama and took a sudden interest in the upcoming 5th race, which was going off in just under 11 minutes.
"Did you take a look at this Samantha Elizabeth?" John asked.  I had, briefly, I told him, noting that I had underlined her September 30 race at Fairplex Park.
I looked up at the toteboard and she was sitting at 45-to-1.
"Are you thinking the same thing I'm thinking?"  he inquired.
     "You mean, where'd the speed come from in that Fairplex race?" I answered.
    "Yeah, this mare shows nothing in the way of early speed in eons, then suddenly is up two lengths heading into the final turn on a pretty swift clip.  And you know what else is interesting, look at those two fast gate drills he put into her between races.  Something's up.  Know anything about this trainer?"
    "Nothing", I said, "but it sure the heck looks like he's trying with her, and the fact that all her wins came sprinting on this oval makes her look halfway reasonable now that he's shortening her up."
Four minutes to post and John and I have talked ourselves into Samantha Elizabeth.
We have both seen so many situations where a horse, especially a cheap one, flashes speed out of nowhere and then goes on to run big in his or her next race.
We bet modestly, each laying out $40 to win on her.  "This takes care of my trip expenses if she wins!" John laughed.
We settle back to watch the race.
Samantha Elizabeth breaks well and lays just a length off the early leaders.
"Looks good," John muses, " but bet she stops on a dime in the lane!"
Thankfully, John's prognostication was dead wrong.
Instead she's sitting pretty as the pacesetters begin to fade.
Her rider really gets into her and John and I are on our feet.
With just about 20 yards to run she pokes her head in front and wins by a short neck!  John and I look at each other and laugh.
"Can you believe that!" he yowls.  We could, alright, especially when we turned in our tickets and collected close to two grand each!
Samantha Elizabeth paid $98 to win.
Now, there are plenty 'Samantha Elizabeths' along the way that don't run a jump, but you don't need a whole lot of mutuels in this range to take care of all the losers and then some.
The fact is that at every track, every day, situations like this arise in cheap claiming races, from Delta Downs to Laurel to Hollywood Park!
Of course, most of the prices this claiming angle catches are much more modest, averaging in the $8 to $18 range, but the 'bombs' do pop often enough to make this mode of play very exciting and very profitable.
It's also a fact, however, that few players focus in on these situations.
In fact, the players paying the most attention to claiming races are the more serious fans and professionals.
Why?
Because serious players know something that few in the crowd have ever considered. 
They have burned into their minds a piece of critical knowledge about this game. 
They have learned to 'walk that mile in another man's shoes', so to speak. 
That other man, or woman, is the TRAINER.
    And just what is this profit-generating knowledge that the pro's only whisper about?
Is it something that is passed on from pro to pro, and kept arm's length from the general public?  How much is it worth for me to tell you?
If I thought that everyone I revealed this knowledge to would take it to heart and use it to cash in consistently on cheap claiming races, I would ask for a tidy sum.
But because, in reality, this knowledge is available to anyone who cares to take the time to study low-level claiming races, I'm going to point you in the right direction for nothing,
other than the price you pay for this method, that is.
The Move!
David calls this a money 'secret', because it involves secretive 'moves' made by the trainer.
Money Secret qualifiers are never in a  race by accident — and very seldom entered just for exercise.  
**When a claiming horse qualifies under David's very simple rules, it is in there for one purpose –

TO WIN! 
and often to win while most of the betting public is looking the other way –
thus the $14+ Average win mutuel.  Place prices are also often generous!
It's really that simple.
*David has discovered the trainer 'signals' that tell the sharp handicapper that a particular horse is in to WIN today.
And while, for any number of reasons, that doesn't always happen, system qualifiers win often enough at a very generous mutuel to make this angle a steady
and consistent money-maker.
How many plays you average per day depends on the track.
The cheaper the track, the more qualifying plays you will get.
But even at the class 'A' tracks today, you will find many low level claiming races being run, especially on the weekdays.
You really can take this angle to the bank.  It is a proven trainer move angle that sophisticated players like David have been using for quite some time.
And the big win ROI of +120%is no mirage. 
I hand-tested this angle on @600 races and ran another 4,100 or so thru Len's database.
The win rate in both studies was in the 31% range (30.7% in my hand study — 31.6% in the computer study).
The average mutuel in my hand study was $14.36 — in the computer study $14.12.
So please, please don't miss out on this one.  You have nothing to lose – the $59.50 purchase price is fully refundable if you are not jovially pleased with the results.
But if you really want to see how a true professional looks at and profits from claiming races, you've got to have this angle.
++FREE!   And I'm throwing in, for FREE! ($49 retail), the money-management plan that I developed years ago and is still very much in demand,
The Professional Handicappers Investment Fund. 
I'll show you how a $500 bankroll grew into just over $15,000 over several months, and rather painlessly at that.
David's Claiming Race Money Secret, II, works very well with this strategy.

$OK, Buckos, take a close look at Wild Revenge, entered in a $35,000 claiming race February 10 at Santa Anita.
We will tell you that the gelding was claimed out of the November 17 race (that's one of the 'secrets' to the angle – a recent claim — & that info is available from the pp's).
But we're not going to tell you anything else.
Look closely.  Is there any reason in the world you would consider playing this horse? Maybe you can figure it out — all the information you need is right in front of you.
Well, if you were using CRMS, II, you would be all over this runner.  
Wild Revenge won handily to pay $26.20. 
Look again.  Can you see it?  If not, give us a call at 1-800-696-0067 to order, or make your order from the website. 
You will soon be cashing in on lots of 'Wild Revenges', but your friends – won't!
The Software Version!!
Want to make your horseplaying life much easier.  Well, then strongly consider getting hold of the software version of CRMS. 
The software, of course, finds all the potential contenders for you – you don't lift a finger.  The A.L.T. Consistency Program, which is FREE with the CRMS, is also a steady winner.  Check out the screenshot below: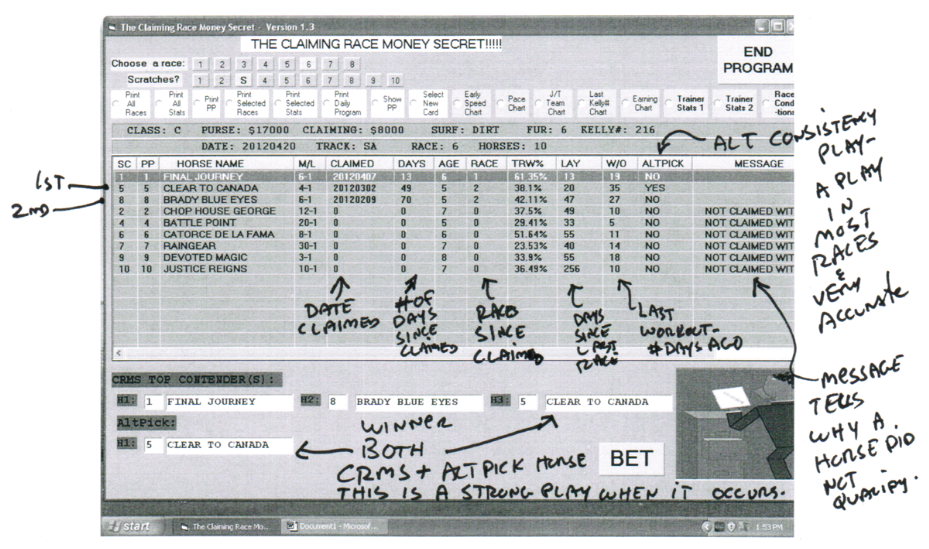 *****Oh, and David has been kind enough to allow us to include another barnburner of a method. 
He won't reveal the original name, since many people paid big bucks for it originally,
so he named it the A.L.T. Consistency Play (ALT simply stands for 'Alternate' Play
since it gives you an alternative to make a play when no CRMS play is present). 
It is extremely consistent,

gets a play in almost every race

and is a great (and

FREE!!

addition to the CRMS Sofware Package!)
Additional information
| | |
| --- | --- |
| Claiming Race Money Secret | Paper & Pencil, Software |