Editor's Note: 

We always love to hear from
Bob Shurig

.  Bob, as many of you know, is a consummate professional who has authored several winning methodologies.  In fact, other than Tom Console,

Bob is our best-selling handicapping method author of all time.

  And for his next act, a real treat.
Bob says:  'I always tell my clients that what you don't know at the racetrack can definitely hurt your pocketbook —

once you gain the knowledge presented in my newest method, the money from the uninformed players' pockets will flow into yours!'
Bob was always great at coming up with snappy names for his methods, and his current,
The Racetrack Cash Frenzy!
The Racetrack Cash Frenzy!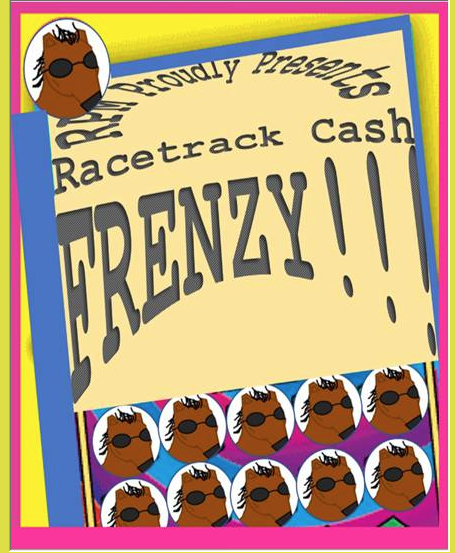 is not only well named,

but is the most consistently profitable method we have seen from him

—
and that's saying a lot!!
Not only is RCFM extremely quick and simple to use, but when playing as instructed you will quickly see why Bob included the word 'Frenzy' in the title — because you literally will enjoy a ticket-cashing 'frenzy'.
RCFM! is great for straight betting, super for getting good-paying exotics and it is downright amazing when you apply the show-parlay method Bob includes.
Available in pencil/paper, Software & E-versions

— very reasonably priced

☛

and Bob is including a SENSATIONAL FREE!! BONUS PACKAGE as well!! 
Don't Delay – Get Yours Today!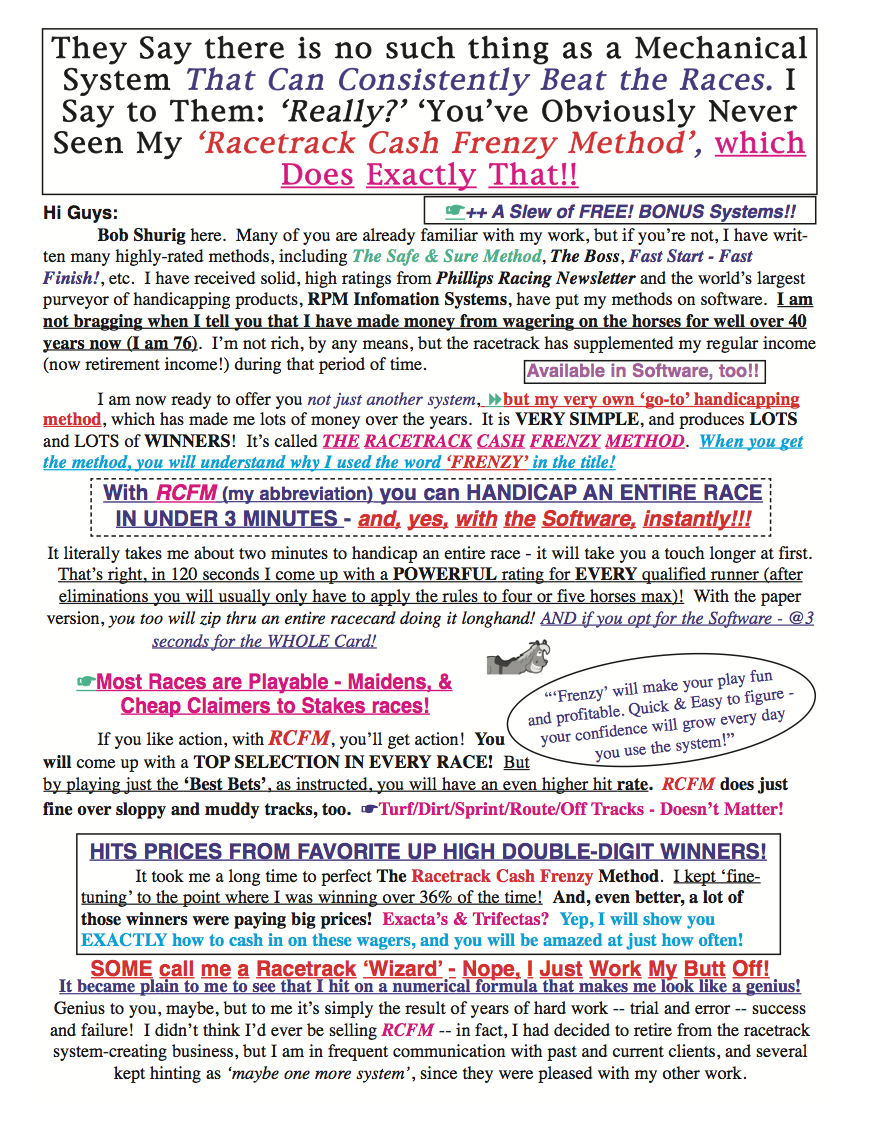 High Win/Place/Show %'s. 
Exotic Betting Guide.
Super Show Parlay Strategy! 

SUPER, SUPER SOFTWARE PROGRAM!!!!!!!!



The RCFM Software!
When you order the RCFM Software you are in for a real TREAT!!    This multi-task, multi-dimensional program provides you with ultimate consistency.  RCFM uses unique measurements to come up with very, very steady results. 
The ACCELERATION column measures myriad speed/fractions/turn time factors

while the MOMENTUM column does an excellent job gauging a horse's 'staying' power

. Take a look at the examples below:
OPENING SCREEN

One of the biggest updates in decades occurred in the San Diego Handicap July 22 — RCFM was all over the $19.40 winner!

Column Explanations
R = # of races evaluated for each horse
TOT = TOTAL POINT COUNT
ACCELERATION = a compilation of several speed factors which include early speed, turn time, final fraction, running style (early, presser, closer), etc.
MOMENTUM = a gauge of a horse's staying power.  This is based on how well a horse maintains position during the final two to three furlongs.  When Acceleration and Momentum are combined, they provide a crisp, clear picture of the overall 'balance' of a horse's running habits.
J/T/S+ = A formula involving two critical handicapping factors: Jockey/Trainer 'team' performance (how a trainer and jock have done win/place/show when they teamed up in the past) and a pace/speed formulation.  This column is best used for horses going off at 5/1 or higher, as well as in your exotic wagers.
Hi%Show = based on extensive database studies, a horse who has a very high likelihood of running at least 3rd.  This catches a horse that runs at least 3rd @80% of the time.  
FRENZY BEST BET = a top-scoring (TOT column) horse that has at least a 14 point advantage over the second highest scorer.  These plays are the overall strongest with @35% win rate.
FRENZY TOP SCORER PLAY = the top scorer in TOT regardless of point spread.  Win % @29% – and always include in your exotic wagers.
Exotic Plays = the best overall Exotic play we found in our studies is a four horse box using the the top 4 horses in the TOT column (sort column first by clicking on TOT).  Overall hit rate @36% with some big payoffs.
Four-Box horses have a very, very high in-the-money % = @37% win/55% place and 80% show.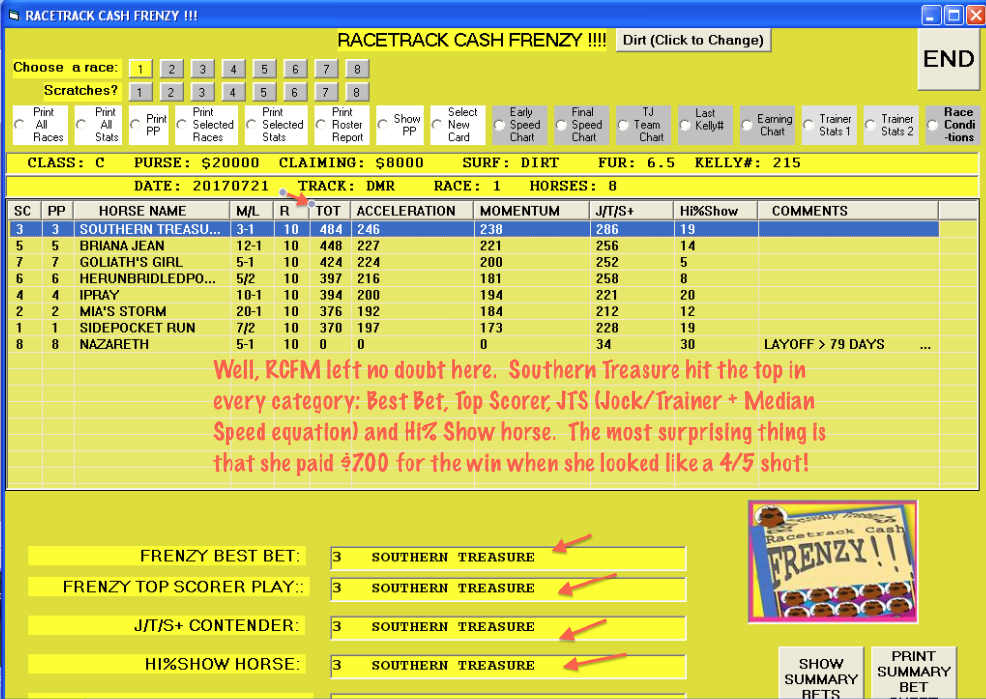 RCFM is great at coming up with big price Exactas.  The key is to play in races of 9 horses or more and to box the top four scorers in the TOT (Total) column — Here, unbelievably, a horse that had quite a bit going for him, Perplexed, was let go at 115-to-1. The 4-horse TOT box paid $534.

A Unique feature of the RCFM Software is the J/T/S+ program.  This formula, worked out by Bob and Len, takes the Jockey/Trainer team %'s (the % of times the jock and trainer teamed up to win, place and show), then measures the average speed of the horse's recent ratings at or near today's distance.  The formula produces some very nice overlays.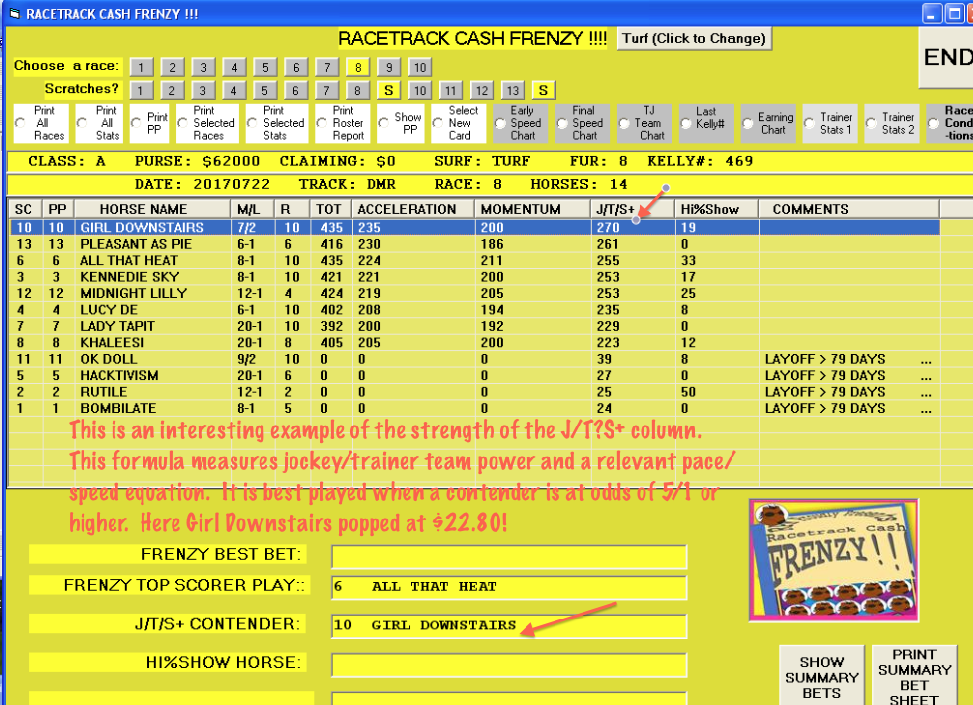 If you like to play to show, or enjoy playing show parlays, RCFM is an absolutely remarkable tool for you.  The Hi%Show program is designed to spot horses that are very likely to finish at least 3rd –

over 80% of the time

.  And you are not always talking very short prices – take a look at the race below.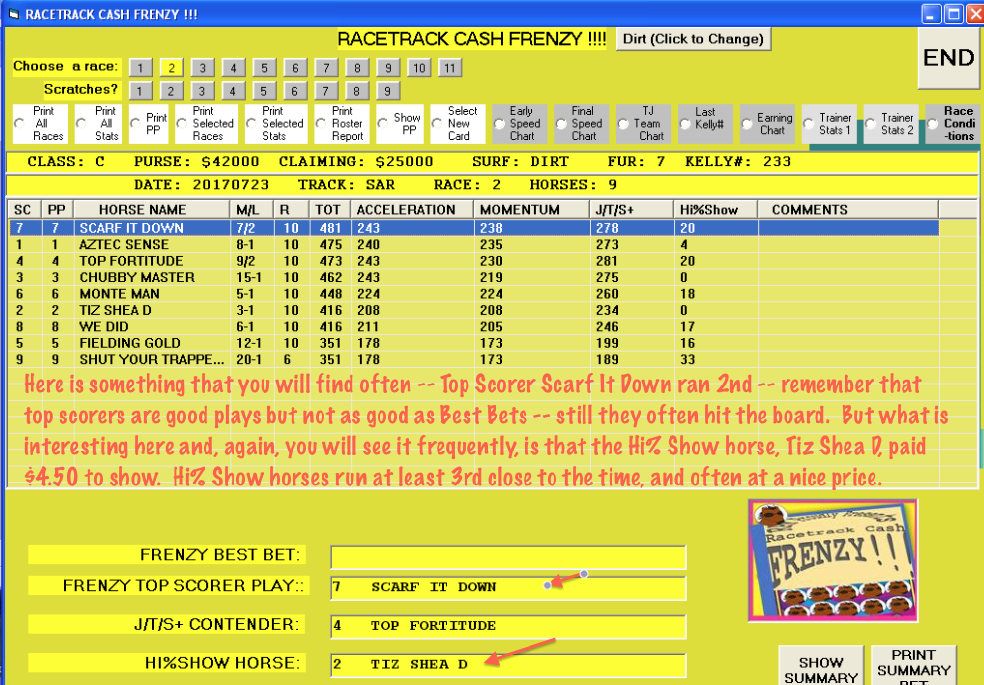 Below another fascinating situation where a horse has every possible angle going for him but cashes in as a big overlay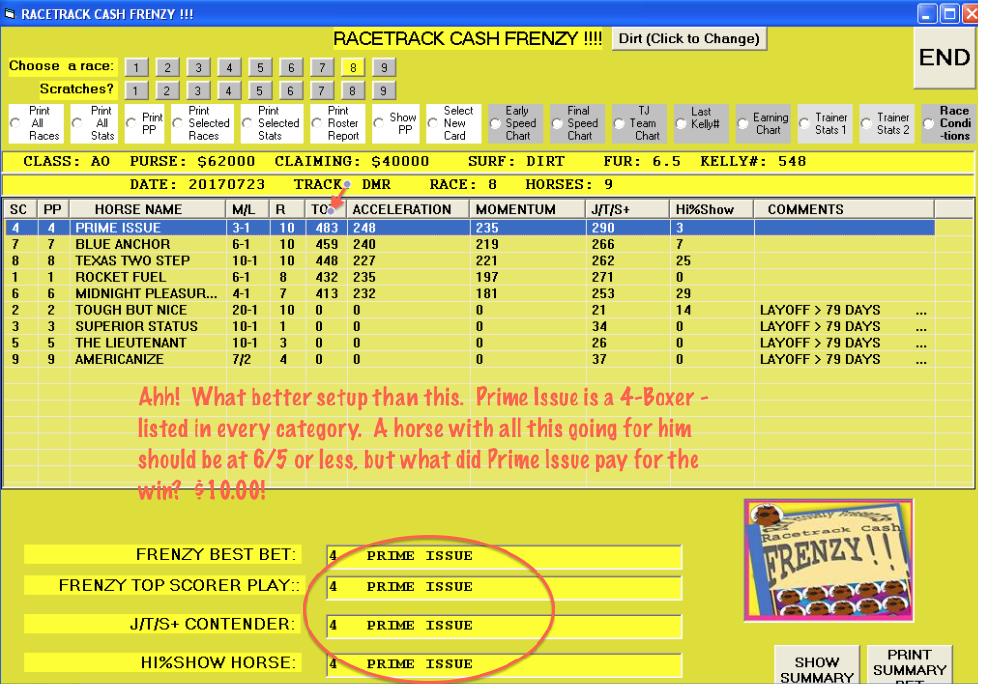 Call us at 1-800-696-0067
or order from our website
BUT …. ORDER SOON to Receive the SEVEN (7) FREE BONUS Items as well!!
RCFM Paper/Pencil  $59.90
RCFM Software   $89.90
RCFM Ebook  $49.90