And you know what is absolutely fascinating!
Lou sent us one of the author's original workouts which covered a month's work of the Gulfstream meet.  We have reproduced it below.  This was several years ago. 

But when we ran similar 30+ day data tests, remarkably almost every one came up with very similar results. 

The main difference was that the win rate in our studies was higher, while the average win mutuel was a bit smaller.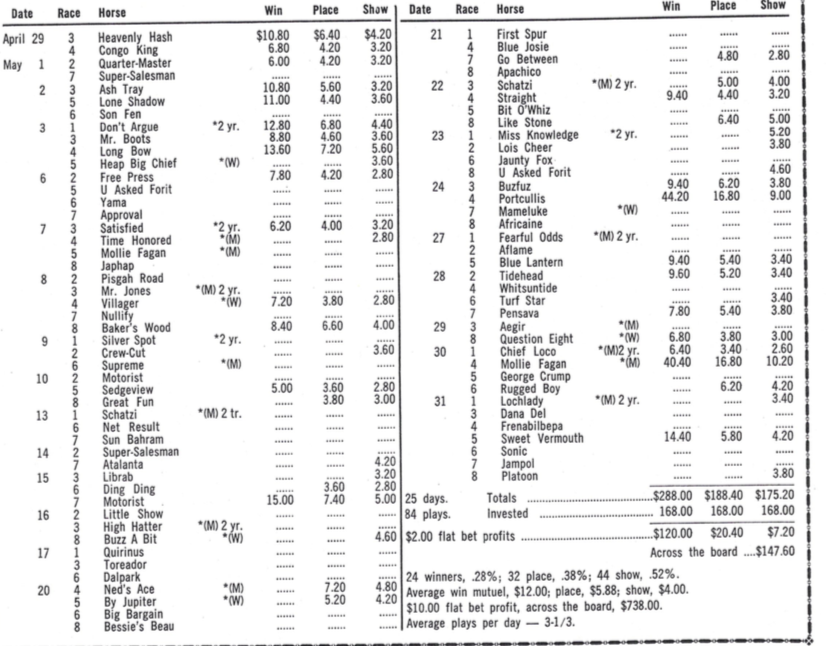 The Software!! 
Combining Spot Plays, Consistency Plays & Longshots to Produce an Extremely Accurate, Well-Rounded & Profitable Computer Program!!
Stable Sleepers works at all tracks, but gets more action at the smaller tracks.  Average # of Stable Sleeper plays is @3 per day and often, very often, you will make a profit on just those plays.  A

t Fonner this spring, for example, we had several days in a row where at least one or two of the three chosen won:

  4/29: 3 plays, 2 wins $4.20 & $9.20 and 1 2nd;

5/4: 1 play, 1 win $9.00

;

5/5: 3 plays, 2 wins $9.00 & $7.20

;

5/6: 2 plays, 1 win $7.80, 1 3rd

.
So if you love Consistency and short runouts, and also enjoy the opportunity to land some BIG prices, and have Exacta & Trifecta contenders thrown your way as well, you are going to warm up to O'Rourke's Stable Sleepers quickly!
Try it — You'll Like It!
Stable Sleepers Hard Copy   $39.00
Stable Secrets Ebook  $36.88
Stable Secrets Software  $78.00