$249.00
Tom Console's U.R.T.I.-X (Extreme!) is without a doubt one of the Most Exciting Piece of Handicapping Software Ever Created
Description
URTI EXTREME!!

The Ultimate Racetrack Investor

….on Steroids!!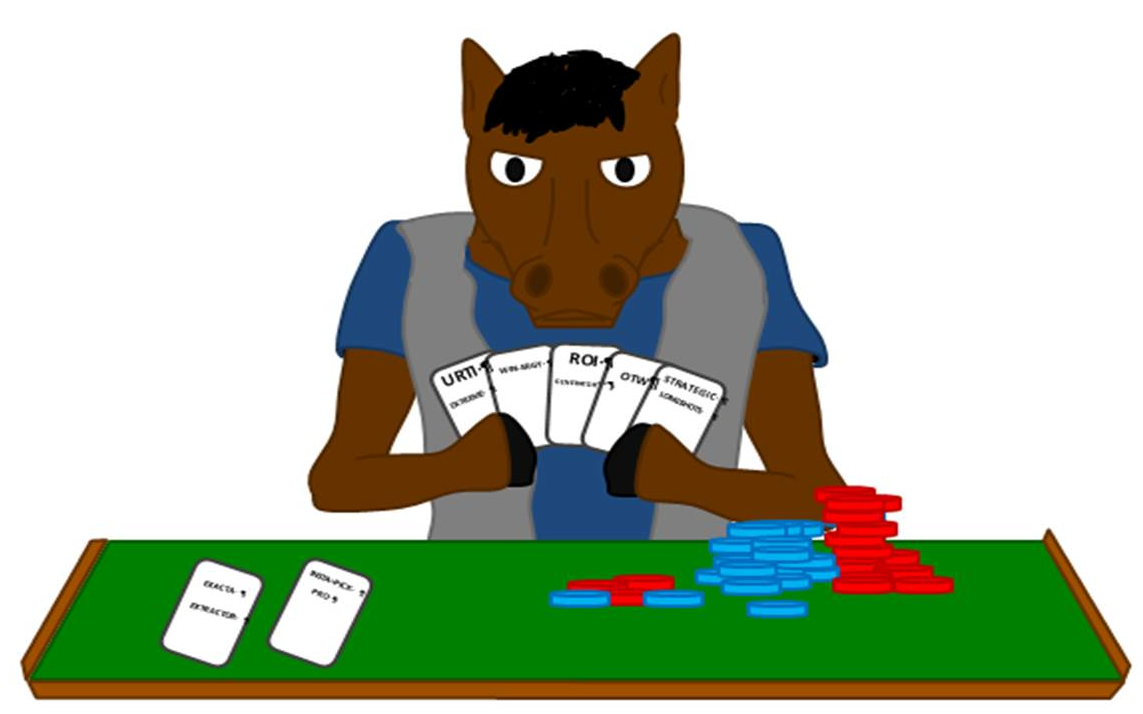 Creates its own research database!! 
Includes 6 Additional Tom Console SoftwarePrograms
++

The URTI-X Consensus Page!!

 
Windows 7 & 8 compatible,

superb selection accuracy!!

 
Query-able Database Feature!

 

Proven-profit Pick-3 Program also included!!
Tom Console's U.R.T.I.-X (Extreme!) is without a doubt one of the Most Exciting Piece of Handicapping Software Ever Created,
yet the $625 retail price has put the program out of reach of many, many horseplayers.
But we've taken care of that, offering you
a HUGE DISCOUNT, and we're going to include a
sensational selection/bankroll-management strategy FREE!  to boot!!
The Ultimate Racetrack Investor Extreme Software Package!
Those of you who are familiar with Tom's work know that he has been working on what he considered to be the ultimate handicapping software package
for years now.  But those years of research and programming, not to mention the thousands of dollars devoted to the project, has now paid off.
Tom calls URTI Extreme his 'black box'. 
In the racing business, a 'black box' is loosely described as something you simply push the button on and out pops winning horses, enough winning horses to assure you a hefty and steady profit.
It's 'automatic', in otherwords — the software does the the thinking and selecting — you collect the profits.
You see, URTI-X is equipped with the most advanced 'modeler' ever designed for handicapping software.
A modeler actually creates a 'track model' for you, showing you in exactly what type of races (claiming, allowance, filly-mare-male, turf, dirt, distance) you can make the most money.
**This is such an advanced concept that only a handful of handicappers out there are using this technology.
But now, with URTI-X, it's available to you as well. 

But even if you choose not to use the modeler, for whatever reason, URTI will still make your racetrack
days and nights much more profitable and enjoyable

,

especially when you apply the Bankroll Management & Wagering Strategies for URTI, which we
include

at no extra charge with your purchase. 
These strategies are based a multi-thousand race study using URTI-X, and the strategies that he used to make URTI-X a
profit powerhouse are clearly laid out for you to use as well. 

Trust me, the analysts who compiled this report knows what they are doing — they are some of the
greatest strategists in the game.
The complete URTI-X package, the same package that many folks paid $625,
***is available to you from us, for a limited time, for just $249!
Tom knows that many of just about all of you reading this has purchased one or more of his products in the past,
thus the 'appreciative' reduction in price!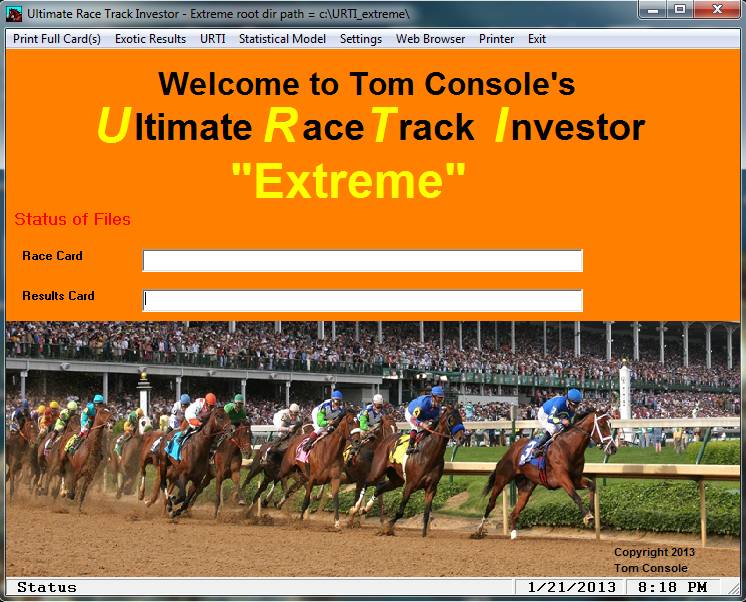 Above:  Opening screen     Below:  Menus — Choose which programs you want to use, add to or update database, create statistical model, etc.  Extra info, trainer/jock stats, etc., also available from these menus.

Below is the statistical results screen which you can customize and use to query and analyze stored results.  This is the most advanced query and research database available to the handicapper.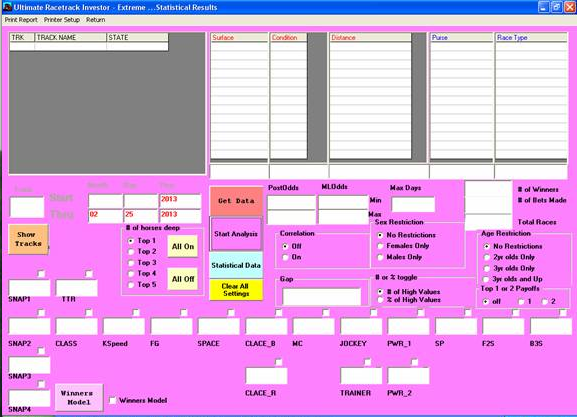 Below: The URTI Extreme Consensus Page. 
This great new feature combines all of the URTI Programs ( there are over a dozen that make up the URTI Main Screen – see below), as well as the other Six
included programs (Winergy, ROI Generator, etc.) 
The Consensus Page is a remarkable programming achievement

,

as each program is 'weighted' as to its

importance in a given situation (turf, dirt, 2-year-olds, Stakes, route, sprint, etc.)  These 'weightings' are then combined to produce the Consensus screen.
A horse with 10 or more points more than the 2nd-rated horse is an excellent win/place wager

and will hit the board close to 90% of the time. 
Horses with very low scores are almost always throw-outs on the win and place end.
The Consensus can be used on its own, but is better used along with the Main URTI screen and/or the other programs.
When a top Consensus horse is also a 'pick' by one or more of the other programs, so much the better win% and place%-wise.

Screen Shot: 
Below is how the main selections screen will appear on your computer.  URTI utilizes several programs to arrive at its selections

.
The different URTI programs are listed at the top of the page (TTR = True Tender Rating; Snap 1, 2, etc. = SnapCapper, KSpd = K-Speed System/Program, etc. )
When on your computer screen, you can scroll to the right to see the other programs as well. 

→For a more detailed explanation of these programs, see the section underneath the pricing information below.

You can see that the program offers straight-bet selections, exotic selections and 'dutch' selections. 

The manual will describe how to best utilize the various wagering situation for maximum profit.
Remember:   this isn't your 'father's' URTI.  
Tom has improved on the original features, added his patentedPACE-ACE© to the mix and
employed his brother Steve's Razor-Sharp Exacta Strategy to make Exacta plays
even more accurate and profitable.
But perhaps best of all, Tom is including several of his other most popular programs on the same disk!
These include
**Win-Energy Plus,
**The ROI Generator,
**Insta-Pick Pro (Ultimate Version),
**Exacta Extractor,
**Strategic Longshots

and a new, exciting, highly-consistent program
Tom calls
**'OTW'

(stands for On-The-Way (to the winner's circle)) –

OTW also includes a super-duper Pick 3 Selector!!
Sample of the OTW screen

—

great at picking winners (horses in red are especially strong win/place plays).  Note also the Pick 3 column — the X's are the suggested plays — average ticket price is just $8 — hits at a 23% rate and gets some biggies.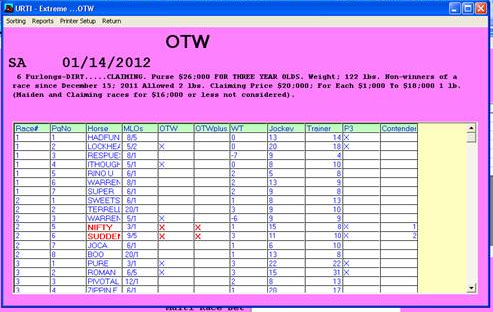 All of these programs are available separately by simply pushing the button of your choice on the main screen.
And URTI creates and builds its own database, which allows you to focus on the highest % plays at any given track!!
Other Features: 

The 'More Info' Screen provides jockey/trainer/distance/surface/pedigree rating info, etc:
MORE INFO SCREEN
One other choice at the top of the screen when you are looking at a race in URTI is called LINK TO MORE INFO.  When you are in URTI viewing a race, you can click on this and it will show you a new screen with the following information:
PgmNo: This is the official number of the horse.
ML: Morning line odds
DistRecord: This is the horses record at todays exact distance.  It shows the number of starts, followed by wins, places, and shows
TrackRecord: This shows the horses stats at todays track.
TurfRecord: This shows the horses record on TURF races only
LifeRecord: This is the horses lifetime record on all races.
Style: This is the horses running style (E=Early, P= Presser, S= Sustained)
TurfPed: This is the horses turf pedigree rating.  High is best
MudPed: This is the horses mud pedigree rating.  High is best.
TrainerStats: This is the trainers starts, wins, places and shows.
JockeyStats: This is the jockeys starts, wins places and shows.
Happy Users!
I have used your program, and I think that is a very worthwhile program with a lot of features that any player would appreciate. I have noticed that the top 3 for SNAP1 and the top 3 for SNAP4 for most races give 4 contenders and MANY exacta's and trifecta's. Last night at Lone Star Park:




Race 2, $19.20 Exacta




Race 4-$328.40 exacta




Race 6- $86.40 exacta




Race 7- $30.00 exacta, $61.80 Tri




Race 8- $20.20 Exacta.


Don Gullen, Dallas
Hi Tom,

Thanks for getting me the program so fast. I was doing very well with Snapcapper and didn't think I needed to buy URTI-X, but I am glad I did. I am hitting a lot more exactas and trifectas with the extra ratings URTI-X gives. And using the contenders in the bonus manual you gave me is great. I am hitting more pick 3's than I ever did in my life. And the contenders usually have at least the exacta, and so many times has the trifecta too, usually on a 3 or 4 horse box. Even my wife was amazed and she has never been a big supporter of my playing the horses.


Kirk Dayton, Cincinnati
Tom:

I got the program yesterday and read the manual. I was happy to see that you gave a very detailed explanation as I have bought so many programs that I could never even figure out how to use. But URTI installed perfectly, and is very easy for even me to run! I looked at today's Santa Anita and would have had every pick 3 using the contenders like the manual said. This with only two contenders per race. I am going to see how I can eliminate 1 contender to cut the cost of the bet down, but putting 3 horses in each leg is only $27 and some of these pick 3s pay very good. Heck, even putting 4 horses in each race is only $64 and I don't think you would ever lose many, but you have a great chance of hitting some huge ones.  Hit an $1,857 and $1,444 P3s just last week!


Doug Quittner, Pasadena
The URTI Extreme 'Bundle' will retail to new purchasers for $625.
*****But anyone who has had URTI previously, or has purchased any other Console product, and that's just about all of you, can purchase the program for just $249!
URTI-X (Extreme) Software Bundle (includes 6 additional programs)  $249
[wp_cart:URTIX:price:249.00:shipping:0.01:end]
NOTE:  Below you will find the definitions for the various readouts in the URTI-Extreme Program. 

Also, be sure to read the 'Making Money With URTI' section below:



EXPLANATION OF THE READOUTS
PgNo#: Official horse program number
ML: Official morning line odds
Horse Name: This is obvious!
TTR: This is my original True Tender rating.   I have updated it and made it even stronger.  The winner will usually be among the top 4 or 5 listed horses.  Look for gaps in the ratings from the 4th or 5th.  If the ratings are all close, they are not as strong as a race where there is a nice gap after the first few horses.  If a horse has never raced it will get 000.0 N/R (No Rating).  When you read the Menu Choice explanation later in this manual read about setting the TTR rating.
TTC: If there is a "C" in this box, the horse is a contender for WIN based on the above True Tender Ratings.  This makes it easier to spot the contenders.  On the PRINTOUT, the "C" will just appear after the TTR number.
SNAP1: This is the first of the MAIN readouts.  The horses are sorted on this rating.  SNAP1 is a speed rating based on what the horse is capable of doing, along with what it currently has been doing.  SNAP1 has very strict rules, and is very strong.  It does not allow for bad racing luck or any "excuses".  It is based on the idea that if a horse runs into trouble in the past, it can happen again.
SNAP2: This is figured much like SNAP1, except it can be a bit more "forgiving".  It will skip a race or two if there is a good reason for the horse having a bad outing.  Many times however, you will see the horses SNAP1 and SNAP2 rating match.  That is good.  When you see a horse listed near the middle or bottom on SNAP1, but it has the best or a very good SNAP2 (compared to the rest of the horses), take a closer look at this horse, as the low SNAP1 may be due to a legitimate excuse.  Many times these horses will win and pay well.
SNAP3: This is VERY unique rating.  Snap3 will convert all races AND workouts to a speed figure, so that races and workouts are compared on an "apple to apple" basis.  So if horse A has run in the past, but horse B is a first timer with only workouts shown, you will see a final rating that is totally equalized!  SNAP3 was originally intended to be used for Maidens, but the more testing I have done, the more I have seen it do well in ALL type races, including TURF.  So if you play exotic type bets, keep an eye on the top SNAP3.  And for first timers, before you throw them out, be sure their SNAP3 is not showing them to be a threat.
SNAP4: This is a strong rating based on everything from SNAP CAP PRO plus a whole lot more!  (In SNAP CAP, this rating was called POWER).  When you see a horse with a big SNAP4 rating gap, it is a strong handicapping indicator.
CLASS:  This is a class rating based on each horse's earnings. High is best.  Always be alert of horses with a BIG class advantage that show nothing on the other ratings.  It may be taking a big class drop or just be a "sleeper".
Kspd: This rating is based on my "K-Speed" method.  It is based on the "pace of the horse" plus "pace of the race".  Keep an eye on horses among the top 2 or 3 that are 6-1 and higher in odds!  Hits great longshots.
FG: This is based on my FG method.  In this computerized version, the best horse gets a 0.00.  Then the rest of the horses are rated off of that. The scores are in tenths, so each .1 is ½ length.  In other words, the TOP FG gets 0.00.  If the next horse had a 0.20, that is saying this horse is 1 length behind.  A horse with 1.00 would be 5 lengths behind. A horse with a 2.00 would be 10 lengths behind.  Now this is not saying how the horses will actually be positioned in this race.  It is based on how the horse ran its last race, and what it ran against.  So it is really telling you how much gas the horse will have left in the tank at the second call of today's race.  Horses that are TOP in FG (0.00) are very strong when the second best is1.50 to 2.00 and up.  Also, FG can hit some HUGE payouts!  As you can tell, in FG, LOW is best.
SPACE: Based on my SPACE method, it uses the speed rating AND second call time of the race.  It is my belief that the faster a horse runs early, the lower it final time will be. Thus, if 2 horses ran a 6 furlong race and both received a 90 speed rating, but one horse ran against a 44 second call, and the other ran against a 45, the horse that ran against the 44 is a faster and stronger horse.  SPACE adjusts for all distances.  Some SPACE users say they just dutch the top 2 SPACE horses and do very well.  Some just play the top 2 when they are both 3-1 and up.  Others play any of the top 2 at 5-1 and up and do VERY well.
CLACE-R: This rating is based on CLASS and PACE…Thus CLACE!  Clace-R uses very recent races.  This rating is stronger in HIGH class races.  The model will show you which tracks CLACE excels at and what type races.
CLACE-B: This is almost the same as above, except CLACE-B is based on the Best rating the horse has showing, not just the most recent ones.  When a horse is top in both CLACE-R and CLACE-B, it makes the rating much stronger.  Keep an eye open in higher class races when a horse is top in both, and is going of at higher odds.
MC: This is really an entire method in itself.  The number you see is a final rating based on factors such as earnings, speed, pace, workouts, recency, positions, on and on!  By hand, this method takes about ½ hour a race.  If a horse has a "ZERO" MC rating, that means it was eliminated by one of the MC rules.  High is best.  Even races with first time starters…even if the race is all first timers… will have an MC rating.  The method is different for maiden and non maidens.  But in a maiden race, you can easily compare a maiden that has run before to one that never ran in its life!
JOCKEY: This is the jockey win percentage using the largest total number of races for this jockey found in the file.
TRAINER: This is the trainer win percentage using the largest total number of races found for this trainer in the file.
P-1: This is a power rating is based on most of the ratings in URTI. It looks at each column, and gives 6 points to the top pick, 5 to the second pick, 4 to the third pick, 3 to the 4th pick, 2 to the 5th pick and finally 1 point to the 6th pick.  It does this for most columns, then it totals the score. High is best.  Let me give a very basic example.  Say there is a horse that ias 1st in CLASS, and 7th or worse in everything else.  Then it would get 6 points for being first in class, but nothing else.  Thus its P1 rating would be 6.
P-2: This Power 2 rating is based on all of the same factors as P1, however points are awarded differently.  The TOP horse in each category gets 10 points, and the second best horse in each category gets 5 points.  Nothing for 3rd or worse.  Then the points are totaled and that is the P2 rating.  So if a horse was top in 3 columns, and third or worse in everything else, it would get 30 for a P2 rating.
SP: This is SPEED POINTS  based on Quirin speed points found in the BRIS file.  At some tracks, you will see that many of your LOSING bets come from horses that have 0 or 1 SP.  Thus this would be a good way to eliminate some of your bad plays.  Also, if a horse is top in FG, and has the highest Speed points number in this race, it runs very well!
B3S: (Best 3 Speed) This is a speed average using the horses past 5 races.  Then, the highest and lowest of the past 5 are thrown out, and the remaining 3 are averaged.  That will give a horse an "out" for a poor speed rating, and also not over emphasize those horses that occasionally throw in 1 good race with a very suspicious high number.  Other rules are followed in cases where a horse has less than 5 races.
F2S: This stands for Fraction 2 speed.  It is based on the SECOND FRACTION (not second call) along with the final time of the race.  High is best.
DAYS:  This shows the number of days since the horse last raced.  The number in parenthesis next to this is the amount of workouts the horse has run since its last race.
AUTO PLAYS
On the bottom of the Handicap screen, and on the bottom of each race on the printout, are suggested wagers.  You can play just off these alone, or dive deeper into the program and come up with your own if you like.  There are various plays listed, but every race will not have plays in all or any categories.  Also, BE VERY CAREFUL when a race has first time starters.  The plays are based on the horses that have run, and does not take into account first timers!  Let SNAP3 & MC to help you decide if the first timers are threats!
Win/Key: This horse is a perfect play for Win, Place, or Show wagers.  It is also a good horse to use for a "key" horse in exotic bets, and parlay wagers.
2 Horse Dutch/Exotic:  If you like to "dutch" two horses to win, these will be strong plays.  Also, they are good for a 2 horse exacta box, or as 2 horse keys in pick 3's, etc.
3 Horse: This will list 3 horses that are good to use for exacta boxes,  trifecta boxes, pick 3's, etc.
Multi Race Bet:  These are great for 4 horse exacta/trifecta boxes.  You will usually find this play giving 4 picks.  Also good for Pick 3's if your bankroll allows.
Like I said, these auto plays may be all you will want, or you can look at the ratings and go deeper.  There still are plays in races that show no "Auto Plays" but you need to dig in and find them.  Of course if you use the model, then you will probably ignore these plays as the model will give much stronger plays geared to your track and conditions.
A GUARANTEED WAY — MAKING MONEY WITH  URTI
Many of you will dive right in and do well right from the start with URTI, without any advice from myself.  Some will do even better than me, as you may see strong things that even I, the developer, might overlook.  But a lot of you will want a little more coaching, which is fine.  So let me tell you my personal play using URTI.
First, I do not limit my play by just what the URTI auto bets say.  I look at them, but do not use them alone.  Not that they are not good enough.  They are in fact the strongest automatic selections I have ever seen.  So if you are looking for a fast and easy way to play, just look to the auto bets and you are there.  Just one word of caution.  Always look at the race for horses that are first timers or foreign, and have ratings of 000.0NR.  They are unknown as far as the auto bets go and can upset your picks.  The auto bet selector does not include the 000.0NR horses as runners. Look at the SNAP3, MC, Trainer and Jockey of those 000.0NR horses to see if the ratings of them are high. If yes, you may want to pass, or include them in your wagers for pick-3's etc.  MC and Snap 3 will find huge winners that may have never raced before.
I like looking at the readouts themselves.  In this way, I can put together various types of bets.  I play straight win bets, show parlays, exacta, trifectas, daily doubles, and my favorite, the Pick 3.  I view the races on screen because I like having the top picks in RED, but also I print them and use it as a worksheet.
For the win bets and show parlays,  I simply look for real strong horses.  Horses that are top in SNAP1, SNAP2, SNAP4, and B3S, along with being top in the POWER ratings.  I don't want to see a horse coming off a long layoff, like over 90 days, unless I am getting good odds.  In fact, under 30 days is nice.  I like to see the class rating is in the top ½  in the race.  I do not let the odds influence me.  When a horse is REAL strong, I will accept low odds.  They are TRUE favorites and win a lot.  Well over 55%, and at some tracks as much as 75%.  And the show rate is very high.  Also I love it when I see 6-1 or 8-1 on this type horse!  Obviously when a horse is a total standout on all readings, it will usually be a favorite.  But like I said, it is a TRUE favorite and will win a lot.  I seldom lose more than 3 in a row on these type plays, so I personally use a mild progression when I lose 2 in a row.  Nothing crazy, but lets use a $10 base bet as an example.  I will bet like this:
  $10 – $10 – $15 – $15 – $20 – and stay at $20 as a cap.
 Of course you must adjust that to fit your bet size, but to this day I have never gone to the 4th level yet.  I am not saying it will never happen, but it will be rare.
Many times I will see a race where a horse is going off at 6-5, and I look at URTI and it shows nothing exciting.  It may be a top pick, but not by much, or maybe even a 2nd or 3rd pick.  These are usually the type of races where the favorite will get beat.
    For those of us that like longshots, keep a close eye on the top 3 Snap 1 & 2 selections.  I have seen a many Snap1 and Snap2 horses pay well over $90 to $100 to win!  And many many more paying over $40. Some of these are ranked right on top! Also, in all type races, maidens AND non maidens, keep a close eye on the TOP rated SNAP3.  They win very often and high odds!  I have had top Snap3 horses that had big advantages over the second best Snap3, win and pay over $90!  In fact, I have hit so many high priced winners that were the top SNAP3, that I now keep a separate "long-shot" bankroll.  What I do is anytime I see a top SNAP3 horse that is 8-1 or higher morning line, I bet it in my long-shot bankroll.  That's it.  Just TOP SNAP3, and 8-1 or up on the morning line.  If you would like less plays, but still hit the high priced winners, you can do this in just MAIDENS and TURF only.  My highest priced winners have come in turf races, and maidens are second best.  It will hit in regular non-maiden dirt races and be profitable, but the best winners are in turf and maiden races. Be ready to hit some losing streaks, but long-term, the profits will be very high!
Another strategy that works very well for me is this. Look at the TOP Snap1, TOP Snap4, and TOP B3S.  Then bet any that are 6-1 and up.  It will not give you a lot of plays, but they are TRUE overlays and do very well!  I personally always use this play.
Still another strategy that works very well at all tracks I have tested it on is this.  Look at the TOP P-2 horse. (Power2).  It must have at least a 5 point advantage over the second best P2 horse in the race.  Playing these horses to win will make you 10% to 20% profit on your investments, depending on the track.  It may not sound like a lot, but it adds up, even at the 10% level.  It can make you wealthy over time!  But to even enhance this, if you limited your plays on these horse to betting them when they are 5-1 or higher morning line odds, your returns will more than double!  Less plays of course, but GREAT profits.  AND, at many tracks, if you passed races carded for fillies, or fillies & mares, it will dramatically increase your profits.
I have seen many factors do so-so or even lose money overall.  Then when I break it down by sex (males only or females only) it GREATLY increases.  So factors and correlations of factors do well with males and terrible with females, and others do the opposite.  So keep a close eye on this at your track.
Also watch for differences in sprints and routes.  And types of races as far as maidens, claiming, allowance etc.  By tuning in on these various levels, you will be nothing but successful!
When it comes to trifectas and exactas, I look at the race and want to see the Snap1 and Snap2 ratings agree.  Then I look for a gap and box the horses above it.  So let's say the Snap 1 and Snap 2 are like this:  115, 114, 112, 106, 104, 101, 99, etc.  You see the 6 point gap from the 3rd to 4th picks?  That's a good 3 horse box for a trifecta and/or exacta.  So look for gaps of 4 or 5 or more, and those picks above it are strong.  Another way would be even if the Snap1 and Snap2 did NOT agree.  Let's say there is a gap from the 3rd to 4th on Snap1, and a gap from the 4th to 5th on Snap2.  Well, if taking all those horses gives you 4 selections, then box them in exactas or trifectas!
Now if you are a more "aggressive" trifecta and/or superfecta type player that likes boxing 4 or 5 horses, just simply boxing the top 4 or 5 (depending on your betting level) Snap1 listed horses has shown very nice profits at most tracks.  Even if there are no major gaps, boxing the top 4 or 5 will hit many times, and often, in those "close" rated races, the payoffs will be HUGE.  I have hit trifectas and superfectas paying in the many thousands of dollars doing this.  To cut down plays and go for the bigger payoffs, you can set rules, like only playing races with 9 or more horses, or even 10 or more horses.  And also just play when you see you will have some good prices in there.  You may not want to box 4  horses if you have the 4 favorites!
The play I like best using URTI is the Pick 3. Taking the top 3 Snap 1 horses and the top 3 Snap 4 horses, will do very well.  I usually go a step further and like to see that this also contains the top B3S horse.  99% of the time it will.  Also, I want the top Snap 2 horse in there, and again 99% of the time it will be among the others.  (Also check the P3 horses in OTW)  If you want to cut down the plays, just using either the top 3 Snap 4 or the top 3 Snap1 will also do very well.  Using the top 3 Snap 1 will usually get you some better payoffs, while the top 3 Snap 4 will get a little higher win percentage. Also, the top 3 Kspeed alone do well, along with the top 3 B3S.  Sounds like a lot of choices, but the main thing is whatever you decide to use, stick to it.  Don't use one way today, then a different one the next day.  Stick to one so you assure being there for the profits.
One other thing I would like to mention pertains to the TTR ratings.  You can make good money using them alone!  Look for longshots among the top3 or 4.  Look for nice gaps in the ratings and box the top 2, 3 , or 4 in exactas and trifectas.  Myself and others have hit HUGE payoffs just using the TTR.  For example: 88-87-85-78-76- 75, etc.  Those top 3 would be a great ex/tri box.  Just another great way to win with URTI!
THE BEST WAY TO USE URTI
OK, now that I have given you plenty of tips on how to use URTI EXTREME and all the programs contained inside, let me give you the final, and best, advice that will be the most valuable thing I can tell you.
   BUILD A GOOD SIZE MODEL AT YOUR TRACK
Once you have a URTI model built for your track, you cannot do anything but make money.  You will find plays that are proven profit makers at your track.  I like having at least 60 days at a track, and the most serious wagers I make are based on 6 months and up worth of data.  Some tracks run year round, and I keep the past year for my basis of wagers.  This is how I start out.  First I will go to the model, and pull up all the races at a track that I have in my database.  Then I will turn all factors ON, and look at the top horse of each factor.  I will then print this screen and concentrate on the factors that looked the best.  Even if the ROI is a loss, its OK.  Usually I will narrow it down to 5 or 6 factors.  I turn the rest of them off now.  Then, I will just look at these best factors using various filtering.  I will look to see how they do in males only, then females only.  Then I will add a GAP number and see how they improve.  I will start with a gap of 2 or 3, and then keep increasing it.  Then break it down by age, then race type, surface, etc.  Filter until I find profitable plays.  Then I will look at these factors in various correlations.  Take 2 or 3 of the best and look at them with correlation ON.  Filter around again.  Play with it.  Experiment.  You will be amazed at what you see.  At first the ROI may have all shown red…or a losses.  But now you may be finding plays hitting 40%, 50%, or more, and handing you profits of 25 cents to over a dollar profit on each dollar wagered!

     Using the Top 3 Snap1 and Top 3 Snap4 horses is a good basic way of getting contenders, and at many tracks, even a large model will still show you to stick to that.  But I always look at my database.  Under "NUMBER OF HORSES DEEP", I will select 3.  Then I will look at sprints first, and then at routes separately.  I will break it down by turf and dirt.  Some tracks show me that instead of using the top 3 Snap 1 and Snap 4 for contenders, I am better off using the top 3 B3S and top 3 Snap2.  Or in some races use certain horses, in other races use different horses. So these are the horses I will use in place of what Joe put in the betting manual.  And these would be the horses I would use in pick 3's and daily doubles.  I will also see how the top 2 horses do in various categories, so I can also make smaller pick 3 and daily double bets.
So again, if you really want to get the most out of URTI, and make long term profits like I do, you really need to use the model feature.  I gave you quick and easy ways of playing WITHOUT using the model, and if you are happy with that level of play, then that is fine.  Not everyone wants to turn this into a full time business.  But for those of you that really do want this to be a business of its own, you need to use the URTI model!
I am not trying to mislead you and tell you that you will win every day.  Of course there are bad days when nothing goes right.  Fortunately not many of those bad days exist with URTI!  But usually I find when URTI "misses" a horse, it's one of those races that we should be passing as all the ratings are close.   That is an example of what I mean when I said to use just a little logic.  Don't try to "force" a bet!
I know URTI can make every player successful.  I have done my best to make the program the greatest ever, and have tried to give you as much advice in this manual to succeed.  95% of the work is done for you.  You just need to add the last 5%.  Treat this like a business, not a gamble.  If you owned a business, you would not go out and buy bad stock just for the heck of it.  So don't waste money on races that URTI does not give you a clear picture if, just for the heck of it.  Stay sharp.  Don't bet more than you are comfortable with.  If you are nervous making a bet, you are betting too much.  And that will lead you to failure.  So wager what you feel secure with, and let it build on its own.  If you are patient you will succeed.  I really hope you build a large model at your track and use it.  With that in hand, you will find nothing but profits, and know when to stay away from the plays that are burning you.
Stay alert, have fun, and make lots of money!
Sincerely,
Tom Console