$137.00
Tom Console has just released his new

TOP-HORSE Software,

an extremely

accurate

selector that shows you all
Description
Tom Console has just released his new

TOP-HORSE Software,

an extremely

accurate

selector that shows you all
of the day's plays on a single screen!!              

(Note – also see 'Dynamic Duo' + FREE Exacta Program Offer below!)****



TH finds all playable races and displays them — no 'hunting' for profitable plays — they are all laid out right in front of you!
Note that only the playable races are displayed (R#).  Morning Line (ML) is given for each horse, followed by Tom's New 'Selectric Power Number' (Rating).
 

(SP) is Speed Points.  These are the famous and still remarkable 'Quirin Speed Points'.  They are especially effective in sprints.  A horse who has 4 or 5 Speed Points in a sprint, who is also one of the two race favorities, win and place at an extraordinary rate (76%).
The T% is Trainer, J% is jockey.  The J/T% is the overall win/place % for today jockey trainer combo.  So not just win, but win/place. This is critical info when playing Exactas and Trifectas.
Days is of course days since last race, and the number after it is workouts since last.  So 48(3) means its been 48 days since its last race, and it has 3 workouts since then.  'Days' can be a great angle. 
Note that $36 winner Majestic Raffy above was back in just 6 days — watch for quick turnarounds — 10 days or less — the trainer is running them back for a reason — because he knows he has a horse that is still 'on the muscle'.
**Below is another great example of the selection power of TOP HORSE.  Not many playable races on 8/12/2012 at Del Mar, but TH picked the winner of the last three races — each was won by one of the top two selections. 
The resulting Pick 3 paid over $700 for a $1 wager. 

Note that the $40 winner was not only tied for the top rating but also had 7 Speed Points — a potent combination for a horse at big odds!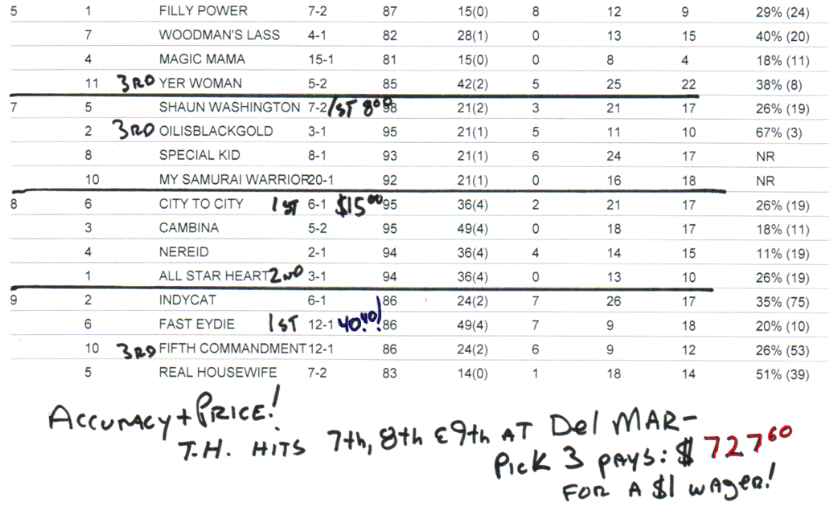 Below is another great example of the POWER of the TOP HORSE Program  —  TH brings price horses into the picture on a very regular basis. 
Take a look — a $58 winner rated 2nd!  
A $23.20 winner rated 1st! 
TH provides you with consistent winners and loads of FUN, i.e., BIG Prices!!
Think we had a smile on our faces after walking away from the cashier's window with a $60 win bet on Hadfunlastnight!!

On the next day, August 26, Top Horse had the winner of every selected race except one, as well as several Exactas and a very nice Trifecta!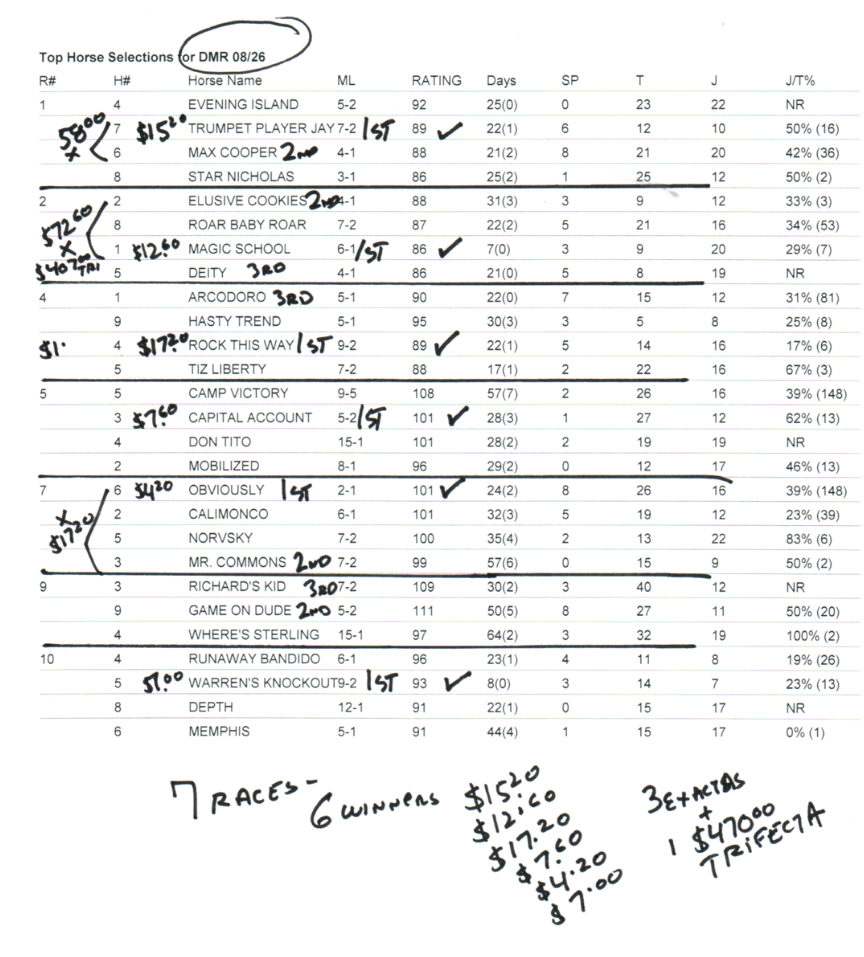 Strategies
Note that each race has at least four horses listed.  The top two horses are the most potent win candidates — the others are for Exacta/Trifecta, etc., consideration. 
In our database tests, which involved well over 300,000 races, one of the top two choices won close to 57% of the time. 
While a complete 'How to Wager' guide is included with your purchase,

I will tell you that 'dutching' the top two choices produced a very solid +31% ROI. 
'Dutching' means you will be betting on both horses —
****in fact,

I will send you the same 'Dutching Table' that I use, so you can dive right in with this strategy as soon as you receive the software!
**** You will also find EXACT instructions on how to profitably wager on Exactas and Trifectas — the Strategy here involves the 'spread' on the ratings,
but I, of course, will give you all the details

.
The Database Feature
TH also builds a database and the program's accuracy increases as the database builds! 
You can 'query' the database with dozens of parameters to find exactly which situations are viable and which are not!