$54.88 – $118.00
The best-selling, most popular, accurate methodologies in the game!
Description

➽➽

He said that most players were overlooking the most critical element in the game – an element that when evaluated properly,

would lead to more cashed wagers than any other factor.
The Odds Have It, II! boasts the ultimate handicappers 'Trifecta' — Consistency, Frequent Big Prices & Solid Exotics Payoffs.  Review the Summary Bet Sheet for Keeneland on 10/4 & Laurel on the same day — The Summary Bet Sheet provides all the plays for the card on just a couple of sheets.  Will every day be this good — no — but more than enough will be to send you skipping to the cashier's windows several time on your average 8 or 9-race card.: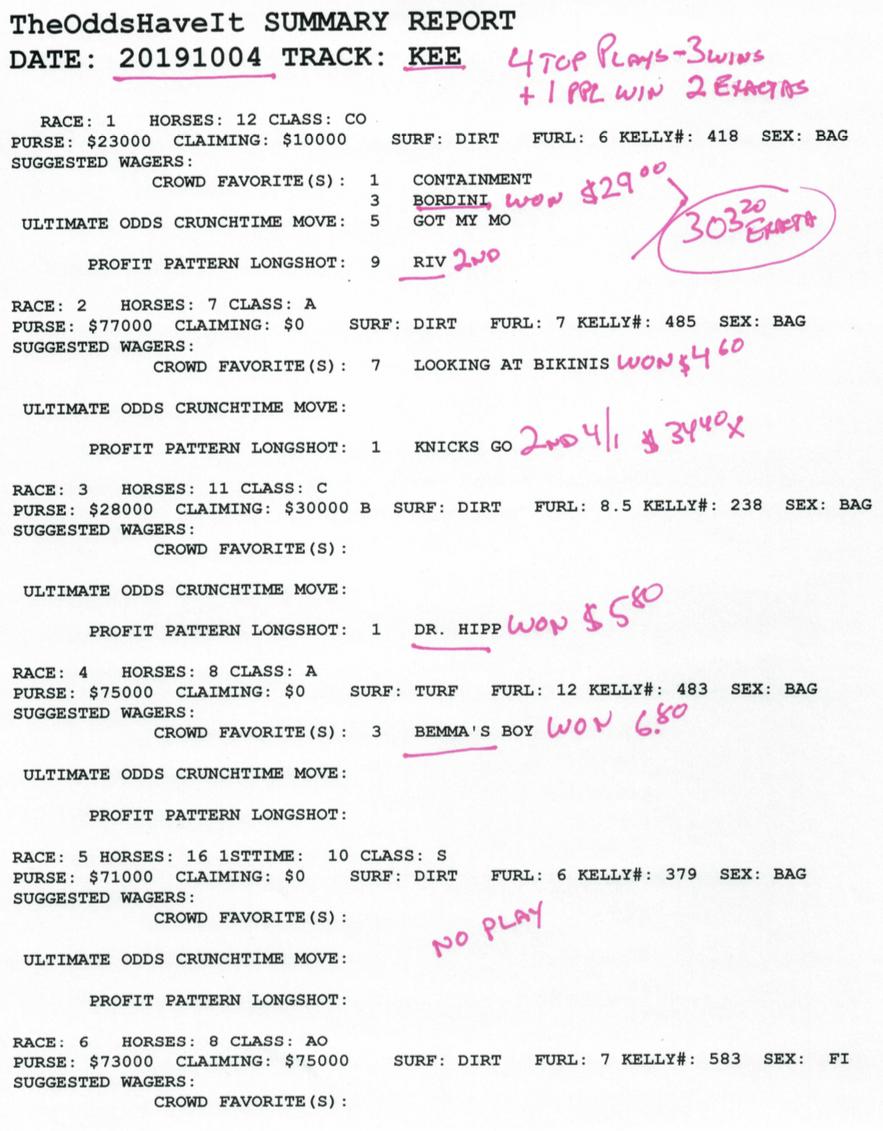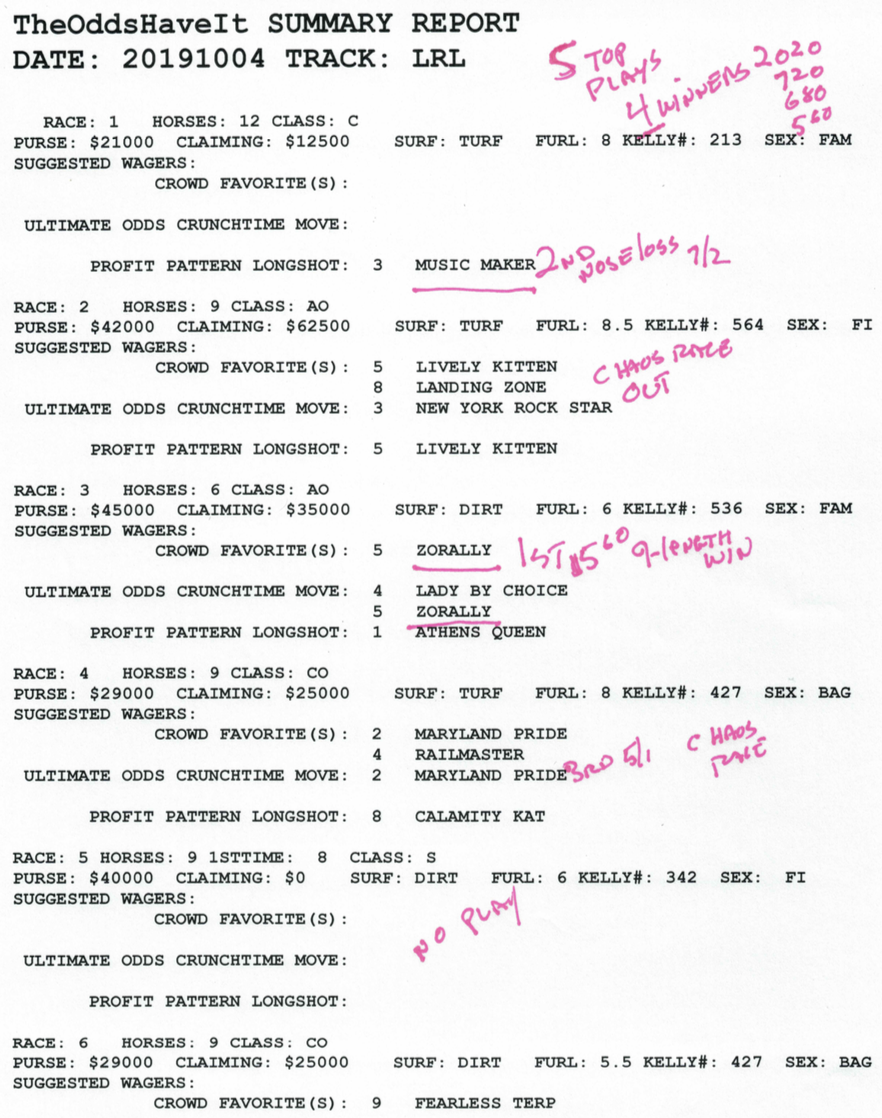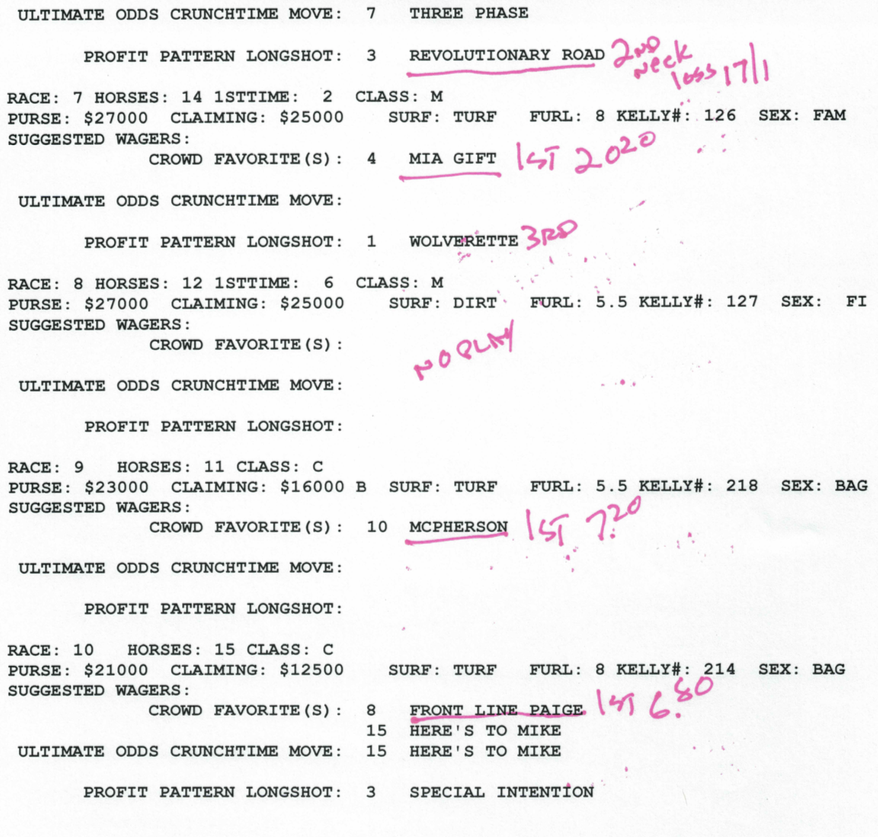 Customers say:
"Tom – you have really outdone yourself this time!  I like all of your stuff but this one is the tops.  I like the fact that Odds Have It works in all types of races, and some of the prices are unbelievable — I look at the pps and cannot figure how anyone would come up with some of these horses.  Thanks — Great Job again!"  Don Stevens, Miami
"This is unlike any Odds-Based system I have used.  I like the fact that when the top pick is a favorite, it wins over 40% of the time according to my calculations.  Had a 38/1 shot run 2nd at Gulfstream the other day!" 

Henry Filone, Dallas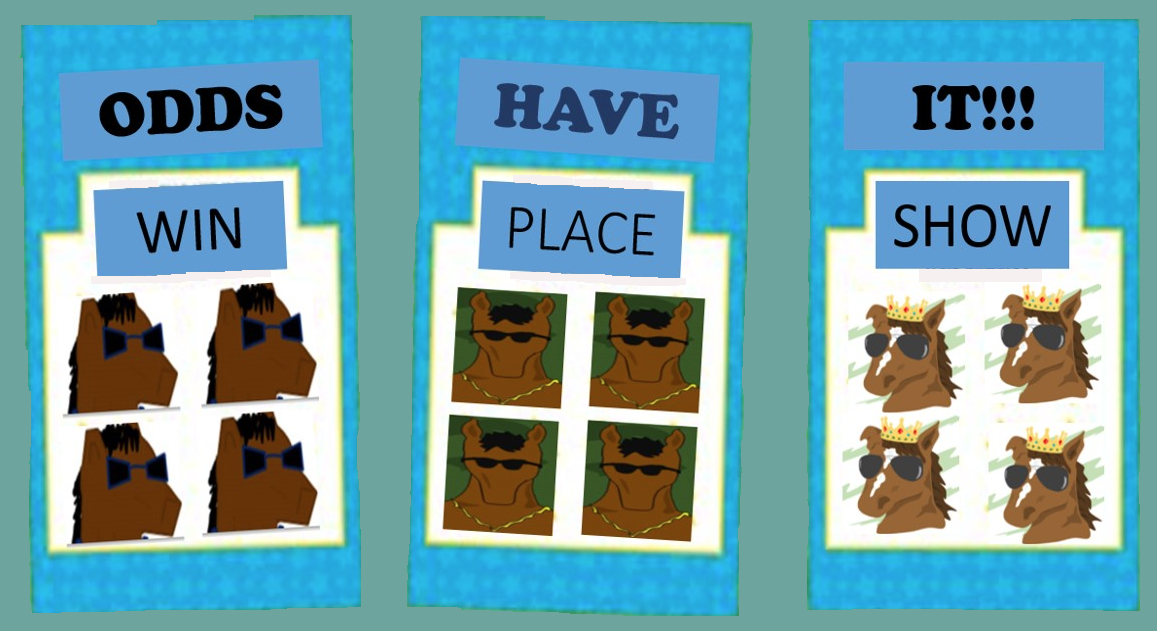 The Odds Have It, II!
>>
Boasts the ultimate handicapper's 'Trifecta' — Consistency, Frequent Big Prices & Solid Exotics Payoffs. 
>>Is Reliable to Select Several Wins & In-the-Money situations on a given racecard.

>>Shows a +41% Positive ROI on CROWD FAVORITE selections (Crowd Favorite is the name of the box on the screenshot which produces the strongest plays – that does not mean the horse is the race favorite – it simply means that a 'crowd' of programmed-in handicapping factors chose this horse. 88When it is the race favorite, however, the win rate is close to 44%.)
>>Comes with the most POTENT Longshot System ever written – Profit Pattern Longshots! This method has never had a losing year (since 1988 when created) when playing horses at 10/1+ morning line!)
Order NOW – Save $55!!!!
➤➤

So the rest is up to you!  If you want to have the opportunity to add something really, really special to your handicapping arsenal, The Odds Have It, II! is your baby!
We have priced it very, very fairly at just $173.00

,
BUT if you order within the next 14 days – your price will be just

$118!!!

  A $55 Savings!!
and you can use our two-pay/no interest payment plan if you wish – so welcome aboard!  And, if you don't like the system, for any reason whatsoever, just say so and your purchase price will be fully refunded
Call us at 1-800-696-0067 or visit our website www.rpmhandicappinggiant.com
Call or email us with any questions you may have.  Thanks for listening! Tom
The Odds Have It, II Paper Version  $59.50
The Odds Have It, II Ebook  $54.88
The Odds Have It, II Software  $118.00
Additional information
| | |
| --- | --- |
| The Odds Have It, II | Ebook, Paper Version, Software |