Description


The First Horse Racing Methodology Ever to Employ

Energy Wave Theory

– Catches Horses at Their Peak

Energy Fitness!
ZCODE can be depended upon to perform brilliantly in all types of races, from Maiden races to High Class Stakes Events.  A $23.60 winner in a big Stakes at Santa Anita.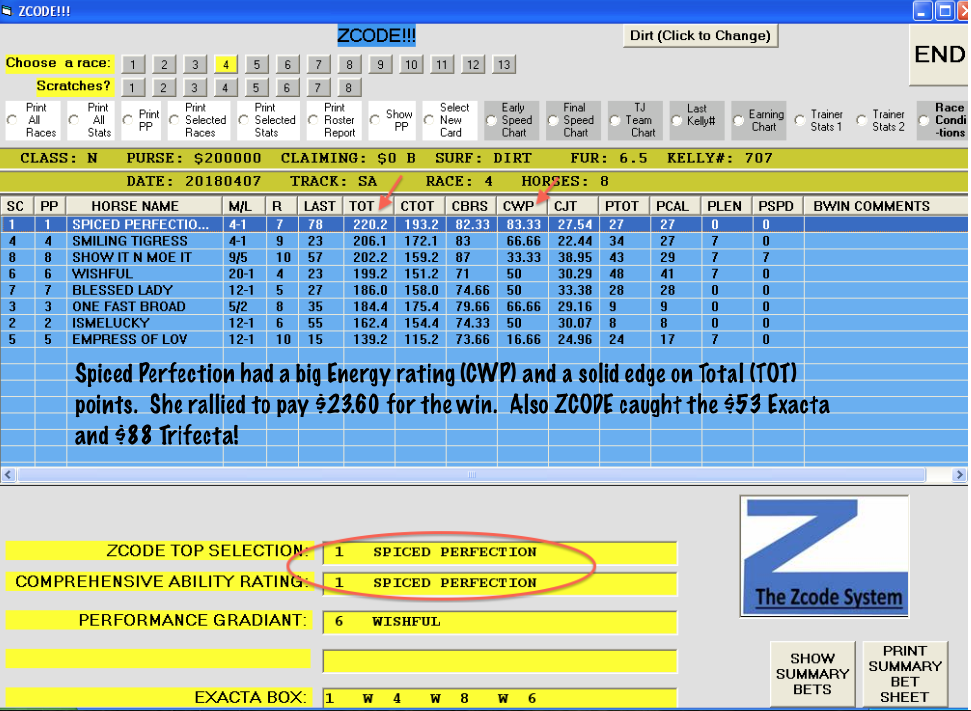 And how about a Churchill Downs DOUBLE!  ZCODE Clearly tabbed the winners of both the 2018

Kentucky Oaks

and

Kentucky Derby!!
Betting the Oaks/Derby Daily Double got you a nice $34 payoff just by going with the top ZCODE picks in these two races!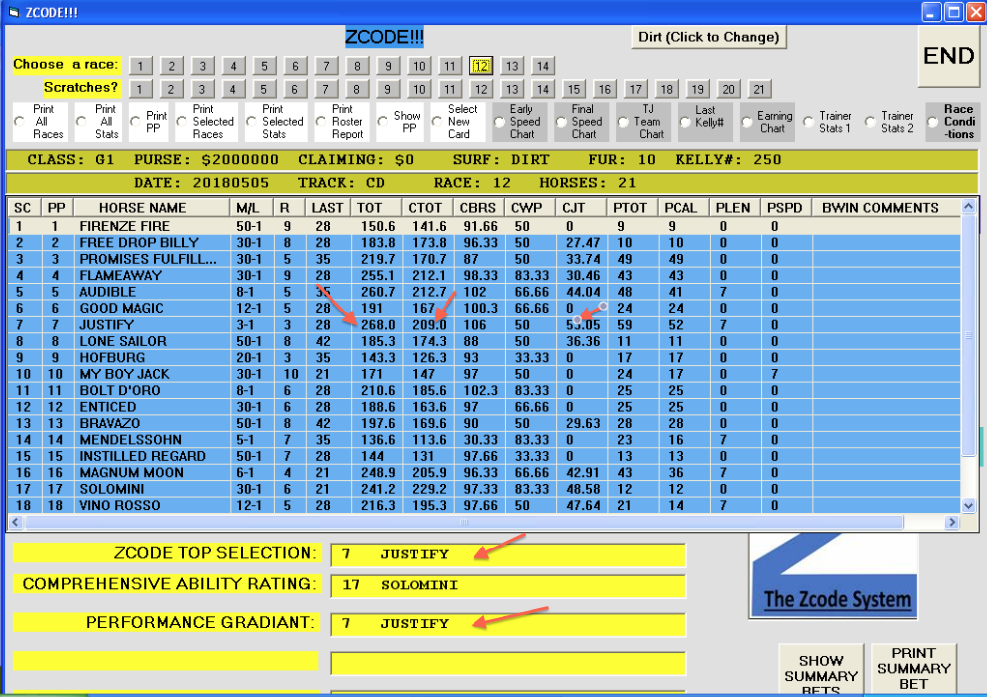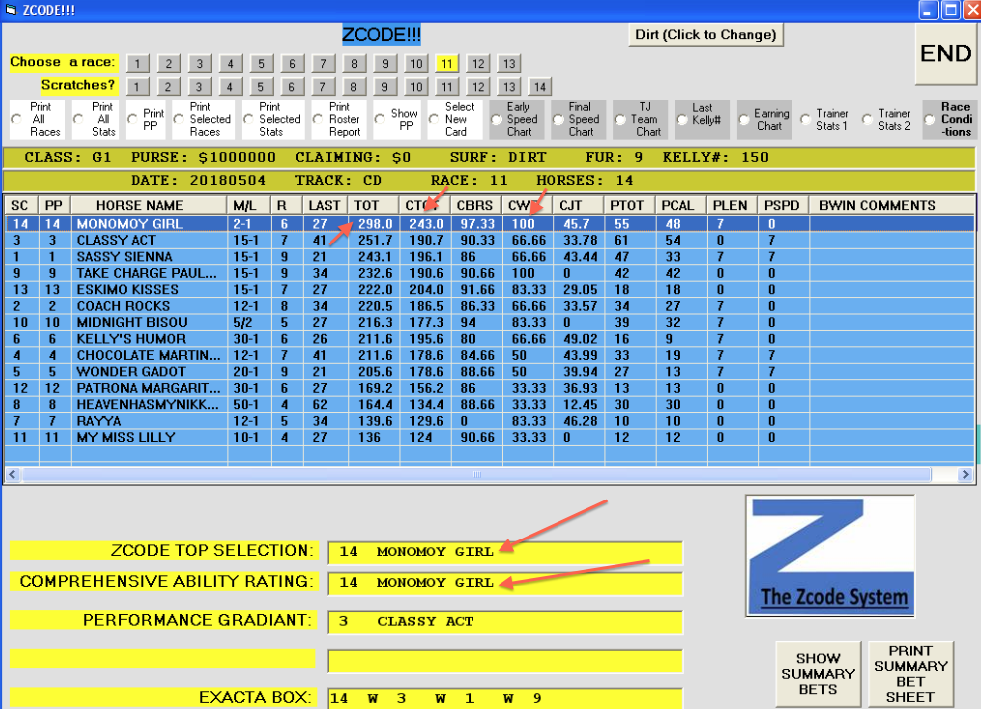 So The Z-CODE DYNAMIC ENERGY MODULE was born. 

It is the first software ever to employ what Darryl describes as 'Energy Wave' Theory, with the concept that if you can calculate when, according to multiple conditioning factors,

a horse is approaching its 'peak' fitness,

you are very likely to see a big performance from that runner.

  Look at the example below.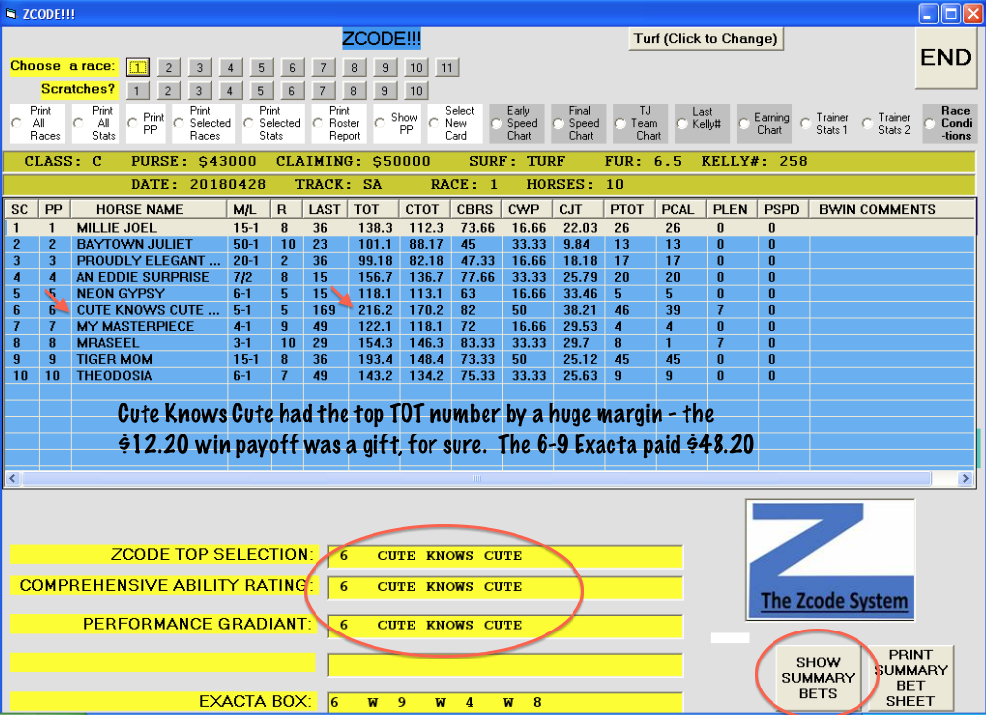 >>

Here you see that the #6 horse, Cute Knows Cute, had the highest TOT (Total) points by quite a wide margin.  Also, she had the high score in CTOT & second high in CWP, columns which make up what Darryl calls the

Comprehensive Ability Rating

.  The next few columns to the right comprise the

Performance Gradiant Rating

, with the highest overall score in PTOT, the Performance Gradiant accumulated points. 

So, given all that, one would expect this horse to be one of the favorites but … she romped to pay $12.20 for the win, and ZCODE also caught the $48.20 Exacta.
☛

Note on the above screenshot, to the lower right, the box that reads

SHOW SUMMARY BETS

.  This is a handy feature included in all RPM Software that with a simple click of your mouse displays all off the plays on the card for the day. 

You can also print these out, which is a convenient way to have all of the program's plays right in front of you or to take to the track.
Below you see some of these sheets displayed. 
These are very typical results, results you can expect on most days at most tracks. 
☛NOTE THE EXTREME CONSISTENCY.

 
You will

often get multiple winners on a given card

, as well as Exactas and Trifectas, and the top picks often run 2nd or 3rd if they do not win.
Some of the strongest plays are horses that are the ZCODE TOP SELECTION and the top PERFORMANCE GRADIENT as well.  Horses who fit this description will win close to 38% of the time and run at least 3rd 78% of the time and, even better, the average win mutuel on these plays is in the $8.70 range, making for a super solid ROI.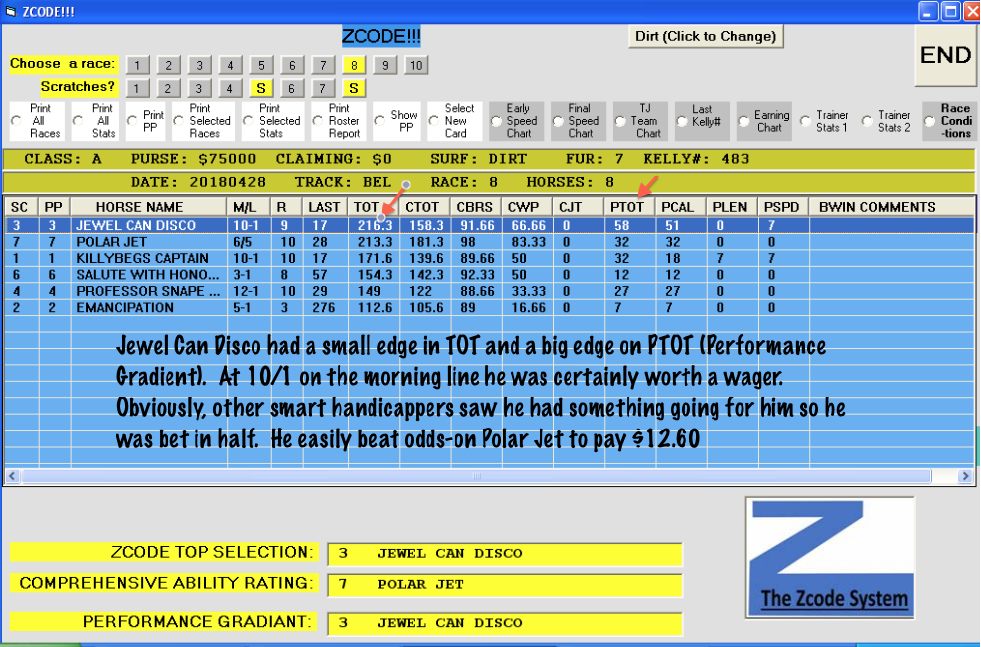 "Having been in the handicapping/publishing business for over 30 years now, I have learned that the one thing my customers really crave is

Consistency.

 

They don't want long runouts

—

they want to cash often and at a decent mutuel price

,

and they want the occasional thrill of hitting a big exotic payoff. 

Well …

Hello ZCODE!

…

a methodology that possesses all of those elements and a whole, whole lot more. 

Your biggest loss will not come at the racetrack — it will come from you not adding ZCODE to your handicapping arsenal!"

 
Ed Bain,

Ed Bain, Inc., Provider of Comprehensive Past Performance Information
As you can immediately see, ZCODE very, very well thought out and consists of sophisticated handicapping formulas and algorithms that combine to produce solidly positive results at all tracks, big and small.

  Look at example from Finger Lakes (below) – a Standout Three-Box winner — Exacta & Trifecta were on the smallish side

but ZCODE caught both

: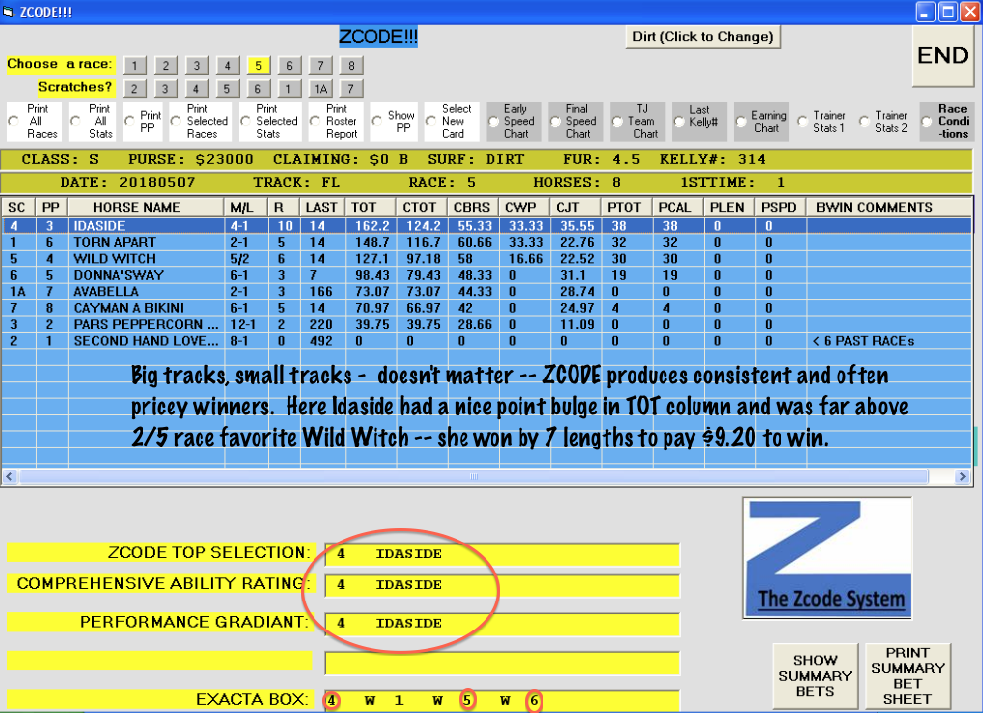 So, as Ed Bain says above:
"Your biggest loss will not come at the racetrack — it will come from you not adding ZCODE to your handicapping arsenal!"
You want

CONSISTENCY

, you abhor long runouts, you thrill at the occasional
$20+ winner or 20-to-1+ place or show horse

, you long for a

no-brainer/no thinking formula for hitting a high percentage of Exactas & Trifectas

, you want a

high % of in-the-money horses so you can play profitably across the board if you wish

, etc., etc.  So …. in a few simple words:

IS your
Answer

. 

Period!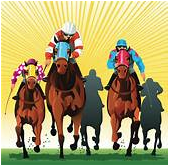 ☛☛

And,

for Early-Bird Buyers

ZCODE

is extremely reasonably priced at just $148! (Price will rise to $198 on June 1) .
And …. if it's not for you, you can take advantage of our Full Money-Back Guarantee, so there is absolutely no reason in the world not to give

ZCODE

a try.  Unless, of course, you are the type of player who doesn't enjoy cashing more tickets than you tear up!
So give us a call at

1-800-696-0067

, or order from our website

www.rpmhandicappinggiant.com
☛

You can download the software

immediately

, or we can send you the disk and manual, or both, if you prefer. 

BUT DON'T PASS THIS ONE UP!

– you will see steady, consistent and profitable results, immediately — and that's a GUARANTEE!
ZCODE Software  $148.00
ZCODE Paper/Pencil Version  $59.88
ZCODE Ebook $49.88
ZCODE DOWNLOAD (no postage) $148