$54.88 – $128.00
The Trainer Velocity Software  will provide you with a major edge on the game by employing knowledge that very, very few horseplayers have.
Description
Introducing!!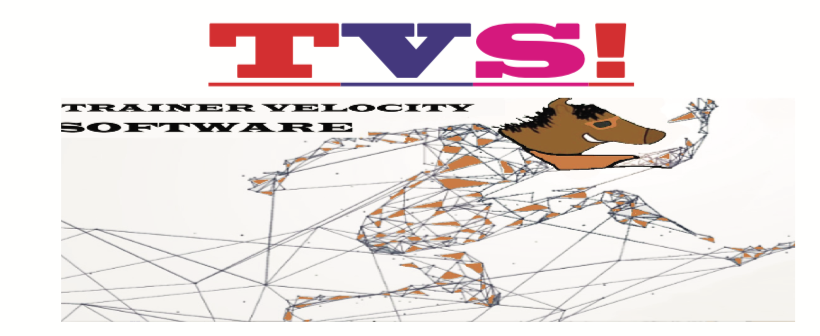 >>Introduction<<
One of the great things about today's technology for the player is that, given a large enough database, you can create virtually thousands of 'what if' handicapping scenarios to look for potentially profitable wagering scenarios.

  You can take two, or three or seven or fifty, etc., etc., factors and ask the database to show you the long term win/place/show, etc. results of combining these factors. 
However, the vast, vast, vast, vast, vast (note how many times we said 'vast') majority of the time, the results of these database scenarios are negative.  But, maybe once in every 700 to 800 tries, a positive result is attained – 'positive' being defined as showing at least a positive return of 5% or greater over 30,ooo or more races. 

☞

And, maybe once in every 1,500 or so tries, a seriously positive return is attained

.  T

hese are scenarios where the return is at least a positive 20% or higher return.
☞

Once we locate one of these seriously positive scenarios, we test it against tens of thousands more races to make sure the results hold. 

☞

If they do, we have 95%+ confidence that we have located an angle that will very likely produce these kinds of results, basically,

forever

.
>>How the

TVS

Angle was Discovered<<
While we experiment with all kinds of handicapping factors in our research, we often include a Trainer win % consideration for a runner to qualify. 
Afterall, the Trainer is the 'manager', or 'director' of the animal.  A horse doesn't go up to the racing secretary and enter himself in a race — his trainer, knowing the current condition and running specialties of his charge, looks for spots that he believes will result in a nice payday. 

Now, normally a competent, consistent trainer can be judged by a solid win %, and in our books that means a win rate of 12% or higher.
So the Logic is certainly there and,

as you will see from the examples below, the theory plays out beautifully in real time wagering action.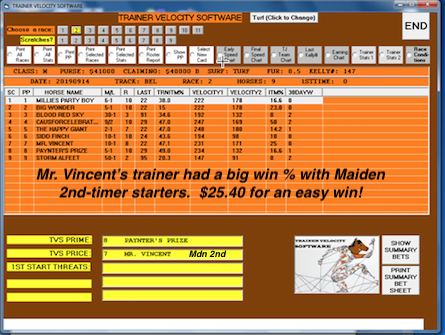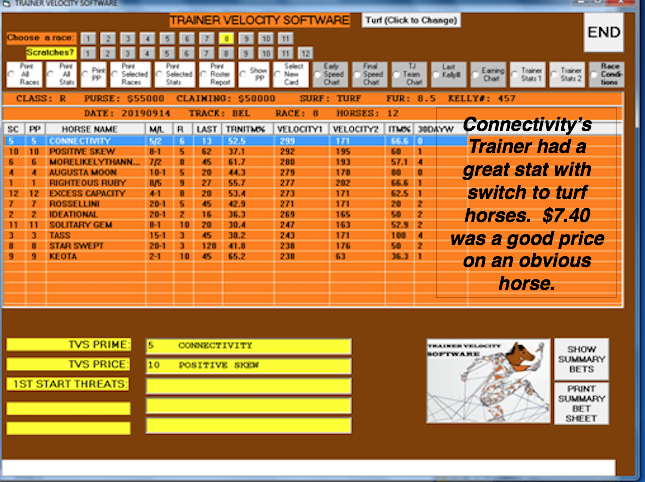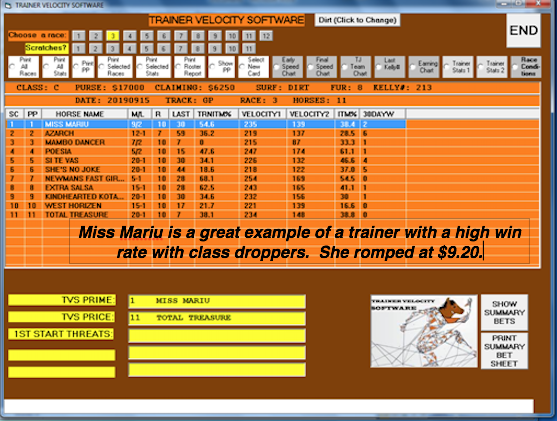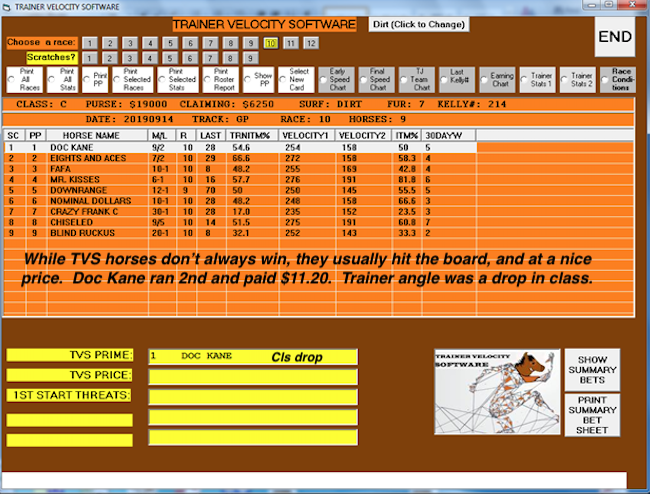 'This is another great winner-selecting tool from RPM.  As far as I know, the brilliant theory behind TVS has never been published, or even conceived of, before.  Like so many RPM products, TVS provides even the average player with a chance to play and win like a Pro.'  Tom Console
Call us at
1-800-696-0067

or order at our website:
www.rpmhandicappinggiant.com
And, of course, call us with any questions you may have.  Thank You!
TVS Paper Version  $59.50
TVS Ebook  $54.88
TVS Software  $128.00
Additional information
| | |
| --- | --- |
| TVS | Ebook, Paper Version, Software |