$127.00
The Software that Reads The Trainer's Mind! 

Seriously!!
Description
The Software that Reads The Trainer's Mind! 

Seriously!!
The Trainer 'Cover-Up' Profit System Software Program!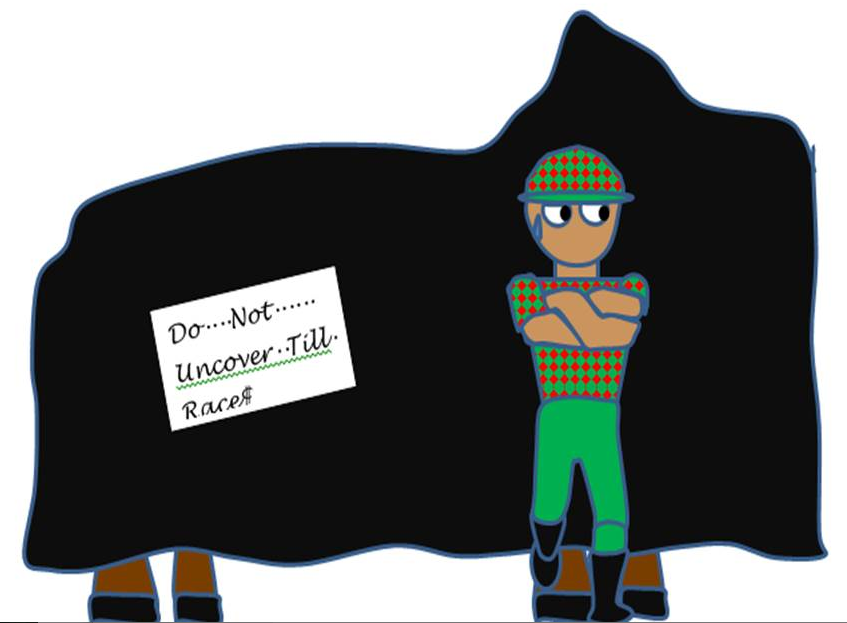 You may remember a software program I developed called Trainer-No-Brainer, which accurately provided the user with trainer 'confidence' scores and winning %s in given situations.
Well, I'm happy to report that, thanks to extensive 'modeling' of that program, I have discovered some absolutely deadly accurate 'tells' that indicate when a trainer is trying to put one over on the public and/or, simply trying to win a purse through clever maneuvering.
***In addition, both Dave and I have talked to several trainers, as well as savvy horse owners (many of whom are our customers) whose main interest is in cashing a bet.
And, I'm pleased to say, much of this information I was able to use in the program as well.
So when a suspected Trainer 'steal', or move, whatever you want to call it, is afoot —
— the Software will alert you by flashing that horse's name on your screen!
The prices are often on the very generous side, and by playing all of the Cover Up horses that went off at 7/2 or higher, using our suggested wagering strategy,
a nice +43% ROI was realized.
We programmed in a myriad of trainer-intention angles, so you can be assured that when Cover Up comes up with a solid selection, that the trainer is serious. 
This doesn't always result in a win, of course, which is why we recommend an across the board bet in varying units on the selections, but often enough you get a solid pick that pays a solid price. 
The Trainer totally had the public fooled with Dissension (below) at Saratoga 7/28.  The 'No good recent races' comment tells us that the horse shows poor recent form, yet Cover-Up selects the horse based on tried and proven trainer angles.  The result:
2 Dissension 69.50 21.80 11.20
12 Top Tier Lass 4.60 3.50
3 Colorme Kitten 4.70
Note also that the top two horses, Dissension and Top Tier Lass, were 1-2 in the program and that's how they finished, resulting in a $294.50 Exacta payoff!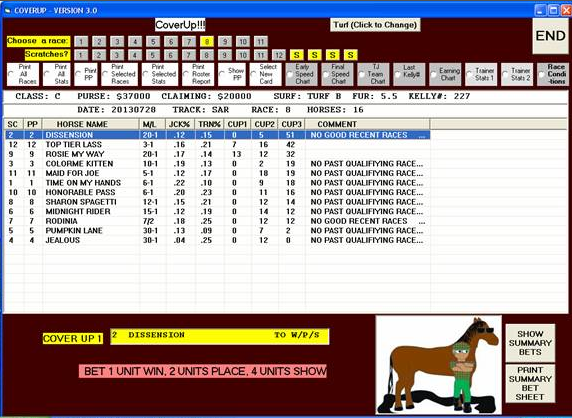 Some of the best prices come from horses with the comment 'No Past Qualifying Races', which basically means the horse's past performances may fool the betting public.  In this case Awe'some Kitten paid a solid $10.20.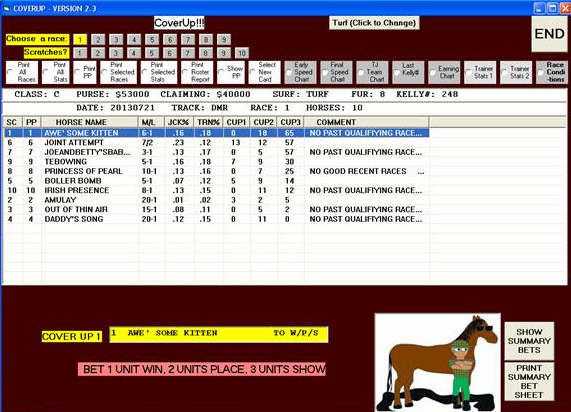 Horses with the comment 'No good recent races' also often pay big prices because the horse's recent past performances show no solid efforts.  Such was the case with Posse Attack (below) at Saratoga 7/26, who squeaked out a win at $16.80.  
Often, very often, Cover-Up will result in multiple winners and cash-ins on a day's card.  On the day Posse Attack won, also: 

Jake N Elwood (1st)

, Sliver And Onions (3rd),
Read The Research (4th)

,

The Lady Says Yes (5th)

,

Posse Attack (6th)

,

Bad Hombre, 2nd (8th)

, Coach Royal (10th). 

Six winners from 10 races!
Several of these were modest prices, but you will find a lower average mutuel at tracks where the bettors are smarter and more sophisticated like the New York circuit and California circuit.
At smaller tracks, horses with the same Cover-Up qualifications will usually pay much more.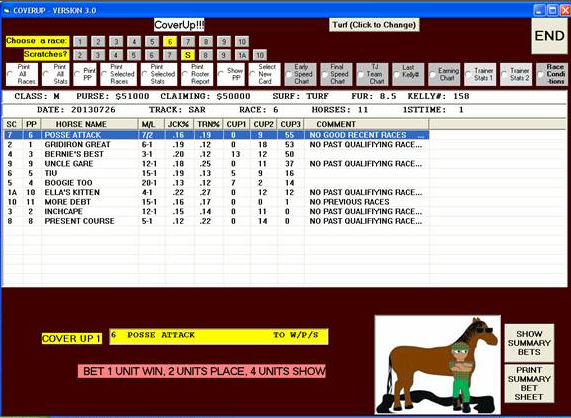 Soi Phet is one of those horses who was not exactly hidden from the public, as he showed good form.  Still, the race was rather wide-open and the trainer got the job done at $9.60.  That's the kind of price we'll take any day when we know the trainer is trying.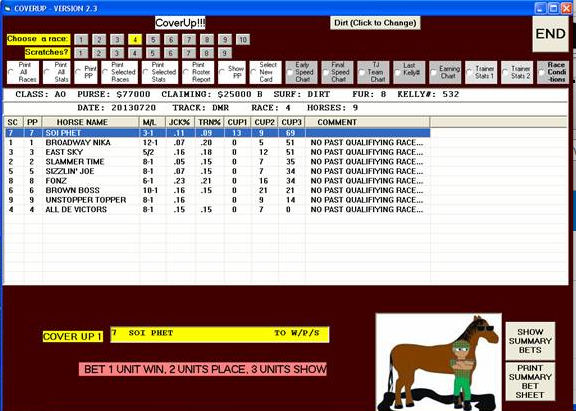 Reggie D was well 'covered up' by his trainer, and although he didn't win our suggested wagering strategy (1 unit win, 2 place, 3 or 4 to show) still turned a nice profit as he paid $10.60 to place and $5.90 to show.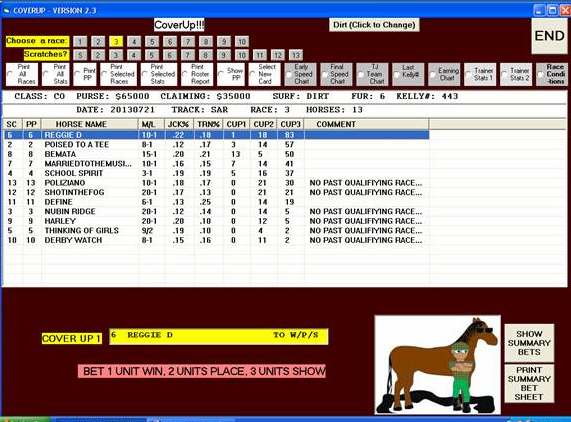 Tightend Touchdown just missed out on the win, but again our wagering strategy turned a decent profit — he paid $5.20 to place and $3.60 to show.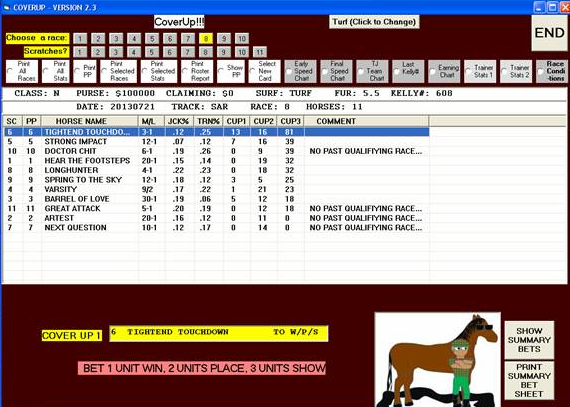 ***

So why do all the guesswork and try to get into the head of the trainer by simply looking a pps, when you have a software program that
does a

better job of trainer mind-reading than any handicapper can.

***
You will now know when a trainer is trying to crack down, and as you can see from the above examples,
you will often profit when the horse does not win but runs 2nd or 3rd!
***On most days, at most tracks, using our suggested wagering strategy, you will make money.***
David Abrams of Wilmington, DE, writes:  'Thanks for letting me test Cover-Up.  I found on most days (@70%), I did come away with a profit
when using your betting strategy.  I actually went out to 8 units on the show end, which increased my ROI by @5% points. 
This is a great program for the sophisticated, heavy wagering guy or gal as well as for the conservative $2 to $20 bettor.'
And, at a very reasonable $127, you will likely have your initial investment back in a hurry!