Sale!
$44.88 – $59.88
The POWERFUL TOTE FACTOR, II!!
While many ways have been developed over the years to spot Insider action based on Tote Analysis, The Positive Tote Factor cuts right to the chase without requiring the handicapper to watch the tote action.
😀
Also Includes our NEW Point Count Contender Method FREE!!!

😀
Description

😀Also Includes our NEW Point Count Contender Method FREE!!!😀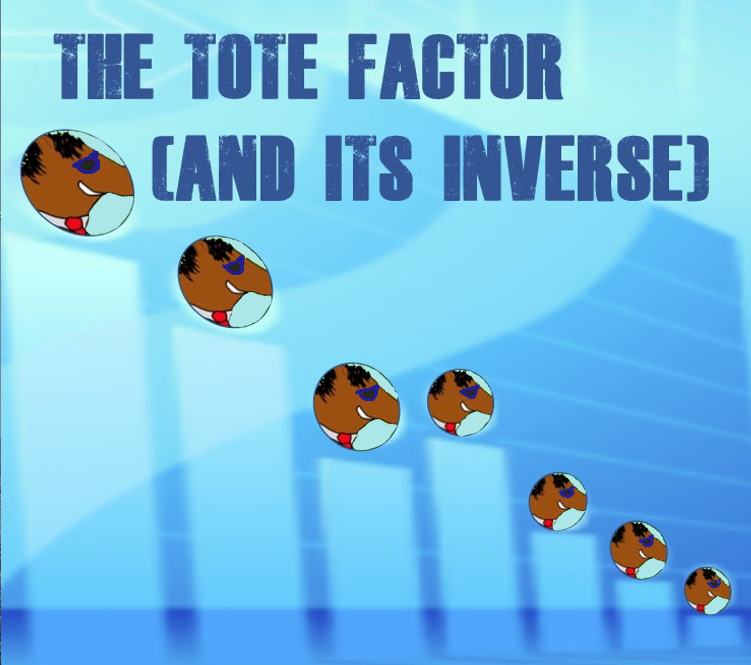 The Positive Tote Factor! does a great job of locating these winners/on the board horses,

➤

whether you are using the paper version of the software.'
Screenshots
The main components of the software include
# of races observed (R)

,

Recency (LAST)

,

Morning Line (ML)

,

Odds in last race (-1M/L)

,

Track where last race occurred (-1T)

– (we have found in our research that a switch to another track can be a powerful indicator of an upcoming strong effort),  Horse was claimed in last race – a 'c' will appear in this column (CL?),

Trainer Factor (TRN)

,

Jockey Factor (JCK)

, Win/Place Finishes for the Horse (WP%). 

Many other handicapping factors work in the background to help determine the selection.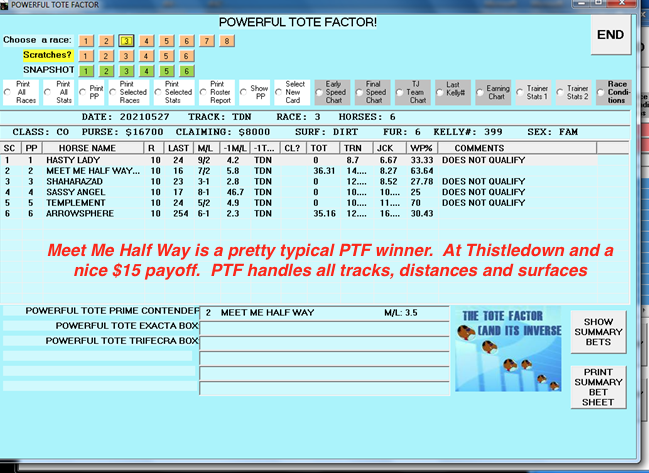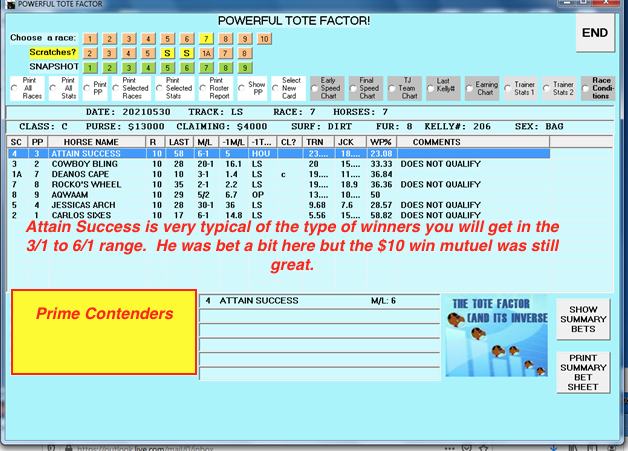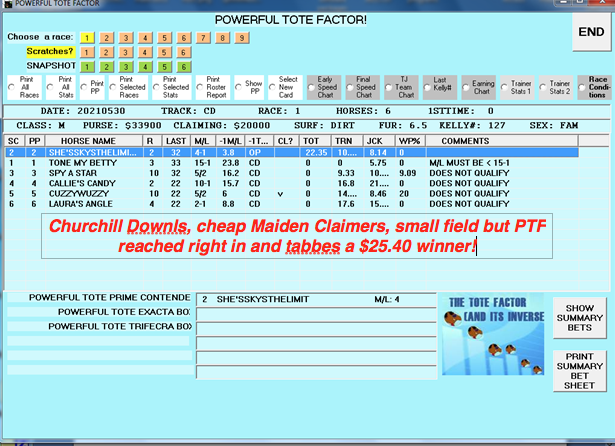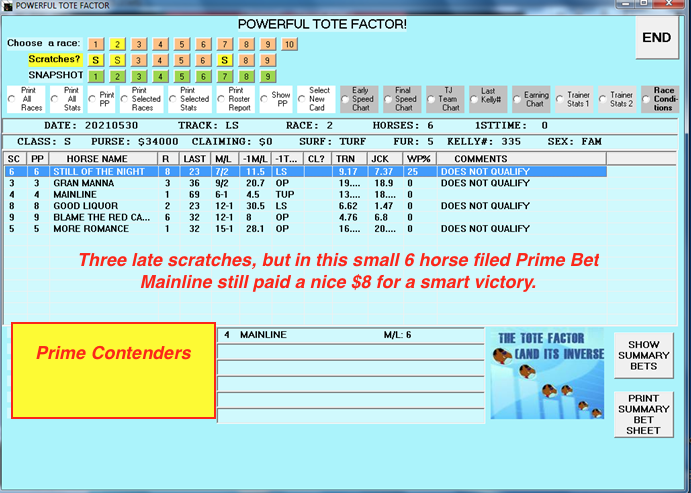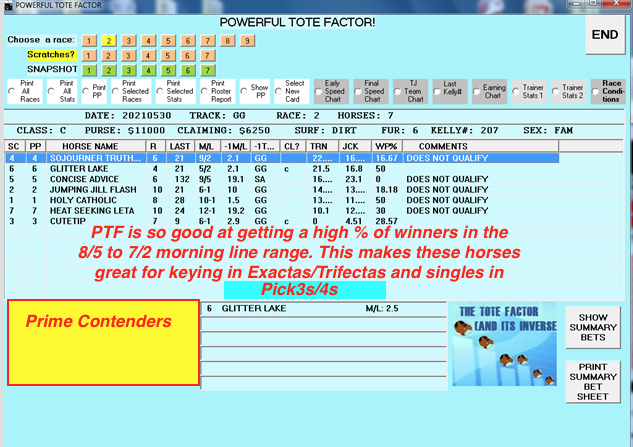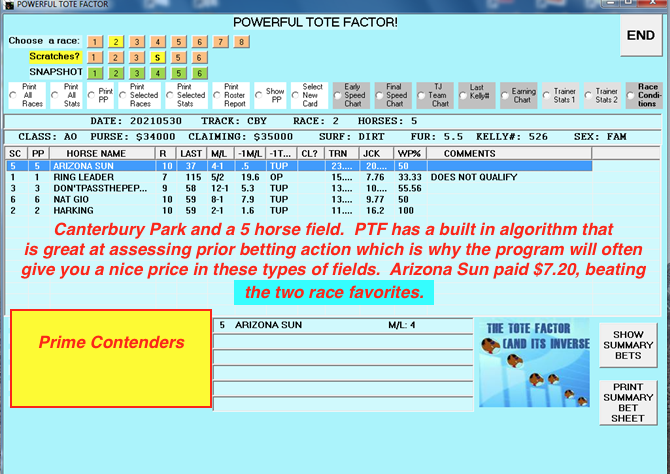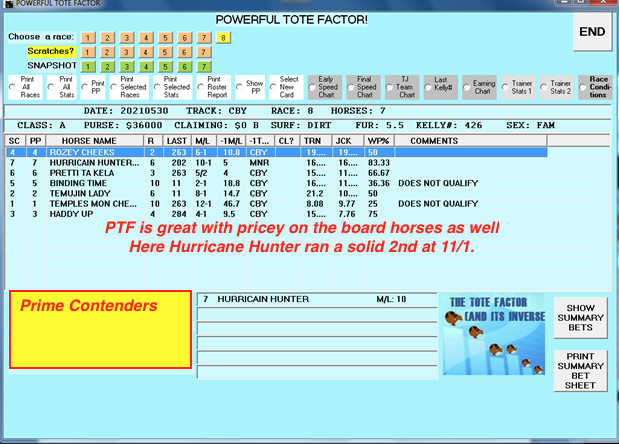 The Powerful Tote Factor!
overall Win % is pretty darned healthy at @34.3%, Win/Place is 49.3%.  The great thing, as well, is that the average win mutuel is @$8.31, which generates a nice overall ROI.
The Powerful Tote Factor!

is based on extremely solid research and cracks open the window to insider betting that all users of the system/software can now peek through and take advantage of. 

It will make a great addition to your handicapping arsenal and is price right at $97.00. 

AND>>>…
We are also including  Our New Point Count Contender Getter Software!
FREE!!!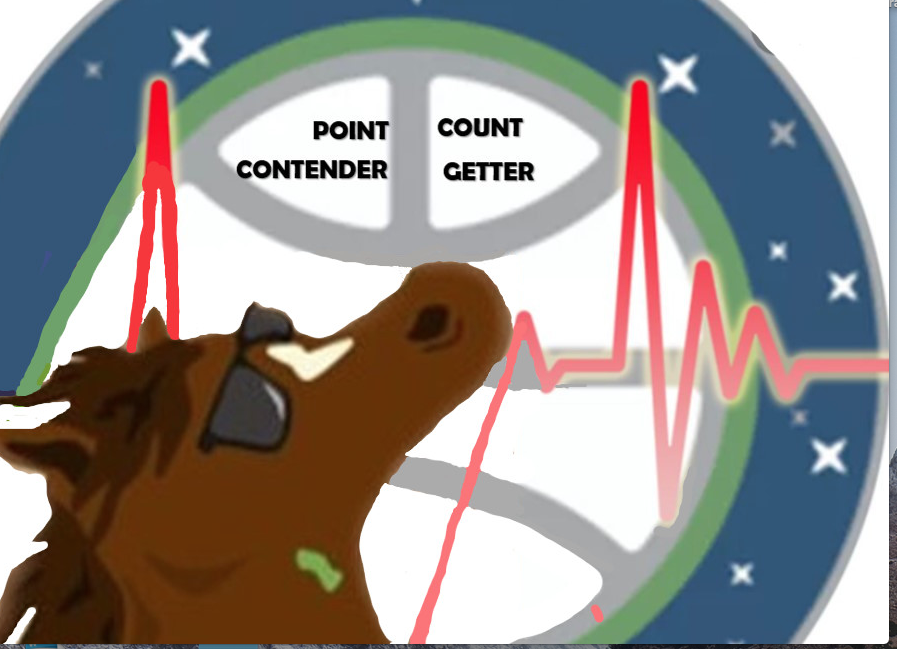 The Point Count Contender Getter!

is a super consistent software program that specifically focuses on finding the likeliest win/place/show horses in a given race.

  While you won't get a lot of big prices, the consistency of this software makes it great for playing exotics via finding key horses and for place and show parlays.  Retail price is $88,

but you pay not one single extra dime for it

when you purchase the

Powerful Tote Factor, II!!!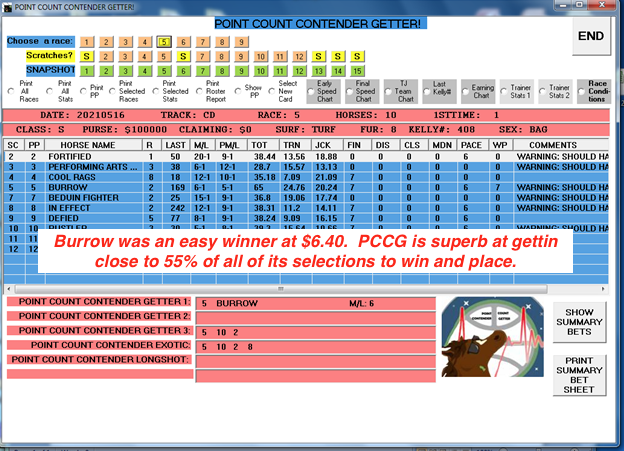 Point Count Contender Selector Getter is great in all price ranges, but look at the profits it shows even at very short odds.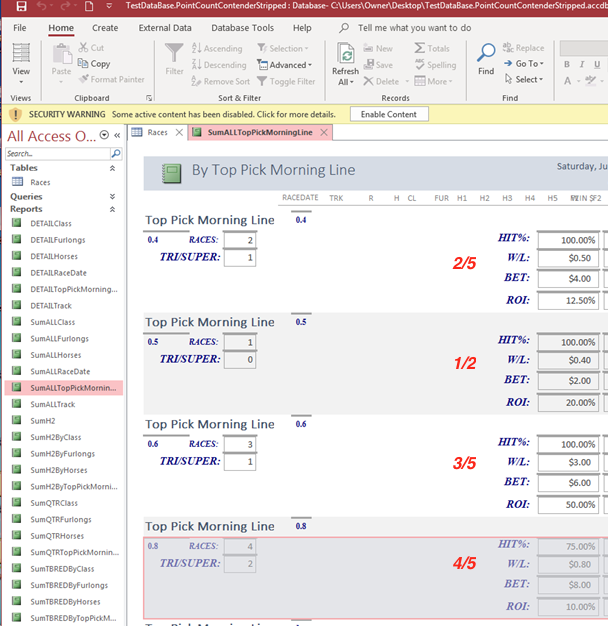 Below see the Summary Bet Page from Churchill on May 30.  This kind of consistency with this program is the rule rather than the exception.

The Powerful Tote Factor
Hard Copy    $49.50
Ebook  44.88
Software   $97.00
Additional information
| | |
| --- | --- |
| The Powerful Tote Factor, II | Hard Copy, Ebook, Software |