Sale!
Magic Box contains over 200 systems, methods, angles, etc., that make it one of the most powerful selection programs on the planet.
Description
An absolutely marvelous handicapping software achievement  – Len Cz's

The Magic Box Software Program!©       
(with Whiz Kid!**) 

+++++FREE 3 Month subscription to Len's National Power Selection Line!***



Len Czyzniejewski's Magic Box Software,

the same software he uses to make his selections on his powerful, popular National Power Selection Line,
is now available to the racing public!
While practicality limits the number of selections Len can make daily on his Line,

you will now be able to look at any (0r all) of the tracks running on a particular day.
Magic Box contains over 200 systems, methods, angles, etc., that make it one of the most powerful selection programs on the planet.
When that 'Magic Box' pops up (normally @ 3 times per racecard), you will know that the software has found a STRONG Play! 
BOOM Goes The Dynamite!!  Again!!   Race 1 at Belmont 6/28/12 — The Magic Box Explodes with: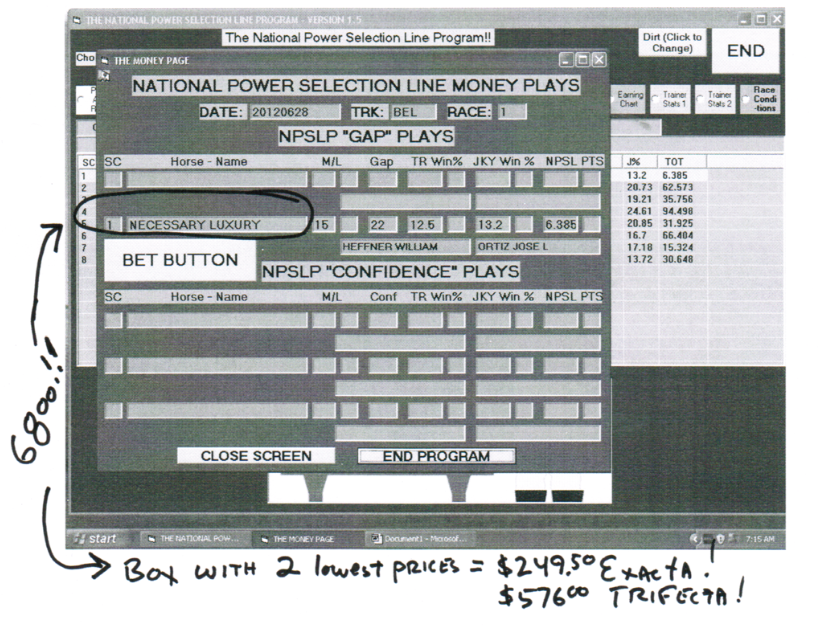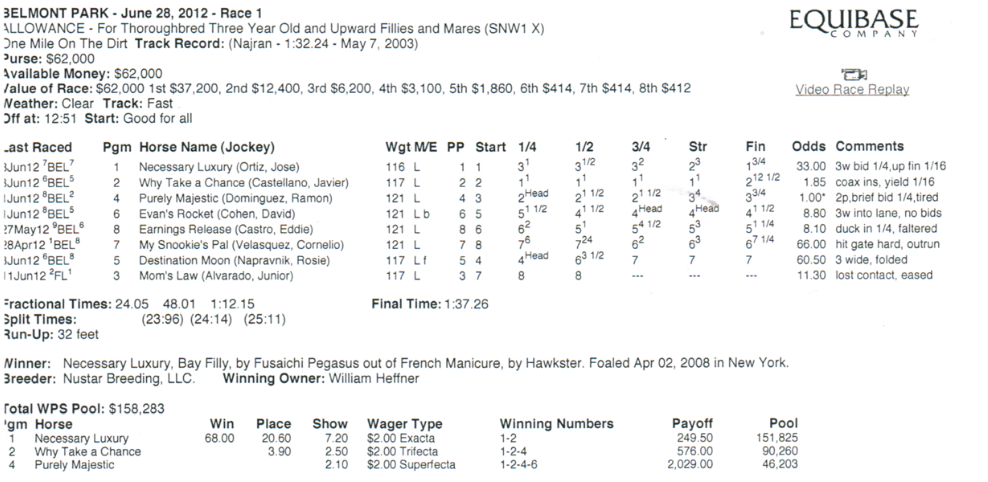 Seriously — how many of our competitors programs had this horse as a top pick?  How about…..none!   more examples below…
Below is a 6/19 race at Parx where the Magic Box popped up and presented two NPSLP 'Gap' plays.  
The 'gap' was originally used in Len's Tailor Made program and proved to be a great price-getter. 
The 'gap' formula involves calculating how tightly a horse fits today's race conditions — you don't have to worry about the details, which are a bit complex —
the software will show you the way.
In the NPSL Program, Len incorporated several other features to come up with these plays.
Smaller 'gaps' (under 20), are normally stronger plays.  Here two horses qualified. 
Using the suggested NPSL wagering guidelines, you could 'dutch'  here (playing both horses to win), but the other suggestion is to play any gap play of 5/1 or over to win and place,
and also box the two in an Exacta, and also box the two in a Trifecta with the race favorite. 
That strategy got you a $27.20 winner, a $143.40 Exacta and a $300.80 Trifecta.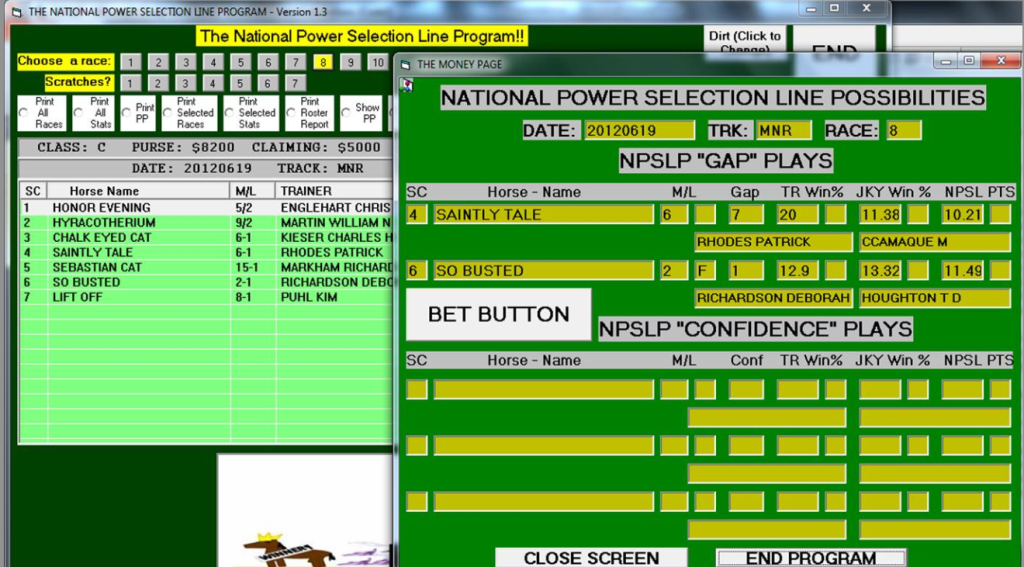 Below is another Magic Box race from Park on the same day, Race 6.
Here, again, the user is presented with two horses, both at nice morning line prices.  Using the exact same strategy as above, you would have caught He's My Guy at $25.60. 
Ride Candy Ride finished 3rd,

but boxing these two horses with the race favorite got you a $118.20 Exacta and $754.40 Trifecta

.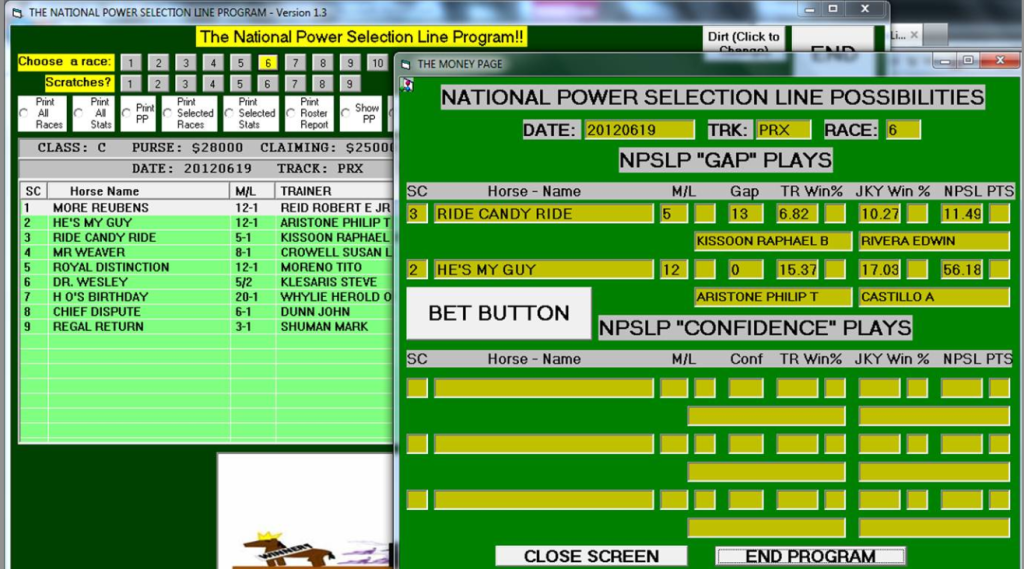 Below:
Now, interestingly, both of these plays were given out to subscribers of Len's National Power Selection Line on this day. 
Understand that the screen below is what NPSL subscribers see when they log on to the website, listing the day's selections —
the below screen is not seen in the software program — it is instead replaced by the above screen.

Now, while Len gets a lot of nice prices and makes a decent profit on longshots with the software, practicality doesn't allow him to release dozens of horses to his subscribers –
it would overwhelm them — so he goes through and searches for what he feels are the best bets — but, even he admi
ts, he misses a lot of great betting situations that way. 
But now that you have the NPSL Magic Box Software in hand,

you can look at as many tracks as you want to find plays

like this,
as well as other lucrative situations as are described in the wagering guide that comes along with your software. 
**On this day, in fact, at other tracks across the country, several other double-digit horses hit as well as tons of favorites.
 

The Confidence Star Point Feature
**Magic Box includes Len's patented 'Confidence Star System', which rates strength of the selection via stars ****** from 1 to 10, with 10 of course, being the strongest. 
This is Len's 'private' rating system — but you will be privy to it when you run The Magic Box Software! 
So you don't have to count the 'stars' yourself, Len has instead replaced the stars with a number in the 'Conf' Box which is the 'Confidence Score'. 
So a '3' in that box, like below, means this horse received 3 'confidence stars', which is a very solid Confidence rating.
Horses that show up in the NPSLP Confidence Box are often favorites — favorites who win at a high percentage
.  
You can see that on Len's NPSL selection line this day (below the screenshot), where this horse was
released,

that 3 of the 5 favorites released that day won. 
>>>While they were short prices
,
horses who are morning line favorites with 3 or more Confidence Points win close to 50% of the time,
and  the prices are often much more generous. 
>>>These are horses you always have to include in your exotic bets and they are obviously very reliable as 'singles' in your 'horizontal' exotics,
like the Daily Double, Pick 3, Pick 4, etc.
While the 'Gap' Plays make the most profit, if you are a favorite player, you are going to have an absolute ball with this program!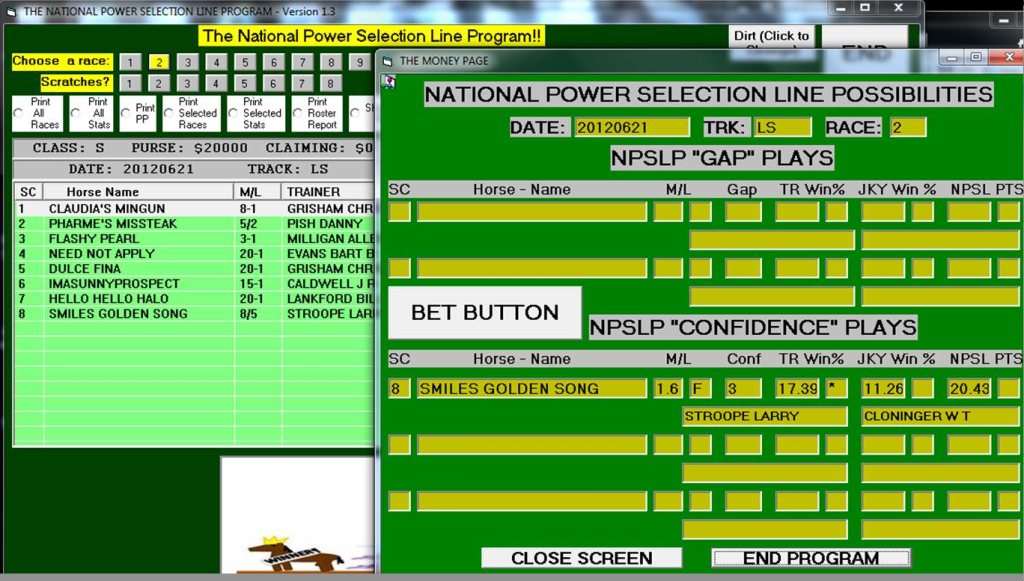 NOTE:

  The main screen is the one in the background that says 'The National Power Selection Line Program!!' on top. 
This screen contains stats and ratings and our new

Whiz Kid software selections

—
below is an example of how the screen looks when no box pops up.  The 'Magic Box', as we told you, will pop up on when there is a strong play according to the software. 
Opening screen (below) when you click on a race — no Magic Box play in this race. BUT>>>>
**>>>>The Whiz Kid Software

also included!!

<<<<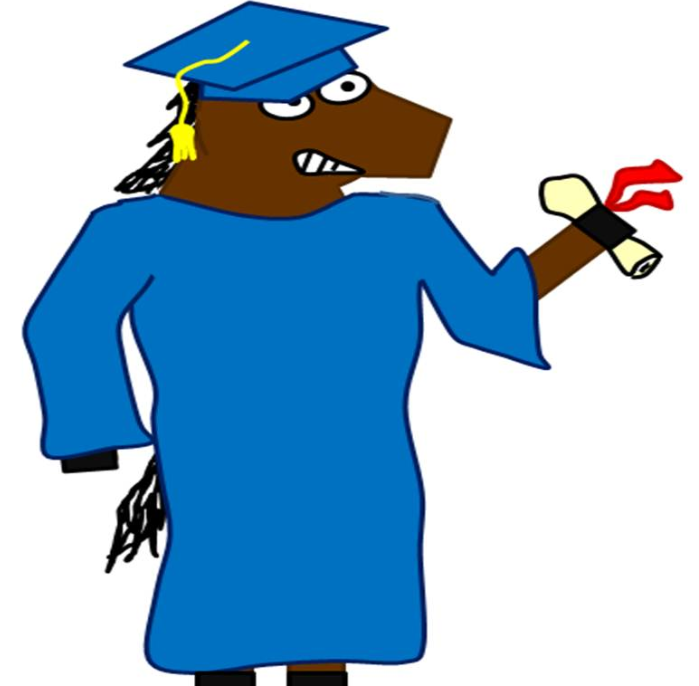 However, Len's Whiz Kid software program will often show a play in these 'non-Magic Box races'. 
Whiz Kid was developed by Len as a consistency tool and Exacta wagering program.
It is very accurate and will give you plays in most sprint races. 
Whiz Kid is just another added feature to an already remarkably consistent and profitable program!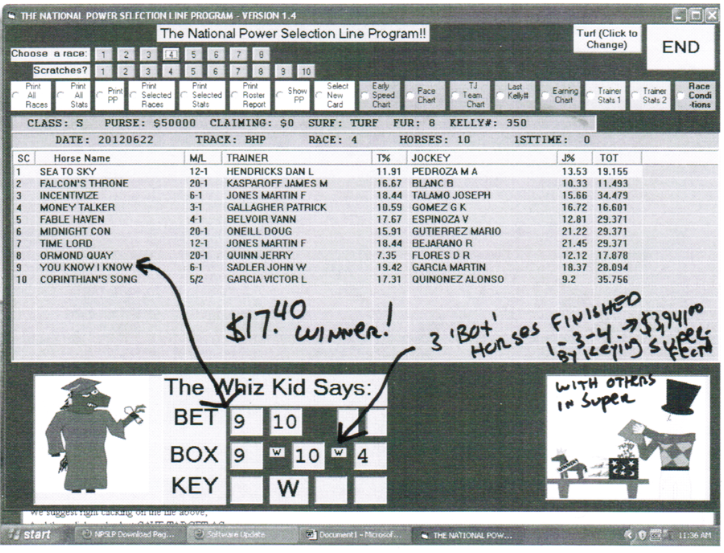 Another example: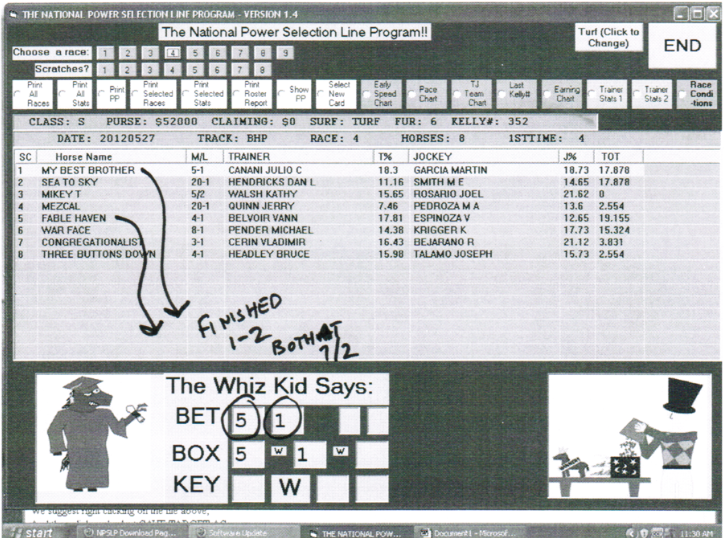 The price?
Actually, given what has gone into this program (over 9 years of study and positive experience), the asking price is a very reasonable at $399. 
And, you can split it up into up to five easy payments if you wish. 

You will enjoy, and profit from The Magic Box — that you can count on!



**Oh, order early and we have a special bonus offer for you — you will receive Len's new

In The Groove Method

FREE of charge!  Just a little something extra!**  
AND>>>
***>>>>You will also get FREE, a 3-month subscription to Len's National Power Selection Line!!

 
While you will have the same software that Len makes his selections with,
you will have access to Len's NPSLP website where you can see what he is putting out for the day. 
You can use it on days you may not have access to running the program, or whatever, but accessing the site and seeing how Len lays out and sets up his plays can be a great aid in helping
you set up your strategy(s).  And hey, it doesn't cost you an extra dime!!



WAGERING SUGGESTIONS
First, let me define what a 'gap' is.  I originally used the 'gap' concept in my
Tailor Made Program. I have made the formula more complex for the NPSLP software,
but you don't need those details. The gap represents roughly a 'recency' factor, and
the shorter the 'recency', the lower the gap number, the stronger the play. I have
found that horses are strong contenders with gaps up to 25 (see below), and I
personally usually have my own personal cutoff at 20 to make it stronger.  I'm
giving the program the added flexibility of going to 25, just to give you some
room to experiment on your own.
 
The 'MONEY PAGE' is very unique in that it only appears when there is a potential  
play.  While you may play everything that pops up as you wish, please read this
section to be able to 'finesse' it a bit, and be more selective.   
 
First, I've loosened up the screens a bit over what I personally use myself to give
you more potential opportunities.  There are two areas where this happens:
— In the top section, I personally usually don't play selections where the GAP is
higher than 20.  However, I do show gaps up to 25 in case you're interested in
a little more action.



— In the bottom section, I'll usually only play a horse that has at least 3




'confidence' points.  But the program will list all of those with at least




one point, as they are often worth taking a look at.  NOTE:  You might wish to  




be wary of favorites with more than 5 'confidence' points.  They are usually




super chalky horses that don't pay a whole lot, and yes, they can run out of




the money. I like the range of 3-5 the best for favorites and any number of  




confidence points for higher-priced horses.




 




Now, how to structure your bets:  



— In the top section, anytime two horse show up, DUTCH these horses, which means




a wager on both of them, weighted for their odds.  If neither of them is the  




favorite, try a three horse exacta box with the favorite.  Another small exacta




box singling the favorite with the 2 non-favorites is great for more aggressive  




bettors.  You may decide whether to have a gap ceiling of 20 or 25 for these.  




 




— If there is only one horse in the top section, and it falls within your personal  




gap limit, make a 30% win, 70% place wager on the horse IF THERE IS A '*' AFTER




THE JOCKEY WIN PERCENT, TRAINER WIN PERCENT, OR NPSLP POINTS.  The




asterisk means that it's the top horse in that category.  A more aggressive




approach will also include jockeys and trainers at 20% or better.  If not




the favorite, make an exacta box with the favorite.  If the favorite, try a




box with the second favorite.




 




— Play any horses that have 3-5 (or within your comfort zone) 'confidence'




ponts just like a single horse situation in the previous paragraph.
— You may also consider a Dutching situation if there is one horse on top, and
one on the bottom.
— I used to box three horses when three qualified horse showed up.  However, for
some reason, these have not had a lot of success, so proceed with caution when  
this many show up.
— Wagering is up to your own tastes.  But perhaps the most tantalizing one is
the 'exacta with fave' or '2nd fave' situations.  You will often have days where  
you will hit several in one day, and if you play all week, I can pretty much  
guarantee more than a handful occurring in any week.  You might even want to
consider this being your most popular wager. 
You have no doubt noticed the final column, the one to the far right, called TOT (or Total).  This is an accumulation of
points used by the program to determine the selection. 
It is made up of several factors, including programs like Tips, Place To Win, Show A Profit, Wizard of Odds, etc. 
Now, the eventual selection will not necessarily have the top total as there are many other factors that enter into making a selection. 
However, the TOT column is a good predictor all on its own. 
You may want to sort this column in non-Magic Box races to see who the top point-getters are. 
When one of the top two TOT horses is also one of the selections in the 'Whiz kid Says' box,
you normally have a very solid play and a good Exacta/Trifecta 'key' horse.  We don't want to confuse you with
too much information, but we did add this column in because it can be helpful in sorting out contenders and/or horses to include in the exotics,
on its own but also with Magic Box and Whiz Kid horses.  Good Luck!
Order Now!  1-800-696-0067