Description
System 17, The Software!
(includes The Maiden-Blaster Software, too!)

+Save $53!!



'I'm jealous!  I've always thought my software was 'tops', but System 17 sets a new standard for selection-profit programs. 
It literally takes you by the hand and tells you exactly 'who' and 'how' to bet.  My congrats to Len & Dave!" 
Tom Console

How about a software program that excels in two areas:
Dirt Sprints (5-1/2 Furlongs to 7 Furlongs) and Turf Routes (up to 1-1/8 miles). 
We pride ourselves at RPM for designing systems and software that 'SPECIALIZE'. 
We have, in our 26-year inventory of products, dozens of methods that are specific to turf routes and dirt sprints.
Len did a complete data analysis of each and every one, and programmed in a 'cutoff' point of a minimum of a +21% ROI.  17 of the methods met that test:
Thus the name:

  

System 17!

,
and, after eliminating duplications and locating the strength(s) of each system,
Len programmed all of the 'gems' into one fabulous software selection package!
System 17 will provide you with the edge you need in sprint races, and in turf route races, which most handicappers agree are some of the most difficult races to handicap. 
***And we are also including the Maiden-Blaster Software

Program****  A Program that focuses strictly on high-win % Maiden situations! 



"

One thing I really like

about you guys is that you do serious research and only offer products that have proven their worth. I agree with you that the horseplayer can't have enough solid winning angles in his arsenal, but I'm becoming so attached to System 17 that I'm using it almost exclusively now. 
Do you know that betting just $2 Trifectas at the recent Arlington meet brought back profits of over $4,400?  And the Exacta strategy at the very tough Del Mar meet has earned me another $1,600, and I'm making just $12 boxes.

  I think you've hit the jackpot here.  Keep up the good work!"


  Sarn Keifer, Prospect Hgts, IL
******View Complete User Manual (includes all wagering suggestions as well)  (click on link below)*****
Read More:
 "I realize now why I have been such a consistent loser over the years. 
I never had a real 'plan'

.

System 17 has shown me how to approach the game in an orderly, mechanical fashion.

  What a difference! 

I'm a pretty big bettor, and over the past four months I've pocketed just under $16,000 using the System 17 Exacta and Trifecta strategies. 

I would have made even more on the win end, but I'm hooked on those bigger mutuel payoffs.  I'm glad I finally took your advice seriously.  You are a real credit to a game where there are so many shysters."   

Darren Leven

, Ft. Worth, TX.
 

System 17 is one nifty little program as you can see by the profit scenarios listed above.

  Below are actual examples of System 17 screenshots and results: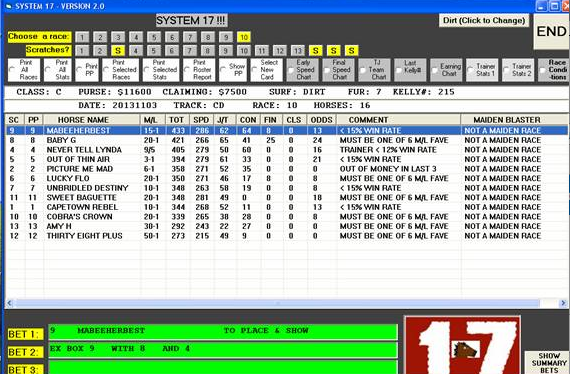 System 17 is often very specific on how to wager.  In the above case the software suggests a Place & Show bet.  Mabeeherbest finished 2nd, paying $11.20 to Place and $4.40 to Show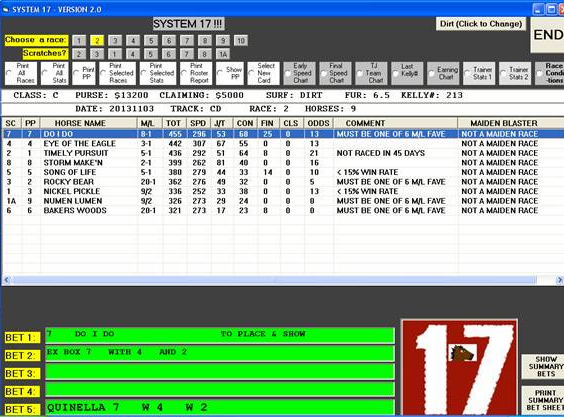 Do I Do was another strong Place & Show wager, but he actually got the win ($14.60, $6.80, $5.00).  The Exacta also came thru at $86.20.

System 17 also provides the user with a very accurate program to sort out Maiden races: The Maiden Blaster!  Here Leggomyborrego gets the job done by almost 3 lengths at $8.20.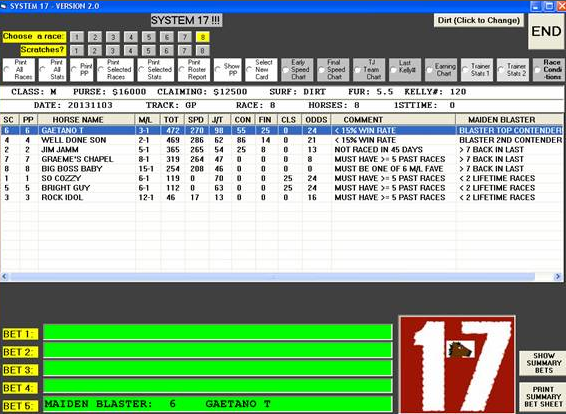 Above another Maiden Blaster win — not a big price, but a win is a win.  $6.40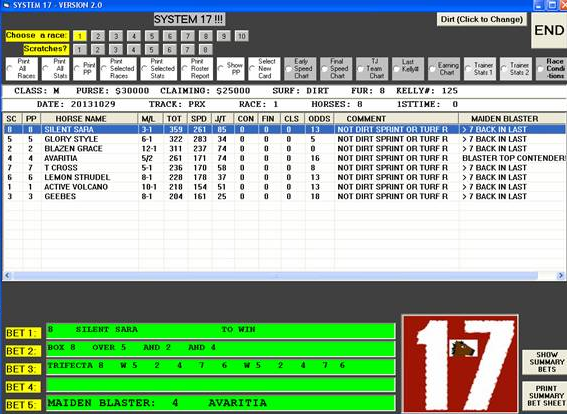 This is another Maiden Blaster win, Avarita at $10.40.  Note that the software also suggested Silent Sara as a win candidate, and the Exacta and Trifecta paid off at $58.60 and $178.60 respectively.  This situation comes up every once in awhile, where you have a Maiden Blaster as well as a separate win suggestion.  In cases like these it is best to go with the better price, which in this case was Avarita.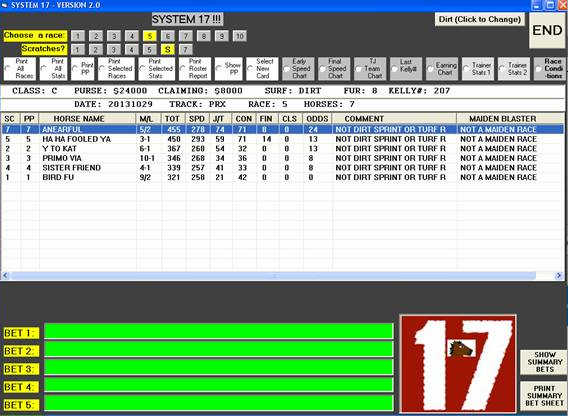 Even when System 17 does not have a program selection, you can still sort the Total column to see which horses score best.  In this case Anearful, the second favorite, got the job done.  The top three horses, when boxed, also got the $21.80 Exacta and $41.40 Trifecta.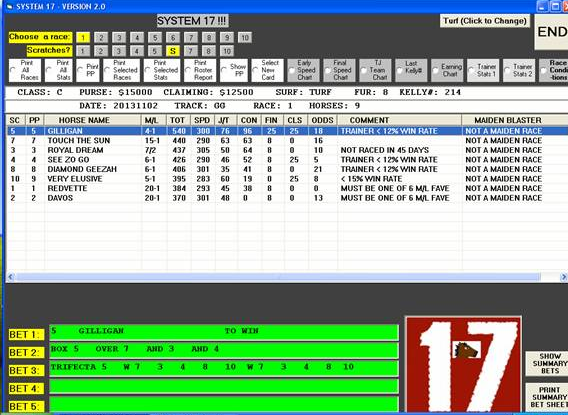 The above is a very typical System 17 suggestion and hit.  Gilligan is selected to win, which he did at $8.60.  The Exacta box hit at a modest $21.20, the Trifecta at $79.60 and, had you extended the Trifecta suggestion to a Superfecta as well, $227.60 was the payoff.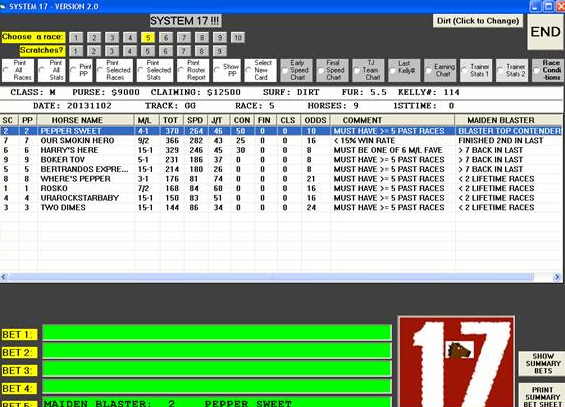 Another nice Maiden Blaster hit, Pepper Sweet at $11.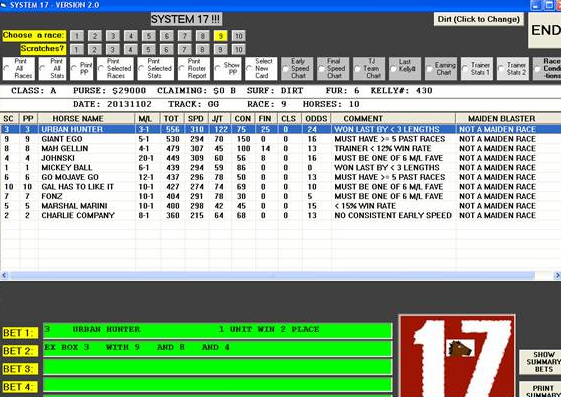 Here's another fairly common situation.  The software suggested a 1 unit Win and 2 unit Place on Urban Hunter, who ran 5th.  However, the Exacta box came back at a nice $59.60.  It's always worth playing the suggested Exacta when a Win suggestion may be on the 'weak' side, i.e., the reason more was suggested to play to place on this horse than to win.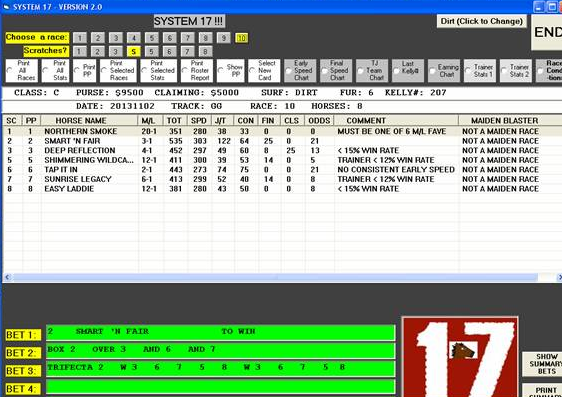 Here Smart 'N Fair is the win prospect, which he did at $7.80.  We missed the Exacta but the Trifecta hit at $465.20 and extending the Trifecta suggestions to a Superfecta got you back $690.00
As you can see from the above results, System 17 is very much a 'consistency' program as opposed to a 'price' program. 
You will get the occasional $20+ horse but overall most of your prices will be in the $5 to $14 range. 
The Maiden Blaster is a great tool — one of the best we've seen for difficult-to-sort-out Maiden races.  Here's some more info below:
"OK, you told me to be honest, and I've got to admit, I tried like heck to find fault with the system.  While I think the Quinella strategies are better left alone (low ROI),
everything else you indicated in your 5-1/2 year study is proving itself in real-time play.

 

It is such a relief these days to actually be able to first look at a serious computer study of a method's performance, and then be able to go out to the track knowing your results will be just as positive.

 

I like testing your methods and System 17 is definitely one of the best yet."




Thomas Long

, La Mesa, CA
NOTE:  We have made System 17 as viable as possible for the user. 
While you will get the best overall results in dirt sprints and turf routes, we have also allowed the program to show you the top picks in other types of races. 
As you will see, these picks do almost as well as in the primary target races for System 17.
Also note that we provide you with an expanded list of wagering options in this manual that do not appear on the screen.*** 
Some of these wagering options, especially the Trifecta, can get expensive so don't use them unless you have the budget and patience — they will at time hit big, big payoffs,
but the runouts on Trifectas can be long.
The Daily Double suggestions are very consistent, by the way — you will cash a lot of DDs with S17.
Three things you can be assured of with System 17:
 Consistency, Consistency, Consistency !
Follow the simple rules as written and follow the simple wagering strategies, and you will cash winning tickets every day.
You don't have to worry about total 'wipe-out' days where everything runs up the track.
The System 17 rules are based on very sound racetrack logic; Logic that will have you cashing more winning bets than ever before.
****We randomly pulled out three consecutive days of System 17 results.  As you can see, some days were great, some were so-so, and some were modest losers. 
What you don't see are any days where there were no winning tickets cashed. 
Ask around, and see how many other horseplayers can make that claim.  You won't find many, unless they're also using System 17, of course!
 3 Random Days Results — these results are very typical of what you will get on a steady basis.
August 24
Arlington
1) $37 Exacta
2) key horse runs 3rd
4) key horse wins, $5 +
$21.80 Exacta
8) win/place bet wins, $8w $4.60p + $80.20 Exacta
9) win/place bet runs 2nd, $2.80
Calder
3) win/place bet, horse runs 2nd $5.80 to place
4) key horse runs 3rd
6)$36 Exacta; $91 Trifecta
7) key horse wins, $5.80
9) key horse runs out
Charlestown
1)win/place bet wins, $5w $3.80p + $37.60 exacta
4)win/place bet wins, $17.60w
$8.20p + $106.60 Exacta
5) key horse runs out
6) key horse runs out
7) $19.80 Exacta
10) key horse runs 2nd, $4.60
Del Mar
4) key runs 2nd, $3.20 + $58.20 Exacta
5) win/place bet wins, $15.60w, $8.60p
8) key runs 2nd, $2.60
August 25
Arlington
2) key runs out
3) key runs out
5) key wins, $4.20 + $14.40 Exacta & $72.20 Trifecta
8) key wins, $3.40 + $59.40 Exacta
Calder
2) key wins $7.80 + $53.80 Exacta
4) $148.00 Trifecta
6) key wins, $7 + $210.00 Trifecta
7) key runs out
10) key wins, $4.80 + $26.40 Exacta & $167.60 Trifecta
Charlestown
2) win/place bet runs 2nd, $3.40 + $70.60 Exacta
4) key runs out
5) key wins, $9.20 + $150.80 Trifecta
6) key runs out
8) key wins, $4.60
9) key runs out
Del Mar
3) key horse wins, $5.20
4) $79.60 Trifecta
5) $13.20 Exacta
9) win/place bet wins, $12.60w $6.60p
August 26
Arlington
2) key runs 3rd
4) win/place bet wins, $15w $7.80p
7) key runs out
9) key wins, $3.60
Calder
2) key wins, $16.40
3) key runs 3rd
4) key runs 2nd, $4.80
6) $54.60 Exacta
7) win/place bet runs 2nd
9) key deadheats for win, $4
10) key horse runs 3rd
Charlestown
3) key wins, $8 + $27.40 Exacta
8) key runs 3rd
Del Mar
3) win/place bet wins, $11.40w $2.80p + $29.20 Exacta & $63.70 Trifecta
4) key wins, $5.20
5) key runs out
6) key wins, $6.20 + $19.20 Exacta
8) key wins, $6.60 + $62.80 Exacta & $56.10 Trifecta
Warning Columns: 
No racehorse, no play, is 'perfect'.  We have therefore included 'warnings' that may reduce the horses chances a bit according to our research. 
While the overall accuracy of System 17 is very solid, you can do better if you avoid horses that have the warning 'no consistent early speed' —
this has proven the most negative of the warnings.  A warning like 'less than 15% win rate' is simply cautionary and not a major negative, as are most of the other warnings. 
In the case of the 'less than 15% win rate', if there is an equally, or closely rated horse in the race that does not have that warning, it has proven best to go with that horse instead.
 "I'm embarrassed to tell you how much absolute junk I've purchased over the years.  I kept falling for those pie-in-the-sky promises, even after I had subscribed to your newsletter and read all your warnings about those scams.  But now that I've seen System 17 and used it on several hundred races, I am unlikely to get bitten by the scamsters again. 
I am very, very satisfied with making a decent supplemental income from the racetrack, something System 17 accomplishes very nicely.

  Thanks for everything!" 

Bob Nastari

, Canton, OH
View Complete User Manual (includes all wagering suggestions as well)  (click on link below)