$49.88 – $118.00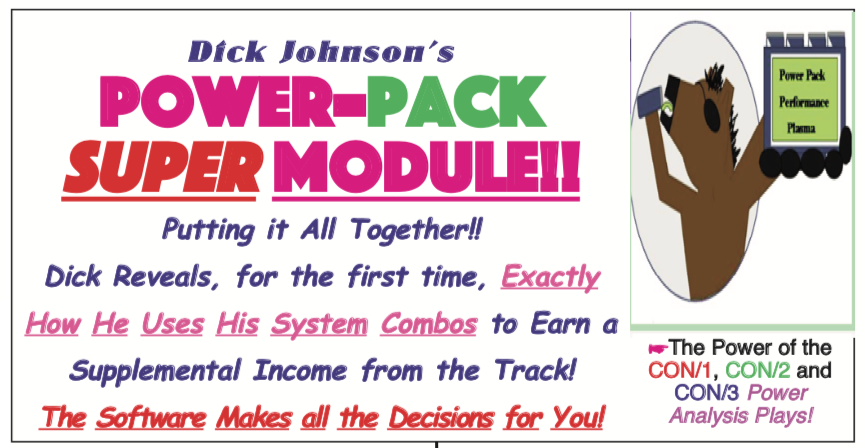 Handicapper Dick Johnson, as most of you know, has been around the game for a long, long time.  And for almost that long, he has earned a supplemental income from the track using systems he labored intensely over to accomplish just that.
Description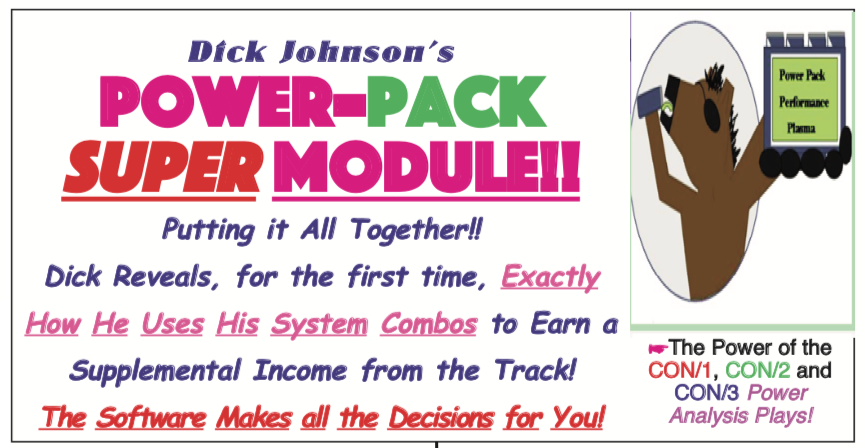 Look what we've done:
The CON/1, CON/2 & CON/3 Power Analysis Plays! 

Now with BONUS Database Profit Plays!
CON/ = CONSENSUS Horse.

  This is the horse that receives the most Consensus points accumulated from the four systems in the software, Horseplayer Money Machine, True Horsepower, Trainer/Speed Equation & Wildcards/Longshots.
The Consensus Horse is always a high % Win and on the board proposition

, BUT, it gets even Better,

at times MUCH BETTER

, when the Consensus Horse also appears in one or more of the boxes for the other systems. 
➽

And … Len has provided BONUS designations on plays that have shown long term profits, all on their own,

in his massive database study!
Look at this:
When the
Consensus Horse

appears in one other box, we call it a

CON/1 Horse

; appears in two other boxes, it becomes a

CON/2 Horse

; three other boxes, a

CON/3 horse.
Dick tells us: 'I developed these systems over many years of trial and error.  All are stand-alone positive ROI systems

but when used together can provide the player with a Powerful Weapon to beat this game.'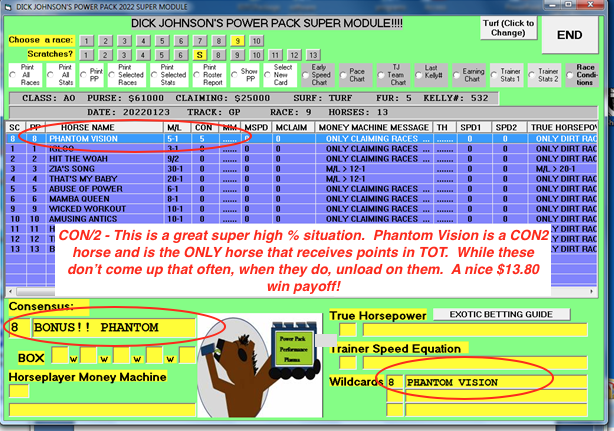 ☛

The Concept of the Power-Pack Super Module! is #1)

Consistency

and, #2)

The complete elimination of lengthy runouts.
➽

➪

Long runouts simply do not occur, and the farther up the CON/ (1,2,3) ladder you go, the briefer they become.  Also, many many selections that do not win
will come in 2nd or 3rd, and when using the proper bankroll management plan

(

INCLUDED!

), on most racedays you will cash many, many, many tickets. 
You won't get a lot of big prices with the Super Module,
but horses paying in the $9 to $14 range are pretty common.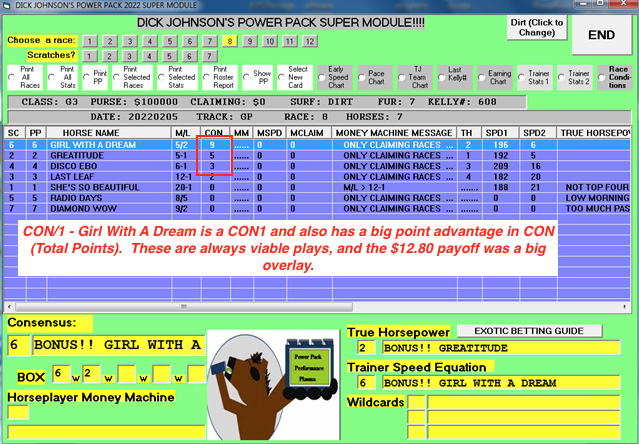 ➷➷

But the incredible

CONSISTENCY

of this program makes it the perfect vehicle for straight betting, parlays and 'singles' in your horizontal exotics (Pick 3, Pick 4, etc.)
Dick tells us: 
➽➽
'I have also found the perfect Bankroll Management Plan that virtually insures a profit, especially on CON/2 and CON/3 horses.  It's a plan authored by Dr. Robert Anthony and if you stick to the strategy there is no way you will come out on the losing end over any series of 30 wagers or more (barring an enormous losing streak, which in all my years of playing and studying, has never occured.'
➜
You will receive a copy of Dr. Anthony's strategy with your purchase.
👀Let's take a look at some other Software Screenshots
Q & A
Q.  Are Dick's systems also available in hard copy and ebook?
A.  Yes.  And the great thing about Dick's work is that all of his methods are very quick and easy to implement.
Q.  Are Dick's playing strategies included in the manual?
A.  Yes, he shows you exactly how he plays  –  which wagers to make under which circumstances, etc.  He confines his play to the highest % situations, which are all laid out in the manual.
Q.  What is the difference between this version of Power Pack and the previous version?
A.  The initial version was done in 2005, when the state of the art of programming was in its infancy compared today.  The 2022 version is much, much more precise and accurate, and has another 17 years worth of database study behind it.  In addition, the BONUS designations, which indicates a play that has shown a positive ROI over the course of the database study is a huge addition for the player.  Also, the precision and accuracy added by our association with Iron Horse Software Innovations is also a huge plus.
Q.  Do you have to use the Bankroll Management Strategy provided to be successful?
A.  You can play the selections any way you wish.  For example, the Horseplayer's Money Machine, all on its own, has shown a nice positive ROI over many years of study, so it you want to stick to just those plays you will do well.  However, use of the Bankroll strategy will not only enhance your overall return, but allow you to cash many more tickets to Win, Place and Show.
So after reviewing the above, we're certain that you can see the value of adding Dick Johnson's genius to your playbook. 

The fact that with the

Super Module!

Dick is basically taking you by the hand and showing you where the highest percentage betting situations occur greatly reduces any indecision on your part.
And remember, you will also receive the actual Bankroll Management Strategy that he uses with your purchase. 
We have priced the software very reasonably at
$118

.

  ☛

And remember, you have absolutely nothing to lose by trying it.  If you don't like it, or feel it simply isn't for you, you can trade it for another product or simply request a refund.
So call us at
1-800-696-0067

or order from our website and, of course, call us with any questions you may have.  Thanks,

Dick, Dave & Len
Super Module Software   $118
Ebook   $49.88
Hard Copy  $59.00
Additional information
| | |
| --- | --- |
| Super Module | Ebook, Hard Copy, Software |