$44.88 – $59.90

Form Denny Nash!
An Innovative Longshot Program that is Tailor Made for Win & Place Betting!
Description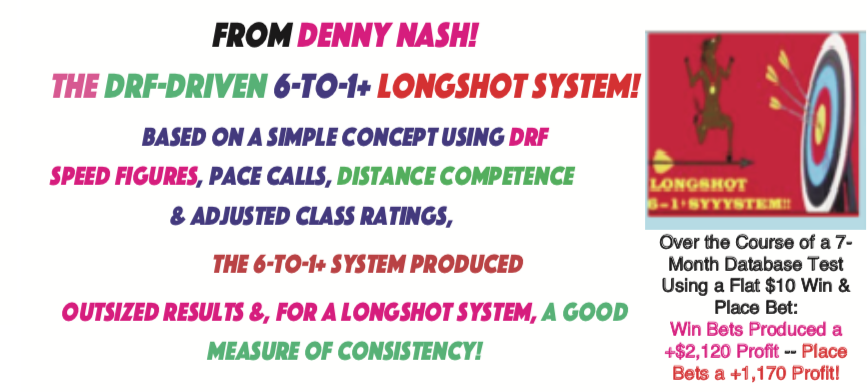 George Querio, of Albuquerque, New Mexico, recently sent us a system from the amazing

Denny Nash

that he has been using with success for years.  "I would like you to test this method out for me", George wrote. 

"I have been using it for over a decade now and always end up with a positive ROI, year after year.

  I bet mostly to win and place, but you get some good show prices as well and using the selections in your Exactas and Trifectas can land you some giant payoffs. 
"

It is simple

–  it uses the DRF speed ratings but it would probably work well with any speed number.  Let me know what you find. 

I follow the rules to the letter and consistently get big win and place payoffs (minimum morning odds for a play is 6-to-1).

  Thanks!"
👉This angle was originally published in
Denny Nash's

Thoro-Profits book. 

We added in the speed (the DRF speed qualifier) and some pace enhancements to make the method 'tighter'

, so you won't get as many plays as with the original, but the hit rate will be higher and the average win and place mutuels ($23.10 and $11.60) are virtually the same.
Granted, most players want consistency and to cash often, even if the prices are low.  Most players are 'hobbiests'. 

They enjoy the races and are out there for fun. 

They know they will never make any serious money at the track, but the game provides them with thrills and excitement. 
But there are ways to make money and cash tickets regularly even when you are dealing with lower priced horses, but your hit rate has to be high – 34%+.  And we have several software programs that do that with their Best Bet suggested wagers.
But the easiest way is to make a profit at the track is to stick with a proven longshot system, one that will result in high returns even with a low % of hits.

  F
or example, in the 'Quiz' above, even if his hit rate dropped to 11%, he would still make a +21% ROI. 
And using the selected horses strategically in just small exotic wagers could increase that number dramatically.
Look at the results of a 7-month test on Denny's 6-to-1+ Method.

  We looked at 16 tracks over a 7-month period between December 1, 2021 and June 30, 2022.  We based our results on a $10 win and $10 place wager.
Below you can view some screen shots from the 6-to-1+ Program. 
There were just four plays on the Del Mar 7/31 Card –  Two BIG winners at Double Digits and one other ran 3rd at 9/1!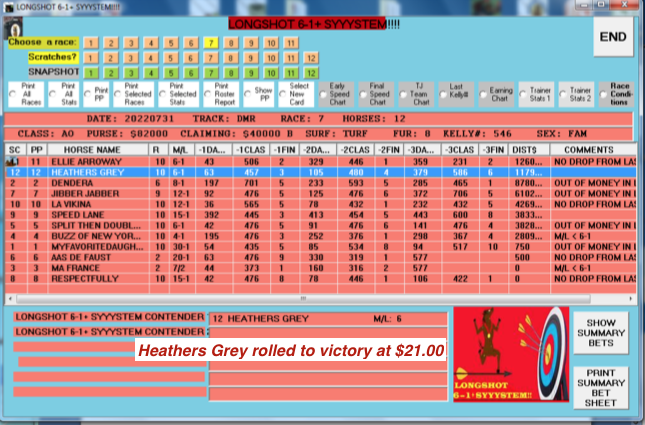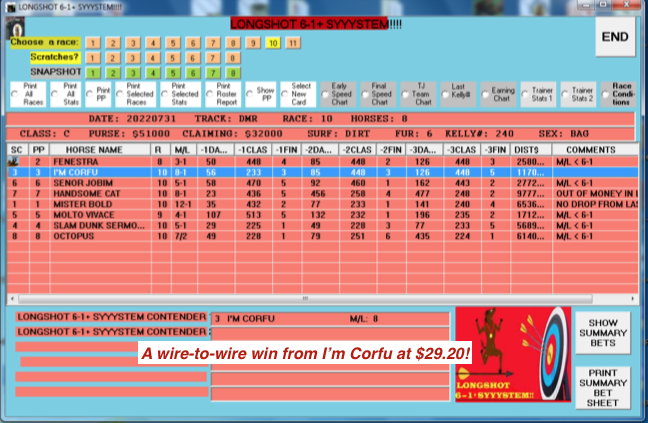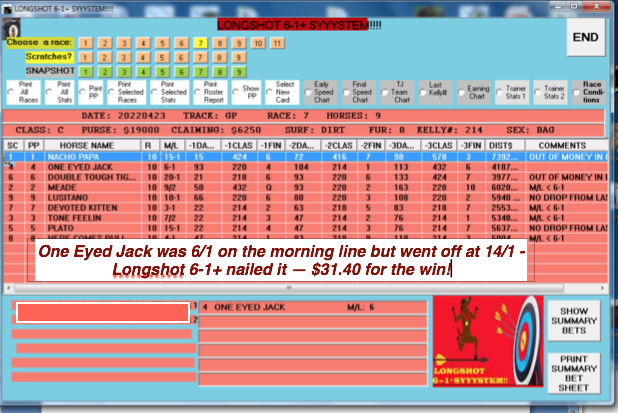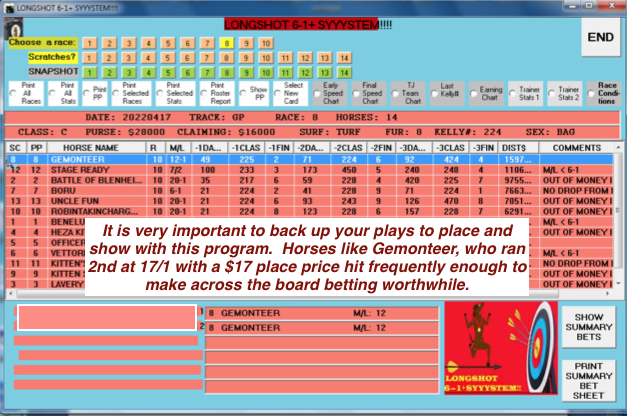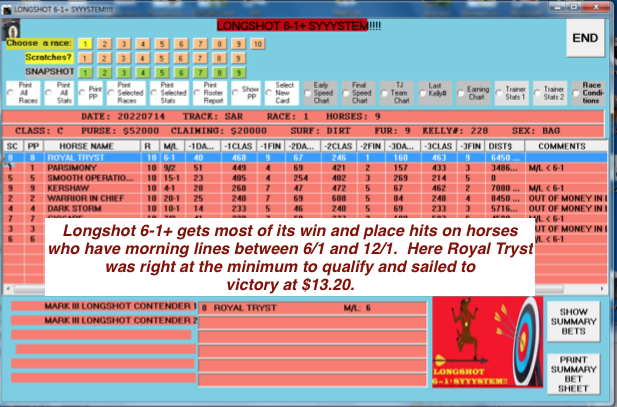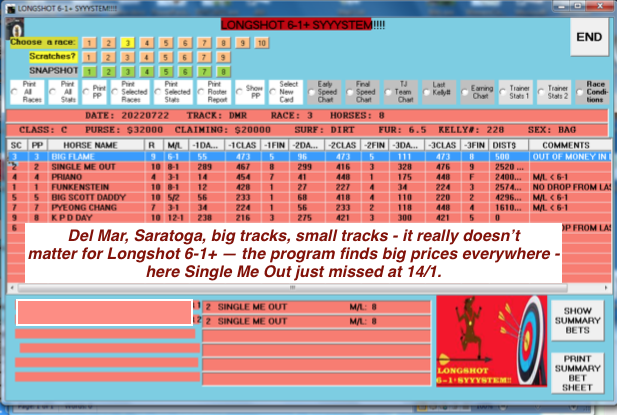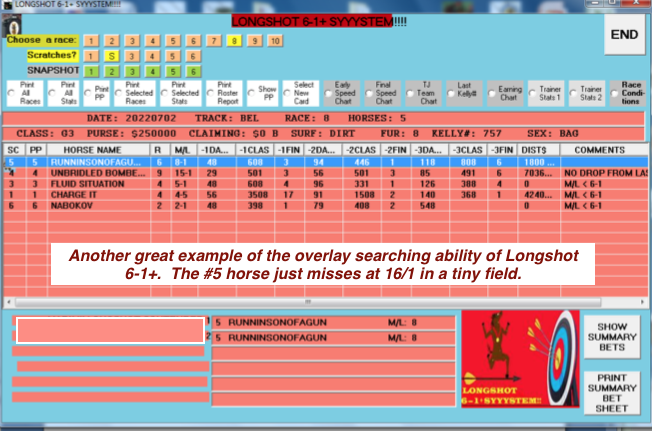 "I was having a terrible day at Del Mar when I remembered that I had advance-bet three horses from the 6-to-1+ program and pretty much forgot about them.  When I looked I saw that I caught a $39.40 winner ($17.80 to place).  Only bet 10 and 10 on those horses, but this one winner almost erased my losses up thru the 8th race.  Thanks for this –  it's really fun!"

  Dale MacIntosh, Baltimore, MD
😀👉And, you can get the
6-to-1+ Software

for the very, very fair price of just

$59.90
So Call us at
1-800-696-0067

or order from our website. 

Thanks so much!

Dave & Len
The DRF-Driven 6-to-1+ Longshot System Software  — 
$59.90
Ebook   —  $44.88