$55.00 – $138.00

Handicapping Supremacy!!
My Own Private Racebook Met

hod!
😃😃😃++++
FREEEE!!!!
ONE OF THE MOST EFFECTIVE, BRILLIANT BANKROLL MANAGEMENT STRATEGIES EVER PUBLISHED!!!
A $95 VALUE!!
Description
NEW BEST SELLER!!

DENNY NASH'S HANDICAPPING SUPREMACY!!!

++FREEE!
A Sensational NEW Bankroll Strategy the Works with Any Solid System or Public Handicapper!!!
From Denny Nash:


Handicapping Supremacy!!
My Own Private Racebook Method!



'Brash', 'Self-Assured', 'Totally Confident', at times a bit 'Outrageous'
Yep!  that pretty much describes Denny Nash.
If there was ever a handicapping author who simply tells it like it is, with no BS and no apologies for his strong opinions

—

yep, that's Denny!
And his overwhelming self-confidence is not an illusion, or self deception.  He walks with this poise and self-assurance because he knows that what he does works. 
Period!
Just as he did in his Bet to Win for A Living, Thoro-Profits and The Rebound System, Denny's newest, Handicapping Supremacy!,
lays out a totally logical plan that will produce racetrack profits when followed to the letter.
CONSISTENCY

is the name of the game, and with Handicapping Supremacy!,
you will get very consistent results.

 

You will see many cards with multiple winners. 

On average, you will find four to six plays on most cards.
The Best Bets will appear in the Supremacy 1 Box

, but if a horse(s) shows up in the Supremacy 2 Box, definitely use in your Exotics.
Take a look at the Gulfstream Card on January 8 below.

  Obviously, all cards will not have

five winners out of six selections

, but the fact that the program pulls off multi-winner days frequently is significant for your bottom line. 

This is a view of the 'Summary Sheet', which is featured in all RPM Software.  You can view it or print it out>> It's a great timesaver.
Let's take a look at some screenshots and then we'll show you some highlights of the Really Great Bankroll Management Strategy Book

we are offering you for FREE!!!!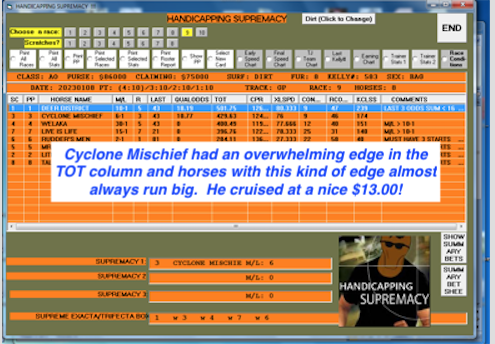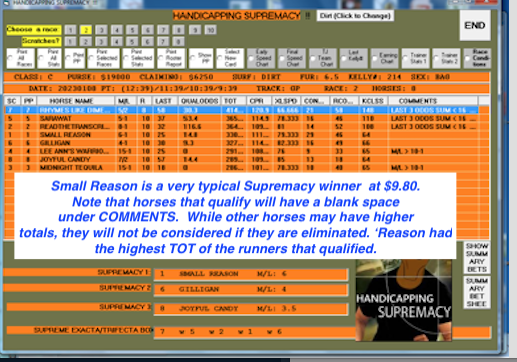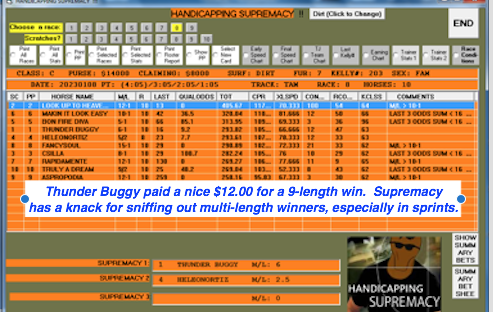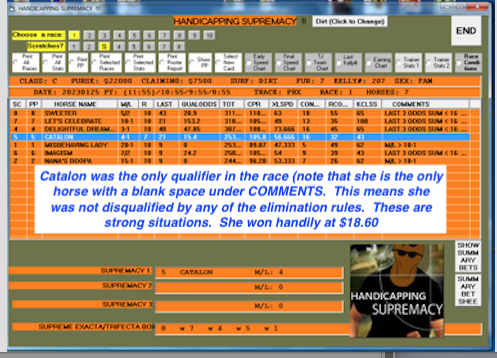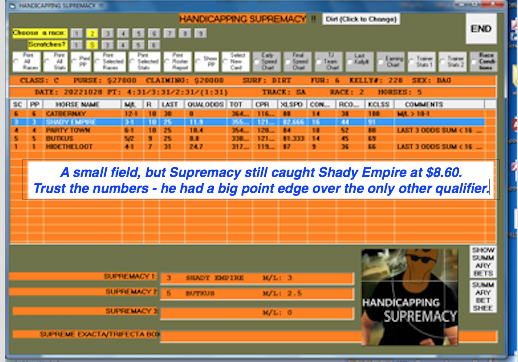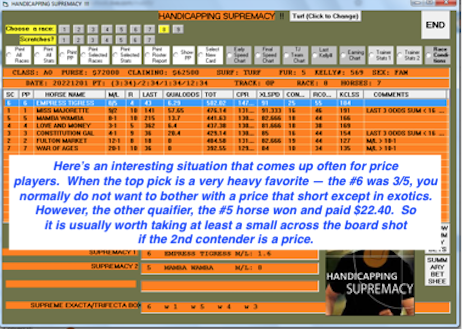 👉👉
🤔Also it's important to note that

many, many top picks run 2nd or 3rd as well

.  We have seen many cards where none of the top picks finished worse than 3rd,

so if you are on the conservative side or like to run place and show parlays, this software will certainly help you there.
This publication came to us via a long-time customer. 
We had never seen it before but doing some research showed that several thousand of these were sold at the retail price of $95!
This publication provides the
Best Ever 'Dutching' Strategies

, as well as a

Professional Dutching Chart/Table

, and spells out exactly how to Profit from these strategies. 

We've never been big on dutching, but after reading this decided to start playing as the

strategy suggests, and our results have been solid.
It also covers straight betting strategies, and contains

the most extensive Exacta and Trifecta and Superfecta 'cost' tables we have ever seen

, and solid suggestions on how to hit a high % of these wagers.
The Strategies can be use with any solid system, or even a public handicapper! 
So this is a Total No Brainer.
Handicapping Supremacy Software   $138.00
Ebook    $55.00