$44.88 – $199.00
A POTENT COMBINATION of the WORTH COMPANY'S TIPS© Superb, Steady Results — 39.2% Win — 73.1% Place — 85.2% Show!! Order Soon Save $51!
Description

SUPERCLUSTER II

— Comprised of a Combination of
TIPS

© 

So Potent

that 29 of our First 30 Test Plays Finished at Least 3rd!!!
SUPERCLUSTER II = SUPER-POSITIVE RESULTS!!  

Available in Software, Pencil/Paper & Ebook

***

And now comes what may be his very best, and that is really saying something given the superb profit quality of his other work.  But in SUPERCLUSTER II,

Jon has found a 'super' combination of TIPS that produce phenomenal results!

 
☞☞

Jon Explains:  
The true crux of SUPERCLUSTER II came after receiving repeated terrific feedback from a number of handicappers regarding their experiences and observations with our last spot play, The Elite Eight. 

I noticed some very interesting and powerful trends, or 'clusters of tipoffs', as my Dad would say among their win and in-the-money horses.

  What's more, several handicappers also noted this same appearance of certain Horse TIPS in the majority of their successful results and were kind enough to share this with me. 

I began to follow these factors and their combination among winning plays

.  I tested theories during live play until I believed I had isolate a solid set of guidelines to which to adhere for further testing.  Thus,

SUPERCLUSTER II

was born.  As you handicap with

SUPERCLUSTER II

, you will see just how powerful and consistent the method is!
Below you will find both the RPM Database Study as well as Jon's 'Live' Betting adventure over a 30 day period.  The Results are very Impressive, to say the least:
BOOM!!! — While big Double Digit prices are not the rule with SUPERCLUSTER II, they hit often enough to make things exciting — Maximum Charges popped at $32.80!!  Exacta and Trifecta hit as well.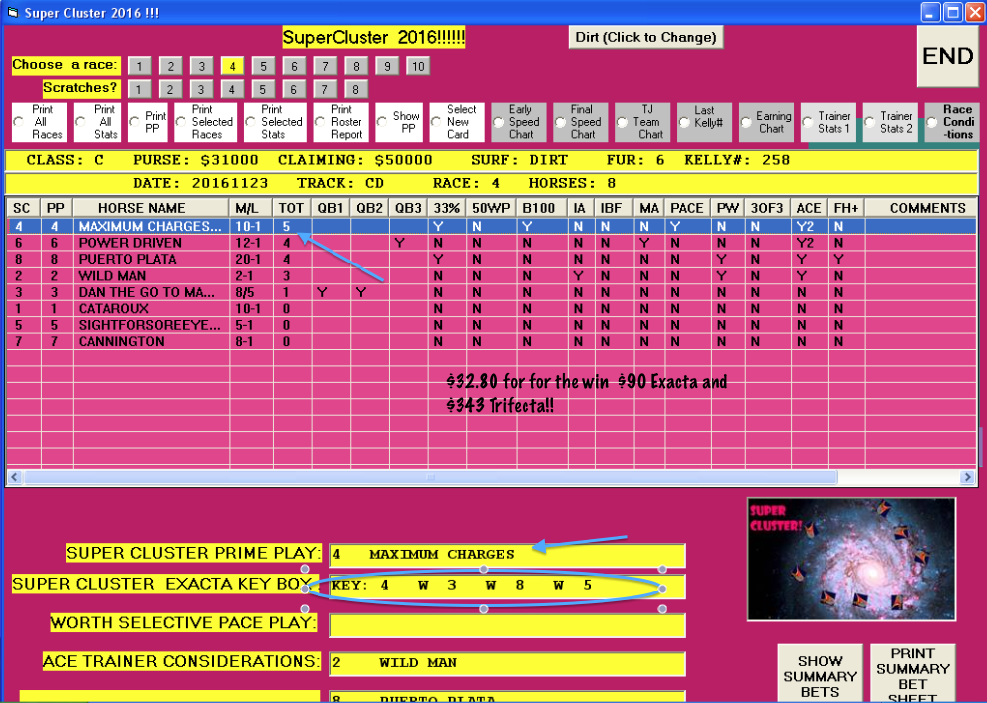 Jon's 'Live' Workout appears below.  You can see the extreme consistency of the SUPERCLUSTER II Methodology.  Note the super high %'s for Place & Show as well, making

SUPERCLUSTER II

an excellent vehicle for Exacta play and Place & Show Parlay play.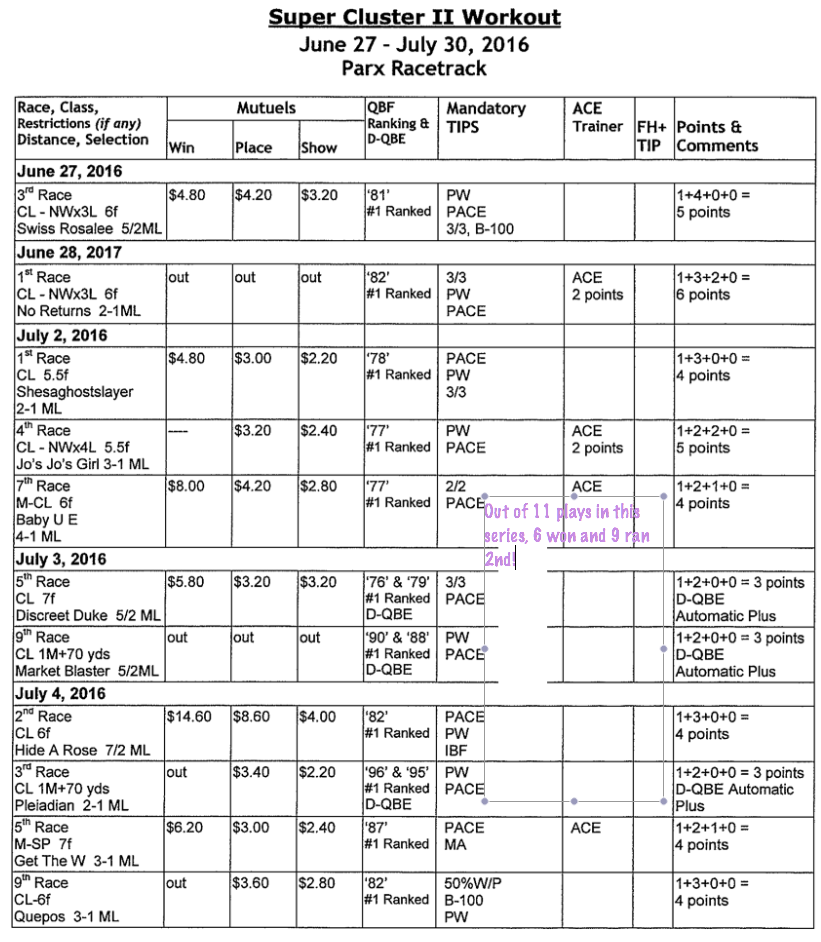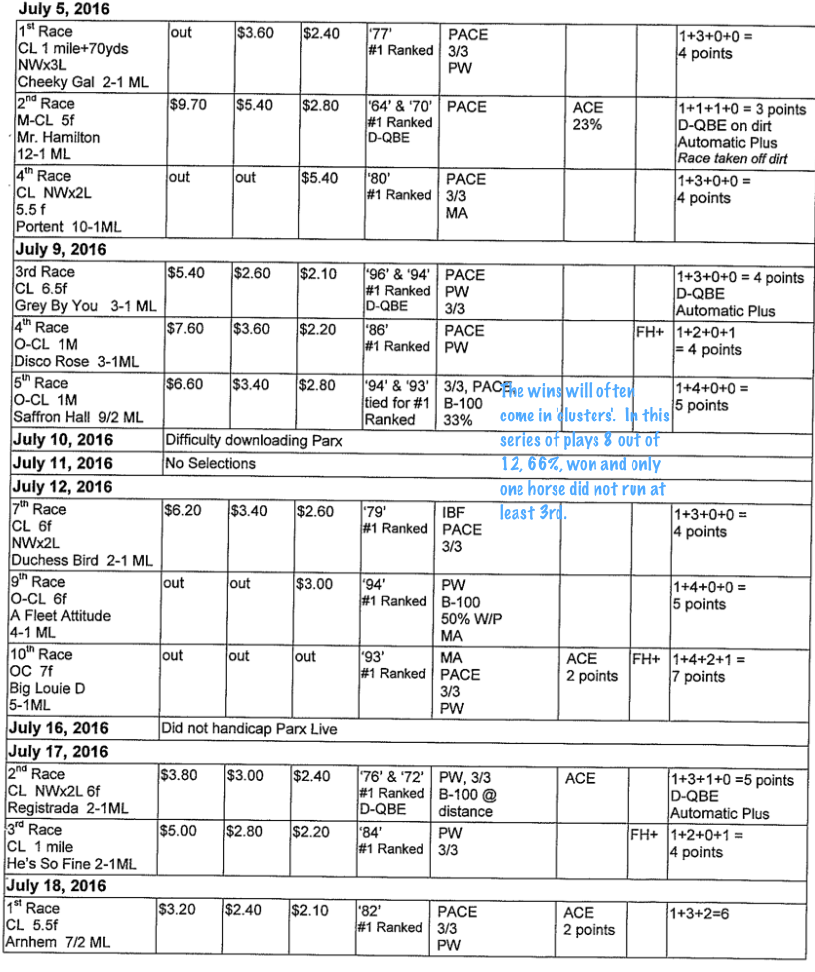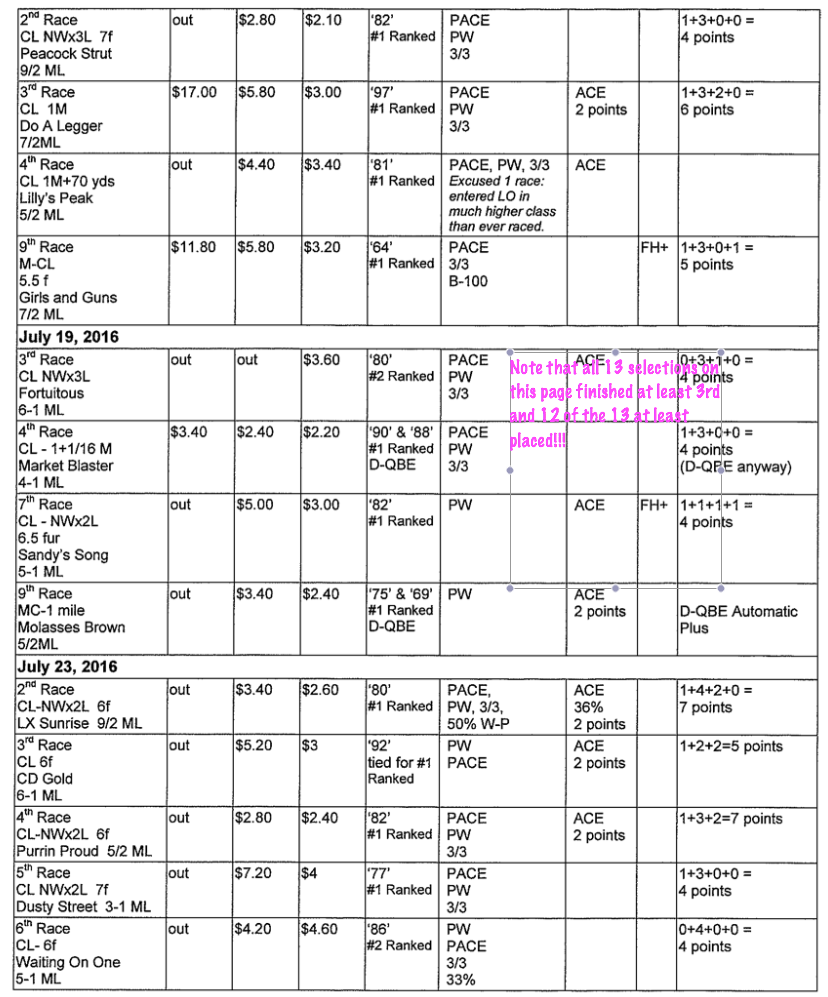 Below a screenshot from the 4th race at Parx 11/19. 

Note that Lust For Diamonds had a TOTAL of 6 TIPS

– He won easily at 2/1 — 

Horses with 6 TIP Points seldom miss hitting the board,

so if you want to make SuperCluster II a spot play you could simply concentrate just on these horses.  Note also that in the Ace Trainer Considerations box,

Almost Grecian, ran 2nd at 35-to-1

.  Ace Trainer horses are always worth a look, especially for your Trifecta and Superfecta tickets. 

And for the exotics fan — 6-pt horses make for excellent 'Key' horses.  Here a simple Superfecta using Lust For Diamonds over the other listed contenders returned $651.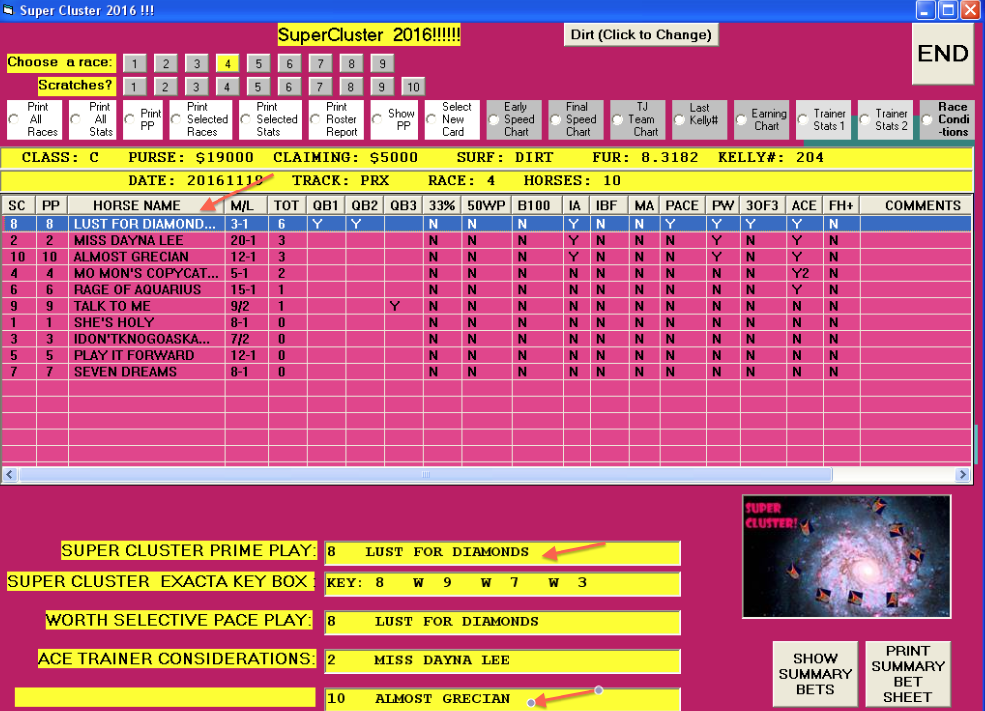 Below a situation which surfaces frequently.  Here Ekati Warrior is both a

Prime Play

and an

ACE Trainer horse

as well

as a 6-point Horse

—

This is as about as sure an in-the-money situation as you will find in horseracing.

  He finished 2nd —

and the other ACE Trainer horse, Tiger Hall, won at $24.80

.  The Exacta Box paid $38.60 and the Trifecta $134.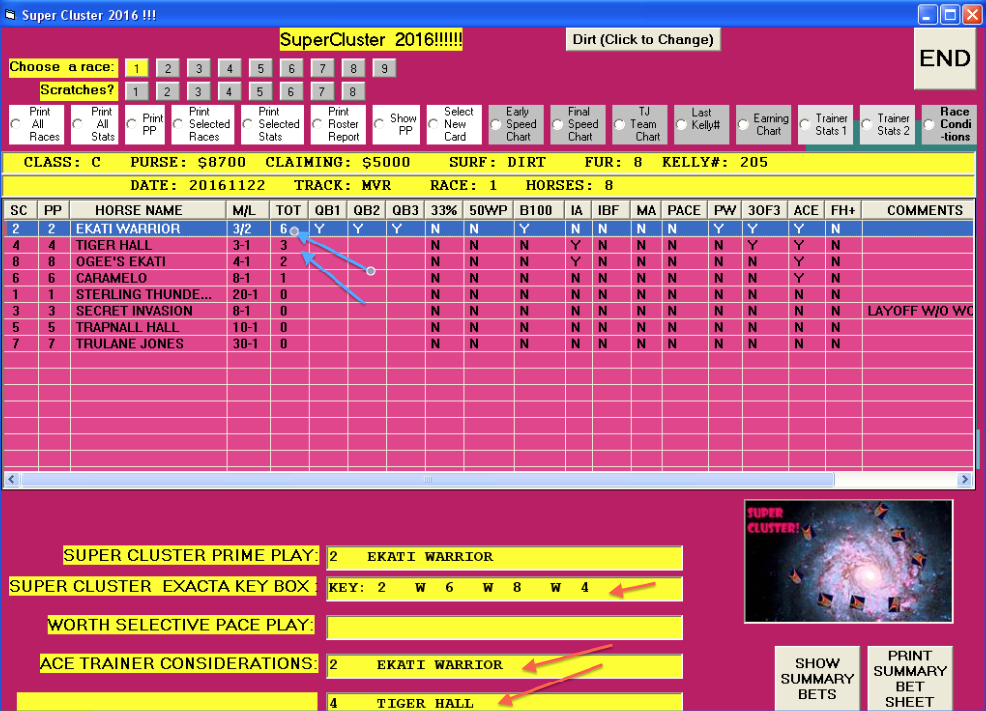 Below — Misterbulltoyou had trouble and finished 4th.  However, we once again have a price horse (Destiny's Song) who is an ACE Trainer horse.  You never want to ignore an ACE Trainer horse at odds of 6/1 or over — a 'saver' bet is called for — so while the main play didn't get there,

the $23.20 win price on Destiny's Song was a nice 'save'.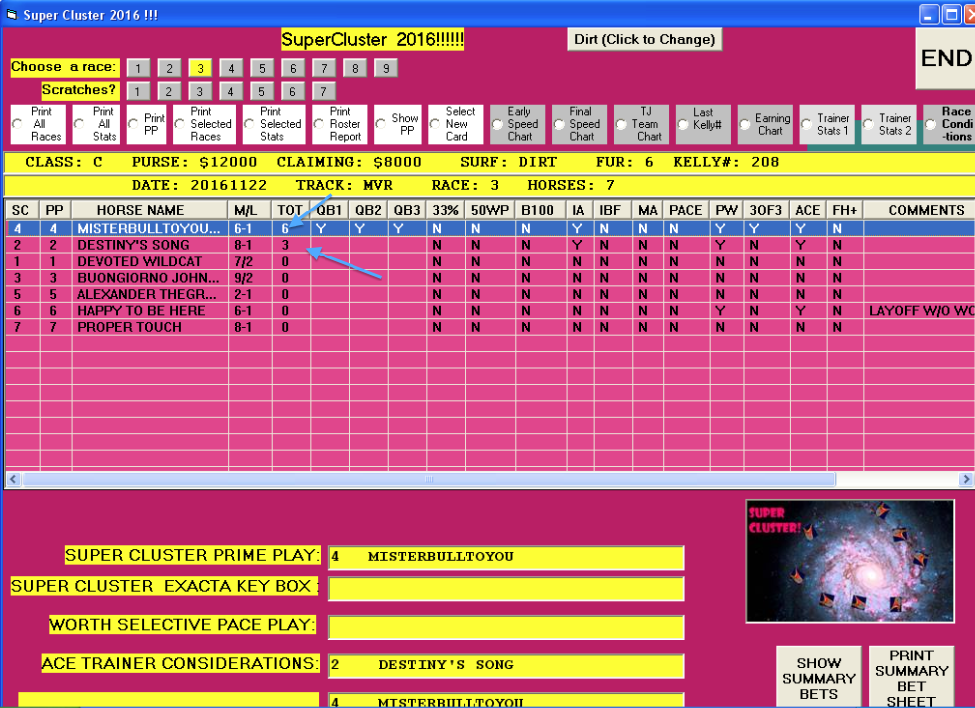 ➙➙➙

Often no horse in a race will achieve enough TOTAL TIP points to create a play (4 points minimum are necessary) —

but in these situations you will often see a ACE Trainer horse.  In this case Trulamo romped at $18.

$$

BOTTOM LINE — This is what you can expect from
SUPERCLUSTER II

:
☛

Superb Accuracy,

Dependable Consistency:

  Very High Win, Place & Show Hit Rates

☛

The High Place & Show %'s make SCII an Excellent Vehicle for Parlay Play
☛☞

Very Brief Runouts on the WIN end  — 

Runouts almost non-existent on Place & Show
➧➧

Because the Combination of TIPS favors lower class animals, you will get your best overall results at Class B and C tracks which make up 80%+ of racetracks in North America.  Plays will be less frequent on the larger circuits (New York, Southern Cal, Keeneland, Gulfstream (Jan 1 thru Apr 15), Oaklawn but overall results will still be very solid.
☞☞

ACE TRAINER Plays (the

Ace Trainer 'TIP"

focuses on Trainers who appear to have their horses  'Win Ready' today — often these horses are nice prices).
➤➤

Worth Selective Pace Play

— A horse whose internal or closing fractions in recent races suggest he/she may have a Pace Advantage in today's race
➽➽

Viable Exacta/Trifecta Suggestions —

Especially effective in races with 8 horses or more.  Exacta hit rate @ 39%.  Trifecta @22%
Also, Jon's 40-Page Paper Version ($49 retail) is included

at no extra charge

with your purchase!
Save $51 by Ordering Early!!  
SuperCluster II has a retail price of $199,
but if your order is received within 10 days

of receiving this email (flyer),

your price is just $148!
SUPERCLUSTER, II
is a serious work

, by a

serious handicapper

,

designed for players serious about cashing winning tickets

—

lots of winning tickets

—
You have absolutely nothing to lose by giving it a try —

we offer a full 100% money-back guarantee, something no other software seller in the world offers.
You can download the program from our download website and/or receive the manual and disk in the mail
So give us a call at
1-800-696-0067

   or go to our website   

www.rpmhandicappinggiant.com
You will not be disappointed with SUPERCLUSTER, II —  it performs exactly as advertised –  and do give us a call with any questions.
Thanks,

Jon

,

Dave

&

Len
SUPERCLUSTER II, SOFTWARE  

$199 

 

☞☞

($148 Early Bird)
SUPERCLUSTER II, Paper Version   $49
SUPERCLUSTER II, Ebook    $44.88
Additional information
| | |
| --- | --- |
| SUPERCLUSTER II | software, Paper and Pencil, ebook |