Sale!
$44.88 – $97.50
Joe Alberti's The Magic 30 Method!
Includes 'Mad Man' Ivan's Longshot program!
Joe Alberti is one of the most prolific system creators in the game.  His 'Alberti/Hatch' Method is his shining star, but he authored many more accurate and profitable systems.
Now we are offering his Magic 30 Method on Software!
The Magic 30 was discovered quite by accident by Joe.  It is a super-accurate on-the- board selection method – selections run at least 2nd close to 50% of the time. 
Description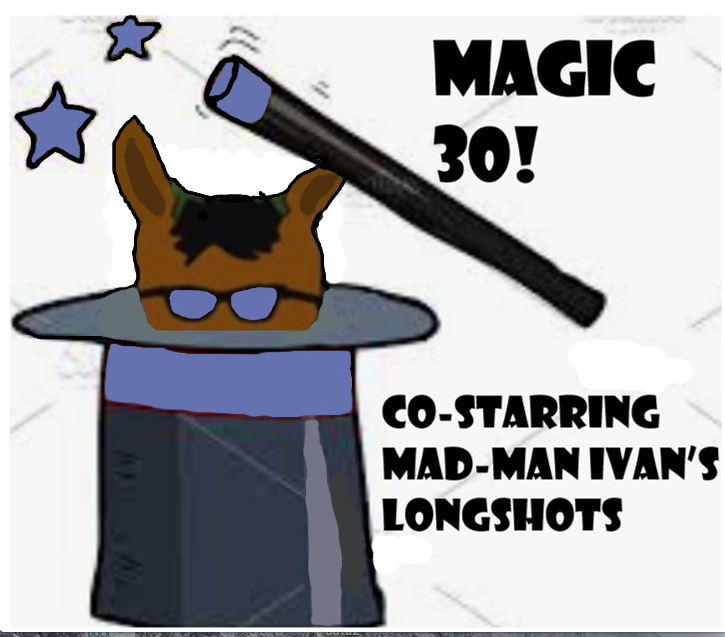 The Wild-Man Ivan Story
Actually, some of his friends originally called him 'Mad-Man' because he seemed to concoct his winning formulas in a secret lab down in his basement. 
Actually all he had down there were years and years of Racing Forms arranged neatly by date and track. 
And that careful research led him to days like the following as we excerpt his story from the Best Selling book
Power Handicapping

: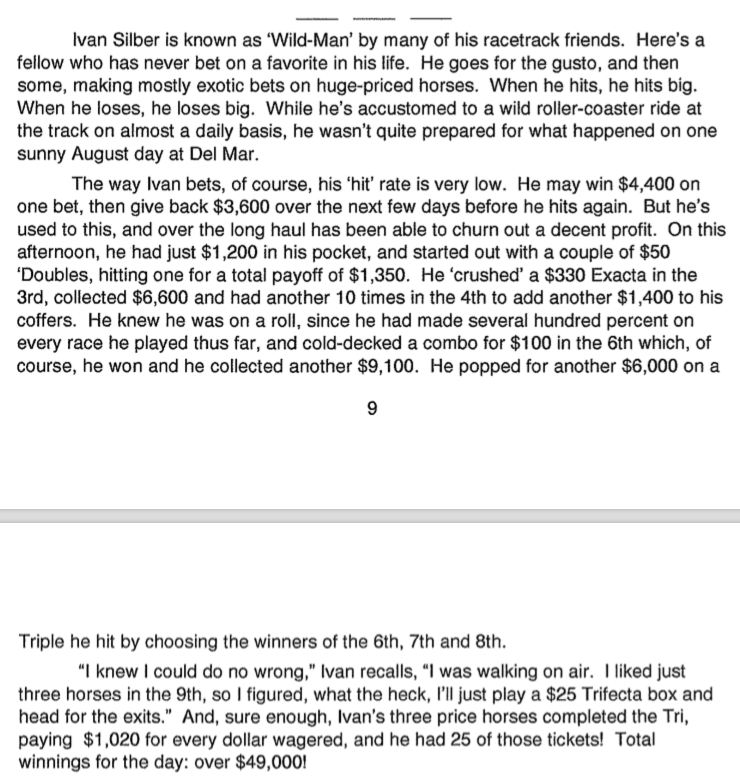 Now, the vast majority of us cannot play like Ivan due to a lack of resources (money) and/or lack of intestinal fortitude. 
But we now can occasionally make nice hits with his secret formula since it is now in software.
>>
The nice thing about the way we programmed it is that Len added a measure of consistency to the equation, so you actually also can do very well playing the shorter prices when the software comes up with one (see examples below).
The Magic 30/Mad-Man Ivan's! software
provides you with Win/Place Consistency as well as a high Show hit rate in certain categories.

  As shown above,

the Win/Place rate is in the 50%+ range when the situations above appear on your screen.
The $138 retail price, we feel, is very reasonable.
>>

However,

you can get the Complete Package for just

$97.50

for the

next 14 days.
☛☛

And, we are also including, FREE!, what we consider Joe's best method ever,

The Alberti/Hatch System!
This is the system that Joe and his partner used at racetracks far flung from their native New Mexico to consistently extract money from the mutuel pools.  It's available in paper or ebook format only,
but is relatively simple and if nothing else you will observe how a true professional unearths formulas that the meek among us never conceived of.

  It's a $55 value, yours

FREE!!
So Call us at
1-800-696-0067

or order from our website and, of course, call us with any questions.
Magic 30 Ebook    $44.88
Software  reg. $138.00  
  Your Price   $97.50
---
Additional information
| | |
| --- | --- |
| Magic 30 | Ebook, Hard Copy, Software |