Description
JACKPOT HANDICAPPING!!!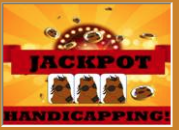 Utilizing the Keys to the TRIFECTA, SUPERFECTA & SUPER HI 5 Kingdoms!!!
So what Andy is saying, basically, is that because most fans just throw money at the exotics, with scant knowledge of how to pick the correct horses or efficiently construct a ticket,

☛

that the smart Exotic player can enjoy collecting many major overlays – often in the thousands of dollars range.
Now, when Andy originally wrote this, betting the Exotics was not for everyone because of the cost of the tickets.  Trifectas were minimum $1 or $2 combo tickets and Supers were $1.  Now, however, Trifectas have been reduced to a .50 wager at many tracks and Superfectas a dime. 
>>
So a Superfecta ticket that used to cost $48 can now be had for $4.80.  This has opened the door to allow virtually all players' budgets to handle Exotic wagering.

<<
Let's look at some examples:
First, an explanation of the betting boxes at the bottom of the screen:
JP Handicapping Prime

box features the 'Key' horse in the Exotic bets.  Now, and this is important, the Prime horse wins and places often, @56% of the time, so you have a solid win/place feature with this software as well.
Trifecta 1

is you basic 4-horse Trifecta box.  You can expect about 21% of the Tris you play to hit, some a very nice prices. 

This is also a good wager to use if you are an Exacta Bettor, either by boxing or keying the Prime horse with the other three

. 

Also, crisscrossing the four horses in this box in the Daily Double also boasts high hit rate (@41%).



Trifecta 2

is more adventurous as it features 5 horses, but the payoffs can be fantastic.  The idea is to make this wager only in races with 9 horses or more.  You will hit close to 34% of your Trifecta wagers using this box. 

This box can also be used for a Superfecta box using 5 horses – hit rate @17% — average payoff: $447
Superfecta Box

uses two Key horses along with several others —

this is the wager (and the next) where the Chaos Theory programming comes into play.

  P

laying a .10 Superfecta this bet costs just $2.40 and the payoff potential is huge.
Super Hi 5 Box

provides wagering strategies for one of racings' toughest-to-hit bets.  It only activates in races with 9 horses or more. 

Super Hi 5 wagering is not for everybody, but this wager can produce lottery-like payoffs.  Many tracks offer .50 Super Hi 5s, which puts the cost within reach of many horseplayers.
Column Explanations
R = Races the program looked at to qualify contenders
TOT = Determining Score for likely Exotic contenders based on the three columns to the right
Exotic Key Rating = a mix of speed/pace/class/connections/previous in-the exotics finishes (1st, 2nd, 3rd, 4th, 5th).  Chaos coding – looking at races of this type and field size — frequency of off-the-wall horses hitting in the first 5 slots.
Condition = A rating reflecting current condition based on recency, close-up finishes in last 3 recent starts and trainer patterns based on workouts and recency.
Earning Power = a rating reflecting a runner's average earnings in races at or near today's class level
Jackpot Handicapping Software   $89.90