Sale!
A newly discovered approach turning cartwheels because it adds a totally new dimension to your play.
Description
Hot Product!!  Tom Console & Dr. Robert Anthony's:

  
Project UFON 3000 Software!
 Something NEW and TOTALLY DIFFERENT from Software Superstar Tom Console!

PLUS – FREE!!:  Master Dutching Chart Book & Bob Anthony's Smart Bet Professional Formula revised for Longshots & Dutching!!

48%+Winners
41%+ Exactas
No Runouts
Additional Trainer Angle Program Included FREE!
Dutching Manual + Dr. Anthony's Updated Smart Bet Professional Formula – FREE!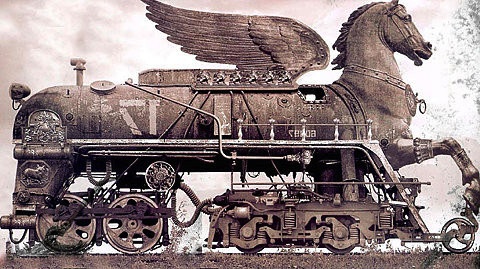 Let me tell you about something totally new, totally different and totally exciting!
Even to a battle-scarred, software loving successful handicapper like myself, this newly discovered approach has me turning cartwheels because it adds a totally new dimension to my play.



First let me explain to you how this all came about, and it's a fascinating story:
I'm sure most of you know who Dr. Robert Anthony is. 'Bob', as I call him, and I have been good friends and business partners for close to 30 years now.   Dr. Anthony, as his readers know him, is best known for his series of best-selling motivational, self-help books. His works include recent mega-sellers like 'Beyond Positive Thinking' and 'How to make your mind a money magnet'.  He still lectures internationally.
But horseplayers and casino gamblers know him best for his money management strategies for horses (Guaranteed Profit Money Management Strategy, Parlay Power Match, etc.), and blackjack and roulette gaming systems.
One of the things I always admired about Bob is that he was never in it just for the money. Even though he's made plenty of coin from his various endeavors his real-life goal has always been to help human beings reach their true potential, whether it be in their personal lives, their careers or…in gambling.
Now, all that being said, Bob actually had nothing to do with the creation of Project UFON 3000,
which this new dynamo is called

, but he had everything to do with securing it for our own use. Here's the story:
Several months back Bob showed me an advertisement in a Las Vegas newspaper.  A fellow by the name of 'Zocor' (I joked to Bob 'are you sure he's from this planet? – sounds like the name of a character from a 1950's sci-fi movie!') claimed he could show anybody, regardless of experience level, how to make money at the racetrack. He would come to you — to your home or business — and present a two-hour seminar that would provide you with the tools to becoming a winning horseplayer.
Bob was intrigued since he had actually heard this fellow's name mentioned when touring racetracks in Australia. (

Zocor's ad from the Las Vegas Sun below

)
— Win At The Races – I Can Teach You How
Guaranteed Positive Results
Or you pay nothing
I am a lifelong horseplayer who has discovered a way to profit from the races on a consistent basis.   In less than two hours I will explain my method to you and show you exactly how to use it. You don't have to be an experienced horseplayer to use it successfully. I don't promise 'riches', but do promise that you will be able to garner a supplemental income from using my method. Cost is $300 per person. I will come to you, or you may meet me in my Las Vegas Office. Call Zocor at (702) — —- or submit query to The Las Vegas Sun Classified Ad Department, Box —
————————————————————-
'It's funny', Bob told me, 'but I strike up a conversation with the guy sitting next to me, who seemed to be cashing frequently, and I asked him how he figured his horses since the Aussie version of the racing form had no running lines. He told me he used the 'Zocor' method, which he obtained from his brother.
When I inquired further he seemed kind of tight-lipped so I dropped the subject.  I really didn't think much about it after that until I saw this ad in the Las Vegas Sun.'
Now, Bob and I both live in Phoenix, so Mr. Zocor would have quite a distance to travel. But Bob, who is not known for doing anything 'halfway', decided he would fly him down and put him up in a local hotel for the night.  He charged $300 per person to teach the method.
We set up the meeting in Bob's publishing office for the next day.  Bob sent a car for him and at 9:30 a.m. thru the door came Mr. Zocor.
And yep, that was his real name — his last name, that is. His first name — Thaddeus!  He explained that he always disliked that name so he went by 'Zocor' for most of his business life.
***Now, here's where it gets funny. While Zocor was setting up his presentation I leaned over to Bob and whispered 'as long as this isn't some Astrology BS it should be interesting.'
Well, guess what: the first words out of Zocor's mouth were 'I don't know how much you know about Astrology or Numerology…'
Bob and I started cracking up and poor Mr. Zocor just stood there looking bewildered, wondering what was so funny.  We apologized and explained we were laughing at a joke Bob had just told.
So, needless to say, we initially were skeptical, but Bob had paid good money for Mr. Zocor's seminar so we sat back and listened.
As it turned out Zocor did use an element of Astrology/Numerology in his method, which he referred to as the 'Universal Day Number'. 

 He explained that while this concept was foreign to the vast majority of the population, he had proven, over and over again, that the UDN had extraordinary predictive power in all areas of life, including gambling, especially in horseracing where you had 'living and breathing' elements, i.e., horse and jock

. And post position (actual saddle cloth number to be precise), 'melded' with the UDN to predict the likeliest outcome(s).
But most everything else he talked about had strictly to do with handicapping the horses (though his UFON theory did enter into a few other calculations – see below).

His method used elements we had never thought of using, including some very interesting twists on past odds patterns and a rather bizarre take on early running position.
To make a long story a bit shorter, Zocor's method was extremely complex. He provided us with summary sheets, of course, and offered to help us with any questions. Bob called an airport cab for Mr. Zocor and we parted ways – Bob again apologizing for our laughter outburst at the beginning of the presentation.
Now, a quick note where the term UFON came from. It stands for United Force of Numbers, and Mr. Zocor used the term often.

His explanation is that once you have the UDN, other things will fall in place provided you followed his method exactly. He believed that all aspects of existence are governed by 'numbers', and he said his method was proof that UFON was an actual 'force', a 'predictive' force.
Also, as we delved deeper into the method ourselves, we discovered that he was also using a 'numbers' strategy with the jock and trainer elements of the methodology.
The next day Bob and I got together and went over the method step-by-step. We grimaced a bit when trying to figure out the Universal Day Number, mostly out of 'doubt' that such a thing could really mean anything, but we toiled on.
As I said, the method was very difficult, having 22 different steps to figure a race. We finally got around to handicapping a full card at Turf Paradise, which took us a couple of hours.
Now I know this is going to sound kind of 'predictable' but it really happened — the very first race we played we got a $38.80 winner. There were two horses selected (you will usually 'dutch' most races) and we bet both, the winner and a 12-to-1 shot who ran 3rd. Since we were just starting out with the method, Bob and I had bet only a $3 across the board wager on the winner, as well as the other horse, so we also got the $7.80 show payoff on horse #2.
***Then I said to Bob: 'Check back on this horse – I bet if we didn't use the UDN we still would have had the winner.' Well, lo and behold, leaving out the Day Number took us off the winner and put us on a 2-to-1 shot who ran 5th. So, from then on, we were sure to include the UDN.
After that great start, we hit two more short payoffs ($6.80 and $9.20) in the other four playable races on the card, and were definitely intrigued enough to continue to test the system.
*Bob and I handicapped cards all over the country for the next two weeks. It took us an immense amount of time but the results were very positive nationwide.
———————————-
****By positive I mean we were getting close to a 48% win rate and the ROI on Win was a very smart +53%.***
***On the Place the ROI was +24%.   Betting to Show produced a small loss.  Exactas hit at a 41.3% rate.***

———————————-
—Great results, BUT….Bob and I had had enough of applying the rigorous rules day-to-day, so we both agreed that we needed to have UFON 3000 programmed.
My programmer, an absolute genius who resides in Europe (he programmed RPG — Race Profit Generator for me), told us it would likely take him about 80 hours to complete the project and he had a few other things on the burner at present so it may take a while to deliver the final project.
The cost for programming to Bob and I, therefore, was pretty steep (@$7,400), but we now knew that UFON 3000 produced positive results, and having the software do all the work for us was an inviting prospect, indeed.
It took close to six weeks before our programmer sent us the finished Project UFON 3000 software. The software and the paper methods checked out perfectly – both came up with the same plays. We both breathed a sigh of relief – now we could test several tracks daily with just a couple clicks of the mouse.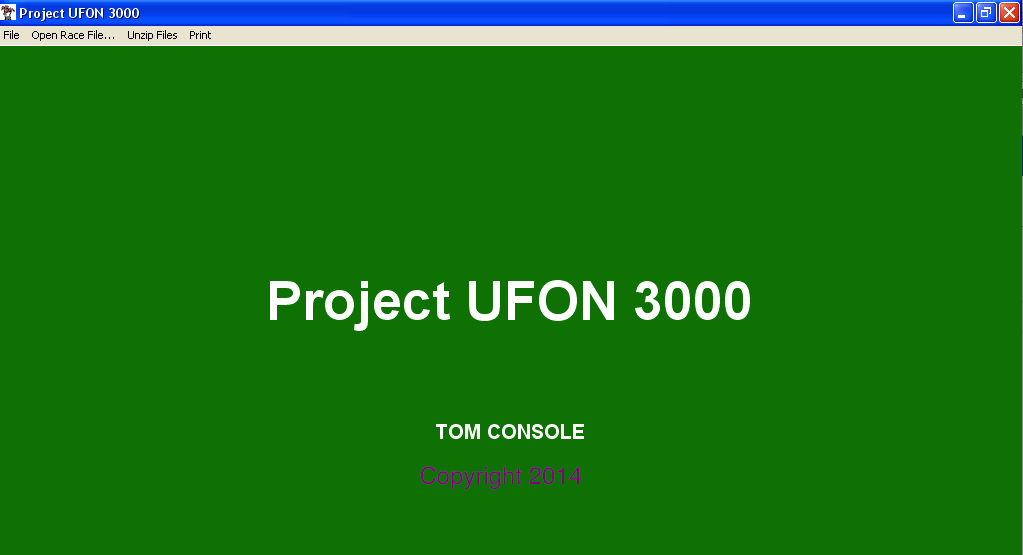 And test we did, and test and test and test and the results were marvelous!
Selected horses seldom ran off the board, which means we also cashed in on Exactas regularly. While the win prices for the most part were on the modest side, the consistency of the program paid us steady dividends. 

Runouts are almost non-existent:



*****Seriously, a 'long' UFON runout on the win end was three!*****
>>>>>>And here's one of the great features of the program:>>>>>>
On the very first screen you see, the software will tell you which races are playable – listing the horses' names and program #'s –
and it will tell you which races to pass.
Project UFON 3000 generates plays ONLY in what the software determines are BEATABLE RACES.
Below – when you go to choose a race, each track is neatly listed in alphabetical order.  Just double click and on the track you want and you are on the way!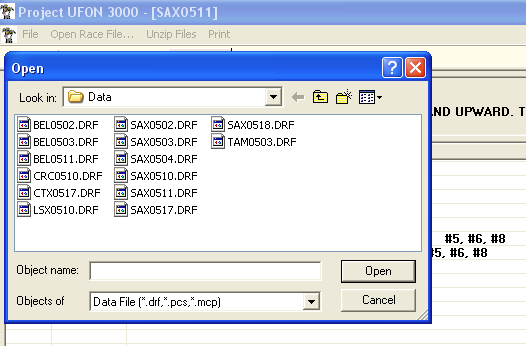 *BUT, that being said, another super nice part of the program is that even in races where UFON says 'pass', Zocor designed speed, class and trainer ratings, including a separate 'trainer power selection program', to provide you with the likeliest contenders and alternative selections in those races.
Here are a few other interesting aspects of the program:
#The 'scratch' feature sounds a bit strange and seems to go against what most of us have learned over the years, but you only want to scratch also eligibles.  You don't want to scratch late scratches out.
If there are late scratches, it will do 1 of 2 things:
1) If the late scratch is one of your picks, PASS THE RACE.
2) If the late scratches are in a race with no plays, you do not want to scratch them to see if a play is then generated.  If there are NO PLAYS to start, you do not want to get plays because of late scratches.  The only time this would be OK is if it is the also eligibles that are out.
>>Also, you will see in RED on the bottom the warning to pass the race if the #1 horse is out, whether #1 was a pick or not.  This seems like a weird rule, and I still don't quite understand Zocor's logic, but that fact is that is saves you lots of $$ by avoiding races that seldom yield a winner. So if there is no #1 in the race, disregard any UFON pick(s).
Most races where there are UFON plays are 2 horse bets – you can dutch in equal amounts or use

the dutching chart we will send you.

  You will get plays in close to 50% of the races.

Additional UFON Features – Other Software Programs Built In
*To make the program even more viable, Zocor added a few other things:
When you look at a FULL race onscreen, you have these columns:
Horse #
M/L Odds
Horse Name
then
BET: 
This column tells you the PROJECT UFON BET if any.  The horse will have the word WIN if you are to bet it to win, or EXACTA if you are to use it in an exacta box.  So 2 horses in each playable race will have the word WIN in this column and you are to Dutch them to win.  Three or four horses will have the word EXACTA in this column (the 2 win horses, plus 2 more) to use in an exacta bet.
BESR:
This is a system based on SPEED and looks for the best lines at today's tracks and adjusts from there.  The PICK in this system has BESR shown under the BESR column.
The last 3 columns are labeled

RACE CLASS

,

CLAIMING PRICE

,

PURSE

.
***These columns make up a THIRD SYSTEM programmed into PROJECT UFON using trainer angles.***
Any horses that fit the rules will have stats under these 3 columns.  The "pick" is the horse with the highest class showing.  So lets say horses 2,4,6,and 8 fit the rules.  They will have info under those columns.  You are to find (the program does this for you) the horse that shows the highest class race and that is the pick.
View/Print Your UFON 3000 Plays any way you would like.  Several 'View' and 'Print' options available!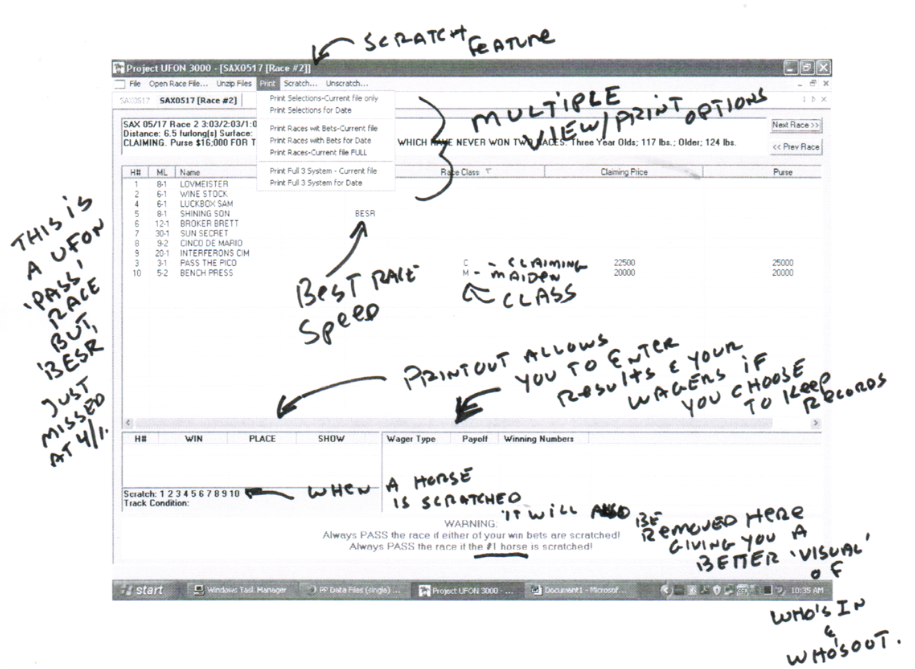 For example, let's say you just want to see the plays on the card you playing.  This print/view option show you just that.

There were two plays at Santa Anita on this day, and we caught two winners, one at a very nice price, and two Exactas.

And here's a nifty way to see the plays from any and all tracks on a given day.  Let's say you downloaded three cards for today. 
By using this View/Print option, you can view, usually on just one sheet, all the suggested UFON plays at these three (or more) tracks on this day!
A neat little calendar pops up, and you can choose the date you want to display.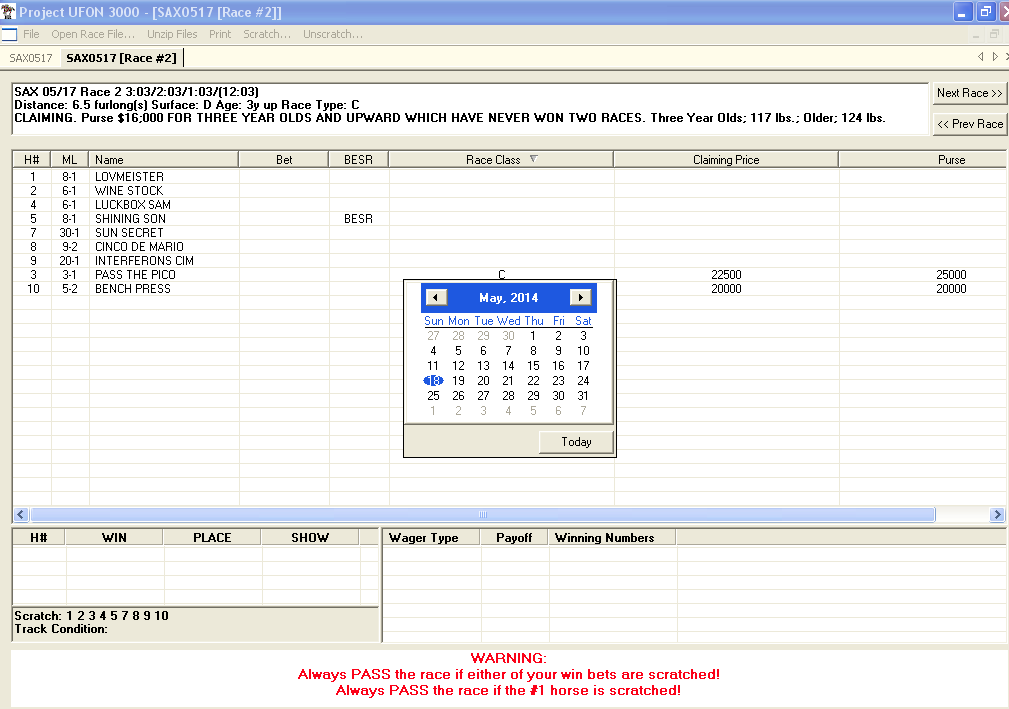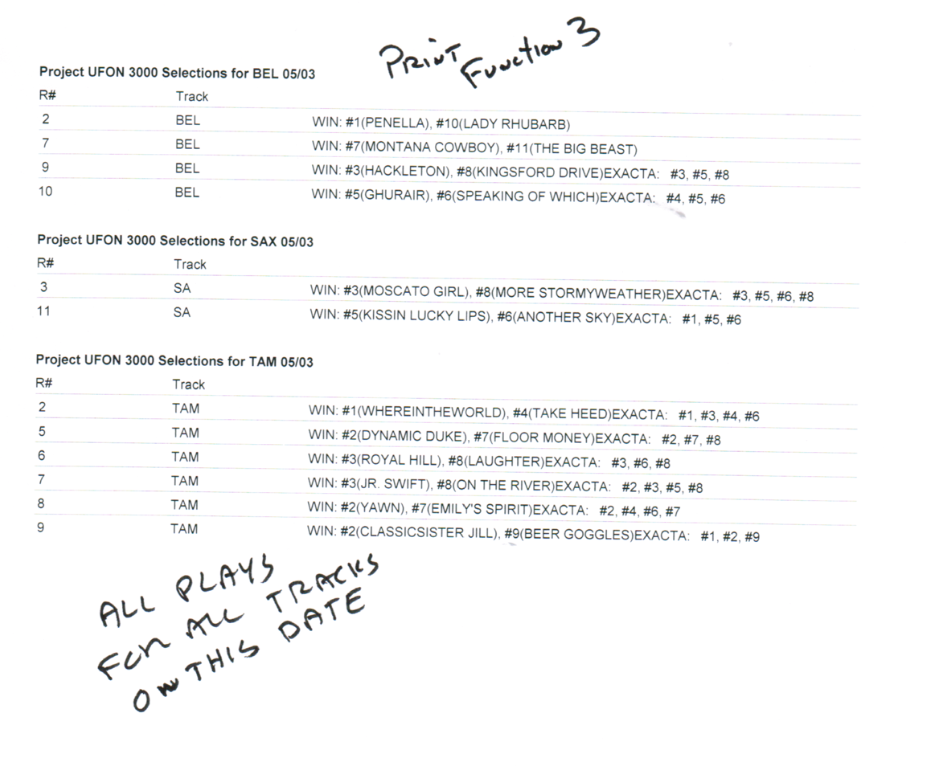 OK, how about every given race on any given card on just two sheets of paper. 
All the race conditions, official program numbers, morning line and suggested wagers.  Your own 'mini-program' from UFON!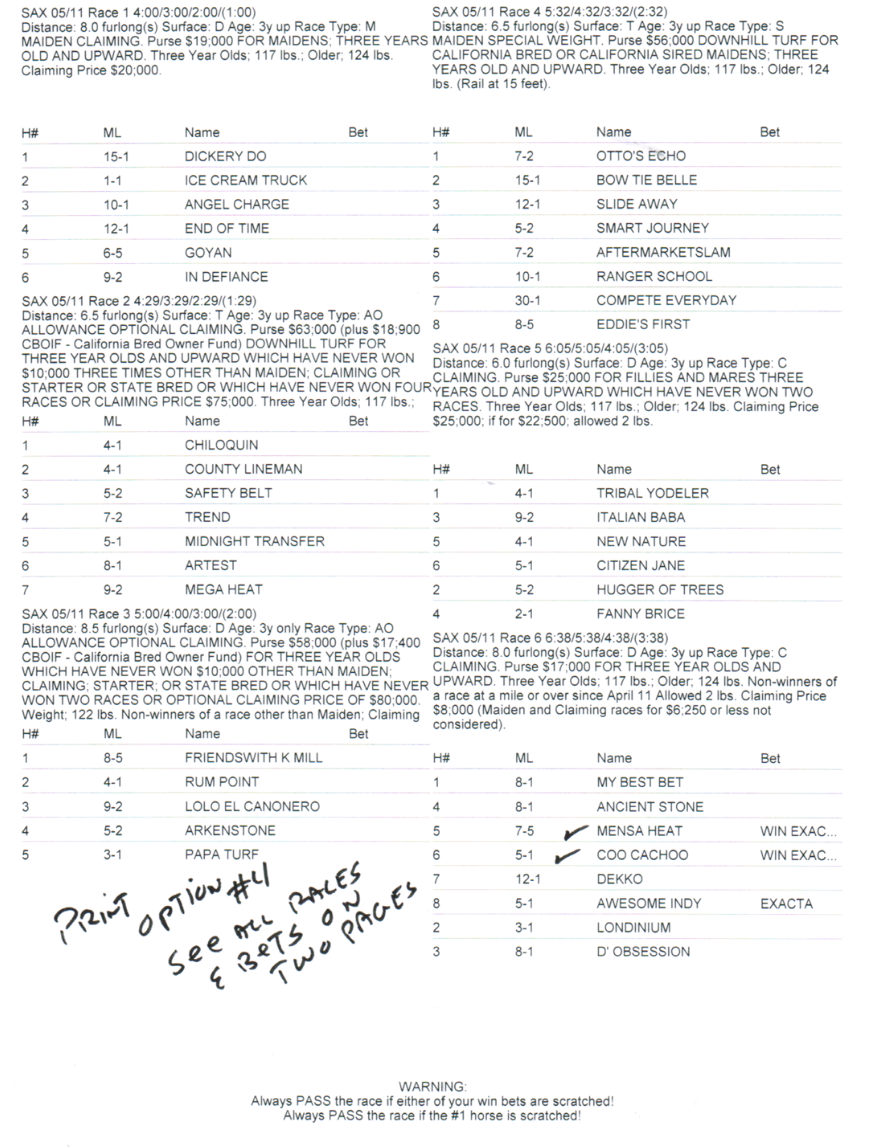 And, lastly, you can print out the FULL race details, which include the suggested UFON wagers, the BESR (best speed in race), Race Class,
Highest Recent Competitive Claiming Price and Highest Recent Competitive Purse Level. 
You can do this even on races that are 'passes' for UFON selections. 
This additional info is a program all unto itself based on trainer patterns and their maneuvers. 
If a horse has figures in all three columns, that means they qualify on the trainer pattern program — the highest Race Class is the play. 
You will get some great prices with this feature.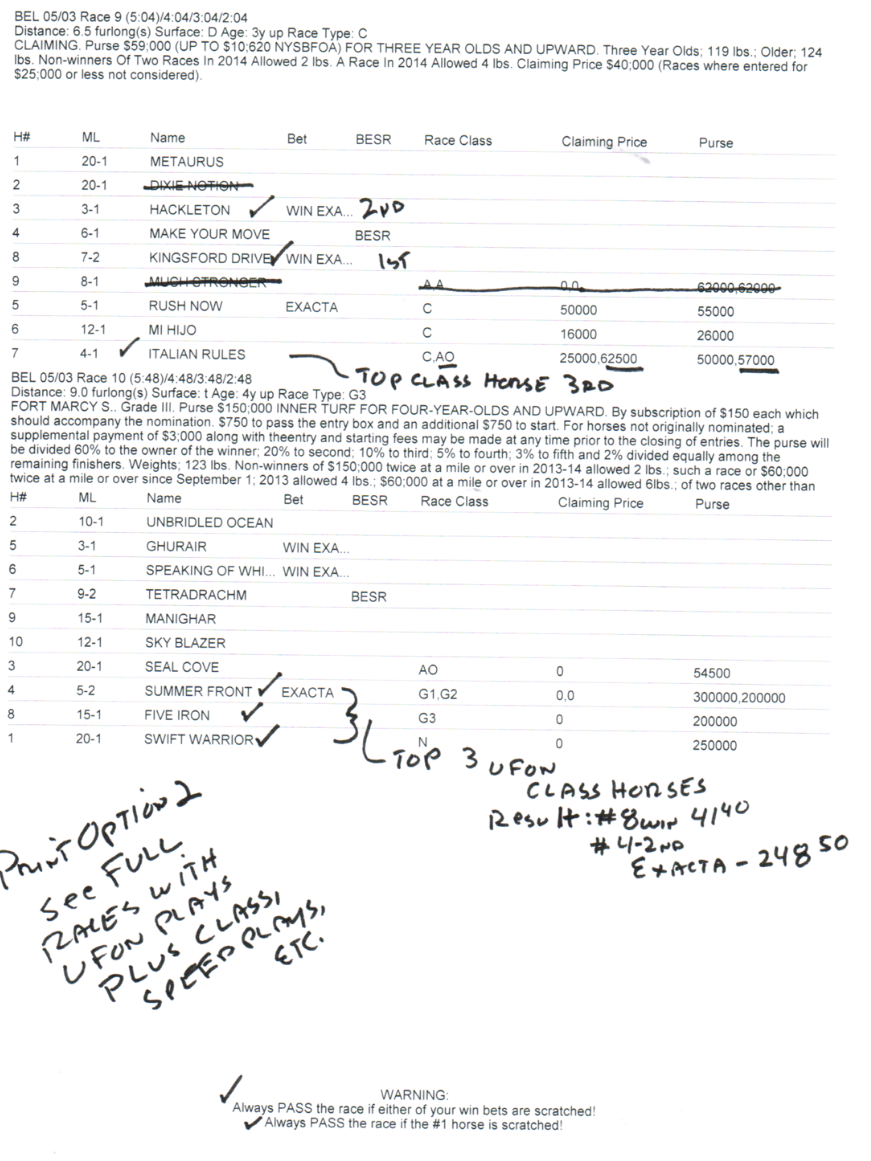 Here are what letters mean as far as race class:


Race Type                     CHARACTER  XX      2 G1- Grade I stk/hcp
G2- Grade II stk/hcp
G3- Grade III stk/hcp
N- nongraded stake/
handicap
A- allowance
R- Starter Alw
T- Starter Hcp
C- claiming
CO- Optional Clmg
S- mdn sp wt
M- mdn claimer
AO- Alw Opt Clm
MO- Mdn Opt Clm
NO- Opt Clm Stk
So that columns shows horses that fit they system.  If there are more than 2, you should use the 2 horses that show the highest class in that column.
Below – A Not Untypical Day at the Races with UFON
UFON is a highly productive winner producer, using both the UFON picks and the built-in Trainer Angle Selection program.  On May 17 at Belmont UFON produced many, many payoffs.  And while every day certainly will not be like this, many will be.  You may have a difficult time reading all my scribbling on the below sheet, so I'll summarize beneath the chart.
OK, so note that there were just two UFON plays on this card (9th and 12th).  Because one of the UFON plays in the 9th was scratched, that means we pass the race.  The only remaining play, in the 12th, saw Schooyard Dreams win and the other UFON horse run 2nd — odds on and 5/1, short prices, but who's going to argue with a winner, and the $10.20 Exacta by boxing just two horses. 
Several of the other races were PASS races with no UFON play,

but the supplemental Trainer Angle Selection program had a field day, as it often does. 
A 2nd and $32.80 Exacta in the 1st, a short-priced BESR (best speed) in the 2nd, a 2nd at 4/1 in the 3rd. 
A $10.20 winner in the 4th.  A $7.40 winner + $21 Exacta in the 5th.  A $6.80 winner in the 6th.  A $4.50 winner in the 7th.  A 2nd and $23.00 Exacta in the 8th. 
A $14 winner in the 10th and a 2nd in the 11th where the BESR horse won at $11.20.
So….you think you want to give this thing a try??  Well, I'm assuming the answer will be YES, as you risk nothing with our full money-back guarantee,
but we also  have a couple other incentives to offer you:
>>>>>To make the wagering/money-management aspect even easier for you, we are going to include

FREE!!

, our Horse Racing Handicapping Dutching publication, which will show you exactly how to maximize your profit by using this strategy,
>>>>>>as well as Dr. Bob's Smart Bet Professional Formula, which has been updated to include dutching options.
  So you have all this versatility on a program that produces selections that click close to 50% of the time. 
I can promise you that regardless of what track you are using Project UFON on, you will enjoy the same success as we have. 
We have priced it very reasonably at just $199 –  so get your copy today.

  And contact me thru RPM with any questions you may have. 
Thanks, Tom