$48.00 – $69.50
An Extremely profitable system for Claiming Races from one of the greatest minds in the game
Description
A Letter From Tom Console – A Very Special Offer for My Preferred Customers!  Software version now available, too!!
I'm deeply appreciative of your confidence in my products, and now I want to do something for you….
I have a 2-Rule (just two rules!) System for younger Maidens that has shown
steady profits for years!!!!
And….I also have a Method for older Maidens using Public Selectors that
hits close to 55% (that's 55%!) Winners!!!!
So now you're all set on the Maiden side of things, BUT…
I'm also going to include, FREE OF CHARGE!, a never-before published,
extremely profitable system for Claiming Races from one of the greatest minds in the game –
Lou Halloway! FREE!!

Dear Friend:
Thank You for your patronage over the years.  Many of you have purchased my products, from my original 'TrueTenders' to my FG Method!  to my various software packages..
I sincerely appreciate your business and all the great letters and e-mails.
It really is a good feeling when your customers show the kind of confidence in my products that you have.  And now I want to do something for you

.
As you know, folks send me methods all the time to evaluate — and, quite honestly, very few pan out.  But every once in awhile something really good comes along. 
And this time, it was more than just one 'good thing.'
I got an email from a client who lives only 40 miles or so from me. 
He told me he had several systems of play he would like to share with me and could I meet him at the local racebook.
Since I was heading for the racebook the next day anyway, I said 'sure, I'll meet you at the food court at @1 p.m.'
Right on schedule, a tall, older gentleman approached me and introduced himself as Bill Iverson.
He was clutching a leather organizer and after ordering a couple of cold drinks, we found a table in a sunny area of the patio where we could talk.
During the course of our conversation,
he told me he had used three systems of play exclusively for years and was thinking of having them published.
He pulled out several type-written pages from his case and laid them in front of me.
'This one', he told me, pointing to a page that was was entitled 'TMM', 'is one of my favorites – it has only two rules. 
I got it from a friend years ago and it has made money for me every year since.'

  I asked him what TMM stood for.
He grinned and said 'Oh, that's just something I made up — I call it
The Maiden Miracle

.'
He had results documented starting some 35 years back and, yep, almost every racemeet he played with this system returned a profit.
It was restricted to younger Maidens, mostly 2-year-olds and the rules were ridiculously simple and, yes, there were only two of them. 
The win rate was 43%. The ROI +23%
Then he pulled out another couple of pages and said 
'This one is for the older, more experienced Maidens.'
**It averages close to 55% winners

— if you publish it you can just call it
The Maiden Profit Machine

,
because it does turn out profits in a machine-like fashion. 

You get a lot of chalk but at this win rate a profit is assured.'
So I glanced quickly at the second method.
The Maiden Profit Machine

actually used a public selector (he used the DRF Consensus but said any quality public handicapper or consensus would do).
I immediately recognized that the system, as written, would land a very high percentage of winners, and the rules were extremely easy to follow. 
Like he said, a lot of favorites, but a winner is a winner –
and a winner close to 55% of the time!

 

The overall ROI on the Win end was +35%.
He went to his briefcase once more, this time pulling out a thin 'booklet'.  'This is my baby,' Bill smiled.  'You remember Lou Halloway?'
I said of course I did —
he was one of the most prolific system creators ever to grace our sport, and I still use several of his concepts in my handicapping and software. 
'Lou and I were friends, years ago when I lived in New England.
He published some doozies but this one he never had published, not because he didn't want to,
but he had submitted it to a magazine that had already reached its quota for articles and it was returned to him.
At the track one day he said,
'You know, this thing is too good to put out to the public, and I'm only going to get a lousy $100 for the article, so let's just keep this one between you and me.'
This one was called

'The Tri-Factor System'

and it was designed for claiming races, from $4,000 up to $40,000.
Glancing at Bill's records,
I saw that the win mutuels were high, averaging close to $15

, and the place and show prices were heavy-duty as well.
Profits were made in all three slots, win/place/show, and the overall win percentage was close to 35%.
The rules were very logical with a little 'twist' here and there that I hadn't seen before.  And,
it is very simple to figure.
Dick told me he had been earning a nice supplemental living for years strictly off playing these systems.
At 75 and not in the best of health, he told me he had always wanted to be a 'published' author.
A novel was what he had in mind, but he never got around to writing it.
But he did have these ingenius systems, and wanted to see his name in print before he headed for that big racetrack in the sky.
Although I consider myself a very good system writer, I've got to admit that what I saw here blew me away!
He walked me through the Tri-Factor rules (there aren't many) and we watched as system qualifier after system qualifier either won or hit the board. 
Only rarely did The Tri-Factor top pick not at least run 3rd. 
And, we spotted four Maiden Profit Machine qualifiers — two won ($6.40 & $6.20) and the other two ran 3rd.
Bill and I became quick friends during our brief meeting at the racebook.
I really wanted to do something for the guy, and suggested that I market all three systems as a 'package' to my customers.
I didn't want anything out of it other than my expenses, but I also wanted to give my loyal customers a break. 
If these were retailed separately, given their quality,
you would likely be talking $150 or so,
but Dick agreed that provided I offered the method only to my best customers,
***I could retail the two Maiden Methods for just $48! and throw in the Tri-Factor for FREE!***
I have since tested all of these methods over several thousand races and my results were very similar to Bill's. 
You will love the simplicity, the high win rate on the Maidens Systems and the high prices on Tri-Factor.
So my offer to you is this:
You can get three of the absolutely best methods of play I've ever seen for my cost, just $48.
If you would prefer the

software version

, it is just $69.50  
The Software, of course, does everything for you, and is very, very consistent.  Below a nice winner, Hey Pretty Girl, at Santa Anita.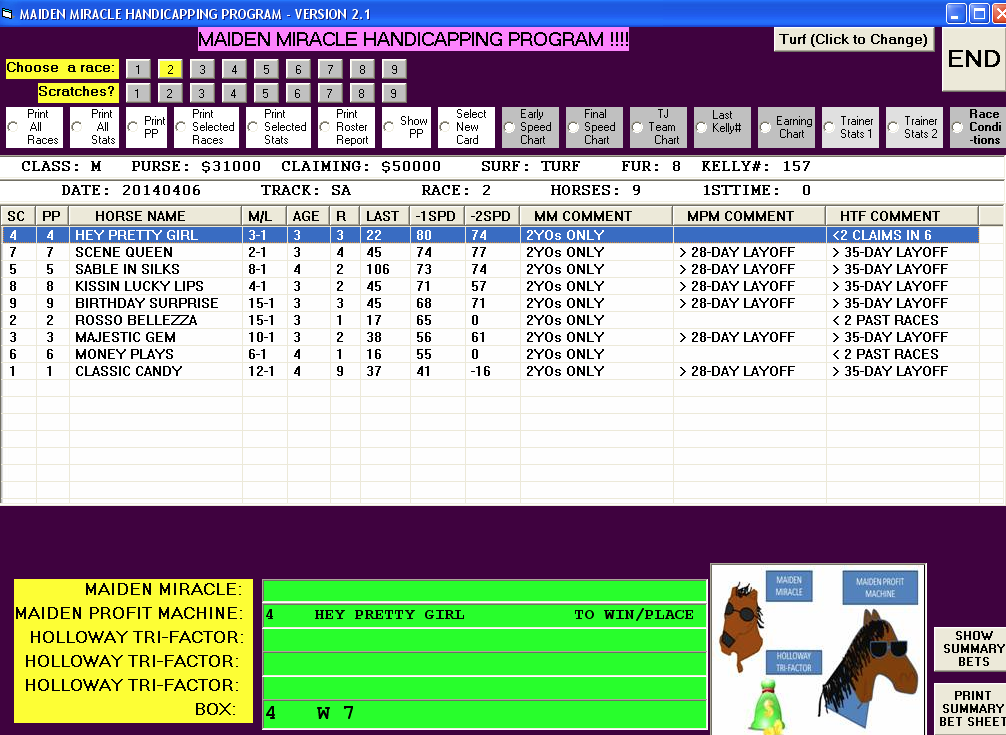 They will be shipped out to you First Class mail on the day you order.  You can order TOLL FREE at 1-800-696-0067. 
You will enjoy and profit from these methods, friends, that I can promise you, and Bill's wish of being a published author will also be fulfilled. 
You can also order at the RPM website  www.rpmhandicappinggiant.com.
Best of Racing Luck!
Tom
Additional information
| | |
| --- | --- |
| Consol 3 Pack | System, Software |