Description
Editor's Note:
 As we have told you in the past, we are in the fortunate position, being the largest distributor of handicapping products in the business, of being on the receiving end of some great methods that come from both system authors worldwide and from our regular customers

.  One of our longtime customers, John Oldham of Cheshire, CT., has provided us with a super-duper system that is not only consistent, but also gets great prices.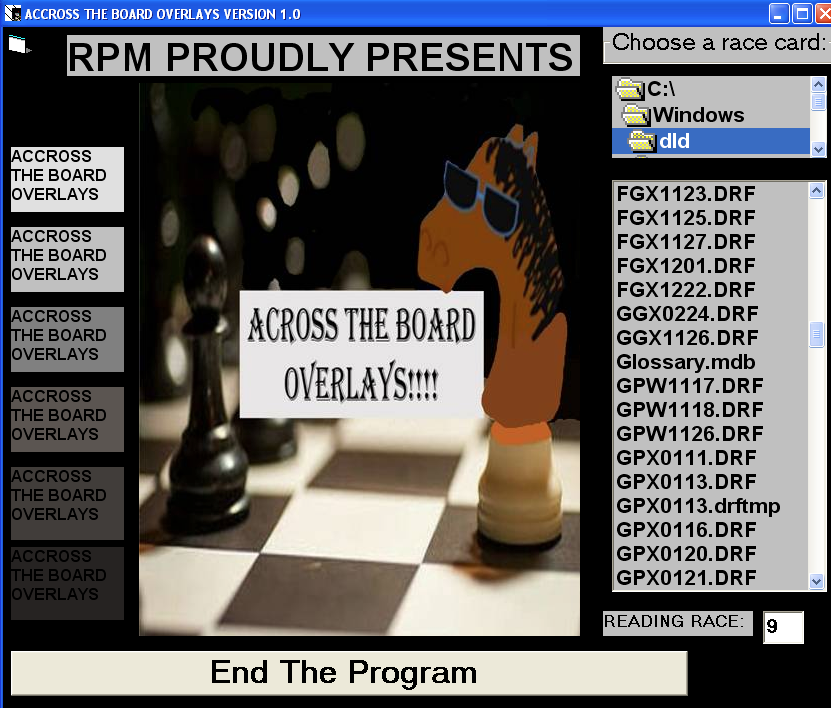 ​
It's called
Across The Board Overlays!
It's based on the theory that past odds can predict future performance, and while we have seen other methods that operate on the same theory, this system is the most accurate and best price-getter we have analyzed.
Take a look at some of the results in the text below – this one really is a dilly!
BUT…
That's Not All!!
With your Purchase of Across The Board Overlays, you will also receive,
FREE of Charge!:
1)  The Donelly/Alberti

Mystic Edge Prime Turf Play Stategy!

–

a touch of 'Magic' combined with proven turf play logic.

 A $49 value
2)

Mark Cramer's

Place Bets at High Odds! –

a really cool place betting strategy from the 'Master'

. $45 value
3)

Mark Cramer's

Some Thoughts on the Earning Per Race Factor! –

How Much does EPR really matter? – a lot! according to Mark – great stuff here

!  $45 value
4)

Tom Worth's

Original The 2-Speed System! – yep!  

We've got it!  A Classic that has performed brilliantly over the decades!

 $60 value
5) The Surety System –

the best-ever 'Repeater' method ever!  Three profitable situations to determine when a horse coming off a win is likely to pop right back!

 $45 value
A great VALUE — YESSS!!  And a package that will certainly boost your HQ (Handicapping Quotient)!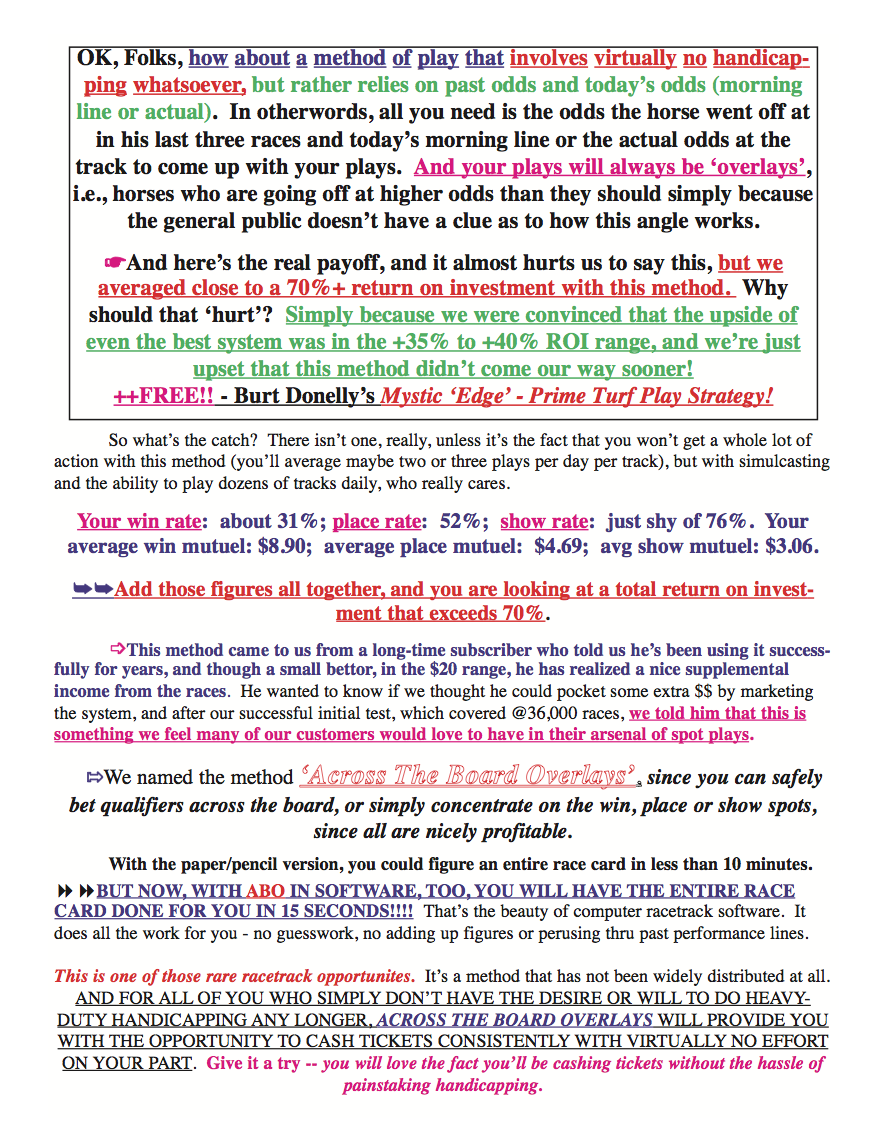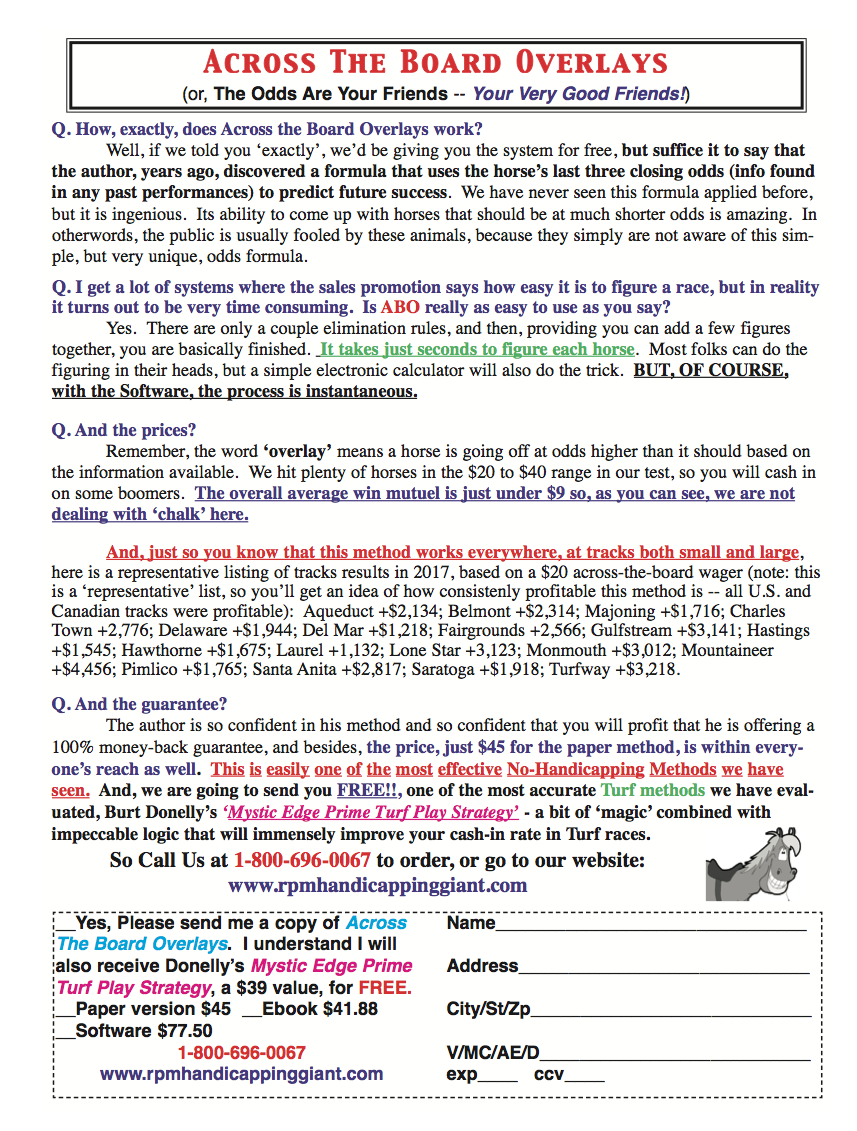 The Software!
The ABO Software does all the work for you!  Plus it provides other features, like a great longshot program, as well.
The idea behind ABO is that previous odds (from the horse's last three races) are excellent predictors of future performance.  When a horse qualifies, the program (or paper method) provides you with an odds range that would make this horse a viable overlay.  Here you see that the #8 horse, Appa, qualifies after all eliminations and is a play if the odds fall between 6/1 and 18/1.  At 15/1 on the morning line he fit perfectly in that range.  He ran 2nd to pay $23.  If you look at the studies for different tracks listed above, you will see profits were realized playing to win, place and show.
ABO also contains an excellent longshot program.  Here Amplify got the job done at $15.

ABO Paper/Pencil  $45
ABO Ebook  $41.88
ABO Software  $77.50