Sale!
$54.88 – $97.50
Speed Maps are used by

Professional Players

,

bookmakers

, jockeys,

stewards

,

owners

,

trainers

and

ANYONE

wanting a better understanding of the likely 'pattern' of a race.
Description
What is a Speed Map?
>>

Speed maps are used to predict the running position of each horse in the field.

<<
They are also used to determine the likely pace of the race. When it comes to finding the winner of a race, both of these factors are deemed critical by expert form analysts.
Speed Maps are used by

Professional Players

,

bookmakers

, jockeys,

stewards

,

owners

,

trainers

and

ANYONE

wanting a better understanding of the likely 'pattern' of a race.
'Settling'
Successful Speed Maps rely a lot on what happens in the opening stages of a race, from the moment the gates fly open to the point when the horses have sorted out their order.
There are many factors that can determine where a horse will 'settle' in the run – some horse are more versatile and can race anywhere whereas others may only know one way to race.
Aside from their own idiosyncrasies, a horse's speed from the gate speed and its post position are two of the most crucial factors influencing where they will settle in the running.
>>>

Watch The Video – it's a bit 'rough/fuzzy' but will give you a good look at some of the prime features   Click the arrow below:
Early, Mid, Late – Pin-Point Pace & Position Projections
With Speed Maps, USA you will know the projected running position of EVERY horse in the race at
EVERY

call — as well as a separate

Projected Finish

screen

that is based on the accumulating points each horse earns by his/her prominence, or lack thereof, at every call

.
Here's a screenshot of the 'numbers' part of the program.

 

You can see that at each call (2FPS = 2-furlong call measured in feet-per-second FPS, 4FPS = 4-furlong call, etc.).

  The projections are based on these numbers.  You can see here that the public pretty much ignored these horses.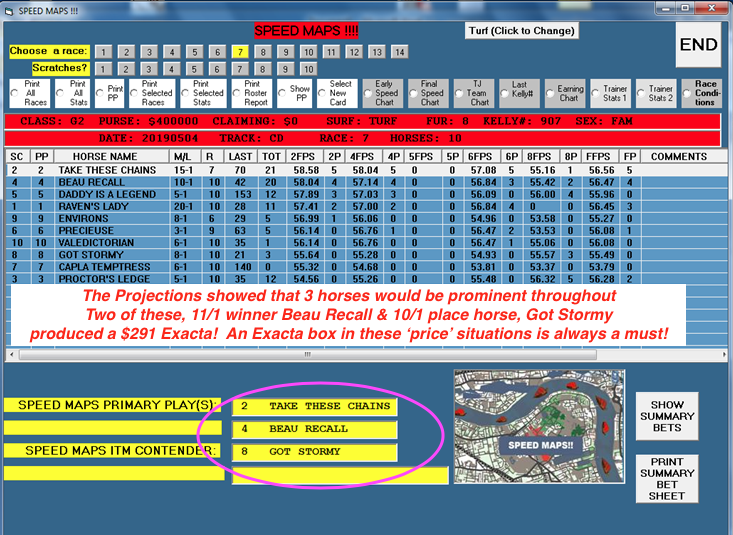 "Extremely innovative.  This is like 'mad scientist' stuff, but instead of evil, Speed Maps, USA does nothing but good for the player's bankroll.  Some true 'genius' went into developing this one." Tom Console, Handicapping Author
Statistics
The Speed Maps Software final projection will include four horses if, indeed, there are four ratable horses in the race. Our database studies show that one of these four horses will win 91.7% of the time, so you invariably end up with the major contenders in most races.
Wagering Situations
There are many ways to use Speed Maps to improve your cash-in rate.

Remember that the horses each receive points, which show up in the TOT (Total) column, based on their projected performances at each call.

If you are looking to play just one horse, one of the best wagers we have found in our testing is to look for horses who have the top number when sorting the TOT column, and that number is at least 4 points higher than the second-highest scorer.

A win and place wager, with more on the place than the win, is the best way to go.

In our studies top scoring horses with a 4 or more point edge with morning line of 7/2 or better returned a +22% ROI
In Exacta situations, when looking at the main screen only, the top three horses listed make for a good box, though in bigger fields (8 or more), it is a good idea to click on the Speed Maps picture at the bottom right of the screen and view the final projection and add the fourth horse into that box as well.
In our studies, when playing 4-horse Exacta boxes, where at least one horse is 4/1 or higher morning line and at least one other is 5/1 or higher, a +24% ROI was returned.
>>>>>

Act Fast – Get a Great Price!!!

<<<<<
The retail price will be $197, but order within 14 days and your price will be just

$148.!
This is really, seriously, definitely, without a doubt, no two ways about it,

a major innovation in precise prediction of any type of race, turf, dirt, sprint, route —

mud & slop don't even deter its abilities!
Call us at 1-800-696-0067, or order from our website.
You can use our 3-payment/no interest plan if you wish.



Thanks, Dave & Len
Speed Maps Software  $148
How to Construct Your Own Speed Maps Ebook  $54.88
Additional information
| | |
| --- | --- |
| Speed Maps | Ebook, Software |