Sale!
RACE PROFIT GENERATOR, OPTIMUM!!

(Now – with Calc-Speed Generation 2.0©)
Description


→>>Order Quickly and get a FULL $100 off the retail price!
It performs millions of calculations in less than a second!
It utilizes the most sophisticated handicapping database EVER,

'auto-tuning'

itself to focus on consistent winning situations!
It analyzes every horse in every race using 1,200+ crucial handicapping factors.
It shows you exactly what to play and how to play it,
and,
most

importantly
it WINS

– providing you with a consistent income from the races –
want one for your computer?

Read on…..
Selection Accuracy using the program's multi-faceted Optimum 1 Screen below — and for even more accuracy, use RPG-O's Database Modeler

→The Top-Reviewer Gambling System Newsletter says:
September, 2015
The Race Profit Generator software has not been able to make me a millionaire overnight,

but it certainly has provided me with a very steady and healthy income every month.

On average, I need to spend around 15 to 20 minutes per day working the system

. You can choose to either withdraw your daily profits or re-invest it for even higher returns.

Tom claims that his software is able to make 10% to 30% every month which I have found to be a very realistic target.
If you are looking to make at least 10% return on your money every month and have complete control over how you allocate your profits, then Race Profit Generator would be a perfect program for you.
Cheers,
Lenard
→Jeff Sillifant

, one of the top handicapping authors and system creators (Cash Cluster, Max-21, Lifeline Discovery, etc., etc.),

sums up beautifully his experience with RPG, Optimum:
√Seriously, this is a good one and Tom, who is one of the most honest guys in the business, even offers a full money-back guarantee if for any reason you are not happy with the software.


Take Care,

Jeff Sillifant
Faster is Better!  Calc-Speed Generation 2.0©!
Tom has incorporated a sophisticated, state of the art data-speed 'turbo' engine into RPG, Optimum.

 

Calc-Speed Generation 2.0

makes it possible to do up to 170 times the number of calculations in less time than the old technology

.  As such, Tom was able to expand the number of handicapping factors used in the software tremendously, because

Calc-Speed

makes it possible to process hundreds of thousands or millions of calculations in a fraction of a second. 

Higher Speed combined with Higher Capacity results in much more precise data and selections.




 
RPG, OPTIMUM provides you with information that only a very tiny fraction of racetrack handicappers possess.  For example:
More Info screen #1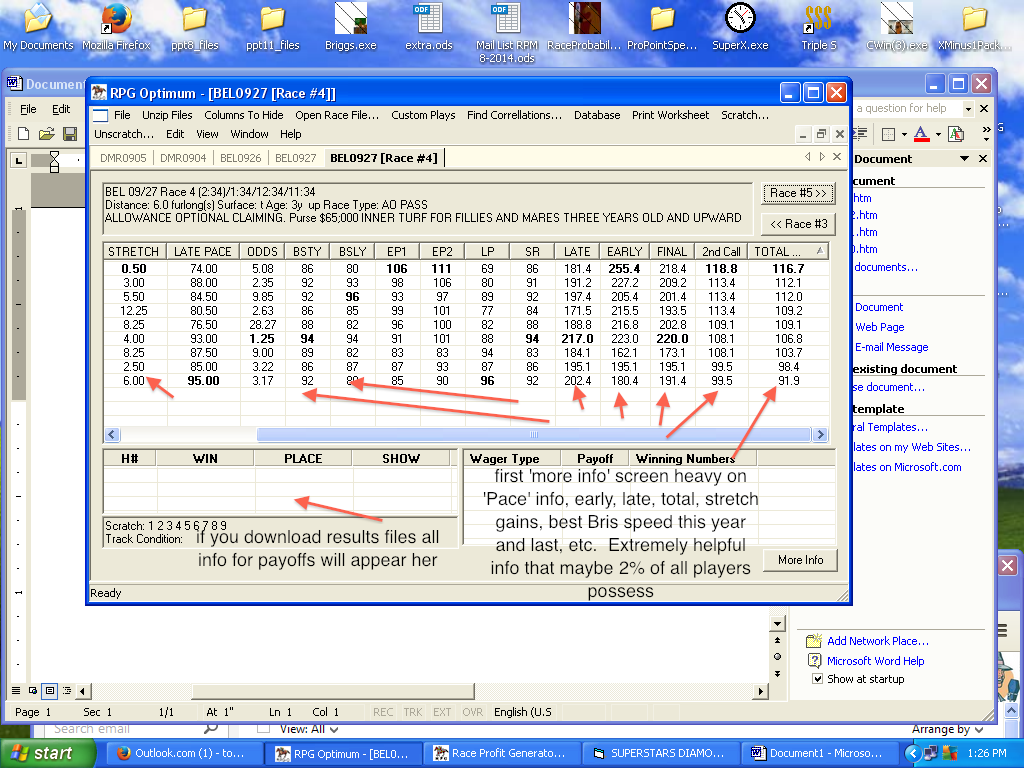 More Info screen #2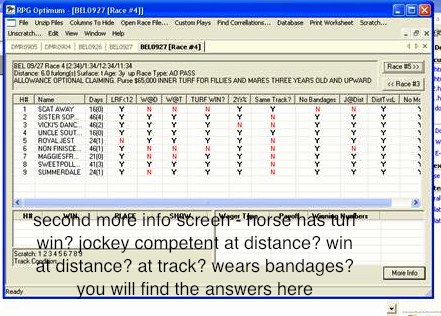 Custom Play screen — create your own systems – When you click 'Custom Plays' on main screen RPG-O will show you all races which fit your parameters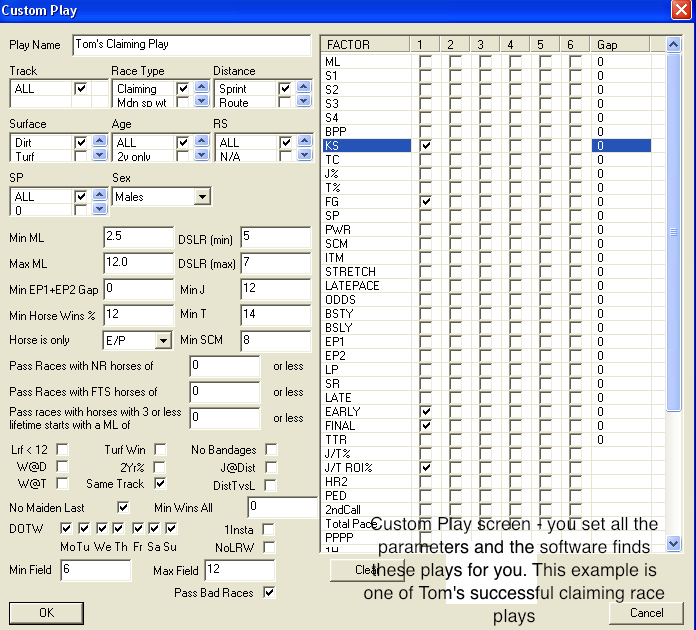 The Only Voices Who Really Count — Our Customers
We have had dozens of customers respond with positive comments — Here is just a sampling:
"Tom – have had a chance to look at all my back data now, and am pleased as punch with the results.  I was able to find winning situations at every track I had data on, with ROI's ranging from +9% to +151%.  The modeler and Rate Win 2 screens are scarily accurate – I found that if a horse is listed with a 41% or higher chance of winning, you can play all of those runners — straight win bet — regardless of odds, and end up with a positive ROI in the 17% to 18% range.  And this play involves absolutely no thinking.  Good stuff, Tom, this is a real keeper!"  Toby Arnett, tester #4
"Hey Tom, about the only suggestion I would have is to publish a few more examples in the manual to make everything crystal clear.  Not that Optimum is difficult to use; it sure the heck is a lot easier than that $1,200 program I 'invested' in, but I think some concrete examples of how to locate winning plays would get your customers on the right track quickly.  RPG is a masterpiece — it's a money-maker, regardless of how you use it.  Thanks for letting me test it."  Frank Ardaiz, tester 22 (note: additional examples are now included in the manual)
"This is exactly what I have been looking for, Tom.  I like things fairly simple, and I have tracked over 800 win bets (power plays only) at 18 different tracks.  I only bet morning line odds of 2/1 or higher.  Out of the 800+ bets I got 256 winners, @32% win rate.  Average mutuel was $7.66, so for every $2 wagered I got back $2.45.  I threw out the two longest prices, a $31 and a $26, which would make the profits even bigger, but I also thought they  may skew the sample.  So using RPG in its simplest format, I enjoyed consistency, decent payoffs and nice profit.  I will get into the modeling aspects later and let you know what I think.  Thanks," Harvey Leed, Great Britain
"Oh man, I don't want to get overly excited, but this baby really smokes!  I got so tired of trying to make heads or tails of that real expensive program I got last summer, that RPG was a welcome relief since it is so darned easy to use.  The correllations and modeling capabilities are out of this world.  I mean, I have found dozens of profitable plays all over the country by testing different criteria.  And what is amazing is that often, very often, you can find winning situations just by looking at the model.  So far the FG, BPP, J%, S3 and PWR have proven the filters that find the most profitable plays.  No, I'm not going to quit my job, but RPG-O has already added a couple hundred per week to my paycheck.  When people realize what you've got here, they're all going to want to own it.  Good work, as usual, Tom! Oh, and that longshot feature — geez, how in the heck did you come up with that!!" Henry Dayton, tester 30.
"I have averaged @$45 per day profit with RPG on small wagers, mostly straight win and place bets." Jimmy Christian, Westwego, LA
".

..the best program I've ever used, and I have them all!" Stan Masters, Ft. Worth, TX
"So this guy, who was always a loser, is suddenly cashing all these bets.  I asked him what the heck was going on, and he said the new 'RPG'.  That's when I called you to order.  Now that I know his secret, how about keeping it from everybody else!  Just kidding, but this is one hekuva program!" Pat Bartolotta, Mutuels Manager, Meadowlands, New Jersey
So now it's up to you. 
→If you are interested in adding income from the racetrack to whatever other income you have;

i

f you are interested in having knowledge that far less than 1% of even the serious players out there possess;

if you want to KNOW what wins at your track;
if you want to finally wager with confidence, collect frequently and also have the option of customizing your own profitable plays, then, you know what, you are going to fall in love with

RPG-O

.

 
So give it a try. 

You have nothing to lose and everything to gain

, and as a horseplayer, that's probably not a situation you've been in too often.
→>>And to help in your decision process, if you order within the next 10 days,

you will save a full $100 off the retail price of $395, so your price is just $295!

 

And you can make up to four payments if you wish.
Give us a call at 1-800-696-0067. 
We will get the complete RPG-O Program and user manual in the mail to you right away – or you can download the program.

  You are going to wonder, in short order, how you ever lived without RPG-O. 

It truly will transform your game

. 

Give us a call.

  Thanks!
Oh, and Check out the additional data below from the User's Manual if you wish
The Race Profit Generator Optimum   $395 

$295
[wp_eStore_add_to_cart id=263]
Below find some of the technical details of the program —  If you want to do nothing but use the Auto Plays you will do well, but if you really want a bump up in your ROI, check out the modeling and other Data details.
RUNNING THE PROGRAM & the 'Auto Plays'

Once you have downloaded from BRIS and unzipped the file, you can now open the file and view the races. From the MAIN SCREEN, click OPEN RACE FILE. A new box will appear showing all your unzipped files. Click the one you want to open. You will be taken to a new screen. This screen will have the race numbers listed from race 1 to the last race. You may also see a horse listed in some races. This is a "Spot Play" that you can use "out of the box". You will be able to come up with stronger plays, as this selection is a generic play made for ALL tracks. It has done well at all tracks too, but if you build a model and correlations designed for YOUR track, it will do better. But for starters, this play is good. The plays you may see are as follows: