$45.88 – $138.00
Pro Point

Speed

Wizard Software!

Utilizing 'Beyer-Think' Patterns to Beat The Races –

Speed & Pace in a Completely New Light
Description
'Mystery' Man

Dr. William Nill's

Methodology Finally Revealed!

The Curious case of

Dr. William Nill

There are a number of legendary handicappers in our game, most of them known by their contributions and/or publications that revealed new and revolutionary information to the average player.
 Below – Double Qualifiers are awesome plays with PPSW — Spirit Of Ten  popped at $9.20 and 2nd-rated Circling ran 2nd – $58 Exacta.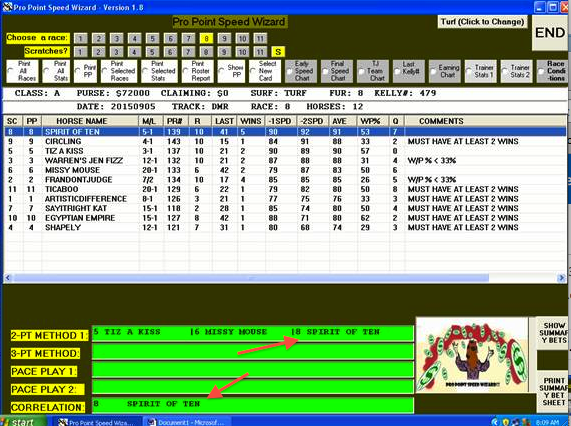 Everyone is familiar with Dr. Sartin, Dick Mitchell, Tom Brohammer, Tom Ainslie, Steve Davidowitz, etc. etc.
but some of the true geniuses in the game have pretty much flown under the radar

—
→
h

andicappers who may have never published their theories and were normally known only within a small circle where the true 'Pros of the Pros' interacted.
One of the most fascinating stories, involved a long-time handicapper by the name of

Dr. William Nill

, a retired mathematics professor and Phd. By 'long time' we mean that he had been handicapping for roughly 50 years.
BOOM!  This is what you get when you use a quality software program — no handicapper in the world would have come up with this one!  Pro Point Wizard did!

6 Oh What a Delite 107.20 32.60 11.20
5 Lorilee 5.40 3.40
2 Red Sole Diva 3.20
Wager Type Winning Numbers Payoff Pool   

$2.00 Exacta 6-5 475.80

 

  $1.00 Superfecta 6-5-2-1 2,963.80

    

$2.00 Trifecta 6-5-2 1,823.80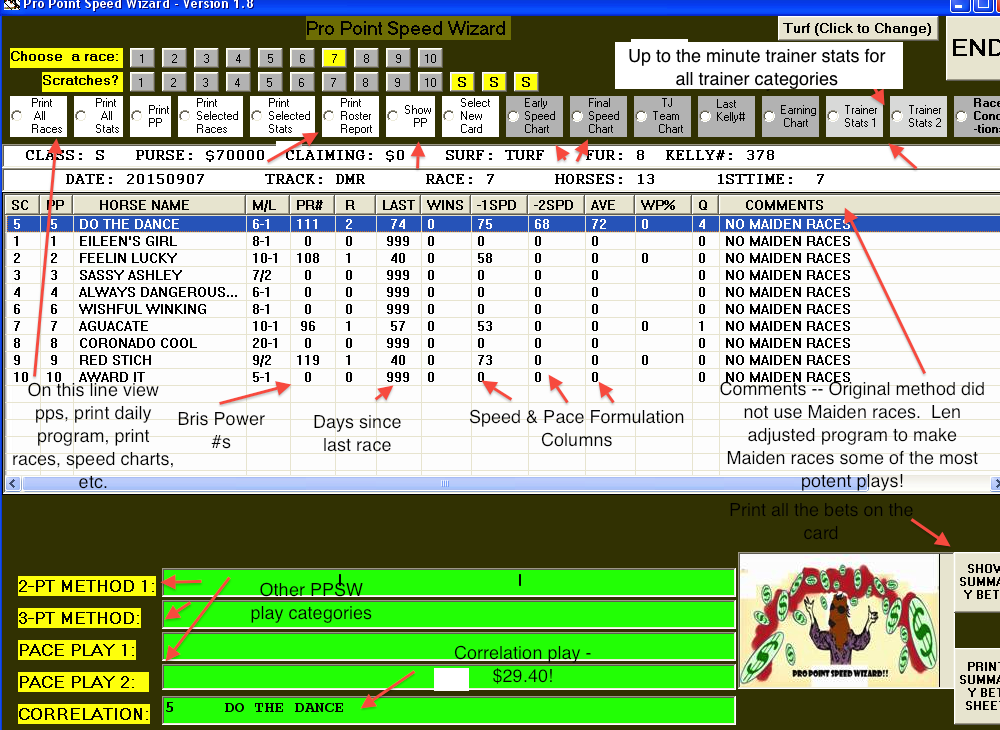 →More on that soon, but here's the rest of the dope…
Now Dr. Nill was already a very successful handicapper.   In fact he belonged to a small group in the late 1970s to early 1990s which rumor has it involved  eight East Coast and four West Coast handicappers.
He had developed a rather remarkable set of speed numbers with the help of his compatriots, and they targeted several tracks in the US and Canada and reportedly made quite a haul over a several year period.
Now Dr. Nill kept mostly to himself.   He was very reserved according to the people that knew him and did just about everything he could to stay out of the spotlight.  In fact, in the early 90s members of his group started seeing less and less of him.
Why?  Well,  when the Beyer numbers became a standard feature of the Daily Racing Form Dr. Nill  found that the vast majority of players were using these numbers simply at face value.
What this told him is that the 'crowd', which is always on the wrong side of things, was being swept up in this Beyer phenomenon and overemphasizing the figures which was creating great value on other runners. 

  While, yes, the Beyer figures were accurate, they were one-dimensional figures that measured only final time.
While he initially began to share some of this info with his circle of handicapping investors he suddenly decided to drop out of the group and go out on his own.
One of the fellows in this group,
Tom d'Angelo

, who we have known for quite some time, told us that they had a hint of what Dr. Nill was working on and it appeared to have a lot of promise.
Now Tom tells us that they continued to use the old methodology while the group continued to try to fill in the missing pieces of Dr. Nill's work, but never came up with a workable solution.
"We thought the answer was in the Beyer figures themselves — but that's where we made our mistake – it wasn't that simple,"

Tom told us.
 Below:  Articulate a high-% type program play — 

In addition on this day at Woodbine the program hit the 4th, 5th, 6th and 8th races.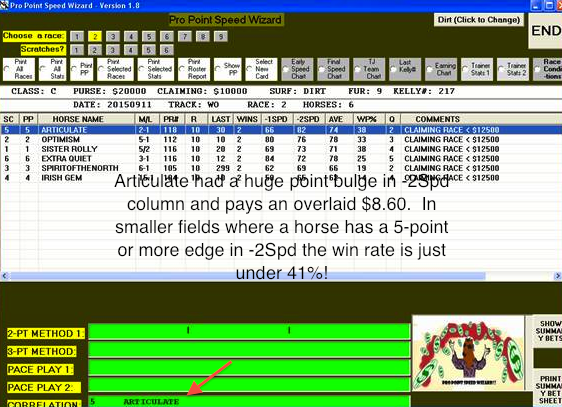 Tom and the other members of the group drifted apart in the years that would follow —  well, three of the members passed away and a couple others were getting on in age and just didn't have the energy to pursue racetrack investments any longer. 
Tom was one of the youngest members in the group and continued playing enthusiastically.  Then, one day, in September, 2014 at Belmont Park:
"I was looking at one of the monitors a couple of minutes prior to post time when I felt a gentle hand on my shoulder.  'Hi Tom', a voice said softly.  I turned around and I couldn't believe my eyes — there stood Dr. Bill!"
At 91 years of age he looked remarkably spry.  The fact that he was actually at the track was also a surprise — he had exclusively used Philly Phone Bet since it became available in the late 80s – he didn't like the crowds at the track, or the drive back and forth.
Well, long story short, we talked for about an hour.  He explained that he felt he had outgrown the 'group', and since he never was a 'social animal' per se, he just got tired of interacting.  And, while I was hesitant to ask, I finally said:

"About the Beyer equations — you kind of left us hanging.  Did anything ever come of that?"
Here, I can write the whole thing down for you — feel free to use it or share it.

  I'm sorry for leaving you guys hanging like that, but I knew you were already doing fine with your systematic approach."
So Tom came to us:
"I trust you guys more than anybody, and since Bill gave me permission to share this, do you thing you can put it on a computer program? 

While the original uses the Beyers, I ran it with the Bris numbers and Equibase numbers and the results are the same, but it sure would be a lot easier just to make a couple of mouse clicks to get the answers."
The method was actually easy to program. 
It involved three separate systems 'folded' into one, so to speak,

and the results were nothing short of sensational. 
Below:  While Dr. Nill's original formula does not play Maiden races, we managed to program PPSW so that all types or races are applicable.  In fact PACE plays and Correlation plays in Maiden races are superbly accurate.  A $19.70 payoff for a very obvious (to the program) play. 

♦**

Also on this day at Belmont PPSW caught the 2nd race, 3rd (+ exacta), 4th, no play in the 5th, 6th and 7th (+$110 exacta)

Below:  Another 'double qualifier' ( a horse that is mentioned in 'Correlation'  as well as one other play) — high win/place % – @55% – with horses that fit this description)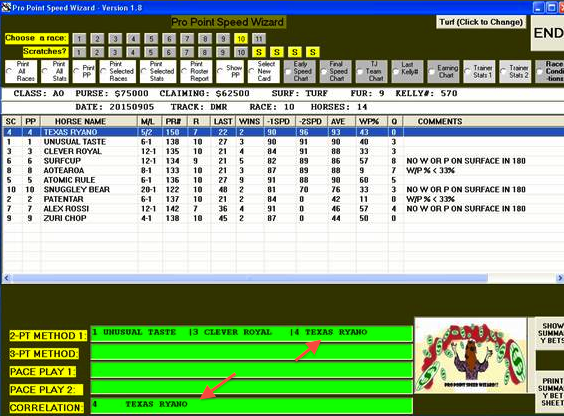 Below:  Crowd says Prospect Park, who they make 1-to-5.  PPSW Correlation Play says OM – who wins at double digit odds.
 So, In Summary:
1) Pro Point Speed Wizard throws out the concept of taking speed figures at face value.  Instead, ingenious formulations are created that not only measure speed in a way most of the public is ignorant of,

but also create PACE figures that insure the accuracy of selections.
2)  While PACE plays are 'spot' plays (they may come up only once or twice per card)

they win at close to 41% of the time and win/place 59% of the time.
3) Correlation Plays are the 'Steak and Potatoes' of PPSW. 

Expect a win rate of close to 35% with an average win mutuel of @9.70

. 

The program adds real depth to any player's itinerary

–

PPSW is something that maybe 2% or so of the playing public is aware of, giving the user a major advantage.

 

Also, the software has been engineered to

work on all race types at all tracks — the paper/pencil restrictions no longer apply.




And the Great Thing is that

Pro Point Speed Wizard

is just
$138!
And that includes the Hard Copy as well so you will know exactly what is going on in the programming! 
The Hard Copy is $55
Call 1-800-696-0067 to order or order from our Website
Call if you have any questions
Additional information
| | |
| --- | --- |
| Pro Point Speed Wizard | Software (includes Hard Copy), Hard Copy, ebook |