Description
New from Tom Console!
The Console Continuum, Total Immersion Software!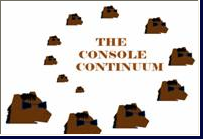 What if we could take just three numbers and consolidate 131 total handicapping factors into these three ratings.
Each number represents several dozen important critical handicapping considerations and each on their own perform an excellent job at sorting out contenders in just about any type of race.
But when all three are added together you have a super performance tool/number that will lead you to not only the likeliest winner

but also the highest percentage exotic possibilities including exactas and trifectas, Pick 3s/4s and even a fascinating way to construct low-cost pick five and pick six tickets

giving you a much higher percentage possibility of hitting these wagers.
Well, that's exactly what Tom Console has done in his new

'Continuum TI Software'. 
Below: Screenshot illustrating 'Special Play' box.

BOOM!!!  Continuum uncovers contenders that most fans would not take a second or third look at — check out this $142 winner, $924 Exacta and $1,470 Trifecta!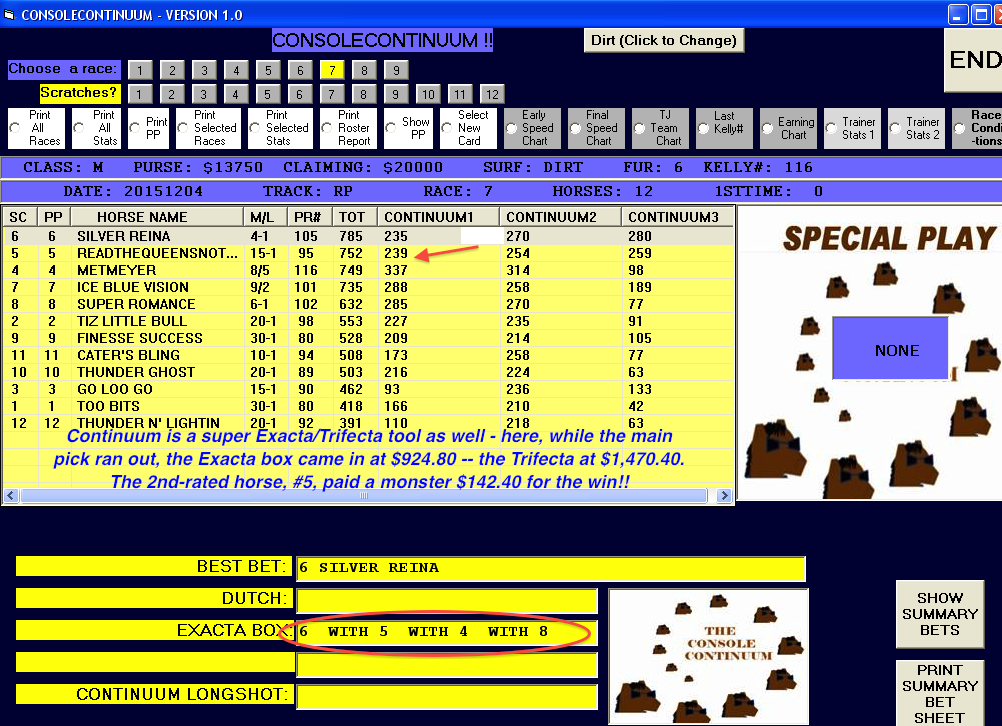 Below – Continuum is a logic-driven program so it will pick its share of favorites, like Integrity, below, but often, very often, the Exacta pick or Continuum Longshot, in this case Looking Cool (10-to-1), is part of the payoff scenario — a pretty easy $40.60 Exacta payoff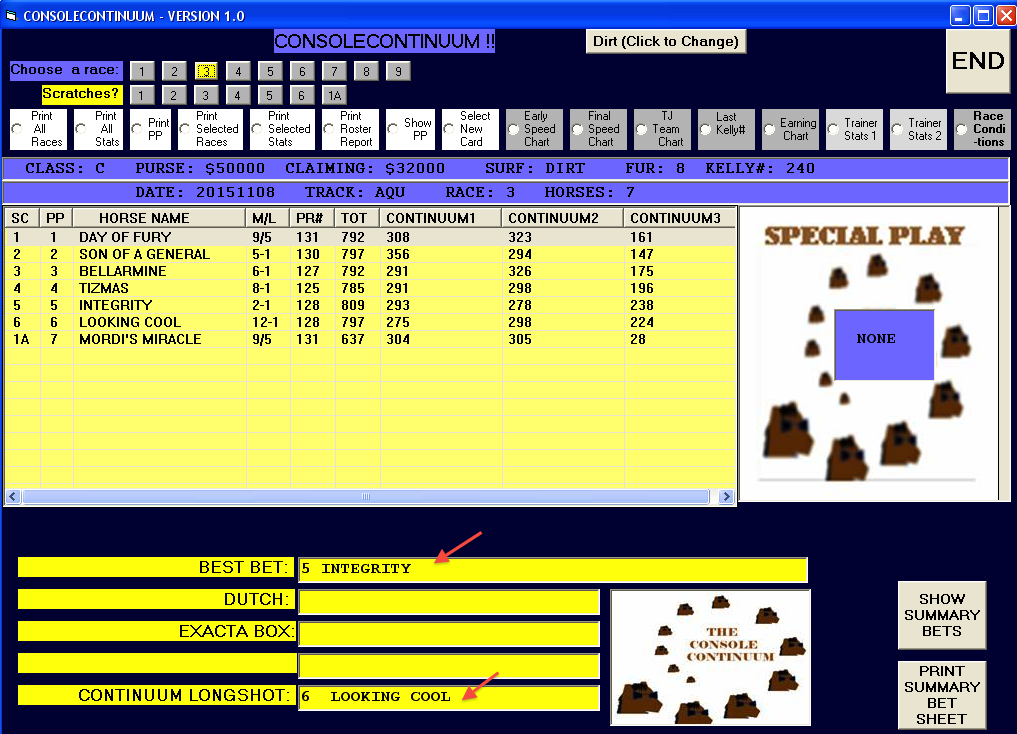 Keeneland, Breeders' Cup Day undercard – Chanteline was an overwhelming choice (look at her almost 100 point edge in the TOT (Total) column) but she paid a nice $8.60 and the Exacta box hit as well at $62.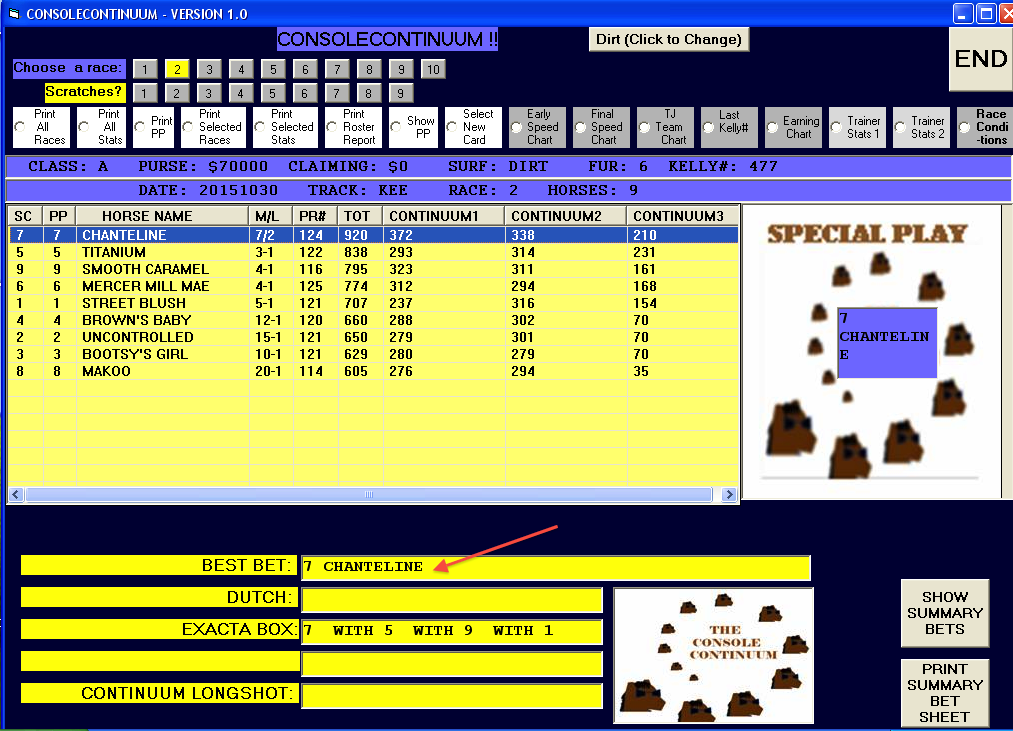 Below: A double-confirmation Continuum play.  While Stellar Path did not make the 'Special Play' box she was nontheless a Best Bet Pick and a Continuum Longshot Pick.  These are high-% propositions – $13.00 to win and $7.60 to place.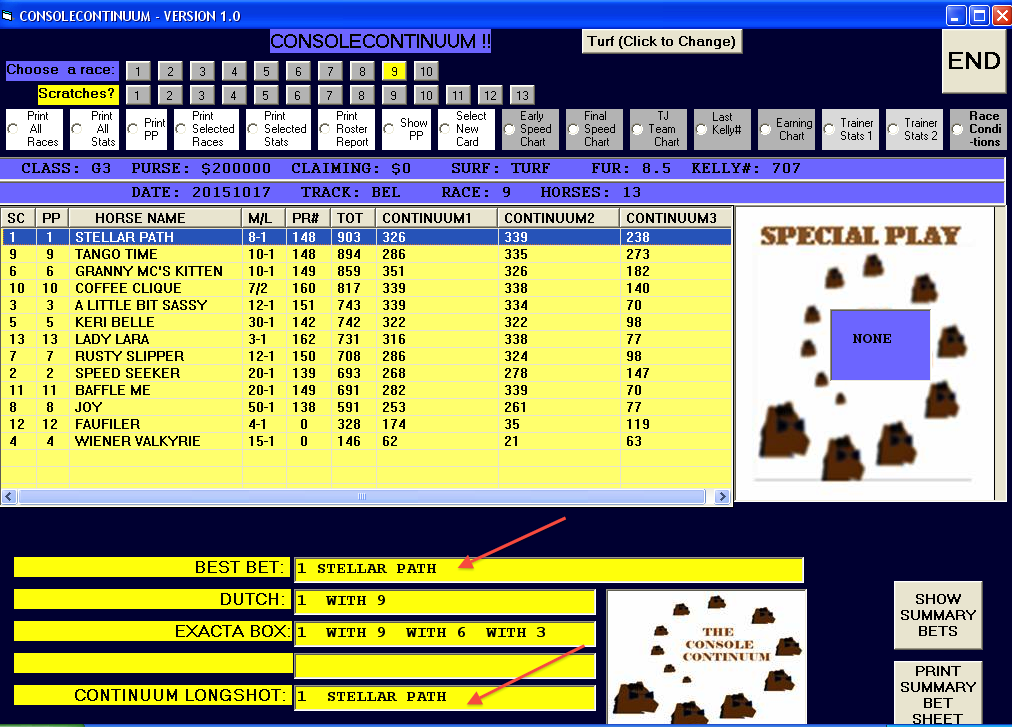 So you can clearly see that

The Console Continuum, Total Immersion Software

is very, very, very
COMPLETE

.  It deftly combines dozens of features that allows the software to select accurately both with straight wagers and with Exotics.
>>>>

You will also be provided with

complete wagering instructions

which include strategies to increase your percentage of hits in the horizontal (pick 3, 4, 5, etc) exotics as well as in the vertical (exacta, trifecta, superfecta).
The Console Continuum, Total Immersion Software
is just $148 and is ready to ship now.
Call us with any questions: 1-800-696-0067  Thanks!
Additional information
| | |
| --- | --- |
| Continuum' Total Immersion Software | Trainer Profit Investor, Continuum/TPI Combo |