$88.00
Mystery Man Ivan's Power 'KEY' Play!!
From one of the wildest and biggest betting legends of Southern California racing comes Ivan Silber's Mystery Man Power KEY Play!
Ivan is somewhat of a 'mystery' to his fellow players, as he is a man of few words and Frequent BIG bankroll hits. 
Description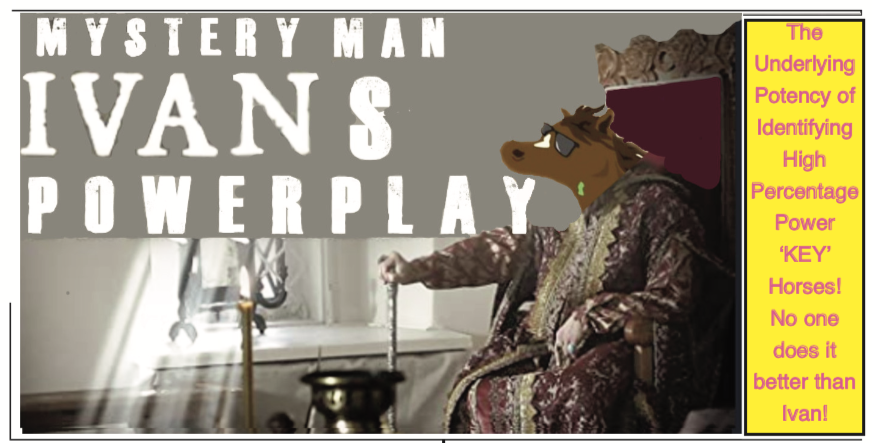 Mystery Man Ivan's Power 'KEY' Play!!
So How, Exactly, Does Ivan Do This?  And How You Can do Exactly the Same, whether you are a Straight or Exotic bettor.
Ivan may very well be the game's foremost expert at identifying 'Key' horses.

  He calls them

'Power Keys'

.  Since Ivan is primarily an Exotics bettor, he seeks to find horses he can 'key' in these wagers.  Keying means he lands on one horse that he can play with several others in Exactas, Trifectas, etc., as well as singling in Pick 3s, 4s, etc.  So he will take his pick, let's say it's the #2 horse in a Trifecta, and play the horse in all three positions with his other contenders.  So if his other contenders are 4, 5 and 6, he will play three Trifecta tickets like this:  2 with 3-4-5-6 with 3-4-5-6;  3-4-5-6 with 2 with 3-4-5-6 and 3-4-5-6 with 3-4-5-6 with 2. 

So if the #2 comes in 1st, 2nd or 3rd with any of his other contenders in the other two positions, he cashes a ticket.
From Ivan: 

'I remember a guy asking me 'how do you cash so often; do you have some kind of secret?'  And I told him that the Secret was the Key.  'The Key?', he asked.  Yes, and also the Key is the Secret, I told him.  He looked confused and ambled off, but what I told him was absolutely true, the Secret was the Key (Horse) and the Key (Horse) was the Secret of the entire winning methodology!'
"The consistency is amazing, and even more amazing is the fact that you get some great double-digit payoffs to boot.  In all my years I have never honestly seen this strategy employed and the fact that it is so simple is even more amazing.  Ivan has really knocked it out of the park!"  Tom Console, Handicapping author
Software Screenshots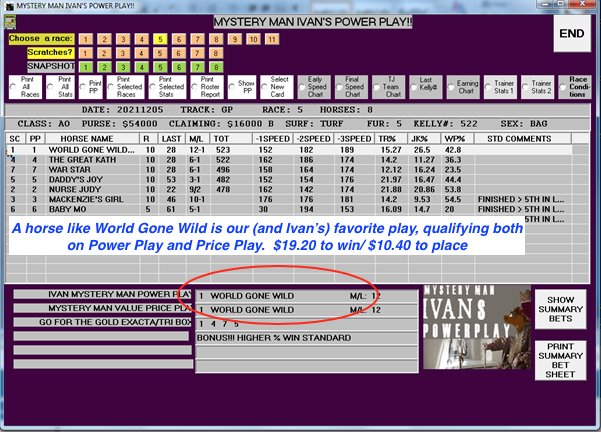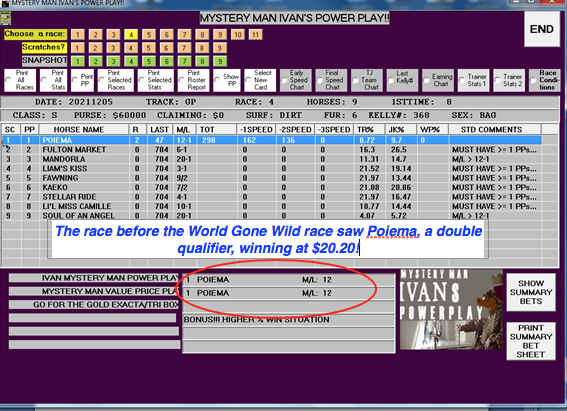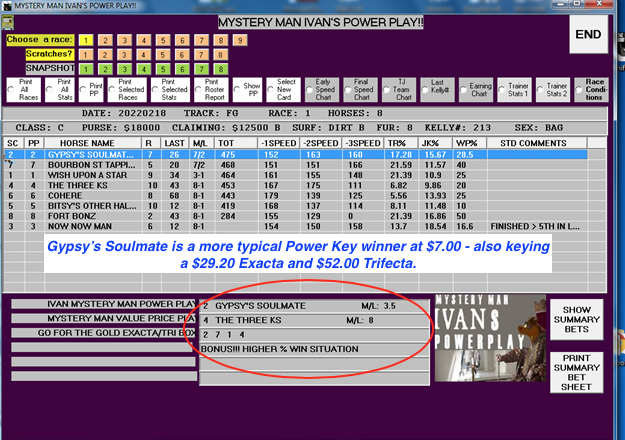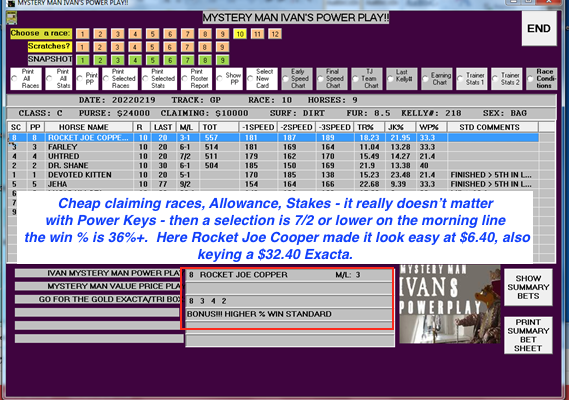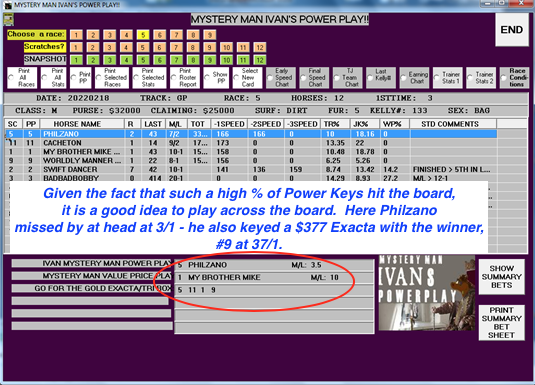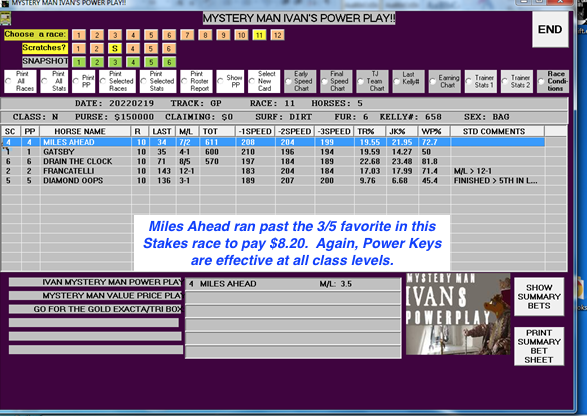 ++++FREE!!

😃  Dr. Robert Anthony's

PARLAY POWER MATCH, II!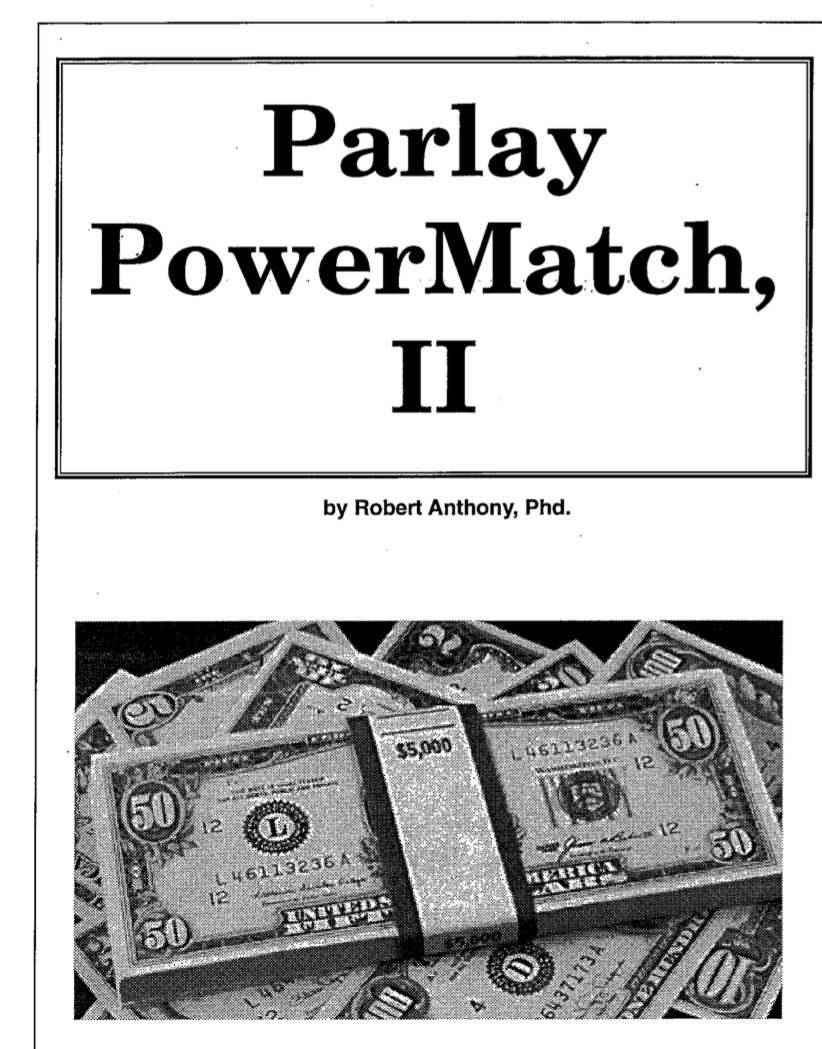 While Ivan's Power Keys offer many ways to cash regularly,

For those interested in applying a proven Parlay Method for high % situations (place and show), Dr. Anthony's PPM, II offers a virtually fool-proof way earn profits over any series of 12 wagers or more.

  Start with as little as $24, and follow the very simple formula.  This is a $48 value, yours FREE!! 

Works with any system that realizes 70%+ place and/or show hits.
Mystery Man Ivan's Power Key Software! is priced right at just
$88
and will add a strong, strong element of consistency to your play.
Call us at
1-800-696-0067

or order from our website www.rpmhandicappinggiant.com
and of course call us with any questions!
Mystery Man Ivan's Software   $88.00