$138.00
Len Cz's FOR MAIDENS ONLY!
The Ultimate Maiden Selection Program, Not Only For Wins But For Lucrative Exacta Payoffs as Well!!!
Description
Len Czyzniejewski's

…
Super High Hit Rate in All Types of Maiden Races

– 

42% to 88%!
…

Exacta Formula produces Steady and Often Big Paydays!
…
Great for Straight Betting and for Place & Show Parlays!

(

FREE!!

Parlay Wagering Strategy comes with your Order!)
…Also works great on other, non-Maiden types of races!
…Super Consistency

— Long Runouts simply do not Happen!
….Revealed:  Distances & Odds — Where The Highest Overall ROI's Can Be Found!
——————-
Background
Len was working on some modifications for Jon Worth's

The Four Aces

methodology late one night

when his eyes fell upon a rather amazing sight.
Why Maiden Races Can Be the Best Wagering Opportunities on the Card
👉👉Below is an 👀eye-opening article on playing Maiden races that we have published before —

Absorb this

—

95% of all players do not have this knowledge

, providing you with a big edge on the games most misunderstood type of races.
So two of our five beta testers suggested that, based on their testing, the program should be opened up to allow users to see how the program does in all types of races. 
Len had suggested that early on in his research, and while the higher win and in the money percentages are definitely with the Maidens, the program does very well with all kinds of races, so he decided to open it up so users can look at every type of race carded. 
Now, if you want to stick to just Maiden races you can look at the heading

CLASS

: near the top left part of the screen.  👉👉If you see an M (Maiden Claiming), an S (Straight Maiden) or an AO (Maiden Allowance), then you know you are dealing with a Maiden race. 

Those are the only three Symbols that designate Maiden races.
Also note a neat new feature: 

Just to the right of the CLASS designation, you will see

PT

.  These are the scheduled Post Times for every race on the card, so with a quick glance you will know when any race is coming up.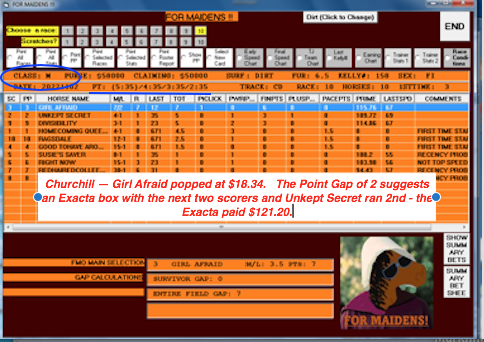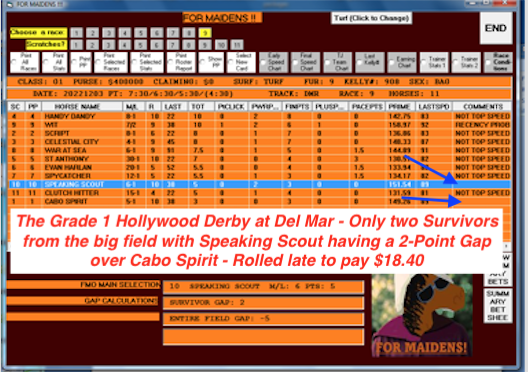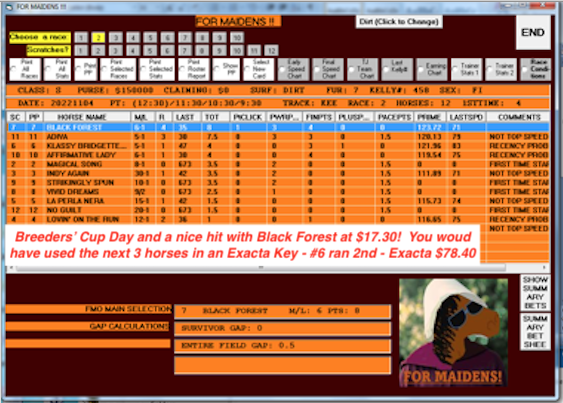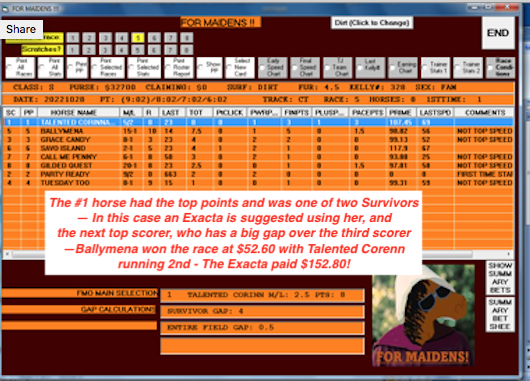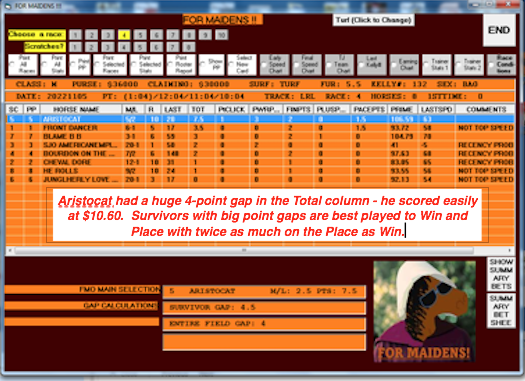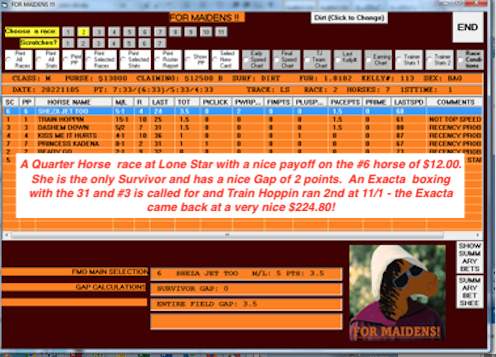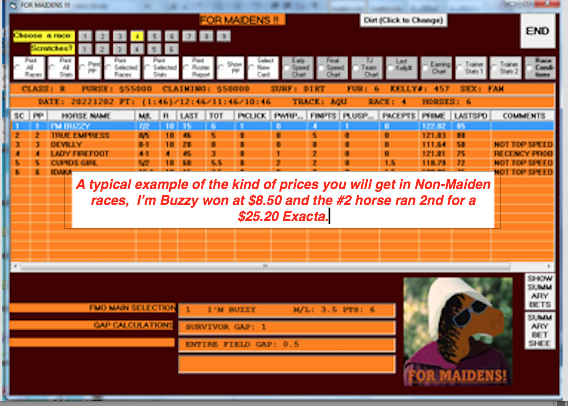 👉👉First time Starters! 

Yep!

  The Program rates those too.  Below is a great example — also, when there is no Main Selection, you can sort the TOT Column to see which horses comes out on top.  If the Point Gap is 2 points or more, like it is here, an across the board wager is called for.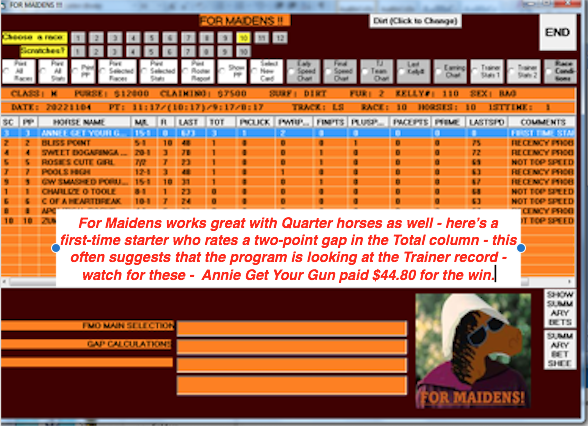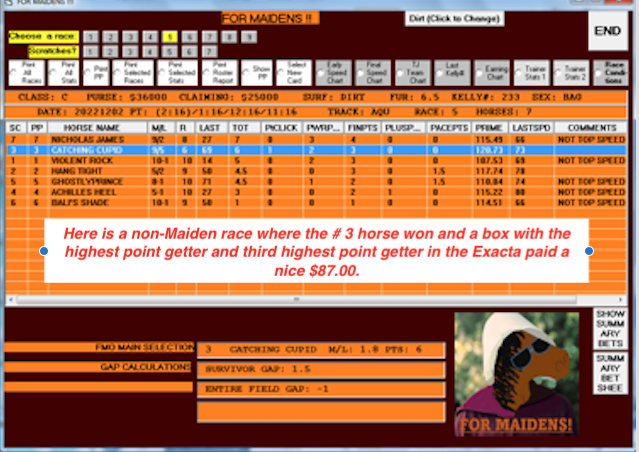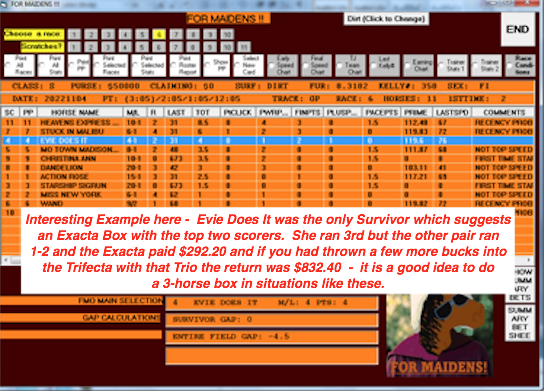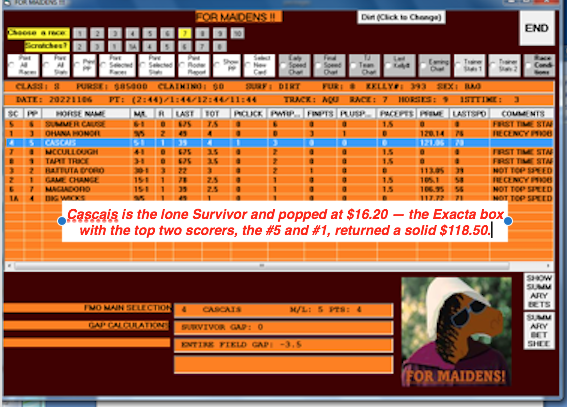 Where the Gold Mines Are!🌈🌈
Distance
Below are the areas where the database showed the most promising results.

  These %s are based on the entire database study, so they include all tracks.  Basically, the readout shows the average number of races per week where Main Selections occurred and the Win % and overall ROI. 

For example, in the 5 Furlong category, an average of 18 races per week had a Main Selection — the hit rate was close to 40% and the ROI almost 18%.

 

The 62% hit rate & +34% ROI at 4.5 Furlongs seems too good to be true, but that stat held up over the course of the database study.

  The TRI/SUPER box lists the number of playable exotics that occurred in this category –  it is something we are still tracking but need a bigger sample to confirm results.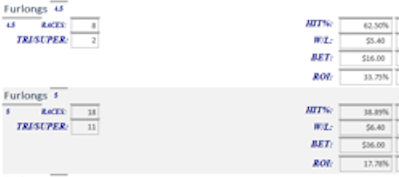 And this surprised us since we figured positive ROIs would be restricted to shorter races, but here we have 7 and 8 furlongs both showing + ROIs.  Win %s were much lower than in the shorter races, but the ROIs were boosted by a good number of double digit payoffs.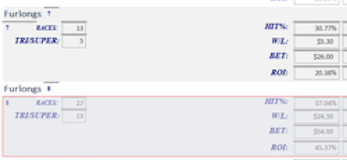 Odds Ranges
When the morning lines were 8/5 or 9/5 (1.6 or 1.8) the win hit rate was 50%+ and the ROIs were very solid in these low odds ranges.


Also, and again a bit surprisingly, ROIs were very strong in the 9/2 Morning Line runners and the 6/1's

.  The +88% ROI in the 9/2 odds (and we looked at this several times) seems insane,

but many of these runners won and paid much more than 9/2, all the way up to $45 and $43 in a couple instances.


So, if you wanted to be very selective, you could just wager on Main Selections that fall into these categories, although decently positive ROIs were realized with most Main Selections with M/L odds of 5/1 and less as well.
Len's For Maiden Only Software Program is priced at just
$138

, which we feel is very reasonable given the software's versatility and Positive ROIs in so many different categories.
So give us a call
1-800-696-0067

, or order from our website
Give it a try – you'll be glad you did!  And, per usual, you have nothing to lose since we offer a Full 100% Money-Back Guarantee