$147.00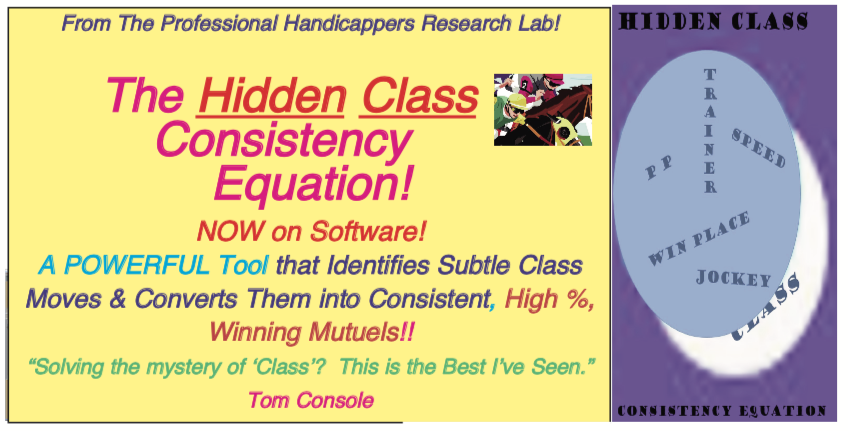 Description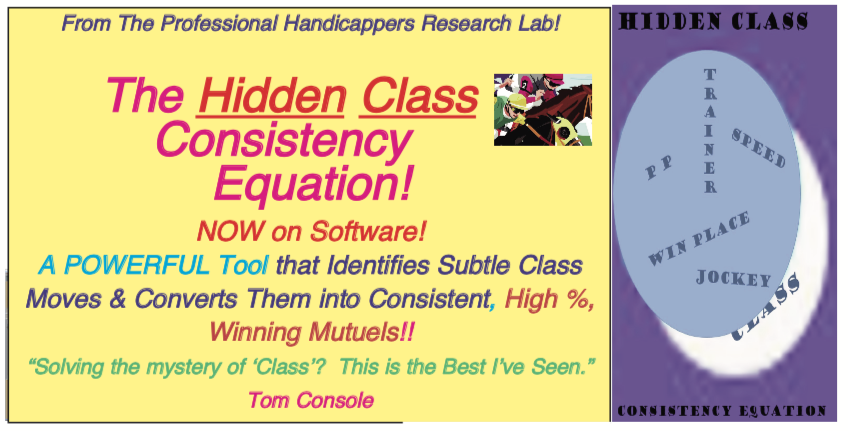 But how is the average horseplayer to know this? 
Well, unless he knows how to read a 'Condition Book' as well as a competent trainer, he won't have a clue. 
And then, how about the 'State Bred' conundrum?
As surprising as it may seem to seasoned handicappers,
races carded strictly for 'state breds' are almost always weaker than races carded for 'open' company. 

The following info from the Getting Out of the Gate website explains this well:
---
So, again, most handicappers, we would guess 80%+, have no or very limited knowledge about these subtle class changes, whether in state bred races or in Open company like the Allowance race to Claiming race example above. 

And, above we also see an example above where a Maiden Claimer moves to a State Bred straight Maiden race and wins, because he is actually dropping in class!

  And the fact that he paid $48 to win

shows that few players actually recognized that fact!
It's all kind of mind-boggling😟, isn't it?!
The

HCCE

is very selective. 

You will not get a play in every race. 
You will only get plays when the software recognizes a

'Hidden' Class

situation. 
When it spots a potential Hidden Class play, it will then further evaluate the situation using other handicapping factors

like

Average Speed

,

Jockey/Trainer competence

,

Consistency via Win/Place/Show over the past two years,

etc.
So when the program finds a play, you can be certain that not only does it fit the 'Class Move' criteria,

but it also shows strength on several other critical handicapping factors.
You will average between three and five plays per track based on a 9 race card.
"It is totally amazing what computer technology has done for our game.  Class is, indeed, one of the great mysteries of this sport, unsolvable by most, but here you have created a software program that is no doubt better at solving this puzzle than 95% of the best trainers and best handicappers out there.  Love the steady flow of above average mutuels.  Thank you!"  Glenn Albertson, Tulsa, OK
So stop with the headaches, hair-pulling,🤯 etc., that come with trying to discern a horse's

true

class credentials from the pps alone.  Instead, hook up with the Hidden Class Consistency Equation!
and breath a welcome sigh of relief.  Check on the screenshots below: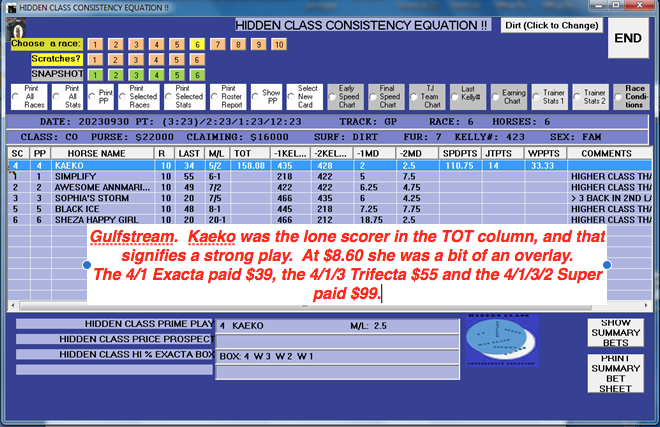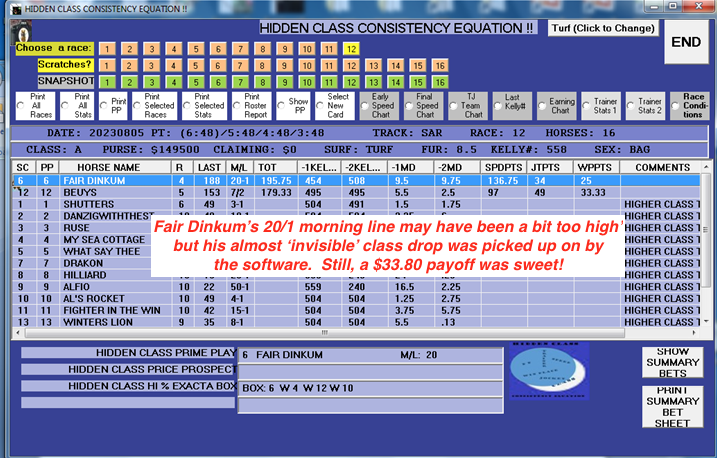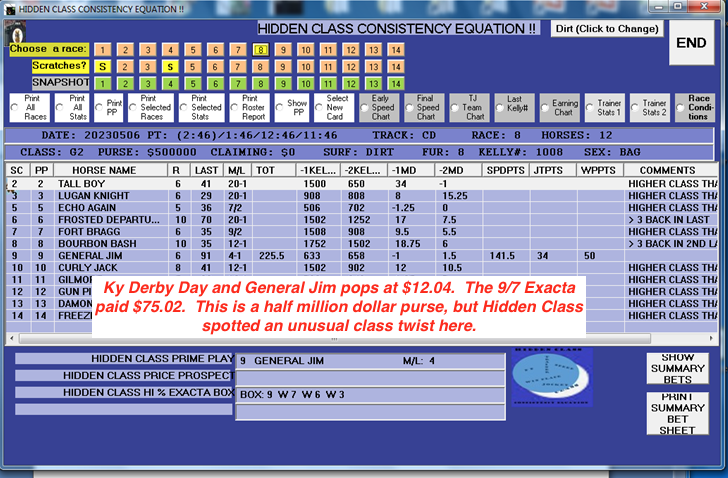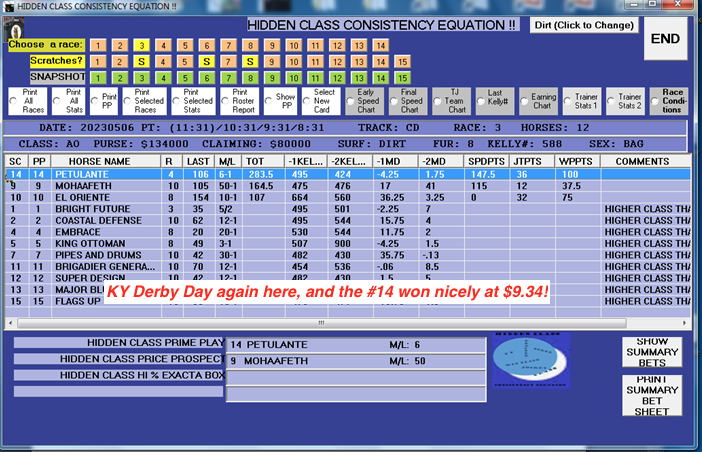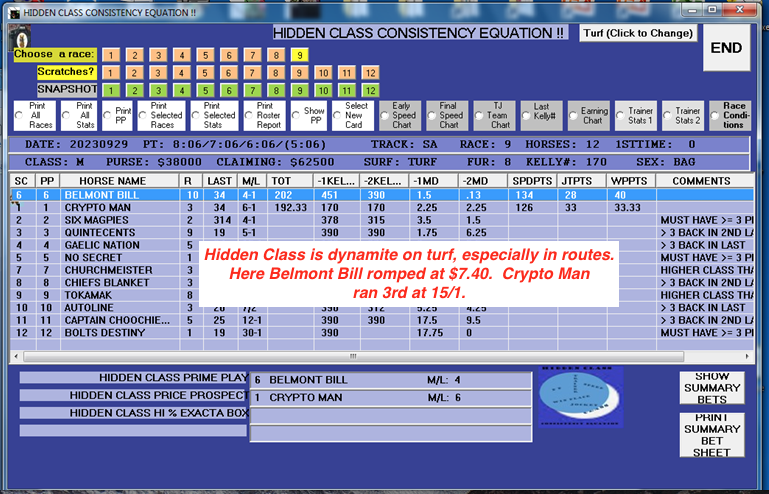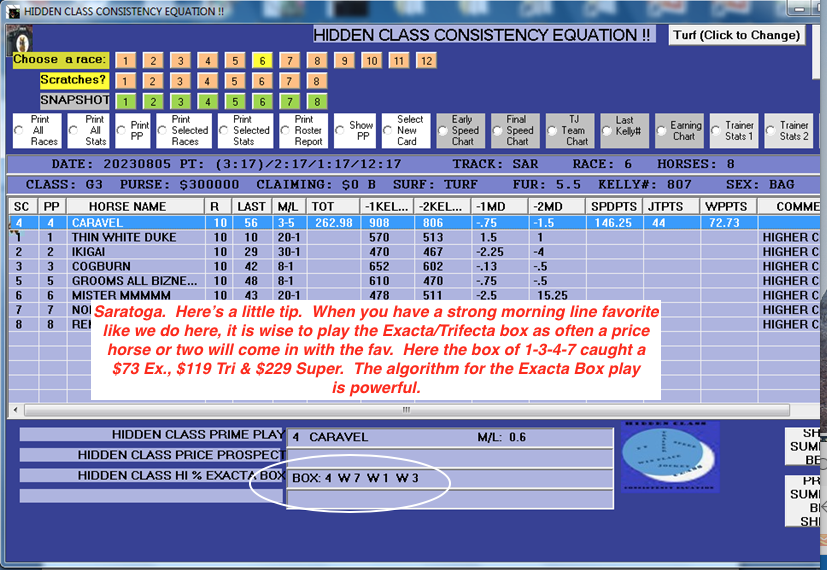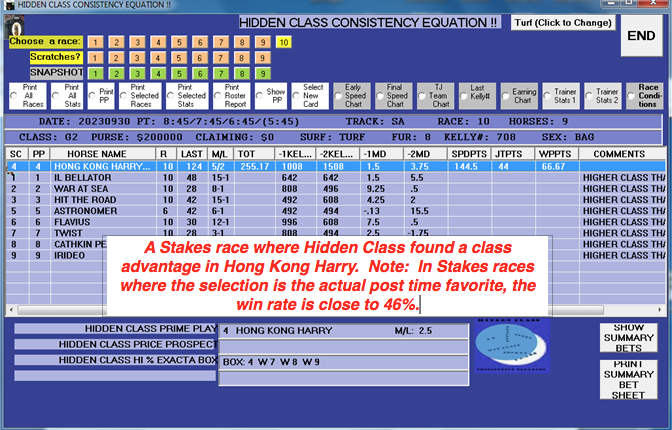 The Hidden Class Consistency Equation Software   $99.75