$53.88 – $118.00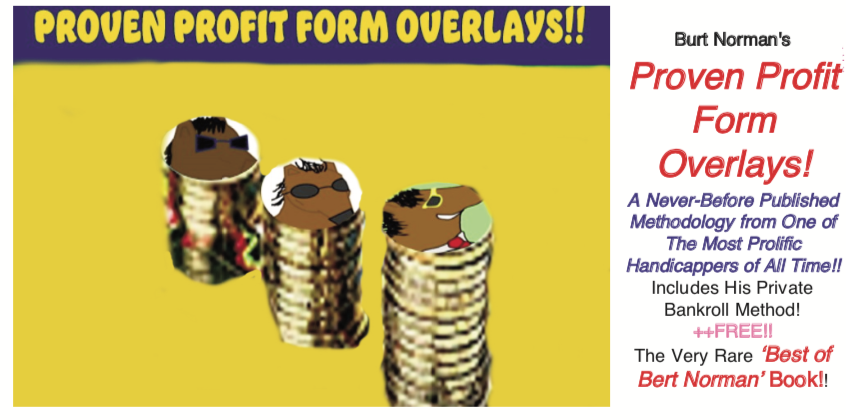 Description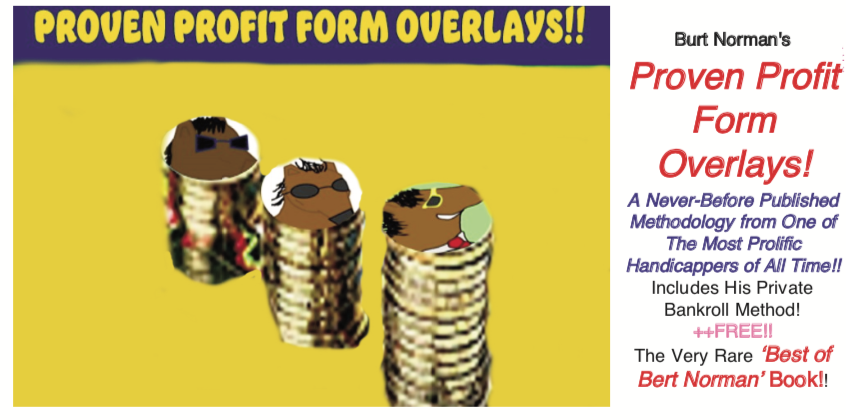 Here's a quick look at Bert's Intro page which perfectly describes Bert's philosophy, which is to help all players become winning players – and if you are a Bert Norman fan, you know that he accomplished just that with the likes of his Quick Figure +, Speed Key, Early Speed Longshot, etc.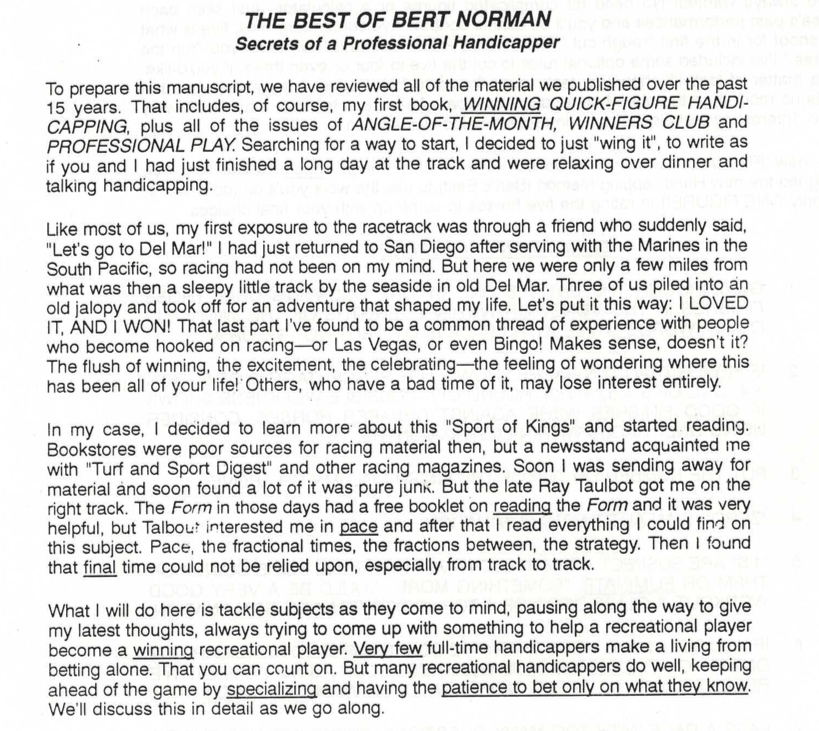 check out the price on Amazon!
So you can get this book for between $445 and $674 on Amazon!  
But we have the book and are offering it at a much, much, much more reasonable price and, since a good measure of what is in the software came from this volume,

👉😃😃

you will receive Bert's book Free with your purchase of the software!
Personal Best!
👉👉BUT…….
there is one angle that he did not include

— he called it his 'Personal Best' and was reluctant to market it.
Unfortunately, Bert suffered some health setbacks in the early 2000s and it was never published.
But recently, through an old and reliable publishing contact,

we obtained a copy and now have the rights to release it:
It's Called

Proven Profit Form Overlays!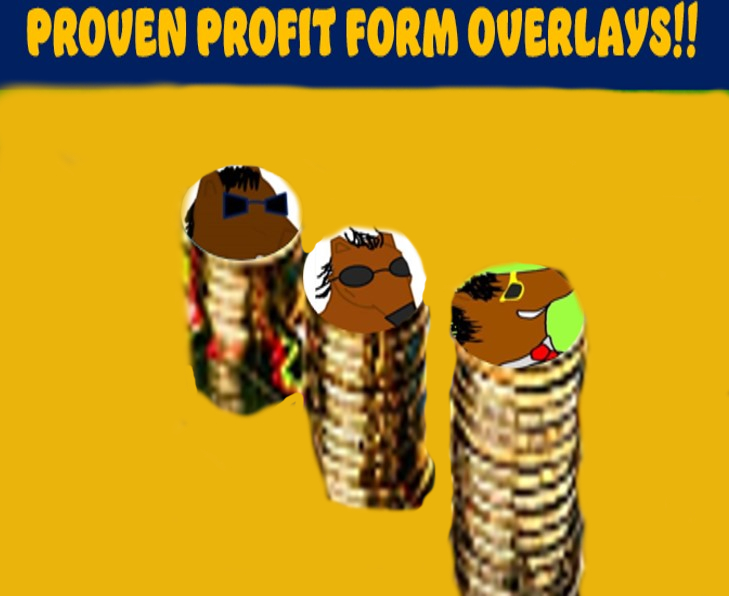 and you are going to Love It!😎😎
What Burt has done here is woven several of his positive ROI methods into one very consistent and high average win mutuel methodology/software.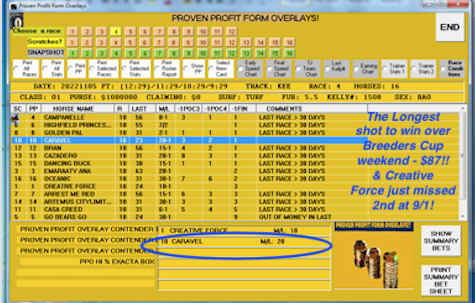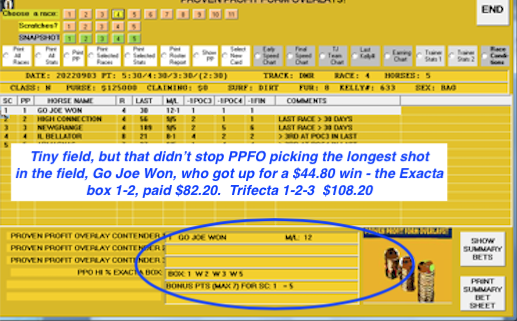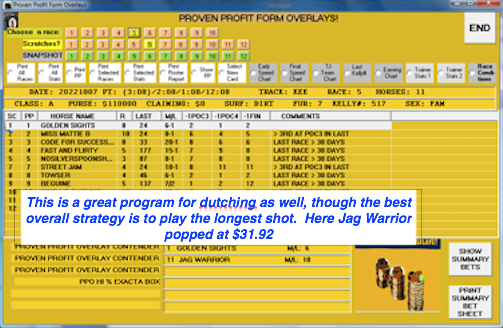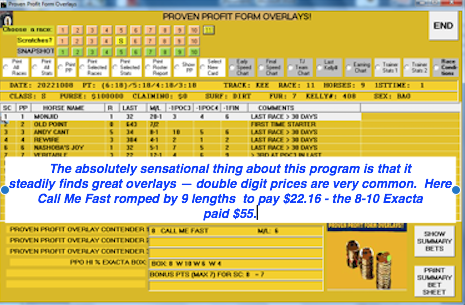 One of the great things about the PPFO Program is that despite the fact that if focuses on higher prices, a large number of the selections hit the board.  On the above day, for example, there were two other winners, 4 2nds (4/1, 13/1, 5/1, 3/2) and 4 3rds (3/1, 7/1, 9/1 and

60/1!

).
Look at the Exacta Payoff below — a 68/1 contender ran 2nd!  You will get a large number of high odds horses that will run in the Exacta, Trifecta, Superfecta, etc.  This was on the same card where Joe Go Won (above) paid $44.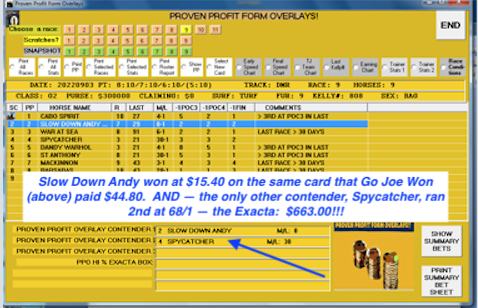 Note:  The examples below were printed before we changed the on-screen cosmetics to appear as the examples above – we gave it a little 'cleaner', easier to read look in the final version.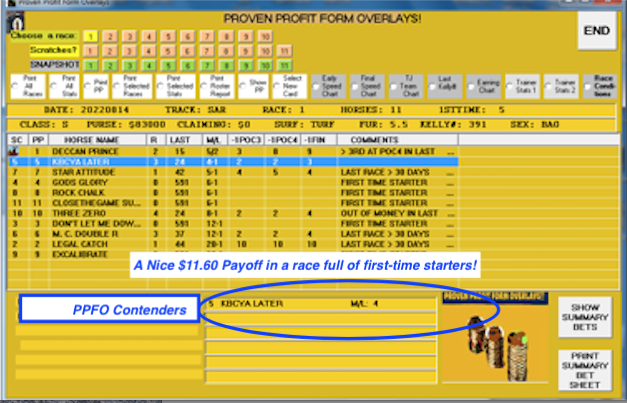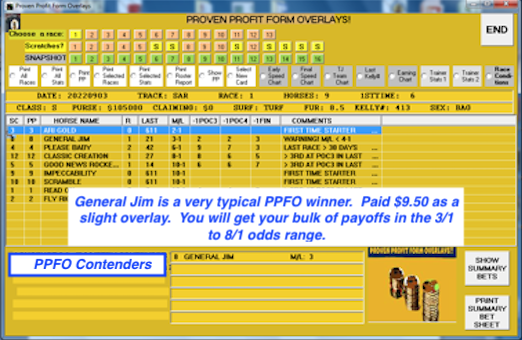 The Belmont at the Big A meet has produced super consistency as well as some real nice prices.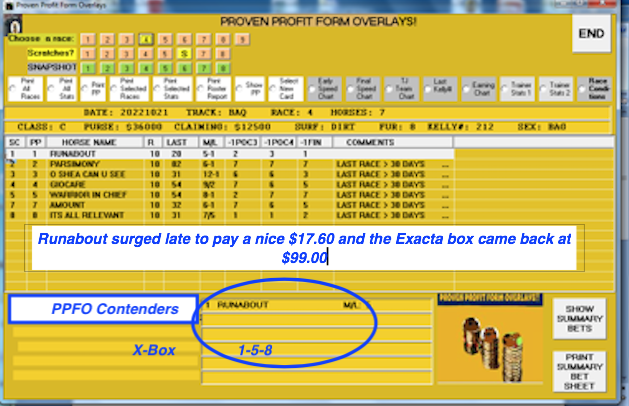 While PPFO is great with overlays and big prices, it is also very good with favorites.  When a morning line favorite is also a top pick, the win rate is in the 43% to 48% range depending on the track.  In fact, over the 27th and 28th here at Belmont at Big A, three horses fit that scenario and all three won — Dont Lose Cruz (below)  returned $5.20, the other two paid $4.80 and $3.20.  Never leave a horse with this pattern out of your exotic wagers — they are great for 'singling' in Pick 3s, 4s, etc.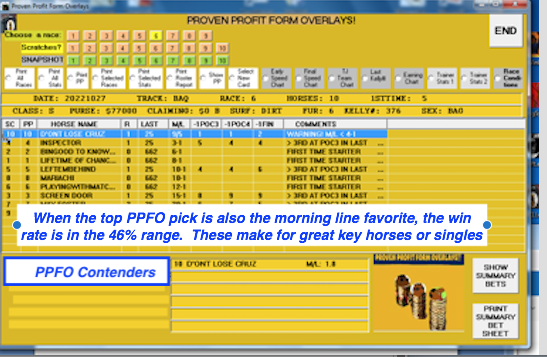 The Software sells for just $118.

  Hard copy of the book is $59.50, Ebook is $53.88
Give us a call
1-800-696-0067

or order from our website and, of course,

call with any questions you may have.
You are also welcome to take advantage of our 3-Pay/No Interest Plan
Additional information
| | |
| --- | --- |
| ppfo | ebook, hard copy, software |