Sale!
$31.88 – $87.90
Now on Software!!
E.W. Donaldson's
CONSISTENT HANDICAPPING PROFITS!
Timeless Winning Methodology!
Description

CONSISTENT HANDICAPPING PROFITS!

, by E.W. Donaldson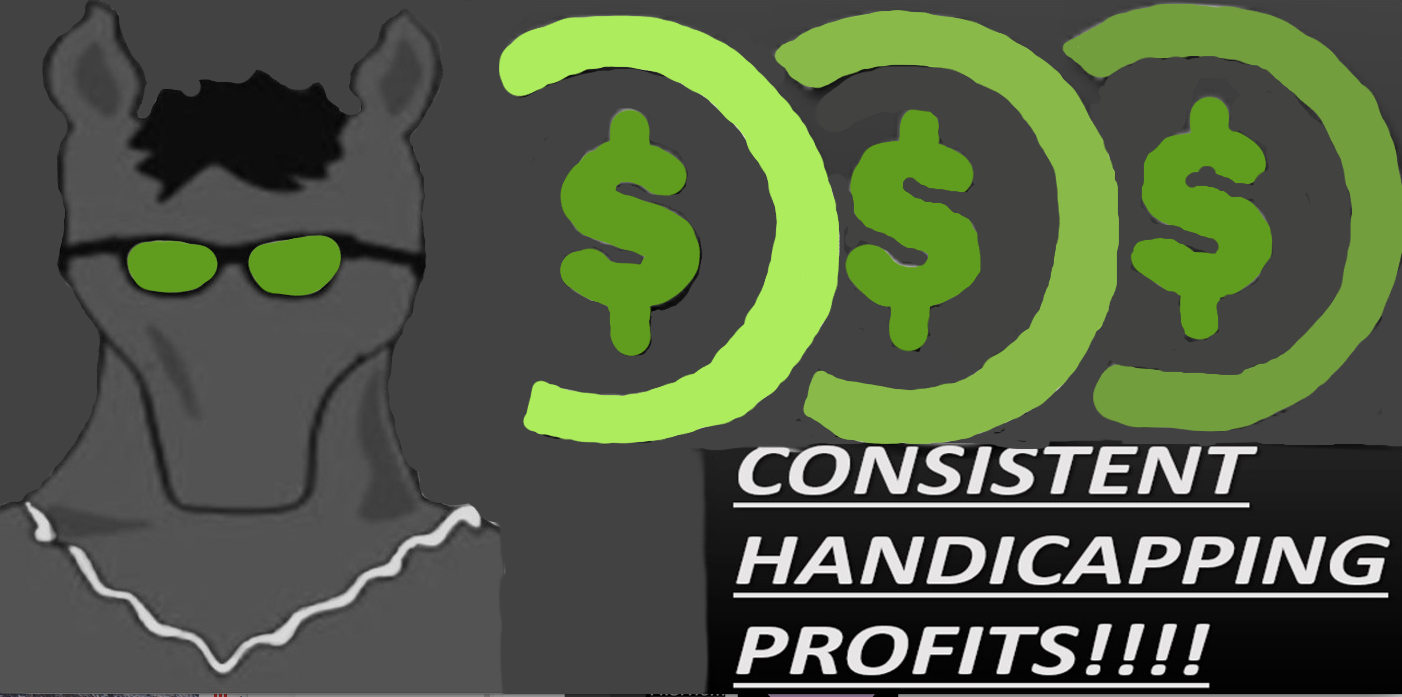 We have accomplished what

many, many handicappers thought was impossible

  –  translate E.W. Donaldson's groundbreaking Consistent Handicapping Profits into Software!

>>>

Programing includes algorithms for Donaldson's

Comparison Charts

,

Exhaustion Charts

,

Dynamic Turn Time Calculations

,

Weight-Off Projection Formula

,

Parallel Time Rhythms

, and so, so much more!

'This is remarkable!  What an amazing array of incredibly awesome proven, but little known, handicapping factors that meld into a super accurate, high average mutuel software!  Damn, that's a good job!'  Craig Pearson, Santa Monica, CA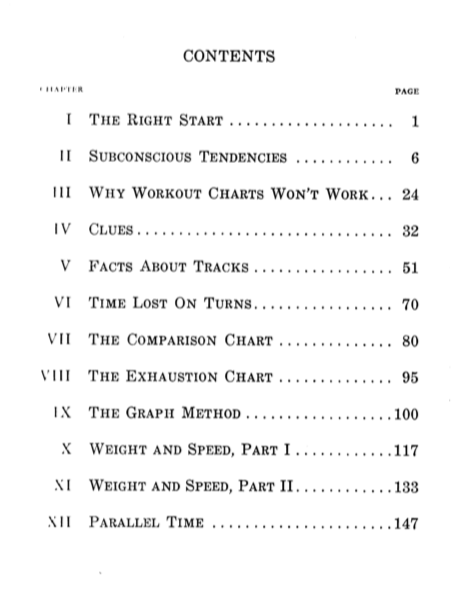 "E.W. Donaldson & his students were banned by many bookies because of their regular big winning hits.  The team was constantly seeking out of state bookies who may not have heard of them yet.
"In this book, and in a second volume published a year later (How To Select Winning Horses),

Donaldson reinforces several important points of handicapping that serve players just as well today as they might have in the 1930's—or earlier

. Some of today's handicappers may be surprised to learn that many of the same principles they thought were original were in fact being used by players from a much earlier day.
___________
"On page 2 of

Consistent Handicapping Profits

, for instance, Donaldson writes, "By separating a race into its successive stages, the progress of the field can be studied as the race develops, and much can be learned from this analysis."
___________
"☞

Thought pace handicapping is relatively new? Uh, no. From page 37:

"In handicapping, we look chiefly for improvement. That is the big thing to be kept in mind."

Donaldson defined improvement as achieving better finishing positions in successive races, in slicing the number of lengths a horse has been beaten by recently, and in improvement in running position during an individual race. 
___________
From page 139: "Weight has a direct bearing on endurance, and in no race can the item of endurance be ignored."
"☛

Perhaps the most novel contribution by Donaldson was his pioneering use of graphs to plot the progress, or regress, of each horse.
"He would plot each fraction on a graph

and compare what he called the

"rate of exhaustion"

as horses tired, and came up with a way to compare a horse who faded in a mile race after going 22.2 45.3 with another who ran a 22.0 and 45.
"Mostly, he was interested in each horse's improvement or decline—and who might be up for a big race vs. who might be on the downswing.
"His favorite handicapping angle was, based on his graphs, to bet on a horse who might be peaking against a horse who might have already peaked

. And he shows you exactly how to do this,

and it's pretty darned simple.
"Consistent Handicapping Profits is a 'lifetime' education for any horseplayer hoping to get a serious edge on this game.  From the correct psychological approach to the sport to actual, real methodologies and angles that have worked for almost a century and will certainly work for a century more, CHP is a shining gem!  Get a copy,

if you can!"
___________
 Merging

Past Horseplaying Expertise & Present Day Racing Technology!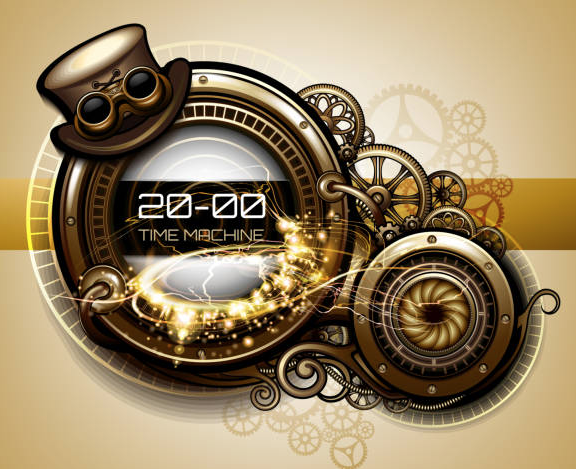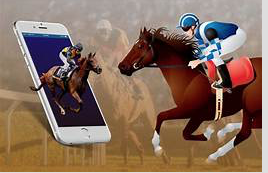 >>

But NOW!!  With the

New Software

,

you don't have to lift a finger to do any of these calculations

— it is ALL DONE FOR YOU!!
For Starters, take a look at this: 

CHP nails the first three races at Keeneland on October 10:  $10.40      $22.00    $9.80     Pick 3 = $342 (the pick in the 4th, Coco Puff, just missed to run 2nd). 

Now, three consecutive nice priced wins won't happen often, but the fact that Keeneland is recognized as one of the toughest tracks to handicap in the nation, tells you the kind of selection power contained in the Consistent Handicapping Profits Software.
OK, We think you've seen enough to realize that Consistent Handicapping Profits is a very special piece of Handicapping Software.  Take a look at updated Snapshot Example below that is included in this new software – then we'll get onto pricing details!
>>>

PLUS NEW:  SNAPSHOT, V.3.0!
And With The Consistent Handicapping Profit Software we are introducing

SNAPSHOT, v.3.0

, which adds even more 'Rankings' to help the handicapper identify true Win and Exotic Contenders!!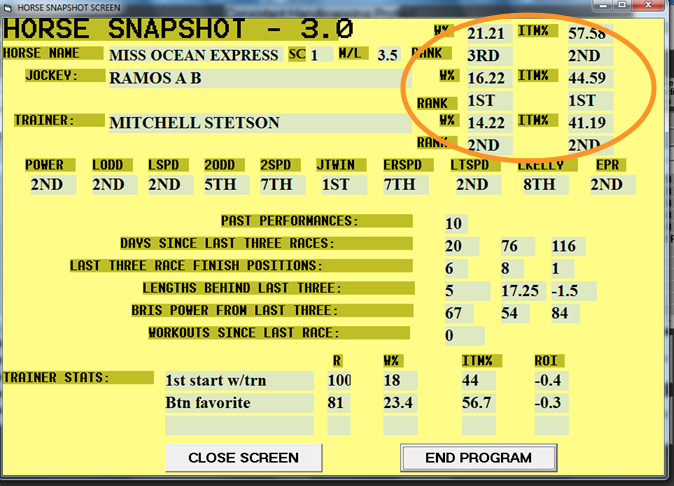 ➽➽

We have now added how each horse

'RANKS'

in 19 very important handicapping areas, 5 More than in the previous version.  I want you to look at the example above – this is pretty neat! 

You will see how this horse ranks,

or compares, to others in the same race:
  Categories are POWER Ratings; Last Odds; Last Speed; 2nd Last Odds; 2nd Last Speed; Jockey/Trainer Win %; Early Speed; Late Speed; Class (LKELLY); Earnings Per Race. 
NEW ADDITIONS: 

In the top right part of the screen

>>

we have added New Rankings for Horse, Jockey & Trainer Win and In the Money %s and how each ranks in today's field!
A horse like Miss Ocean Express (the horse in the above Snapshot),
as you can see, ranks pretty well in most categories,

suggesting that she will be competitive, and she did win, by the way.  

If you see a horse whose rankings are mostly 4th or 5th and below, you know that you can likely eliminate that runner.
Power Rankings is just another feature to help you hone in on horses likely to win or finish in the exotics.  You don't have to look at it at all if you don't want to – the picks the

CHP

Program provides will have you cashing often,

but this option is there for you.
These stats can be very helpful, especially in races where there is no Top Pick horse, or no pick at all.
It can also help you, at a glance, find horses to include in your exotic wagers

.
The trainer stats can be especially significant when they show a positive ROI in a category relevant to today's race.
☞☞For example, again referring to the Snapshot picture above, you can see that the jockey and trainer both finish in the money over 40% of the time. Also note that the Trainer Stats at the bottom of the screen show that this trainer has @ a 56+% itm average with beaten favorites, which this horse was. 

Just glancing at these stats alone tell you that this horse has @50% of at least finishing in the Trifecta.
"This feature is really handy to be able to click on each horse and get a ton of information, taking only a few minutes per race to nail down the likely contenders."

  Cindy G., Utah
"Your SNAPSHOT feature is simply ingenius!  What you have here is something that could put the Daily Racing Form out of business!  All relevant info for every horse is made so clear and concise that you don't need past performances.  This feature clearly spells out who the top contenders are and which horses can be eliminated.  This makes the game so much easier!"

Dave Wellman, Houston, TX
"I have been an RPM customer for many years and I love everything you do.  The only thing that bugs me is that I don't believe you charge any where near what your software is worth.  I've got $1,000+ software  that just gives me a bunch of numbers on a bunch of screens and then basically leaves all the decision making up to me.  You guys step right up and allow your software to provide the actual plays and so, so often they win or are very competitive.  And Consistency Profit Handicapping, seriously, $118!!  I know you guys want to give everyone an opportunity to purchase your software and I applaud you for that, but this is easily worth five times that much!  Oh well, I'm glad to have it – you turned me into a winning player years ago and I hope you never quit – sorry for the rant, but I just don't want to many players to get ahold of this stuff!'

Barry Saunders, Baltimore, MD
So Now you can 🙂Enjoy and Profit from this Epic Handicapping Publication/Software! 
This is a Keeper!
And we are offering the software for just $118, which is incredibly reasonable for what you will be getting!!
AND>>> 
All software purchasers will also receive the Ebook of the full 159-page original

Consistent Handicapping Profits!

publication, as well as Dr. Anthony's Parlay Power Match! (a $48 value)
$65.00 for the Hard Copy
$51.88 for the Ebook
Call us 1-800-696-0067 or order from our website   Thank You!
Additional information
| | |
| --- | --- |
| CHP | Ebook, Hard Copy, Software |