Announcing: New, Exciting Handicapping Phone App for Apple & Android!!  
This is a Great Deal Folks – Every Race from Every Track, Everyday – Selections, PPs, Power Charts!!!
>>

A SUPER-SPECIAL DEAL FOR ALL RPM CUSTOMERS!! 

ORDER NOW!!!



2Minutes2Post

The 
Nationwide #1 Handicapping
Phone App for Apple & Android Phones
& I-Pad
Announces 
UNLIMITED
 Download Selection Subscriptions!  
You Get ALL of 2020, all races, all tracks!, All PPs! – from Now to Dec. 31 (any or every track every day if you wish) for just $99!!
 RPM is partnering with Pete Solano's 2-Minutes-2 Post Handicapping Technology Firm to bring you this amazing, Unlimited Download plan!
>>The 2-Minutes-2-Post Mobile Phone App Delivers Accurate selections, win/place/Exacta/Trifecta.<<
Just
Rated a 'Very Good '8' by Phillips Racing Newsletter –
One of their highest rated products of 2019/20!
2minutes2post's mobile application

, brings you proprietary algorithms for picking winners and unprecedented results for exotic wagers! 
IT'S THE NEW MOBILE APP HORSEPLAYERS NATIONWIDE ARE TALKING ABOUT!
Here is some key information:
Picks and algorithm scores are AVAILABLE DAILY!  

Adapts and adjusts to ALL TRACK CONDITIONS giving the handicapper a huge advantage.

Available for EVERY U.S. RACE TRACK.

App Opening Screen

App Selection Screen – When you choose a track, the 2MP App immediately crunches & calculates over 221 crucial Handicapping Factors and graphically displays your selections in ranking order via the red graph lines.  Also, when you scroll down, you will see a new graphing screen called 'AJS Score'.  This employs another algorithm that expands into the realms of multi-datapoint pace, form & trainer considerations.  When the 2MP2 Score top scorer also matches the top AJS scorer, you have an extremely solid play.

Coming from a guy who has done the horses almost all of his 62 years I have never seen anything this incredible!

— Kurt R.
BTW you folks do a fantastic job I have won more money in the last month or two than i have in a long time…. keep up the great work!!!
— Greg M.

The 2MP2 App has shown remarkable results in Exactas and Trifectas using 3 and 4-horse boxes:
Recent database studies show Exactas hitting at a 35% rate using a 3-horse box — 44% using a 4-horse box.

 

Recent database studies show Trifectas hitting at a 28% when looking at a 4 horse box  —   34% using a 5-horse box (5-horse box stats derived from plays in fields with 9 entries or more)
More recently 2M2P correctly hit a Superfecta for $870 on a $1 bet at Belmont using just the top four horses – ROI of 3525%
2M2P Scoring algorithm returned $3,616 IN PROFIT for Trifecta wagers in 2019 on $2 box bets – ROI 144%
Also:
Now Available –
 INSIGHT 'Compact' Past Performance Charts – 
The whole race, all the critical data, available on a single Screen!!
This is like having the Daily Racing Form in the palm of your hand. 

Insight

Charts are also available on an Unlimited basis for the rest of 2020 and are included in your $99 subscription!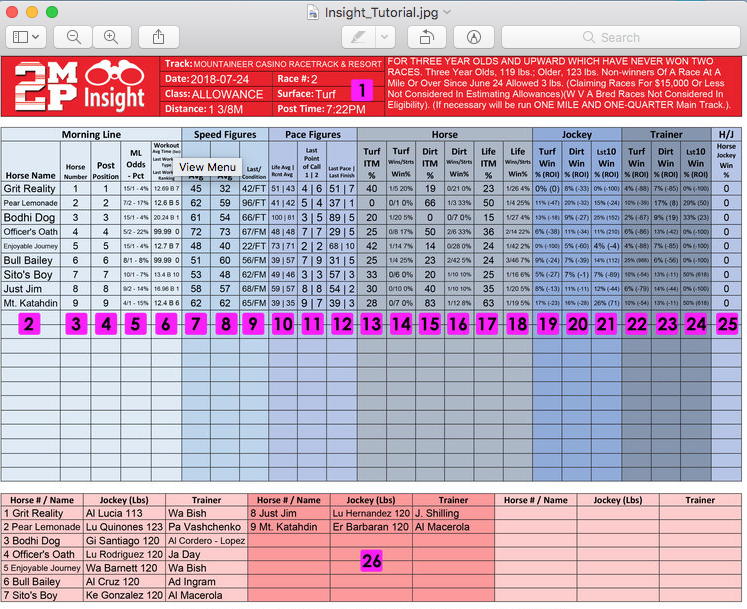 How the APP works:

The 2MP2 APP operates on proprietary Daily Racing Form data, using thousands of factors including Equibase speed figures and TimeForm Performance Data.

Here's all you have to do:

Download 2minutes2post App from your mobile store (Google Play, Apple App Store) for your Android, iPhone, or iPad.

Create account –  create your own account with 2M2P by registering your first & last name, and e-mail address

Select desired Race Date (see Race Date field) – Picks available for past & current date only.  Future dates are not available until day of.

Select desired Race Track
Downloading the APP is FREE!
Once you make your purchase: $99 for Unlimited Selections & PP Charts for All the rest of 2020

We will send you info on how to download your Apple or Android App, and you will be all set to go!
So, you now have at your disposal a super-easy, super-accurate, mobile phone app that utilizes every important handicapping factor to one end:
To help you pick more winners!
That is our sincere goal — and why we work diligently to keep you on the cutting edge of handicapping technology.
Call us at 1-800-696-0067
Unlimited Selection & PP Chart Downloads for all of 2020 –
$99
[wp_eStore_add_to_cart id=564]
If you have any questions feel free to use the Contact Us button on the website.  Thanks!
Powered & Licensed by EQUIBASE®