OK, how would you like to hit over 68% of all the Exactas you play? And how about 34%+ of all your Trifectas? And,even better, how would you like a piece of automatic selection software do all the work for you? Well, look no further, we've got the goods right here!!!
There's a a lot of great software out there — we carry most of it, but never, ever, as far as we know, has there been a piece of software that was specifically designed to locate winning Exacta and Trifecta situations. But like many things that are a long time in coming, they are often worth the wait, and that certainly applies to Tom Console's new Exacta Extractor software package.
Says Tom: 'I have developed many pieces of software, and I keep saying, OK, this one works great and this will be the last one I'm going to do. But then I begin seeing a need for something else. Like my Strategic Long shots program. I had long shot programs on other software, but they were always just 'part' of the total program. So I thought, gee, wouldn't it be nice to have a program that focused only on big prices, and sure enough, that piece of software improved my long shot profits immediately. And I've had Exacta and Trifecta selections as a part of my other software as well, but I did not have a program that was strictly for the purpose of finding winning, profitable exotic selections. Until now, that is.' The Exacta Extractor software program downloads the $1 drf file from Brisnet. With just a couple clicks of your mouse, all the data for the track(s) of your choice is displayed in front of you. OUR TESTS OF OVER 111,000 RACES BETWEEN JULY OF 2001 AND DECEMBER 2007 SHOWED AN EXACTA HIT RATE OF 68.3%AND THE TRIFECTAS CLICKED AT 34.4%.

Now, of course, with that kind of hit rate you are not going to get a play in every race. You will average about two plays per day per race card. Your average wager is between $12 and $16 for a $1 Exacta. For the Trifecta your average investment will range from $18 to $32. PLAYING EVERY PLAY THAT CAME UP OVER THE TEST PERIOD WE SHOWED A PER-TRACK AVERAGE ANNUAL PROFIT ON THE EXACTAS OF $2,137 AND $3,806 ON THE TRIFECTAS, AND REMEMBER, THAT IS USING THE MINIMUM WAGERING UNIT. THE SOFTWARE TELLS YOU EXACTLY HOW TO PLAY USING OFFICIAL PROGRAM NUMBERS. THERE IS NO GUESSWORK WHATSOEVER ON YOUR PART.
What Tom has done here is combine his True Tenders system with his Snap 1 and Snap 2 programs in a unique way to come up with high-percentage Exacta and Trifecta situations. 'That's the combination that worked best', Tom told us. 'I've had these systems on other programs but when I put the three together and programmed in a little 'pace' angle, my computer results database started lighting up with multiple Exacta and Trifecta payoffs.'
No horse player, at least no horse player who likes to cash tickets and make money, should be without this incredible new PROFIT tool. And the $149 retail price you'll have back in a jiffy and then be on your way to some serious racetrack money-making. Try it — you'll like it!
See screen shot example
This program is strictly for the purpose of finding winning, profitable Exacta and Trifecta selections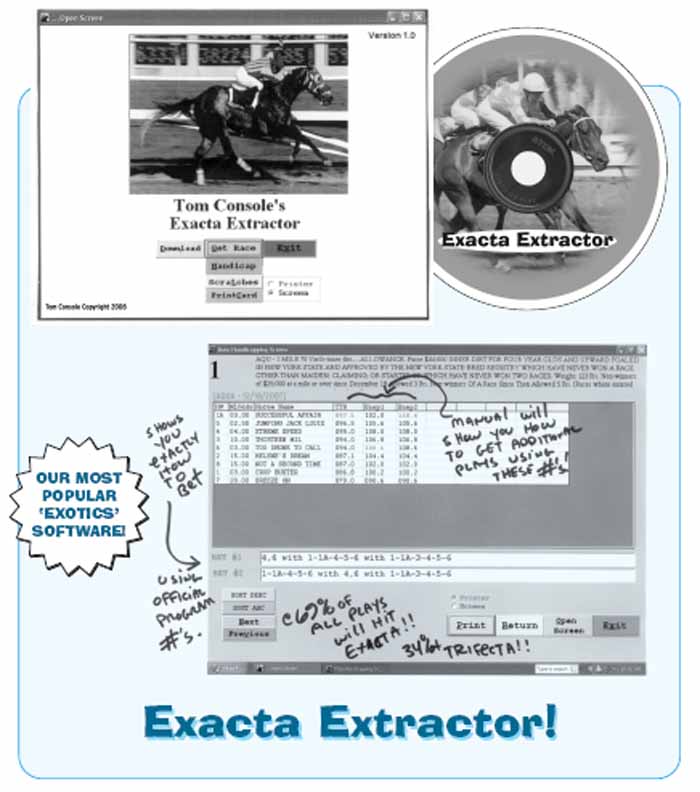 Want to buy this product?
You can call our operator at

1-800-696-0067

begin_of_the_skype_highlighting

1-800-696-0067

end_of_the_skype_highlighting

PST (have your product number ready)

Click the "Buy It Now" button to to buy this product online with Paypal or major Credit Card
Or you can click here to get a copy of our mail in slip for mail order MAIL ORDER SLIP *make sure you add the order number of this product.