Editor's Note:

  In the spirit of 'ask and you shall receive', we have had many, many requests for putting together an offering of true

'Consistency' Methods'

, i.e., systems that cash often, win/place/show, with no serious runouts and average mutuels hefty enough to turn a profit.
So, we have done just that – compiled an offering of FIVE of Super Consistent, high-hit rate, no-runout, profitable methodologies (and software).  We have:
☛☛☛>>
IN ADDITION – FREE!! BONUS!! OFFER!!: 
We are offering purchasers and ABSOLUTELY FABULOUS BONUS OFFERING. 

Depending on your Purchase you can get UP To NINE (9) Hi-Quality FREE!! BONUS Items.
So do not miss out — we make offers like this only about once every three years or so!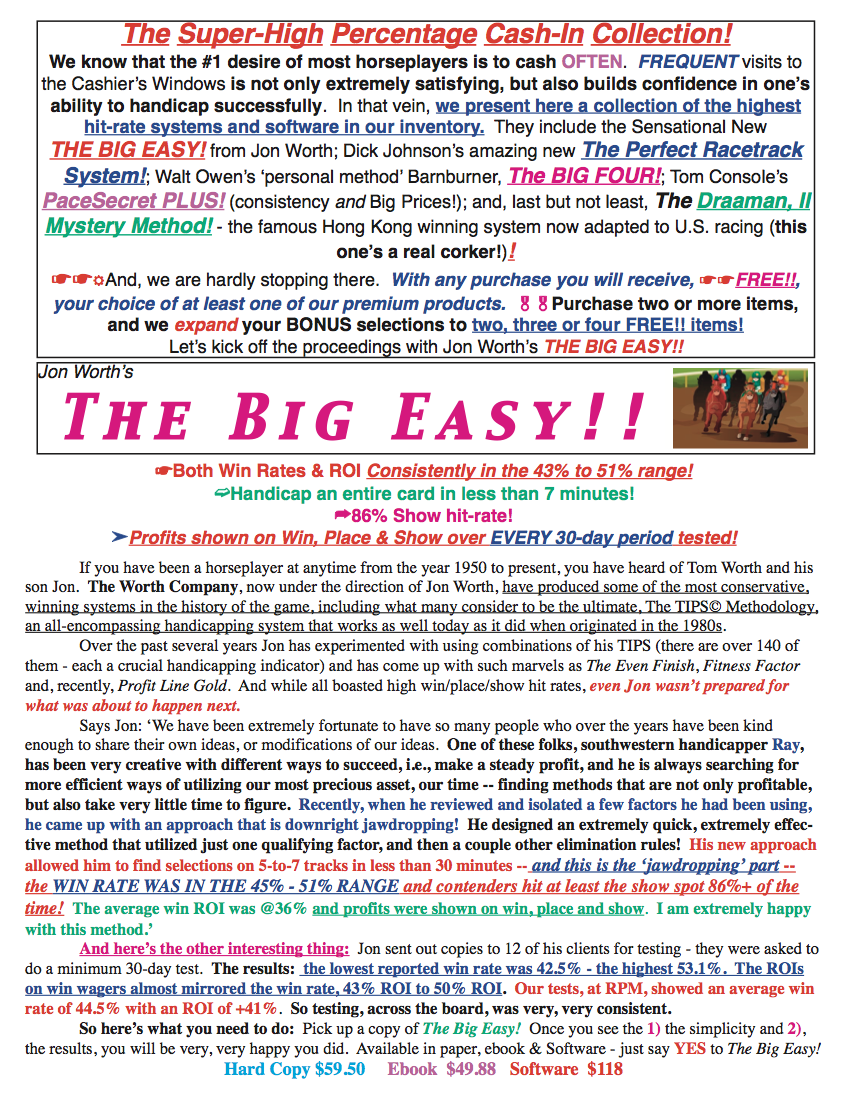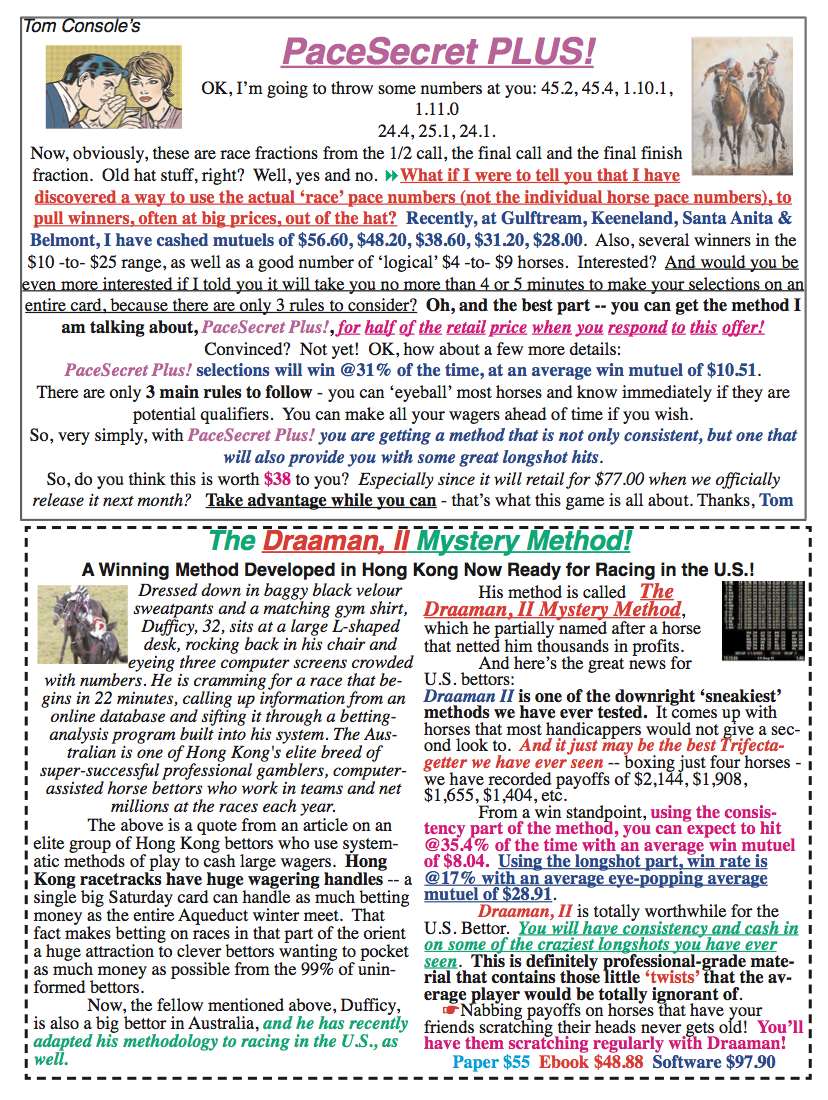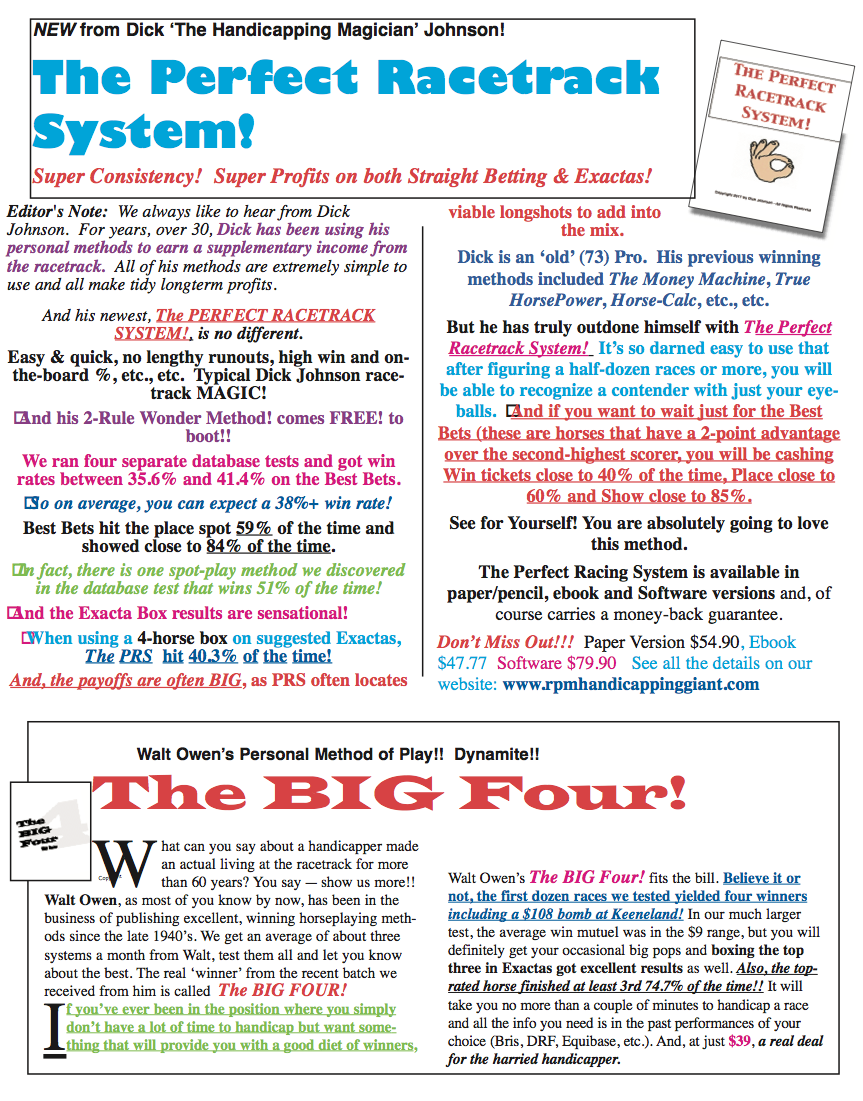 Let's Look at the Bonus Offers Again, Just so Everyone Has a Clear, Concise Idea of the Incredible Values offered here:
Category 1


1a.

The Trifecta King's Complete Winning Strategy!

– from a profession who profits consistently on Trifecta wagers – a no-can-lose strategy for racing's most lucrative wager. $55 retail
1b. The Daily Double Wizard! – the Daily Double is an overlooked wager these days, what with all the other exotic wagers available these days – learn a simple strategy to hit this wager over 40% of the time. Good stuff. $49 retail
1c.

The Trandex Zero-Line Software Package!

– one of the best longshot producing programs in our inventory – boasts a consistency play as well – hits some great exotic payoffs. $48 retail
Category 2


2a. The Two-Calls System! – This one just in! Dale Becker of Omaha has come up with a remarkably simple winner getter by simply adding a few figures in the pp lines – 35% winners and some at big prices! Quick, Easy, Effective. Something we've never seen before. $59 retail
2b.

Triple Track Progression Method!

– here's a real dilly if you are a bit risk adverse but love to collect huge payoffs – Jeff Daley ('Jackpot Handicapping' author) shows you how to perform a 'modified' progression using multiple tracks at the same time. It's a bit crazy, but you only need to hit two or three of your progressions to potentially win a bundle. This one is fun! $75 retail
2c.

The Console Continuum Software!

– not widely advertised, which is Tom's m.o. when he has something that is exceptionally good. Consistency + Big Prices and – analyzes over 131 crucial factors – The software continuously calculates and recalculates favorable situations during the selection process – one of Tom's best. $148 retail
Category 3
3a.

Jon Worth's The BIG 4 – +1 Software!

– this is one of Jon's best and another one of those 'under-the-radar' methods that was not widely distributed as Jon did not want a lot of them out there. Why? Well — testing several tracks, the win ROI came in at a huge +83%, Place +62% and, get this, the show +70%. A system you can truly depend upon. $168 value (you can also request paper version)
3b. Jeff Sillifant's Playday Payday System! – 68%+ Profit, year in, year out. One of the steadiest profit-maker's in our inventory.  Extremely simple; high average win mutuel. Profits on place and show, too! $75 retail
3c.

Mark Cramer's Harness Race Profit Portfolio

! – The last word on profitable play at the Harness Races. He provides you with 4 methods – his Blue Chip 44% win system, and then 3 others that regulary catch double-digit winners & great paying Exactas. Using Mark's methods will make you a steady, consistent winner at the sulkies. $110 retail.
[/stextbox]
>>If you are ordering thru our website:

  After you place the order, simply email us at  support@rpmhandicappinggiant.com  with the bonus items you would like.  >>

Above listed Discounts for multiple purchases:

Will be rebated to your Paypal Account if you order thru the website, or be rebated by Check and sent along with your products.

If you are ordering by phone 

1-800-696-0067

  you can, of course, request your chosen bonus items at that time.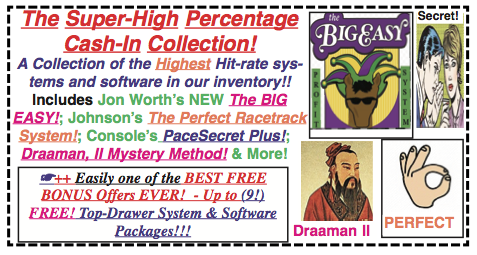 The Big Easy Paper/Pencil  $59.50
Big Easy Ebook  $49.88
The Big Easy Software  $118.00
Dramaan, II Paper/Pencil  $55.00
Dramaan, II Ebook   $48.88
Dramaan, II Software  $97.90
The Perfect System Paper/Pencil  $54.90
The Perfect System Ebook  $48.88
The Perfect System Software  $79.90
Pace Secret Plus Paper/Pencil  $38.00
Pace Secret Plus Ebook   $35.88
The Big Four Paper/Pencil   $39.00
The Big Four Ebook  $35.88