OK, some straight talk: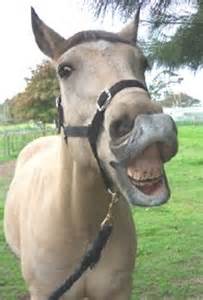 We know you get all kinds of phony-baloney pitches in the mail with wild claims about selection services like:  'Hi – I'm Joe Winmore and I have never lost a race – 100% winners guaranteed!', or 'Make $2,000 per day on just $2 wagers!' 
Now, OK, we admit that in years past, we may also have bitten on one or more of these promos and, of course, got bitten hard right back when the 100% guaranteed winners suddenly became 21% winners, most of whom were favorites.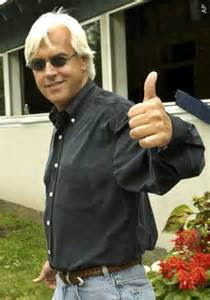 "If you play the big tracks on the east and west coast, check out the East Coast & West Coast Handicapping Report from Rob Henie,

it's full of great information everyday and believe me, I use it myself."

Bob Baffert"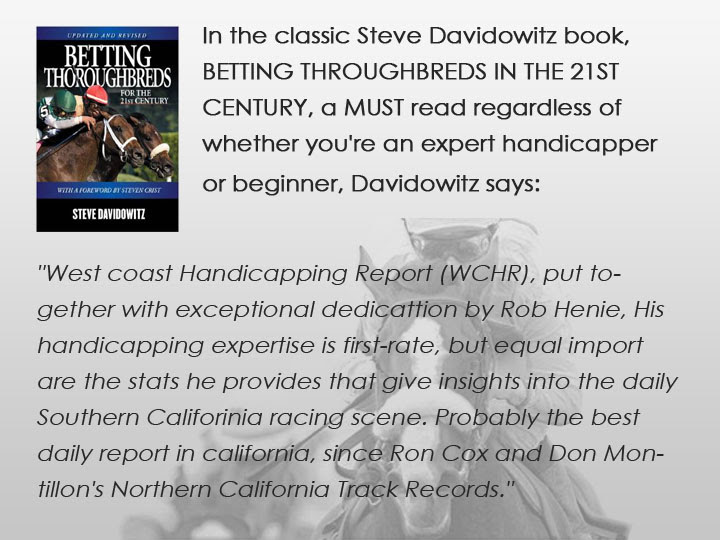 ​"I am confident in my own handicapping, but I always, every racing day, check in with Rob's Reports. 
>>>

Did you know that by just betting Rob's 1st-time-starter selections over the past couple of years yielded a +37% ROI!!!  For every dollar you put in, you got $1.37 back — 

I can almost make a living on that!

 I find it a bit amusing and discouraging when clients tell me they want to win at the races.  I always recommend Rob's service but few seem willing to pay half the price of a cup of coffee a day to actually hire a winning handicapper."

 

Tom Console, Handicapping author
Look at this.  Belmont just started and Rob has already hit with 4 of the 6 First-Timers he has released – and look at the Prices!!!:
>>>

Rob is one of the country's Premier Handicappers of First Time Starters.  Over the past three years Rob has hit with 42% of his First Time Starter releases, some at huge prices ($117 and $87 being the largest payoffs). 

>>>

If you had simple wagered $20 to win on all of his Debut Runner releases, you would have a profit of $8,262!
But that isn't all that Rob does well — he is brilliant with just about every type of race.  He provides

Commentary on Every Race, Every Day — Nobody in the Business follows East Coast & West Coast Racing Like Rob Does — His Commentary and Selections are based on not only years of experience, but also on information that the average horseplayer simply does not have access to

. 

Take a look at his analysis of the 3rd race at Belmont on May, and the result, a $21.80 winner and a $102 Exacta payoff from his top two picks, and note that his Win Contenders, in this race, 4-1-5, finished exactly in that order:
Soooo….
…..doesn't it make just plain good sense that you discover what all the fuss is about? 
Glad you agree …

>>>

and we have a very tempting offer to get you into the WCHR/ECHR 'swing' of things for the Biggest, most lucrative Summer racing meets: Santa Anita, Del Mar, Belmont, Saratoga!


When you hire Rob & his East Coast/West Coast Racing Reports team, they do the work — you reap the benefits!
We encourage you to try the WCHR or ECHR (or both), so you can see how all the new money you are going to make fits into your wallet!

In a tough economy, where Wall Street remains so volatile, we hope you'll approach the business of handicapping horses as an investment, with the same confidence we do!
>>>>
This is the real thing folks. 
You've got an expert, winning handicapper providing you with detailed selections and consistently high prices.  Rob will do all the work for you — you are hiring a specialist with decades of winning experience behind him.
<<<<
>>>
Get WCHR or ECHR (or both) for a very Special Price — Several Packages to choose from (including weekend packages):
All provide 4 months of coverage!
Pkg. 1:
East Coast  $180 Remainder of Belmont (ends July 15) + Saratoga  (Ends Sept 5) — (a savings of $60 off the regular price!)
Pkg 2:
West Coast  $180 Remainder of Santa Anita (ends July 10) + Del Mar (ends Sept 5) ($60 savings!)
Pkg 3:
East Coast/West Coast $280  Remainder OF SANTA ANITA + Del Mar & Remainder of Belmont + Saratoga  (thru Sept 5 – both coasts – all the action! – $80 savings!)
Pkg 4: 
$120  WEEKEND WARRIOR for REST OF SANTA ANITA & Del Mar Meet ($30 savings)
Pkg 5:
$120  WEEKEND WARRIOR for REST OF Belmont & Saratoga Meet ($30 savings)
3-payment/no interest plan available as well!
Call us at 1-800-696-0067  or  go to our website to order
Pkg. 1:  $280 REST OF SANTA ANITA + Del Mar (thru Sept 5)
Pkg 2:  $280 REST OF  BELMONT + Saratoga (thru Sept 5)
Pkg 3: $420 REST OF SANTA ANITA + Del Mar and Rest of BELMONT + Saratoga (thru Sept 5 – both coasts – all the action)
Pkg 4:  $120  WEEKEND WARRIOR for REST OF SANTA ANITA + Del Mar
Pkg 5: $120  WEEKEND WARRIOR for REST OF Belmont + Saratoga