We all know this game is one of 'ifs', 'ands' and 'buts…'

But what

'if'

you had access to the private selection method

of one of the top handicapping Minds

in the nation..'and'

this selection method was completely contained in one great, easy-to-use software package with PRECISION TRAINER STATS added..

'but'



you were wondering just where in the world you could get your hands on this 'every horseplayer's dream' machine..and at a very affordable price..

.

Well,


we just happen to know — you can get it right here!  Introducing:                                             



The One-Minute Handicapper Software!
OK folks, lest you think we spend all our time playing the horses because we've already got the game down to a science, this is to let you know that we work tirelessly to develop new, more effective and easier ways to make money at the racetrack.  We are always looking for a way to put all of our knowledge into one pot and stir, with the resulting 'soup' thickening into a perfect 'souffle', i.e., a handicapping methodology that would allow us to make money at every track in the country, both on straight wagers and exotics.
Again, we work tirelessly at this, but sometimes, we just plain 'get lucky'!
Yes, sometimes instead of us going to the mountain, the mountain comes to us.  In this case the 'mountain' came in the form of one Frank DiTondo, one of the nation's foremost handicappers and author of the incredible Best-Selling – The One Minute Handicapper!
Frank's OMH has taken the handicapping world by storm, but the fact that it was available in 'book' form only limited its distribution — 'computer' handicappers, which outnumber 'paper' players these days, longed for a software version and, as 'luck' would have it, Frank came to Len Czyzniejewski, our superlative handicapping software programmer, to inquire about programming the entirety of OMH


Frank, Len and Dave Powers met on a chilly December morning in Las Vegas to iron out the details.  The meeting was very productive.  After interesting and informative exchanges of handicapping philosophies we concentrated on the meeting and product at hand:

The One Minute Handicapper Software

. 

We were all in agreement that this could be one of the neatest, easiest to understand and, most importantly, winningest handicapping programs of all time.
So, we all got to work.  And the finished product, my friends, is something that has to be seen, and used, to be believed.  And once you become a regular OMH Software handicapper, we're sure you will agree!  In fact, the precision Trainer Stats you can pull from this software is worth the price of the whole package alone!!
Intro Screen – Choose the Racetrack you want here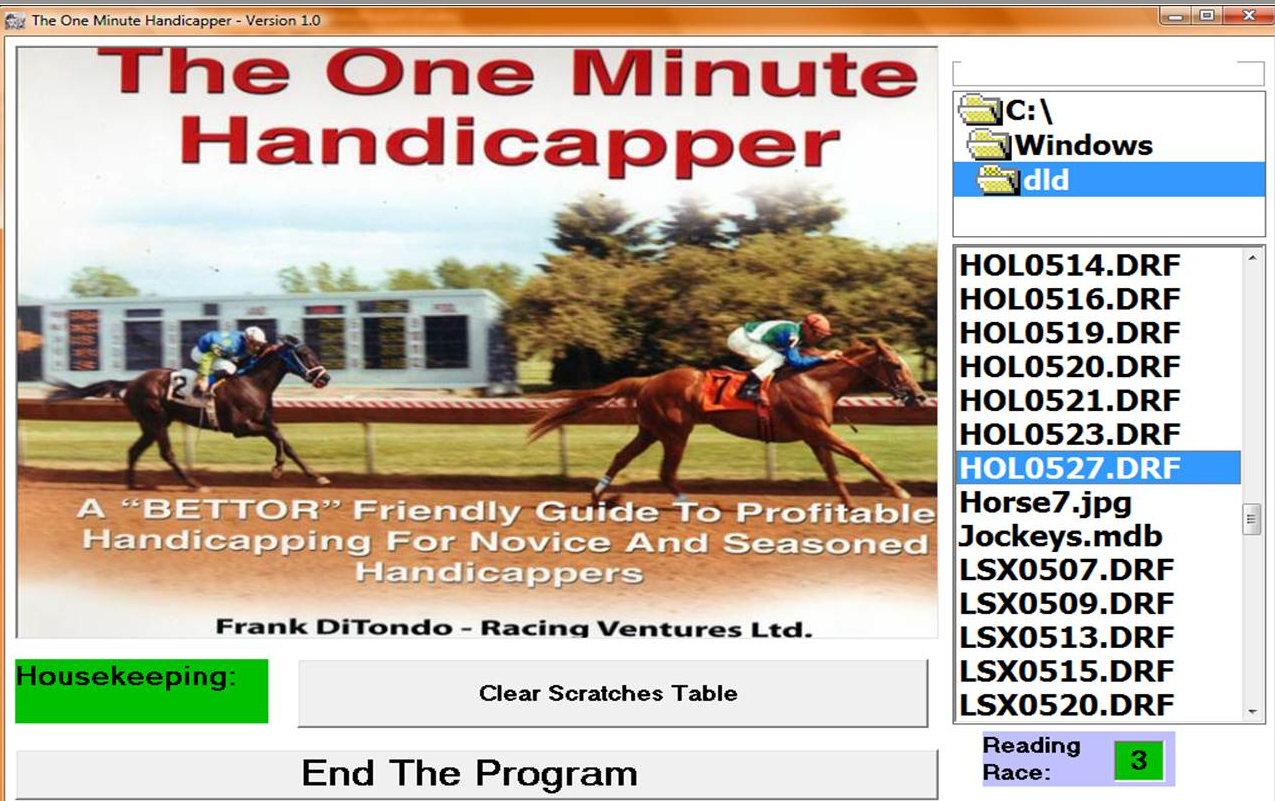 You'll be Handicapping like a PRO in no Time!
The One Minute Handicapper will show you how to spot exotic and long shot wagers with double and triple digit payoffs. You will learn how to identify a true Overlay and see how BLUESPEEDWHITELIGHT jumped off the Worksheet and pointed to a $119.80 winner. How Overlay led the author to MAGIC ALPHABET and a $532.50 exacta.
You will learn about the powerful, under the radar, rarely if ever talked about, long shot BETTING SITUATION gems, First Flash, First Time Lasix-1st Start and Reclaim. How First Flash pointed the author to COO COLD BIRD, a $49.60 winner and to 12 other winning wagers, including 5 exotic betting wins. The OMH shows how the author was able to single out PERILOUS PURSUIT, a $35.40 Bomb, from 10 first time starters with 6 on lasix and how the 'Reclaim' angle led to LAROVERINA, paying $44.40 and CHEDDAR, paying $43.60.  And, Oh My – those OMH TRAINER STATS! – Real Good Winning Stuff!
Separate 'Pretenders' from Contenders!
BETTING SITUATIONS take the guess work out of picking winning exotics. Classic examples of winning wagers are LIGHTNING POWER/PINCH THE CLOWN and a $141.40 exacta and POWERSCOURT/KITTENS JOY for a $281.40 trifecta. There was no magic and there were no secrets, its all in The OMH  and BETTING SITUATIONS. LIGHTNING POWER was 2-1 and KITTENS JOY 6-5. Both were favorites – but OMH's powerful 'longshot generator' located the big price horses that made including these favorites a very profitable move. The author cashed tickets on both situations, by the way.
"The Anastos Media Group wishes to thank Frank DiTondo for his active participation in our Handicapper Minute segment of the Star 101.3 Morning Show with John Meaney and Brianne Young this 2009 summer racing season.  Frank gave his picks for the day each and every racing day of the meet and made a couple of guest afternoon appearances at our Star 101.3 Tent during our live broadcasts from the Saratoga Race Course.
We offer our congratulations on your 44% win selection rate this season!  Kudos, Frank!  It was a pleasure working with you!"
Sincerely, Fran Dingeman, General Manager of the Anastos Media Group
Star 101.3fm; WABY 1160am; WVKZ 1240am; WUAM 900am
"I was able to make a $40.00 profit on just 2 dollar bets. The last race exact made up the larger portion of that total. Think it paid $62 and change and I only had it for a dollar. Not bad for just testing. Almost made back what it cost me to purchase your OHM information.  Just wanted to pass along my thanks." Joseph Rickert, Mantua, NJ
"I'm really excited about One Minute Handicapper being on Software", Frank said, "The One-Minute Handicapper has now become the
'One-Second' Handicapper!'  Just a click of your mouse and all the OMH features pop up right in front of you on the screen!"
Check out more of the details.  Go to   www.oneminutehandicapper.com
You can order there or call

1-800-696-0067

begin_of_the_skype_highlighting

1-800-696-0067

end_of_the_skype_highlighting

to order or just print out an order form on our website!
We have the Books, too! at $59.90 shipped  

Buy with the software and get a $20 discount!
And…

When you purchase the software and/or the book, Frank will send you his

One Minute Handicapper Newsletter

quarterly via email at absolutely no additional charge!

The
OMH Newsletter

features BETTING SITUATION updates, OMH client FAQ's and OMH "bits and pieces.
"I understand and like your approach to the One Minute Handicapper. It's a novel and great idea. I believe it can be a great tool in trying to make sense of the plethora of information in the DRF…"
Donna Barton Brothers, Former Jockey and NBC Sports Thoroughbred Racing  Commentator
"If you are anything less than a stone-cold winning player, just go buy OMH and be done with it.
If you are a winning player, then, like me, you can justify the cost of just about anything new that comes along just to see if there are any new ideas. After all, just one new-to-you idea will more than pay for the book. This is no exception. Buy it now!"
Dave Schwartz
Author of the HorseStreet Handicapper software, HorseMarket Investing, The Opponent Method and the HorseStreet Par Times
"Reading Frank DiTondo's book opened my eyes to the many keys to being a successful handicapper. I certainly have learned a lot about a sport about which I thought I was quite knowledgeable, and I know you, the reader, will be educated as well as entertained by Frank's lively and
entertaining writing style."
Harlan Abbey, noted New York &  Canadian Racing Columnist
The One Minute Handicapper introduces the ground breaking
"BETTING SITUATION" concept. This innovative and unique concept is easily understood and profitable!
The "BETTING SITUATION"concept is NOT a system! It does not re-invent the wheel. It is a time tested, proven method, using the same readily available DRF, tote board and official entry information as the PROS. The One Minute Handicapper will teach you how to consistently pick Winners!
The OMH identifies 23 "BETTING SITUATIONS."  23 crucial Handicapping Factors Frank DiTondo has used over a lifetime as a Pro, i.e., a winning handicapper.
The concept is actually very simple! The more Situations the Software identifies, the "Bettor" your chances of having winner!
This innovative, one of a kind, user friendly, BETTING SITUATION Software Package provides you with a 'road map' to success. It's a lot like having a handicapping 'GPS'.  You ask the directions — it leads you to the destination, i.e., the likeliest winner!
"Working at The DRF provides opportunity to watch races from all over. The 2nd at Gulfstream last Friday was a 10,000 claimer with 3 "front runners" I thought would quit because of a muddy track. Just before looking for a "closer" the morning line odds changed. Wow! The #1 horse dropped from 20/1 to 3/5. Having read the OMH I decided to forget the closer and take a shot. Just before post the odds were 17/1 and I bet 20 to win. Letsringthebell (#1) did just that. He swept by the front runners, paying $37.00. My associate Pete Shewchuk and Kenny Peck (DRF Handicapper) were absolutely amazed. "Nice pick Don, we would never have seen that coming." It was a great feeling! Thank you OMH."
Don Gleeson, Columnist/Statistician, Daily Racing Form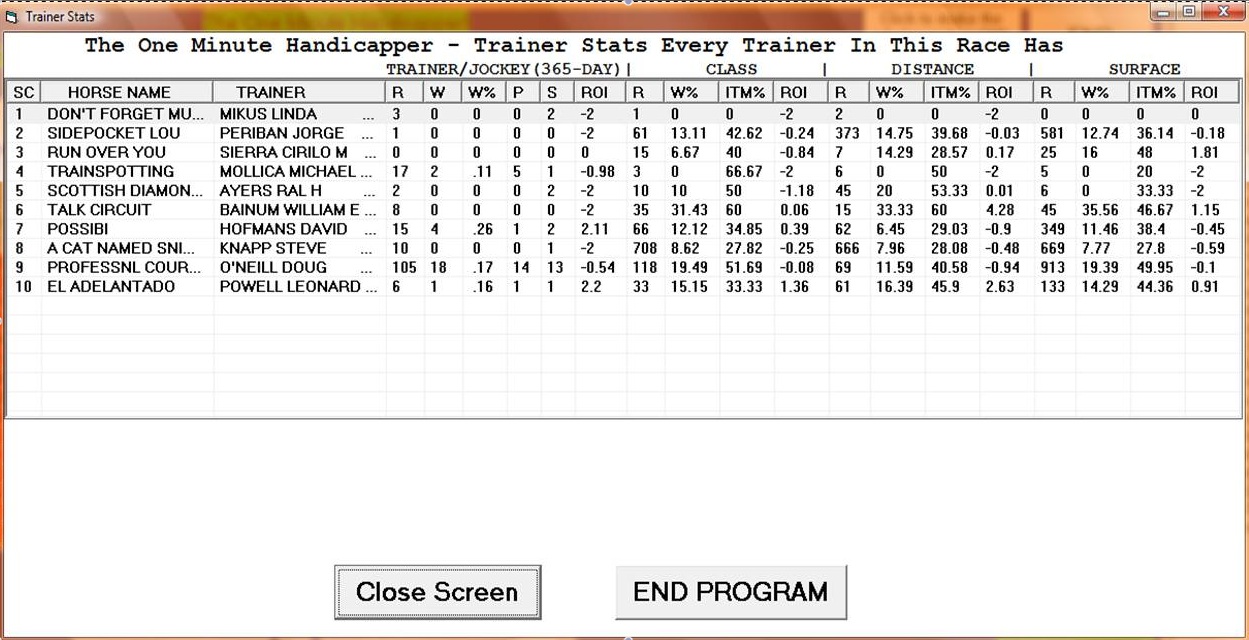 OMH and Frank DiTondo in 'The Game' Magazine
A Long-Time Horseplayer Offers the Benefits of His Experience (and new SOFTWARE product!)
Frank DiTondo is proof that it's never too late to start winning at the racetrack. DiTondo, who turns 76 later this year, says he's been cashing regularly, and it's no coincidence that this happened just after he wrote the One Minute Handicapper, a very different approach to finding and profiting on winning horses.
DiTondo was only 12 years old when he first attended the races, but his initial experience left him with an indelible memory.
"I went to Suffolk Downs," he recalls. "Whirlaway was running. He won the Triple Crown in 1941 and is the only Triple Crown winner to ever win the Massachusetts Handicap."
DiTondo is not so much a professional handicapper as a guy who has created a way to refine the extraordinary amount of data contained in the Daily Racing Form.
"The information is in the DRF," he says. "You simply have to know where to look and what to look for."
Following his own advice has led DiTondo to many happy moments of recent vintage at the track.
"The last three years, I've been cashing bets that I never thought I would cash," he says. "I cashed a ticket last year on a $46 winner. The exactor paid $878, and the trifecta was about $3300. That was one situation called 'first flash'.  I had a $534 exactor on an overlay and then I had a $48 winner and a $178 exactor and $1800 trifecta on what I call 'reclaim'"
In the One Minute Handicapper, DiTondo elaborates on the betting situation known as first 'reclaim'.
And what's the deal with the 'reclaim'?
"I was at Fort Erie and there was trainer Ralph Biamonte," he says. "His whole family was there and I was wondering why, and in the pp's, I saw that he had a horse in the race that he had reclaimed and it won. I had been skipping this situation my whole life. This was like a beacon that shone upon me."
DiTondo's book also emphasizes taking a long look at beaten favorites.
"When I have a beaten favorite, I go back to the charts and I might see that he had a troubled trip or a poor ride. If you give it second chance, you probably get a better price on it. I picked Nobiz Like Shobiz to win the Wood Memorial because he was a beaten favorite in the Fountain of Youth. He had a troubled trip."
Preferred Distance is another situation that bettors can profit from.
"Just look at the form." he emphasizes. "And see what the horse's favorite running distance is. It tells you right on the form. Canada has a nice sire, Langfuhr; at a mile he was the best. There's a horse called Lord Langfuhr who was a maiden until they turned him into a miler and then he ran at a mile and won."
DiTondo's book illustrates examples where the trainer/jockey stats told you that a horse was ready for a better race. The One Minute Handicapper also directs its readers to horses with plenty of back class.
"That works at all tracks ," says DiTondo. "You get a horse that was good early in his career, won a lot of money, should be retired, but people want to keep him running.  This type of horse knows what his job is."
To be honest, the One Minute Handicapper probably requires a lot more than one minute. It's a pretty thick book, filled to the brim with actual examples of races that produced nice payoffs according to DiTondo's theories.  22Which is why Frank decided to consult with well-known software programmer Len Czyzniejewski of RPM Information Systems, the leading provider of handicapping systems and software worldwide. "I'm really excited about One Minute Handicapper being on Software", Frank said, "The One-Minute Handicapper has now become the 'One-Second' Handicapper!  Just a click of your mouse and all the OMH features pop up right in front of you!"
Call To Order Today!   1-800-696-0067 begin_of_the_skype_highlighting 1-800-696-0067 end_of_the_skype_highlighting
The  'Charts' – An Amazing Shortcut to Handicapping Success!
What if you had, at your disposal, some very simple, easy-to-understand 'pictures' that would allow you to put the vast majority of races into perfect perspective; that would allow you to successfully project the likeliest winner and most obvious Exacta/Trifecta contenders? And what if these 'pictures' were available to you for every race on every racecard with just one simple click of your mouse?
Well, racefans, when you start using The One Minute Handicapper Software, you also will have access to these 'pictures', which are actually 'charts'. Charts that at a glance show you which animal(s) have a pace advantage or a 'connections' (jockey/trainer combo stats) edge, ++NEW!! The EARLY CHART!. It's a known fact that most winners of all races have early speed – our new EARLY chart tells you which runners are likeliest to be near the early lead.
Now, understand, you may choose to not use the Charts at all and instead rely solely upon The OMH Software Generated OMH Betting Situation Worksheet .  But as you can see from the actual enclosed screen examples, the charts can be of extreme value.  Let's say, for example, that the OMH shows several horses within just one or two Betting Situation of one another.  Rather than pass the race, which may be part of your Daily Double, Pick 3, etc., you use the charts as a 'separator'.  You note that one horse is tops on Pace, second on Jockey/Trainer Combo #'s and second on Early.  With all that going for him, you just may have landed on the horse to beat.
Or, you may simply use the charts to identify the major pace/j/t combos/early contenders on your own.  As our friend, handicapping author Bob Shurig says: 'Using these charts alone will make you a more competent handicapper than 90% of all the players out there.'
Also, the Charts act as a great 'elimination' tool. When you see, for example, horses whose vertical bars reach only the mid-point of lower of some of the other entrants, you know you've got a runner(s) who probably are not going to match up to today's competition.

But whether you choose to make use of the Charts or not, the fact is that they provide you with a unique, money-making handicapping advantage that few others at the track enjoy.  See enclosed examples of the Charts:
Pace/Speed Index
Jockey/Trainer Power Combos

NEW! EARLY CHART!! Now know who the 'speed of the speed is!'
Charts – 'Early Speed' shown here – Immensely helpful in sorting out contenders  Also Pace, Jock/Trainer Combo Charts Available for Viewing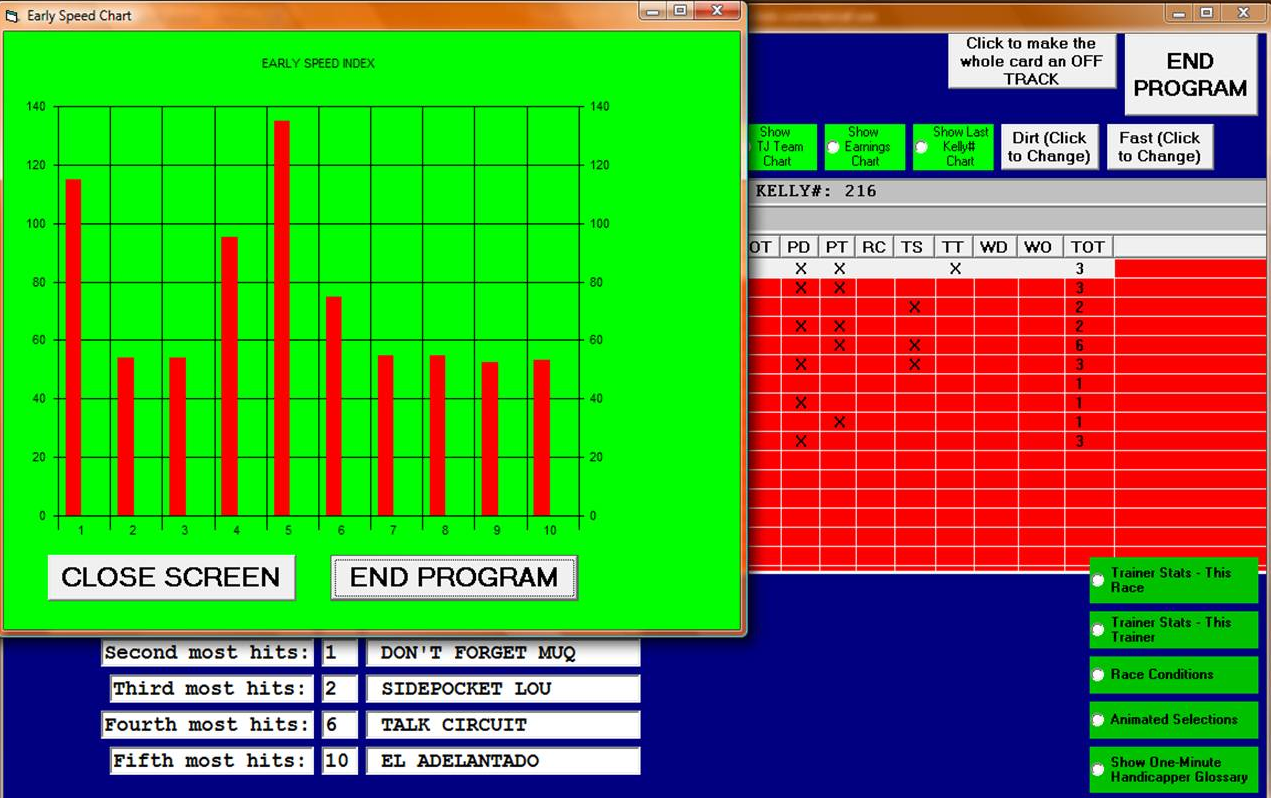 The Charts – another Added feature that provides you with an
amazing shortcut to handicapping success!
SOOO…We have learned that The One Minute Handicapper Software crunches data in its search for the 23 Betting Situation 'PLUS' Factors that have provided Frank and his clients with Optimum WINNING RESULTS for Years Now…and, the Software also
Automatically generates a complete OMH Betting Situation Worksheet and provides you with the # of Betting Situations on each individual runner!


gives you The Amazing Charts! – Pace/Speed; Early; Jock/Trainer — provide you with a 'graphic' look at how the runners 'stack-up' in these crucial handicapping areas.  Seriously, folks, this is the kind of information we estimate less than 5% of the racetrack crowd has access to!
provides Precision Trainer Stats – the OMH Software pulls up-to-the-minute Trainer Statistics from the database that will quickly show you how each trainer performs in categories related to today's race!  Again, this is information very few non-professional players have at their disposal!


++Software generates FREE Daily Program; FREE past performance view and/or print; Complete Race Conditions; Fully Sortable Columns; Full Customer Support. Oh, and did we mention?  All this for a price under $200 – yep, just $197 for the whole works! Order Today!

1-800-696-0067 begin_of_the_skype_highlighting 1-800-696-0067 end_of_the_skype_highlighting
Get the book that started it all for a $20 discount!!
Hey, this is a great deal!!
If you are ordering the software, great, but if want a complete understanding of just how this software performs, plus all of the other handicapping philosophy 'gems' and many other angles directly from Frank DiTondo,

you can get his book, all 384 pages of it, + all the extras, for just $29.95 (+shipping)

— that's a huge

59%

Savings!!!  If you want just the book and are not the software, then the price of the package is $49.95.
Main Screen – Software Generated OMH Betting Situation Worksheet  Columns Fully Sortable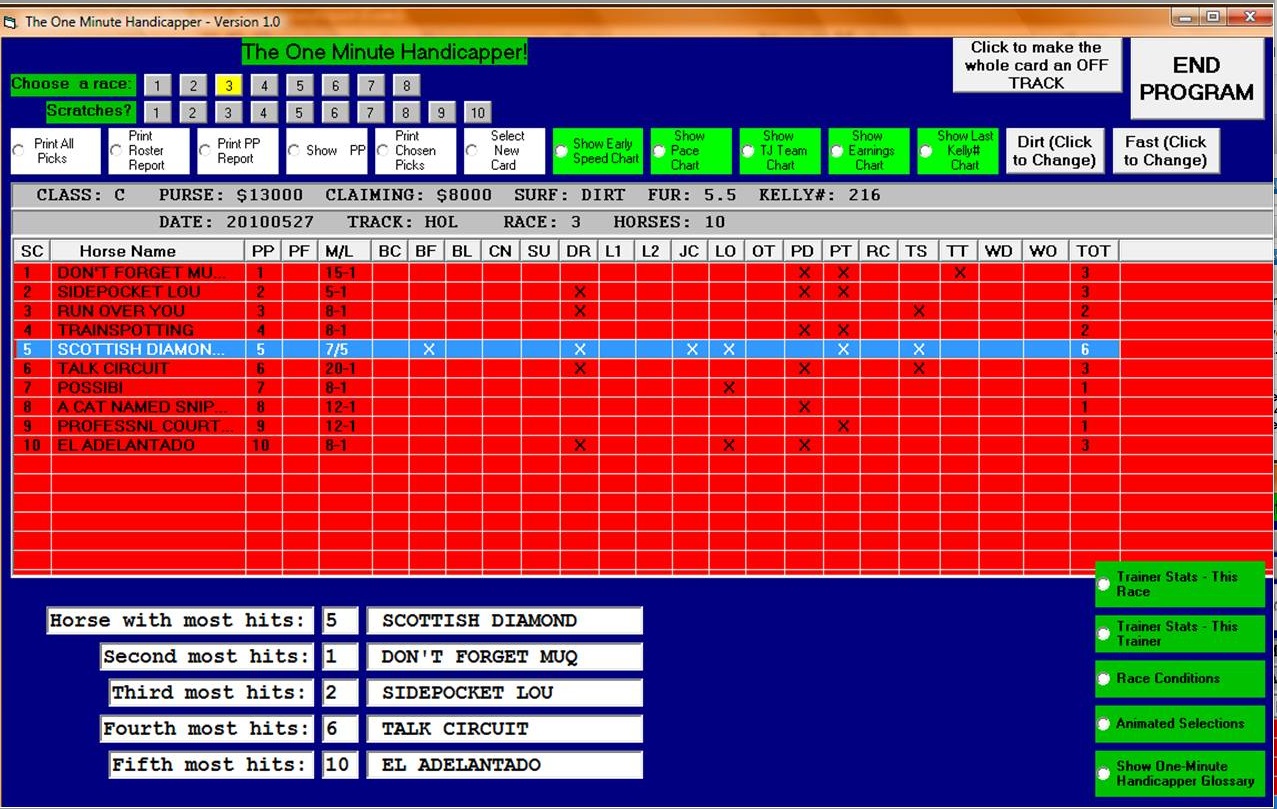 Precision Trainer Stats – Common Stats + Unique Stats – Information Very, very few fans have access to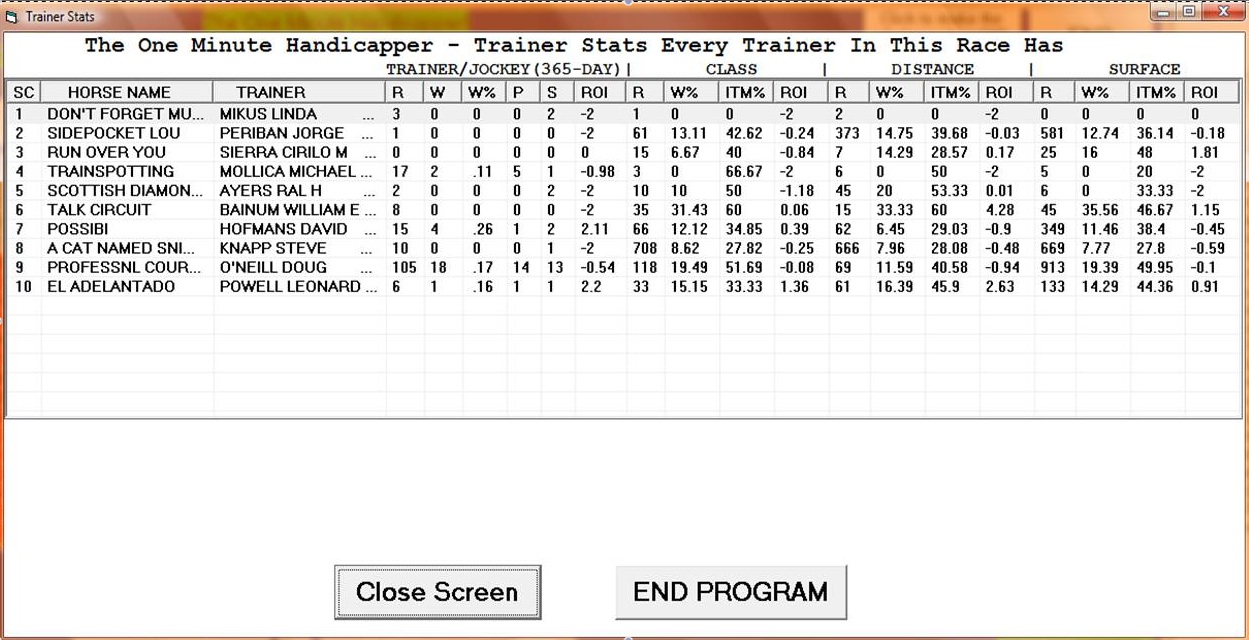 Precision Trainer Stats – More Vital Information To Point You To More Winning Wagers!
As you can see, Frank and Len spared no expense in programming the One Minute Handicapper.  The Precision Trainer Stats generated by the software are 'real time' stats, i.e., they are totally up-to-date, to the minute the race goes off!
The Stats are broken down into two categories: 1) Stats that every trainer has in common, like trainer %'s and their records at today's Class, at today's Distance and on today's surface, and 2) Stats that are unique to each trainer in the race.  In otherwords, one or more of the trainers may have a 'layoff' horse in the race, like L. Powell or R. Ayers below.  Or they may be making their second start with a horse after a claim, or going up in class, etc.
The great thing about these stats is that you'll find many trainers who have positive ROI's in certain categories, like L. Powell below — the ROI shows that for every dollar you bet on one of his 90+ away horses, you got back $1.36, i.e., every dollar wagered got you your dollar back but another $1.36.  So if you've got a runner that is already scoring well on the OMH Worksheet on the main screen, and that horse also has positive trainer stats, so much the better.  And, again, you will be one of the very few players who have such quick and accurate access to this valuable information.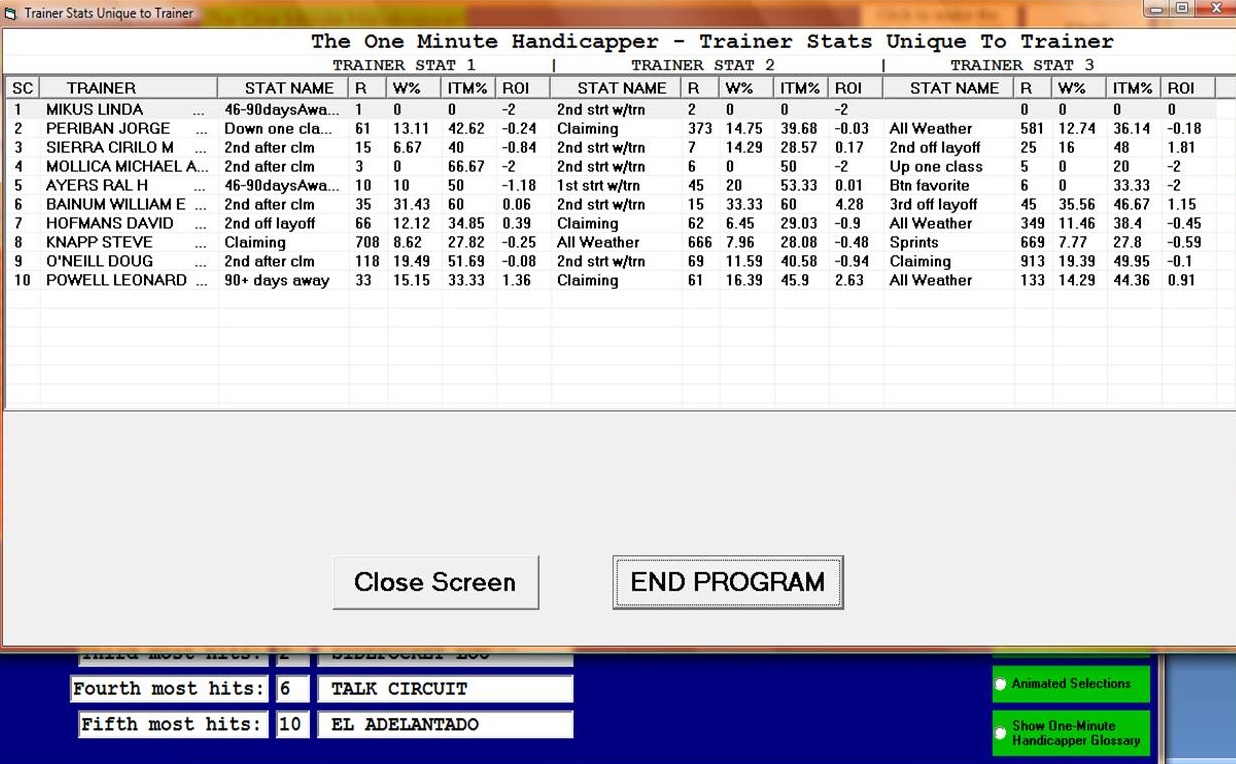 Charts – 'Early Speed' shown here – Immensely helpful in sorting out contenders  Also Pace and Jock/Trainer ComboCharts Available for Viewing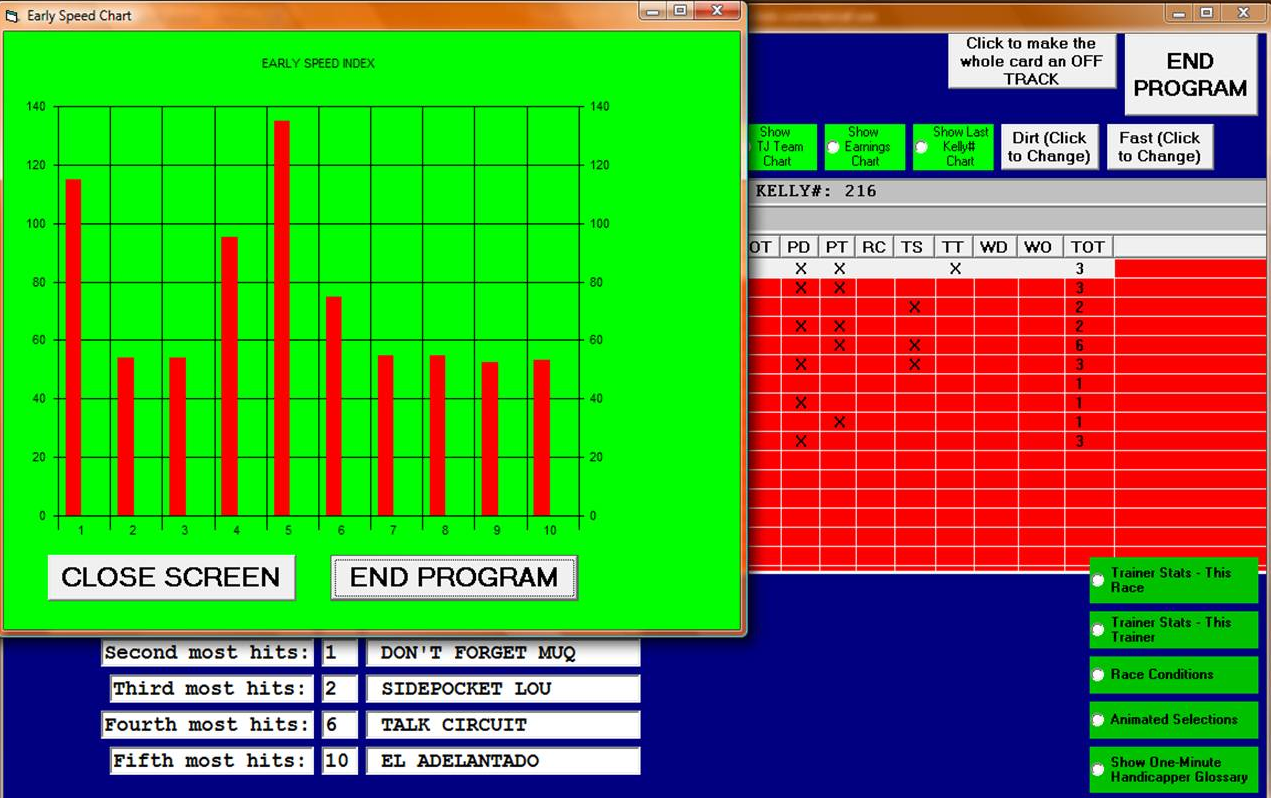 Conditions Screen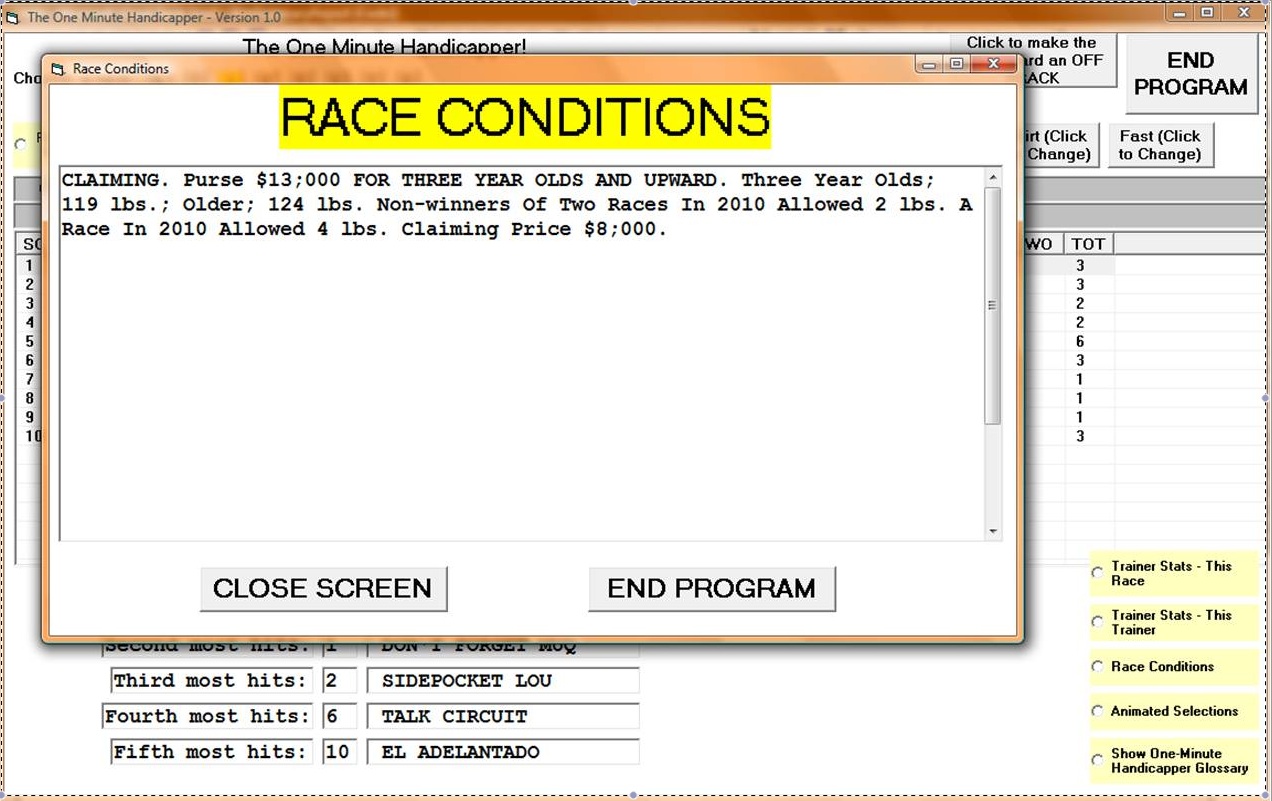 OMH Handicapping Glossary