♦

Believe it or not, horses, just like humans, go to school. No, they don't learn 'readin, writin and rythmetic', but just like we two-legged creatures, they are taught skills that will aid them in their future careers.
→

Thoroughbreds are 'schooled' from a very early  age.
 
They are first taught to accept the bit between their gums.  Then the weight of a saddle — followed by the weight of a saddle combined with a rider, then saddle/rider/bit/reins.
They are then taught to break from an open gate, and finally from a closed gate that springs open just like at the real racetrack.
>>>
And it's these last two lessons that are the most important for the aspiring runner – because here he/she is taught the most important lesson of all:
<<<

The ABILITY TO CULTIVATE the most vital of all race horse traits: SPEED!!

>>>
We quote from 'A Trainer's Conditioning Guide to Developing Winning Speed Horses', by legendary trainer Buddy Fogelson, Chapter 3, entitled
SPEED WINS RACES – PERIOD!!
"A racehorse without speed is not a racehorse.  In order to compete on North American racetracks, a horse must have at the very least 'contending' speed, i.e., the ability to lay close-up early, in sprints as well as routes.  If your horse can only come from off the pace you are very unlikely to earn much purse money since all US and Canadian tracks are biased towards speed.' 
While much of the book would be 'greek' to anyone not intimately involved in the training game, Buddy provides conditioners with exact instructions on how to develop speed:
Your trainee MUST be taught to break alertly from the gate

(he presents several ways to do this by using various equipment and 'treat' incentives on the horse)

You must have your exercise rider/jock hustle with all his/her might directly after the break

— horses who are left in the second half of the field after a quarter mile seldom get up to win.

It doesn't matter if your horse fades late in early training —

you want to instill the 'habit' of speed and once you do

, your runner will do all of these things on his own, with very little prompting from the rider.
SOOO …. after digesting all of this, we sensed an opportunity. 
What if we could find a way to identify, most of the time, the horses likeliest to fit Buddy's scenario.

  AND … 

What if we also added in some of our private speed and class formulations to the mix as well.

 

Logic tells us we would have a super-accurate software selection tool.

  WELL … that's exactly what we got with:
SPEED SCHOOL!!
Speed School is designed specifically to identify horses who have been well schooled in the art of SPEED.

 

Our testing (162,783 races) showed the SS TOP Play hit close to 35% (34.6) of the time with an average win mutuel in the $7.79 range.

  The FWR (Furlongs Worked/Raced) in the last 35 days is a unique feature that puts the spotlight on FIT or 'Tightly Wound-Up' horses as some players refer to it.  This is a factor ignored by many players so BIG prices are often generated by this feature.   The SPD/CLASS SUPER SPOT adds a 'stamina' dimension, i.e., finds horses able to carry their speed around two turns and on turf, and the BEST EXOTIC PLAY box hits a high % (@39%) of Exactas.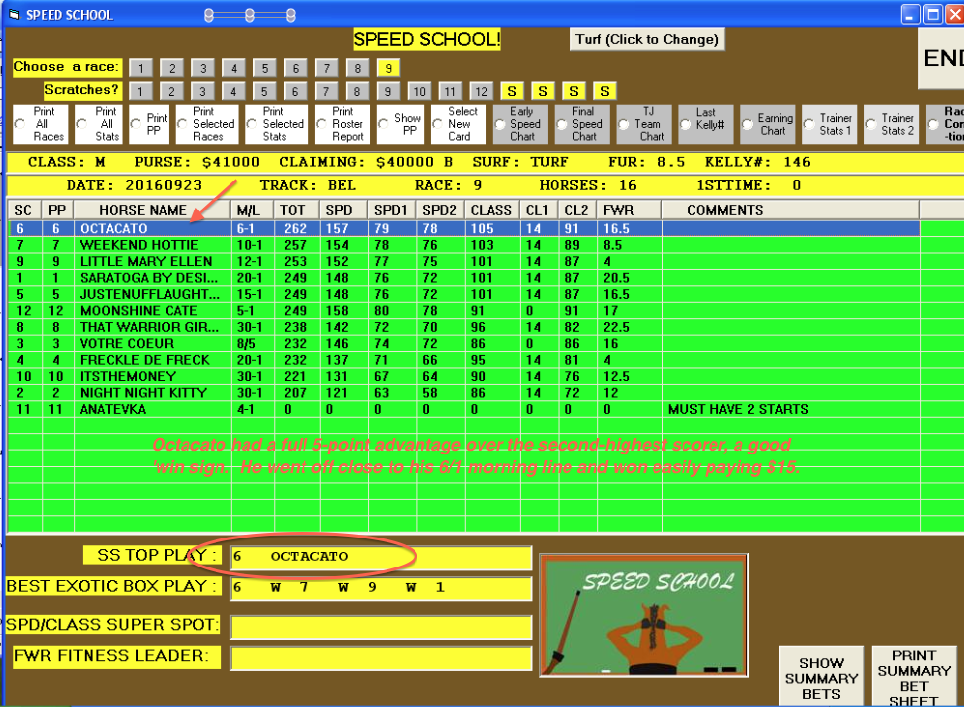 Column/Selection Box Explanations
M/L = Morning Line
TOT = Total Score from other handicapping columns
SPD = Total Speed Score
SPD1 = Figure that best represents horse's ability to break from the gate fast
SPD2 = Figure that best represents horse's ability to race near the front of the pack
CLASS = Total Class score
CL1 = Figure that best represents horse's ability to sustain speed throughout
CL2 = Figure that best represents horse's ability to sustain speed beyond a sprint.
FWR

= Furlongs worked/raced.  This is the total number of furlongs both worked and raced in the past 35 days.  This is considered a 'Fitness'indicator.  Horses with a good amount of recent activity are often in good form. 

This is a much-overlooked factor and this column often produces good priced winners.
SS TOP Play Box

= the horse with the top TOTAL points.  A horse showing up in this box is a very strong win/place candidate.  A win rate of close to 35% and playing horses with a 5/2 or higher morning line produced a solid +31% ROI>
BEST EXOTIC PLAY Box

= this is the best Exacta/Trifecta play based on research.  Best if played in races containing eight or more horses. Exacta hit rate @38%
SPD/CLS SUPER SPOT

= Horses in this box win less frequently than the SS TOP PLAY but pay a higher average win mutuel.  Horses fitting the requirements in this box are also often capable of doing well in dirt and turf route races.
Below:  A great example of a 'Super' Play where the $18.80 winner was prominent in all selection boxes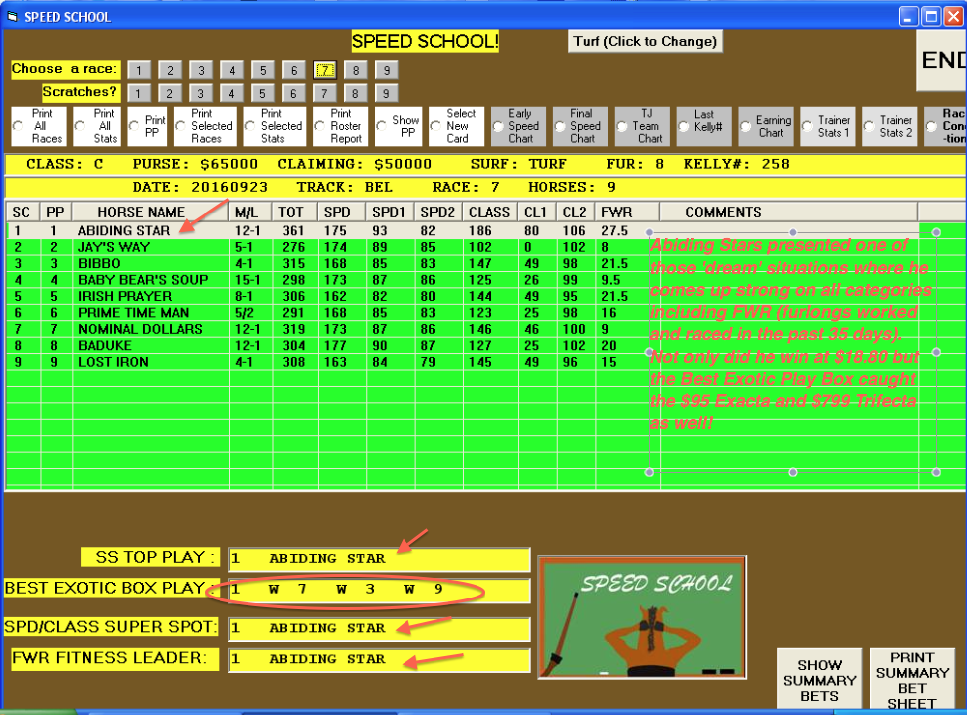 A $38.60 FWR horse!

Another Nice FWR hit —

the Furlongs worked/race concept is an old one, but few seem to use it any longer, thus the handsome mutuels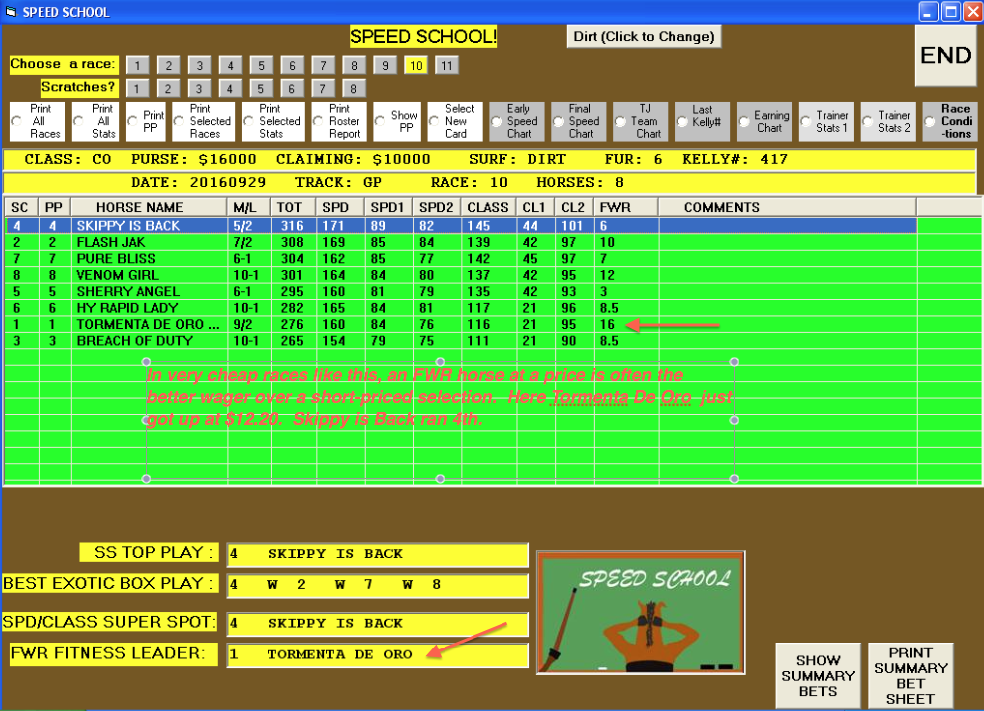 COMB SS TOP + FWR – 

almost always hits the board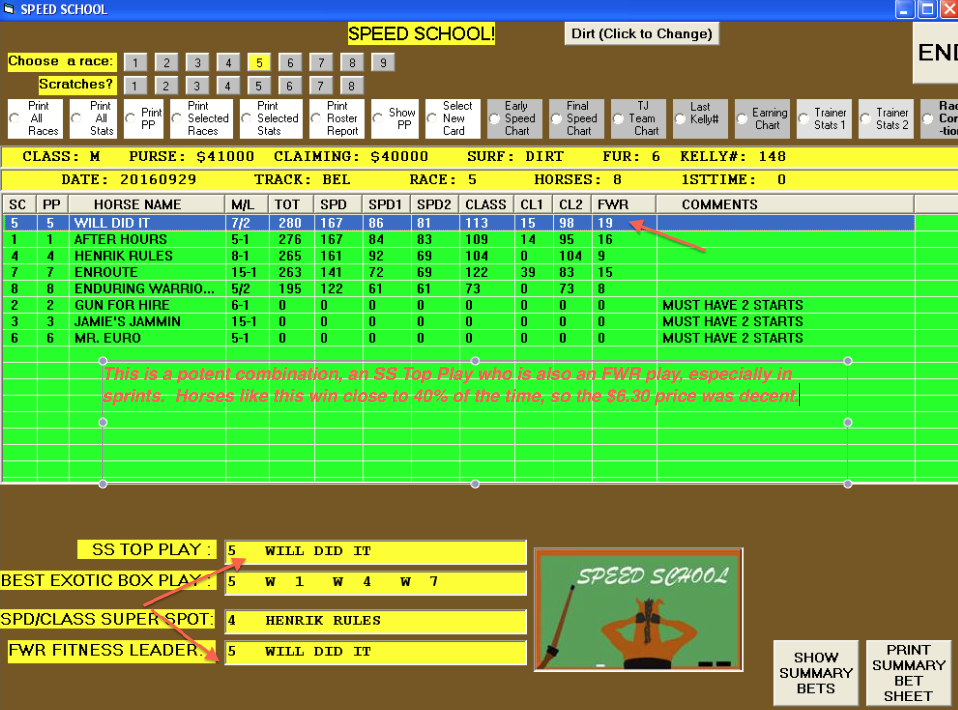 SS TOP + SPD/CLS SUPER SPOT another great combo, especially on Turf –

the 'Class' configurations add a 'stamina' aspect to the equation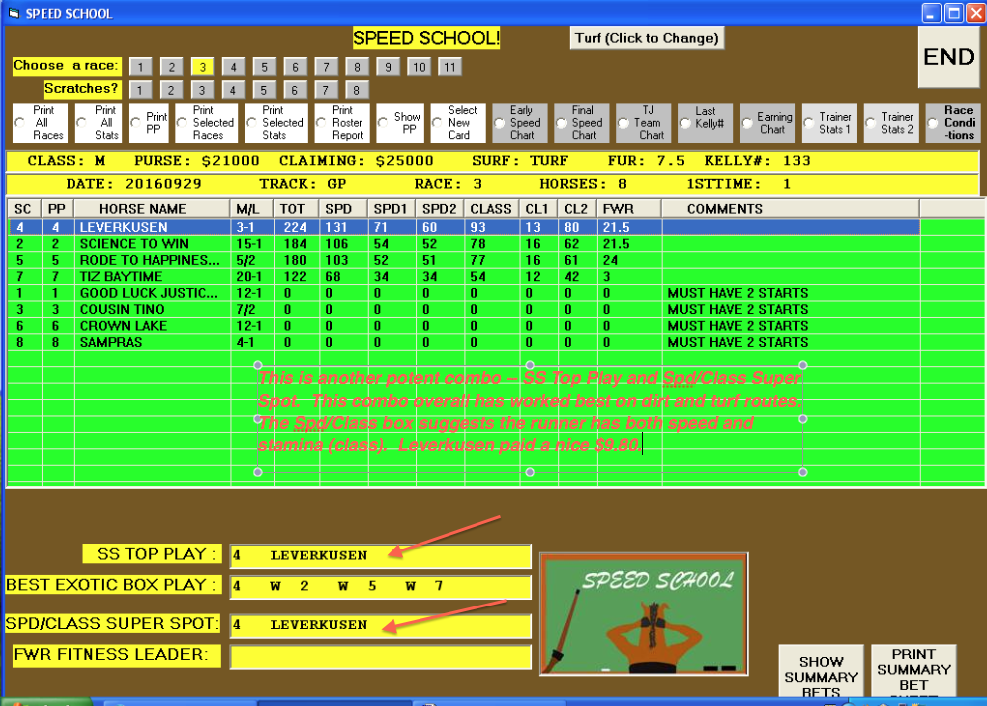 The Speed School Software, of course, includes all of the popular RPM Program features:

View/Print PPs

/

Daily Program

/Extensive,

up to the minute Trainer stats

/

Graphic Chartings

for speed, pace, earnings, class, jock/trainer combos/

Summary Bet Sheet

that displays all of the day's plays without having to look at every individual race, etc., etc.
So get yourself into a new 'Speed' Mode and hit the ground running with SPEED SCHOOL!

  Works at all tracks, large and small, and >>

even produces solid results in races for Quarter Horses

.
SPEED SCHOOL

is just

$127

and, of course, comes with a full money-back guarantee.  Call us at
1-800-696-0067
or order on the website or by mail.  And do feel free to call us with any questions.   Thanks,
Dave and Len
SPEED SCHOOL SOFTWARE  $127
SPEED SCHOOL SYSTEM HARD COPY  $49.50
SPEED SCHOOL SYSTEM EBOOK  $44.88